4 Reasons the San Francisco Giants Will Be Tough to Beat in 2013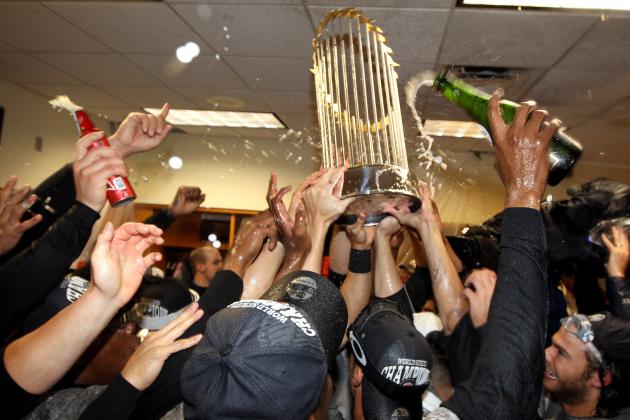 Ezra Shaw/Getty Images
There's no reason why the 2013 version of the Giants can't be better than the 2012 one.
One can probably count on one hand how many "experts" will pick the San Francisco Giants to win the 2013 World Series, but its hard to argue against them being favorites.
It isn't that other teams aren't better because there are deeper, more balanced teams like the Texas Rangers, Los Angeles Angels of Anaheim, Washington Nationals and Atlanta Braves to name a few.
But it's the combination of many things that make the Giants the team toughest to beat in 2013, especially the playoffs.
Sure, they still have offseason needs to take care of like Brian Wilson, Marco Scutaro and Angel Pagan, but they aren't going to be sole reasons the Giants struggle (if they do).
There is no such thing as magic in baseball, but in two of the past three seasons the Giants have made every correct acquisition and personnel decision on their way to winning the World Series.
Hell, if Buster Posey hadn't suffered that horrible injury, we might be talking about the three-peat champions. Not unfeasible considering just how great the pitching staff was in 2011.
No more reminiscing, back to the Giants and 2013.
Let's see how good they can actually be.
Begin Slideshow

»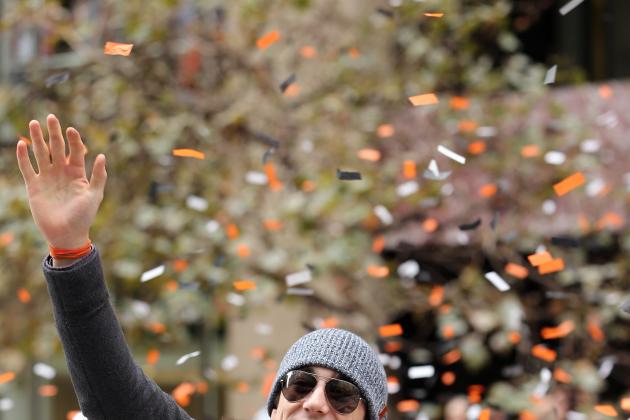 Ezra Shaw/Getty Images
If Timmy can regain his 2010 form, this pitching staff will be near unbeatable.
There's no other way of putting this; despite Tim Lincecum's well, Lincecum-esque run in the playoffs, he had a terrible regular season.
He finished the season with a 5.18 ERA in 33 games started.
Even though he struggled throughout the season with his control, holding a 1.47 WHIP, Bruce Bochy never even considered taking his starter out of the rotation.
But when his hand was pressed, as it was in the playoffs, he tabbed Barry Zito as the starter.
There are reasons to see a turnaround for Lincecum and no, it won't be in the bullpen. He's paid way too much to pitch several innings a week.
Through the struggles, Lincecum did strike out 190 in 186 innings. The stuff still appears to be there despite the lack of velocity. Even though his changeup wasn't as effective, he rediscovered it in the playoffs to plow through the Cardinals, Reds and Tigers.
He also owns a career .301 BABIP (batting average of balls in play) but owned a .316 BABIP last season. This could mean he was a little unlucky in a down season, culminating in a very extended bad stretch.
Dave Righetti and the coaching staff were able to fix Madison Bumgarner's mechanics in the few weeks before the World Series. They'll have the whole offseason to deal with Lincecum's famously herky-jerky pitching style and chances are that they'll find something they hadn't during the regular season.
Or maybe Timmy's famous dad—who invented his pitching motion—will find something as well.
If Lincecum can recover, the core of Bumgarner, Matt Cain, Ryan Vogelsong and Barry Zito should be a team strength yet again.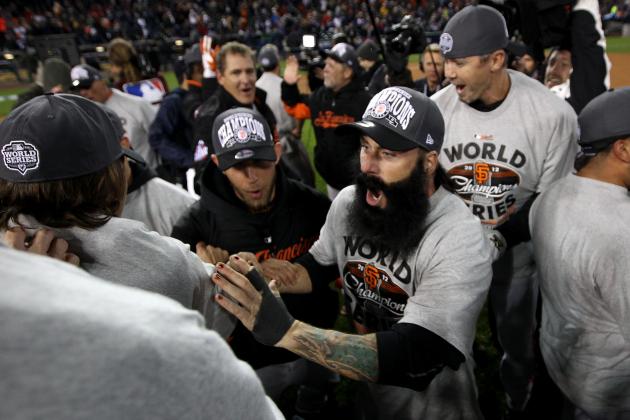 Ezra Shaw/Getty Images
No Brian Wilson? Should be no problem as the bullpen will remain a strength in 2013.
So this bombshell hit earlier today.
Hearing Brian Wilson's first choice to pitch in 2012 -- outside of SF -- is for the Dodgers. He lives in LA during offseason.

— Tim Brown (@TBrownYahoo) November 28, 2012
It sounds pretty bad at first glance as the Beard doesn't look like he's going to be wearing a Giants jersey in 2013. Not only has the team non-tendered him, but they seem more focused on the contracts of Marco Scutaro and Angel Pagan.
But to put it bluntly, the Giants don't need Wilson or his jet-black beard and weirdly colored fingernails.
Sure, it's nice to have him at the back end of the bullpen shutting the door down and providing humor for Giants fans all over the world, but the team itself has many capable relievers.
The Giants recently re-signed Jeremy Affeldt to a three-year deal and Sergio Romo, Santiago Casilla and Javier Lopez (lefty matchups) are all capable of closing.
The bullpen will still remain a strength in 2013 because of the Giants' ability to develop non-prospects into major league pitchers.
Watch for Heath Hembree to come up and potentially take the closer job.
There's a lot of depth here, and things will remain that way unless major injuries strike.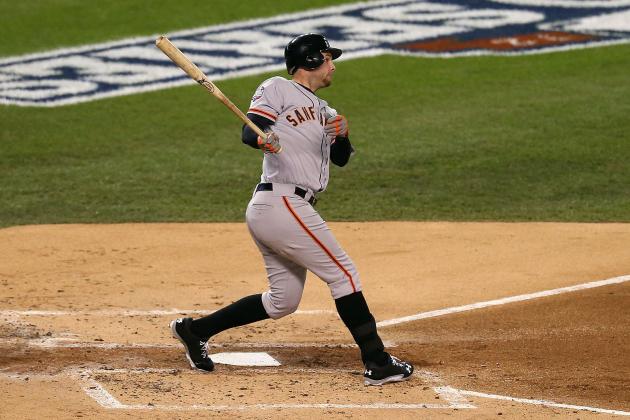 Jonathan Daniel/Getty Images
Belt should only get better as he gains more experience and playing time.
Much of the praise after the World Series win fell on veterans like Marco Scutaro, Barry Zito, Angel Pagan and Hunter Pence. And rightfully so.
But the reason the Giants will be able to excel in 2013 will be the young core of the roster. Of course there is Buster Posey and Pablo Sandoval, and it'll be exciting to see them get better.
The other two key homegrown players are Brandon Belt and Brandon Crawford. They really came into their own down the stretch as Belt was finally hitting and Crawford hitting well enough to complement his Gold Glove-quality defense.
Despite erratic playing time, Belt was able to compile OBPs of .411 and .370 in August and September/October, respectively.
The power is still coming as he only hit seven homers in the season, but playing at At&T Park robbed him of what seemed like at least five homers.
This explains why he got thrown out several times on the basepaths because he was too busy admiring his moonshots that didn't go out.
Brandon Crawford came up with clutch hits throughout the playoffs to back up spectacular diving stop after diving stop.
A dark-horse player may be top prospect Gary Brown. Even though he suffered through a down minor league season, he can still play excellent defense and possesses the speed to steal bases.
If the Giants can re-sign Scutaro and Pagan, the lineup with its young core of players looks formidable yet again.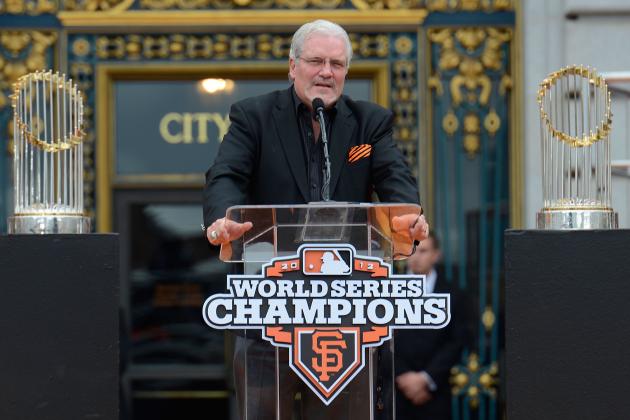 Thearon W. Henderson/Getty Images
General manager of the year.
Brian Sabean was bemoaned for many years after the Barry Bonds era because of his inability to field a winning team.
They were also annoyed at moves he made, such as signing veteran retreads like Steve Finley and trading for players that didn't work out like Shea Hillenbrand.
Overpaying for Aaron Rowand and Barry Zito didn't work either.
Then it got turned around in 2010 when all of Sabean's moves seemed to work. From signing Edgar Renteria (still a bad signing but you can't take away this) to trading for Ramon Ramirez and Javier Lopez, to picking up Pat Burrell and Cody Ross midseason.
How about the ability to recognize the talent and potential of journeyman Andres Torres?
Let's also not forget the trade of Tim Alderson (once a top prospect) for an injury-prone second baseman in Freddy Sanchez, who contributed when he did play.
Then in 2011, Sabean pulled off a trade for Carlos Beltran, which looks bad in hindsight because the Giants didn't make the playoffs and Zach Wheeler looks like a pitcher that will be good for years, but he showed the guts he had to go for it all.
Plus, Beltran hit extremely well in a Giants jersey.
Don't forget the signing of Ryan Vogelsong in 2011, because we all know the role he played later on.
Then in 2012, Sabean essentially traded Jonathan Sanchez for Melky Cabrera, which worked out just fine (until the suspension, but enough of that).
He also picked up Angel Pagan for Andres Torres and Ramon Ramirez. Another A-plus trade.
But he wasn't done. He traded for Marco Scutaro and Hunter Pence midseason, barely giving anything in either trade.
And the rest is history.
After an amazing run in the last three years, Sabean will look to retool his team in the offseason yet again. There's no other general manager I want running my team right now.