Top 10 Quarterbacks Eligible for the 2013 NFL Draft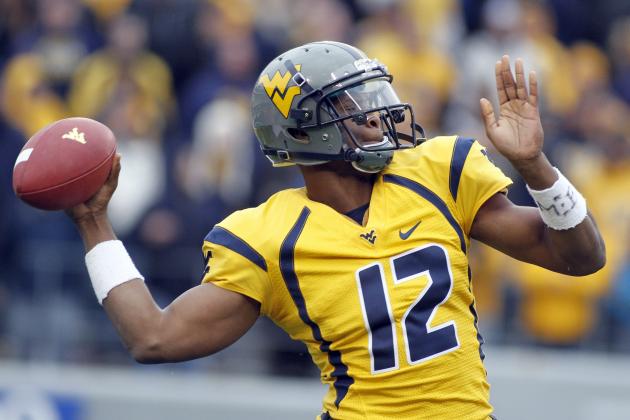 Justin K. Aller/Getty Images

As the NFL season begins to wind down for teams with no hope of making the playoffs, fans begin to turn their attention towards the future and hope for next season.
For some struggling teams, that means continuing the search for a franchise quarterback. Every team knows that without a solid quarterback to be a leader, your hopes of making a run in the playoffs are virtually nonexistent. For teams with a franchise quarterback, it is also becoming more and more clear that a competent backup quarterback is vital to have in the waiting for an emergency.
So with that, we take a look at the top quarterbacks that will be eligible for the 2013 draft.
Begin Slideshow

»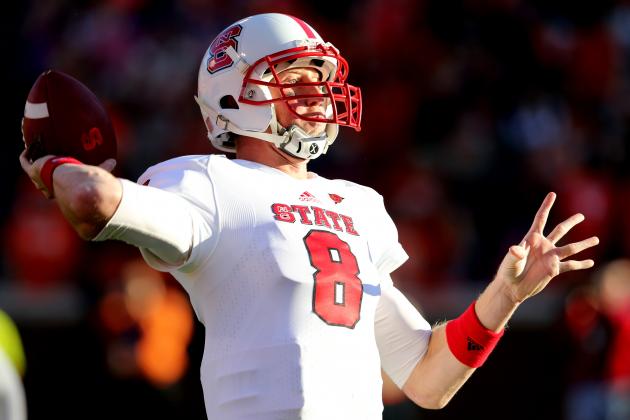 Streeter Lecka/Getty Images

Glennon posses a good arm with a quick release. Glennon's pocket presence has progressed throughout the season, and he is doing a better job of avoiding rushers. Glennon has struggled with his accuracy at times this year, failing to hit receivers in stride. He has also forced more downfield passes this season, resulting in his completion percentage falling from 62.5 last season to 57.7 this season.
Mike has also struggled with some of his reads this season, making poor decisions in the process.

Stat Line: 295-of-511 (57.7%), 3,648 yards, 30 Touchdowns 14 Interceptions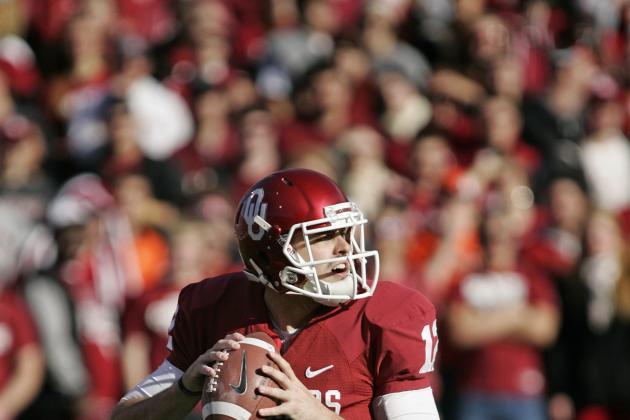 Brett Deering/Getty Images

Landry Jones is part of a small group of quarterbacks that have probably come to regret returning to college football for one more season. Jones' draft stock has almost certainly taken a hit this season, with questions about his arm strength coming to light.
Jones is a smart player that progresses well through his reads and makes smart decisions. However, accuracy issues on his medium to deep routes is a concern. Although Jones does have good footwork, he is not very athletic and does not move well outside the pocket.

Stat Line: 310-of-467 (66.4%), 3,745 yards, 27 Touchdowns, 9 Interceptions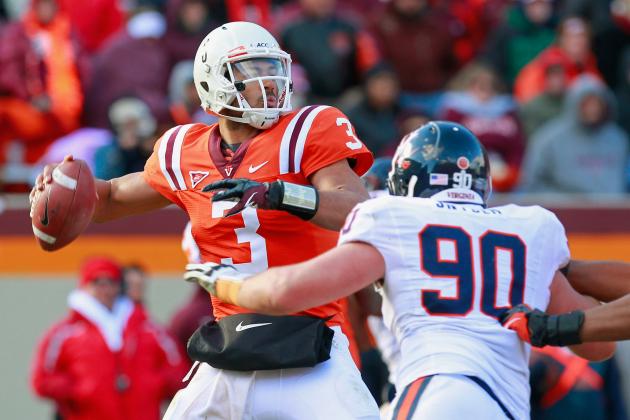 Geoff Burke/Getty Images

Logan Thomas is another quarterback that has regressed this season. His completion percentage has dropped seven percent this year to 52.6 percent. Thomas has struggled with accuracy on a wide range of throws.
That being said, Thomas still has the tools to be better. He has a strong arm and throws a good deep ball. He has a good release that gets the ball out quickly. He is a strong player that can make plays with his feet, although he lacks elite speed.

Stat Line: 205-of-390, 52.6%, 2,783 yards, 17 touchdowns, 14 Interceptions. 528 yards rushing, 9 Rushing touchdowns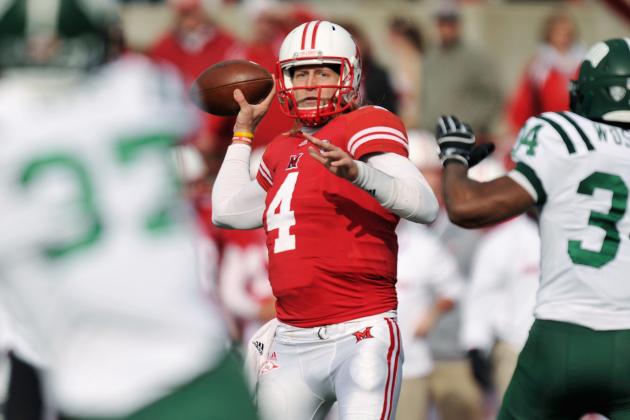 Jamie Sabau/Getty Images

Zac Dysert possesses a strong arm with a quick release. He throws well on the move and has a good pocket presence. Dysert's biggest flaw might be his unwillingness to give up on a play. Dysert will have to work at the next level on knowing when to throw the ball away and not force passes.

Stat Line: 302-of-480 62.9%, 3,483 yards, 25 touchdowns, 12 Interceptions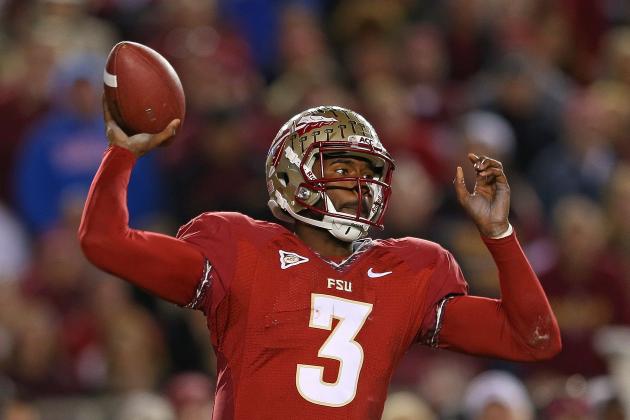 Mike Ehrmann/Getty Images

At 6'5", 240 lbs., EJ Manuel is a big, strong quarterback that moves well and has good speed. Manuel is very accurate on his short to medium throws, but can be a little erratic with his deep balls. Manuel has good form with a quick release on his throws, although he can release high at times.
Manuel also needs to work on his pocket presence, as absorbing hits at the next level will begin to take their toll.

Stat Line: 221-of-328, 67.4%, 2,967 yards, 22 Touchdowns, 9 Interceptions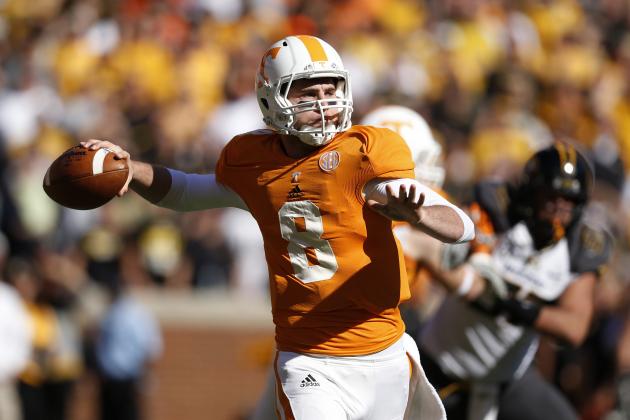 Joe Robbins/Getty Images

Tyler Bray is an incredibly consistent player. He has a strong arm; however, has trouble with his accuracy on the deep throws. He has a tendency to drop down to sidearm on short to medium throws that can cause them to be knocked down. His long release can get him into trouble at times as well. Bray must work on getting the ball out faster.

Stat Line: 268-of-451, 59.4%, 3,612 yards, 34 Touchdowns 12 Interceptions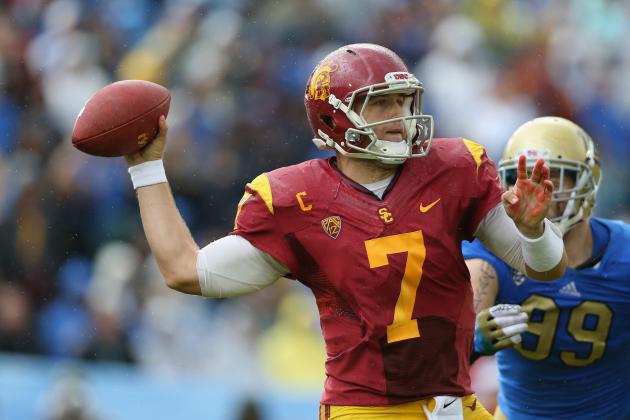 Jeff Gross/Getty Images

Matt Barkley might be the poster child for leaving for the NFL when you have the chance. Barkley's senior season has brought many flaws in his game to light. Considered a possible first overall pick last season, Barkley may struggle to sneak into the first round this season.
Barkley possesses a quick release and good footwork. However, his arm strength has become a concern. Barkley has struggled with accuracy on his deep throws and tends to float them as well. Barkley struggles to progress through his reads and almost always throws to his first read.
Barkley's success seems to hinge on the players around him, as his receivers seem to do much of the work.

Stat Line: 246-of-387, 63.6%, 3,273 yards, 36 Touchdowns. 15 Interceptions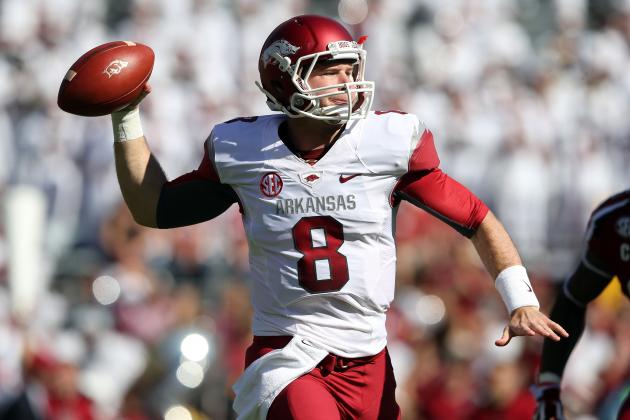 Streeter Lecka/Getty Images

Tyler Wilson is incredibly raw. He has shown great tools and will need to put them all together to succeed. He has a strong arm with a fast release. Wilson goes through his progressions well and has shown a good ability to throw receivers open. His footwork is a little sloppy, and his 3/4 throwing motion can cause a poor trajectory on medium to deep throws. His upside is incredibly high based on the intangibles that he has displayed thus far.

Stat Line: 249-of-401, 62.1%, 3,387 yards, 21 Touchdowns, 13 Interceptions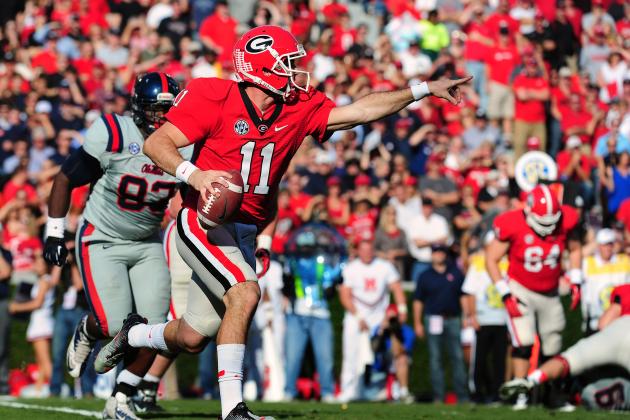 Scott Cunningham/Getty Images

Aaron Murray shows great fundamentals. He has a great throwing motion with a quick release and a strong arm. He has good accuracy on his short to medium throws, but has trouble overthrowing his deep balls. Murray has an OK pocket presence, and while he is not very athletic, he does throw well while on the move.
Must work on finding his throwing lanes on short to medium throws; he has a high rate of knockdowns on those throws. Murray goes through his progressions well and reads blitzes well.

Stat Line: 213-of-320, 66.6%, 3,201 yards, 30 Touchdowns, 7 Interceptions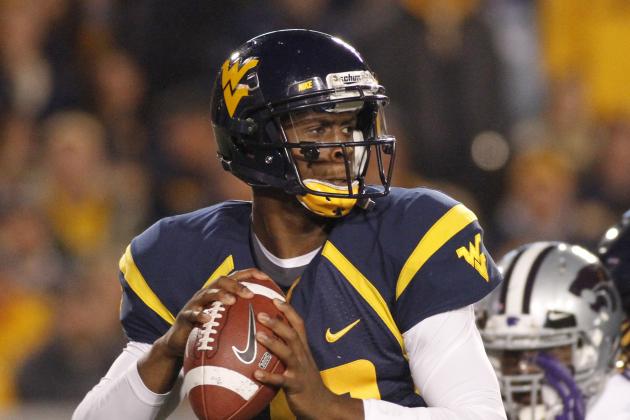 Justin K. Aller/Getty Images

Geno Smith is incredibly polished. He has the best fundamentals of any quarterback in the draft. His footwork is outstanding, he is incredibly accurate and goes through his progressions well. Smith has shown a good ability to throw receivers open and has excellent pocket presence.
While he may not have elite arm strength, he does have the strength to make all the necessary throws at the next level.

Stat Line: 327-of-466, 70.2%, 3,597 yards, 37 Touchdowns, 5 Interceptions