Ohio State Football: Could 12-0 Buckeyes Have Won the SEC?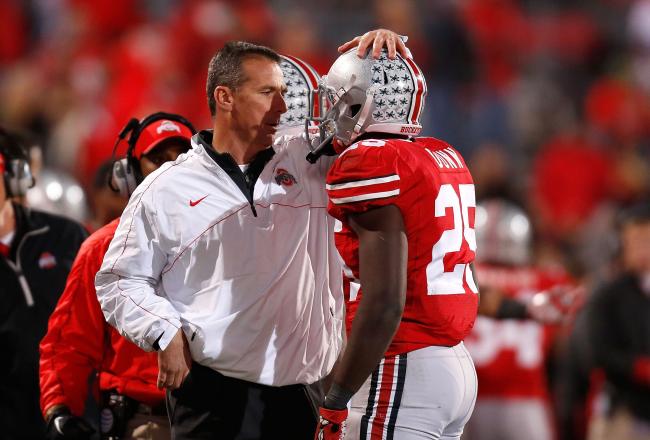 Kirk Irwin/Getty Images
The Ohio State Buckeyes have finished the 2012 season with an undefeated record. While it is an impressive feat that should be respected, nobody will ever know how great this team could truly be because of the bowl sanctions it has been dealt.
After the victory over Michigan, Urban Meyer admitted that he will also wonder how this season could have ended, according to Pete Thamel of SI.com.
Sure I'm going to wonder. But I think I learned that lesson. I'm not going to try and control what I can't control.
Well, since everybody is wondering, let's put Ohio State in the SEC for a minute and see how it would stack up. Could the Buckeyes have won the most competitive conference in college football with the team that ran the table in the Big Ten?
I wouldn't bet on it.
This is not a knock on the Buckeyes roster, but this is an Ohio State team that had trouble beating teams such as Cal, Michigan State, Indiana and needed overtime to beat Wisconsin. Now, replace those teams with the likes of Georgia, LSU, South Carolina, Florida, Alabama and Texas A&M. By the way, all six of those teams are ranked in the Top 10 of the BCS rankings.
Ohio State has struggled to have any success throwing the football this year, as it ranks 105th in the country in passing yards. Quarterback Braxton Miller completed fewer than 60 percent of his passes and only had four games where he threw for more than 200 yards.
You know what happens to teams that face the SEC with one-dimensional offenses? They get eaten alive by a physical defense that can also match you stride for stride with athleticism.
Ohio State had three games this year where it failed to clear 200 yards on the ground, and all three of those contests were decided by one possession.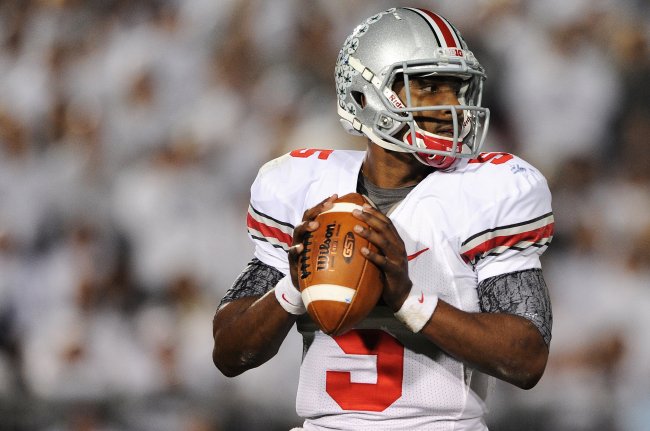 Patrick Smith/Getty Images
With the Buckeyes being that dependent on the running game and relying so much on the athleticism of Miller at quarterback, the SEC would bottle him up. The SEC has six defenses ranked in the top 25 in total defense and eight out of its 14 teams allow fewer than 150 yards on the ground per game.
In order for the Buckeyes to have any consistent success on offense, Miller would have to make plays with his arm. Unfortunately for Ohio State fans, that is not something he has been able to do throughout his first couple of seasons at the quarterback position.
If you want to talk about the defensive side of the ball for the Buckeyes, top-tier SEC teams possess a physical running game and offensive line. There are six teams in the conference that rush for at least 170 yards a game and five of those clubs are ranked in the Top 10 of the BCS.
Is Ohio State dominant enough to stop a physical ground game that is looking to run the ball down its throat?
Well, the two teams in the Big Ten that could be compared to the SEC when referring to the running game are Wisconsin and Nebraska. Both have physical running backs and massive offensive linemen that are looking to open up gaping holes. The Cornhuskers ran for over 200 yards and four touchdowns against Ohio State, while the Badgers produced 200 yards on the ground as well.
Teams such as Alabama, Florida, LSU, Georgia and even Texas A&M with Johnny Manziel would all look to take advantage of a shaky run defense and grind their way to victory.
If you take the five rushing teams in the SEC this season (Texas A&M, Florida, LSU, Alabama and Georgia), you get a combined 31-0 record when they clear 200 rushing yards.
Could Ohio State have won the SEC this year?
Needless to say, this conference is quite dominant.
The recipe to win in the SEC is really simple. If you are physical in the trenches, run the ball effectively and take care of the football, you will remain competitive. The Buckeyes have shown they can run the ball, but were vulnerable against the run, and their 18 turnovers would be tied with Vanderbilt for seventh in the SEC.
Regardless of if this year's team could have won the SEC or not, it is only a matter of time before the speculating stops and it is shown on the football field.
Meyer knows what it takes to win against the SEC because he already did so when he was the coach of the Florida Gators. He is also quickly picking up the players he needs to turn this into a national champion powerhouse.
Could Ohio State have won the SEC this year?
No, but it won't be long before this question becomes irrelevant and the school is competing for titles in its own right.
This article is
What is the duplicate article?
Why is this article offensive?
Where is this article plagiarized from?
Why is this article poorly edited?

Ohio State Football: Like this team?