Saints vs. Falcons: Final Report Card, Player Grades for New Orleans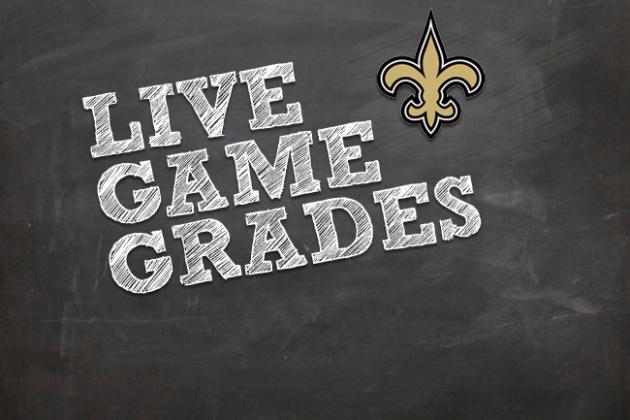 Final
New Orleans 13
Atlanta 23
The New Orleans Saints defense played really well on the road against a strong offensive team in the Atlanta Falcons. Unfortunately, Drew Brees and the New Orleans Saints' offense didn't do anything to win this game.
In fact, their effort as a whole was sad and didn't get the job done. The Saints' loss was a sad one tonight.
Begin Slideshow

»
Chris Graythen/Getty Images

Overall Game Grade--C-
Brees managed to throw the ball effectively down the field at times. But he also made six boneheaded mistakes--five interceptions and one checkdown on the goalline that should not have been. What more could really be said?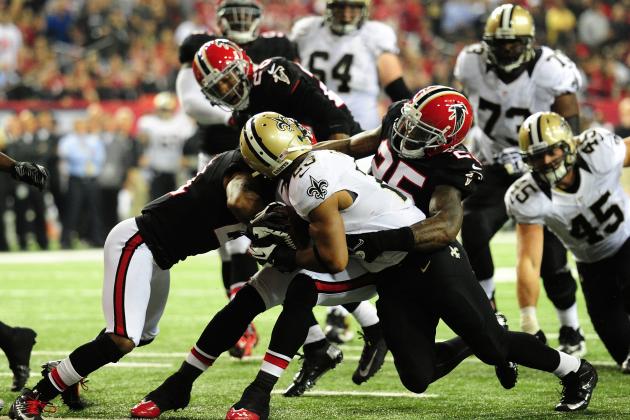 Pierre Thomas—Grade—A
Pierre Thomas hadn't seen the field a ton in the past few games. Thursday night he was the Saints' primary tailback to see action. Unfortunately, his effort wasn't enough. He did have a touchdown called back on an instant replay. That was the lone possession which actually resulted in a Saints' touchdown. His effort between the tackles was exceptional in this contest.
Mark Ingram—Grade—B
Mark Ingram didn't get a ton of attempts in this game. When he did see the ball he was effective, especially on the goalline. Still, he slipped on a swing screen that had many fans irritated. Truth be told, that was a poor pass from Drew Brees that led to his slipping on the sideline. It's hard to blame Ingram for his poor statistics tonight. He could have easily had two touchdowns.
Darren Sproles—Grade—B
Darren Sproles did a nice job, both in the return game and in catching the football. Unfortunately, his effort wasn't great enough to win a football game.
Chris Ivory—Grade—C
Chris Ivory hardly ever got the ball in this game. When he did, Atlanta defenders seemed to swarm him as if they were 16-year old girls and he were Justin Bieber at one of his concerts.
Travaris Cadet—Grade—B
Travaris Cadet made some hay in the return game, but did little to impress otherwise.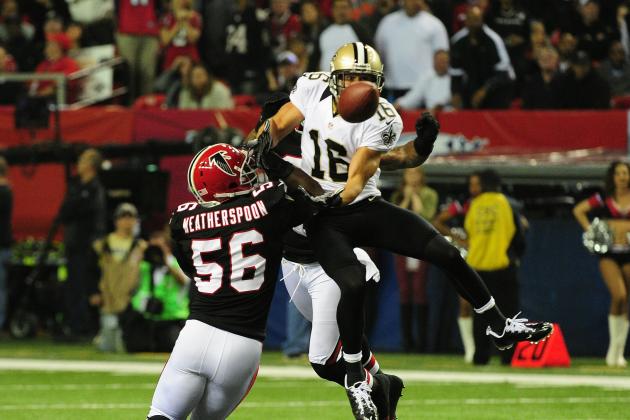 Marques Colston—Grade—B
Marques Colston had an ice bounce-back game after nearly being decapitated on Sunday. Sadly for him, his effort was for naught as the Falcons did a wonderful job mirroring him in coverage and keeping Drew Brees from regularly finding him.
Lance Moore—Grade—B+
Lance Moore played a fine football game. In fact, his catches over the middle were more than spectacular. But Drew Brees was unable to find him often enough for Moore to have a great impact on this game—despite the fact he was the teams' leading receiver.
Devery Henderson—Grade—D
Devery Henderson was pretty much absent from this contest. In fact it appears Henderson has lost a step and likely his job to youngster Joe Morgan.
Joseph Morgan—Grade—C+
Joe Morgan made yet another spectacular catch early in the football game. It should have led to a score, but did not—of no fault of Morgan's. He seems to be good now for one a game. If he can make a greater impact as a whole, he will win the third receiver job next season.
Courtney Roby—Grade—N/A
Roby did not play in this game.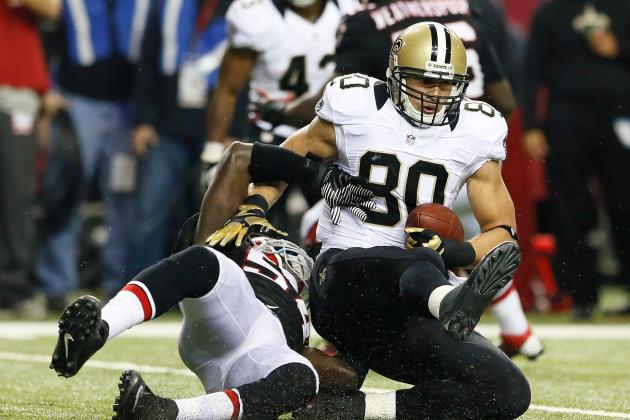 Jimmy Graham—Grade—B-
Jimmy Graham did not impress with his performance today against the 49ers—after playing very well against them just a few short weeks ago. He had a key penalty on the Saints' touchdown that was not on a screen to Darren Sproles. His play as a receiver really wasn't much better.
David Thomas—Grade—N/A
Thomas did not play due to injury.
Michael Higgins—Grade—C
This is the first game Higgins has played in during the 2012 campaign. He was effective when used. Unfortunately he was not used enough, in my opinion.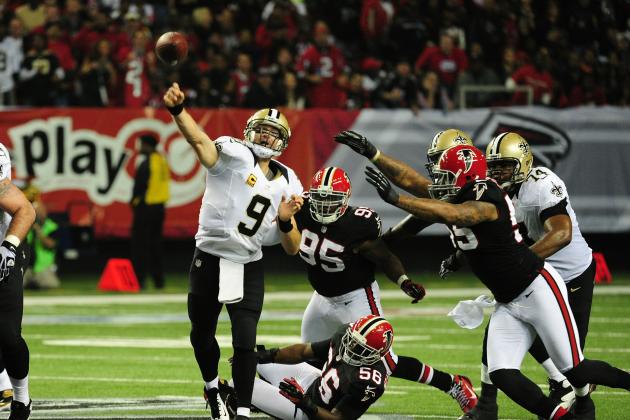 LT Jermon Bushrod—Grade—C+
Most of the Falcons' pass rush pressure was created up the middle, or on the right side of the line. And some of the Saints' running game was effective on Bushrod's side.
LG Ben Grubbs—Grade—B-
Bushrod played pretty well for much of the game. Mike Mayock noted his work in the running game on a few occasions, and he was right to say that Grubbs played well.
C Brian de la Puente—Grade—C-
Brian de la Puente was an issue in this game. A good deal of Atlanta's pressure came from inside pressures. That is primarily due to the poor play of de la Puente.
RG Jahri Evans—Grade—C
Jahri Evans did not play well in this game. He had his weekly penalty and was responsible for giving up some of the pressure Drew Brees faced in this game.
RT Zach Strief—Grade—N/A
Strief was back in action but looked a little rusty. He regularly gave up the outside shoulder to John Abraham in pass protection.
Charles Brown—Grade—N/A
Charles Brown did not play in this game.
Bryce Harris—Grade—N/A
Bryce Harris has been moved to the IR.
William Robinson—Grade—C
Robinson saw only a handful of snaps.
Eric Olsen—Grade—B
Olsen was always intended in this game to be the sixth lineman in the jumbo packages. He performed his role really well in the first half. Unfortunately, it wasn't advantageous or wise to use him in the second half when the Saints were forced into more spread personnel groupings to push the ball down the field. If this sounds familiar, it is. I wrote that in the San Francisco game too.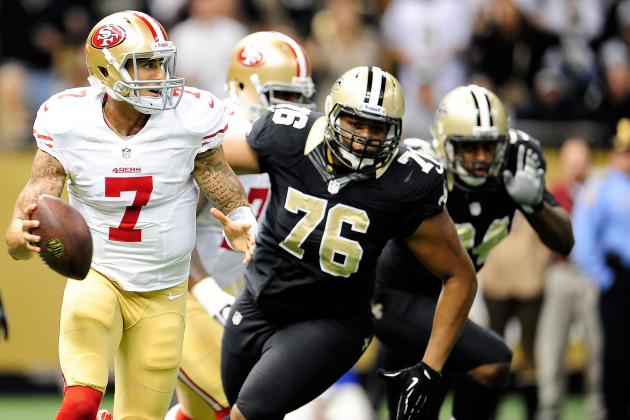 Stacy Revere/Getty Images

DE Will Smith—Grade—B-
Will Smith did not appear to play a real key role in this contest. He was there, and did a really good job in the running game. It was disappointing to not see him near Matt Ryan more. He played similar to the way he showed out last Sunday.
DT Brodrick Bunkley—Grade—A
Brodrick Bunkley was a beast against the run in this game. He had a tough start, but as the game progressed he tore up the Falcons' interior offensive line. He also managed to get his hands on one or two Matt Ryan passes. This was hands down Bunkley's best game as a Saint, and why Mickey Loomis brought him for five years, $25 million.
DT Sedrick Ellis—Grade—B
Sedrick Ellis actually showed up on the day, again. It was the second straight week he looked like he cared and played well. Sure, he was still getting pushed four yards beyond the line of scrimmage. But at least he exhibited effort at that point to find the ball and tackle the guy with it. And his pass rush elevated the defensive effort once again.
DE Cameron Jordan—Grade—A
Cameron Jordan had another underrated game (as always I am stealing from the previous week). Jordan was seemingly in the offensive backfield on every play. Jordan found his way to Matt Ryan for a sack and was regularly putting pressure on Ryan.
DT Tom Johnson—Grade—B
Tom Johnson also regularly found himself in the backfield. Steal much of the comment about Jordan from above—re: Bringing Ryan down. He also played the run well when he was in the game.
DT Akiem Hicks—Grade—B
Akiem Hicks did not make a ton of plays in this game. But his play was consistent. That's about all you can ask for from a young rookie defensive tackle (also taken from last week). I wouldn't say his play improved this week, but it was again solid. That's another steal from last week.
DE Junior Galette—Grade—N/A
Galette did not play in this game.
DE Martez Wilson—Grade—B
Martez Wilson is seeing plenty of defensive snaps nowadays. He played well, but not as effectively as some would hope. Still his ability create pressure has made Will Smith pretty much expendable.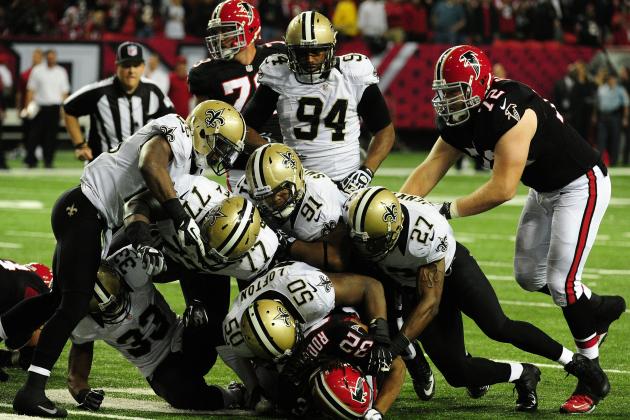 MLB Curtis Lofton—Grade—B
Curtis Lofton played well against his former team in his first time back in the Georgia Dome. Unfortunately, he was the only linebacker to step up. He made a few bone-crushing hits, but they were not nearly enough, obviously.
OLB Scott Shanle—Grade—N/A
Scott Shanle did not play in this game, as he was officially inactive.
OLB Will Herring—Grade—Incomplete
Herring didn't play enough to warrant a grade.
Jonathan Casillas—Grade—B
Casillas stepped his game up this week. He quickly diagnosed plays in this one and slithered through open gaps in the running game. He didn't always make the tackle, but he slowed 49er ball carriers enough to allow another Saints defender to make the play.
Jon Vilma—Grade—C+
Jon Vilma overpursued again and did not do enough in the passing game to make amends. His play the past few weeks has leveled out, and he is again expendable, in my opinion.
David Hawthorne—Grade—B-
David Hawthorne did not play even as well as he did a week ago. Similarly he was put in a bind and forced to react to some odd offensive alignments and assignments. He reacted fairly well but not well enough to warrant a super high grade.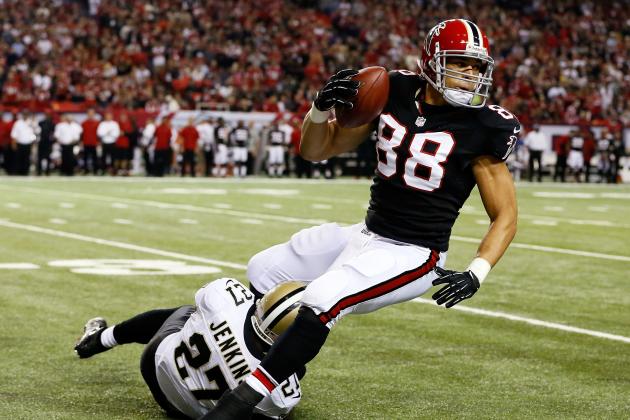 CB Jabari Greer—Grade—B+
Jabari Greer played pretty well in this game. Only once or twice was he beat, period. This was the best game he had played in quite some time.
CB Corey White—Grade—B-
White played, but was not really targeted. That's OK, though.
CB Patrick Robinson—Grade—A+
Patrick Robinson again played really well. Not having an interception is OK. The main point is that he managed to keep his opponent (mostly Roddy White) from having a big night.
CB Elbert Mack—Grade—B
Mack played well on blitz packages and in other situations. But he wasn't on the field enough to be praised too much.
S Roman Harper—Grade—B-
Roman Harper was pretty quiet in this game. But he did come up to make a few plays on the ball in the run game and otherwise provided nice support in pass coverage. I wrote that last week as well.
S Malcolm Jenkins—Grade—B+
Malcolm Jenkins could have had an interception on the game's initial down, had he simply reached out his arms to catch the football. Aside from that play, he was more than solid.
S Isa Abdul-Quddas—Grade—N/A
Quddas did not play in this game due to injury.
S Rafael Bush—Grade—B
Aside from his play on special teams—which was more than solid—Bush recovered a fumble late in the game. He is a player who has a nose for the football in all phases of the game. He is a must-keep on this team next season.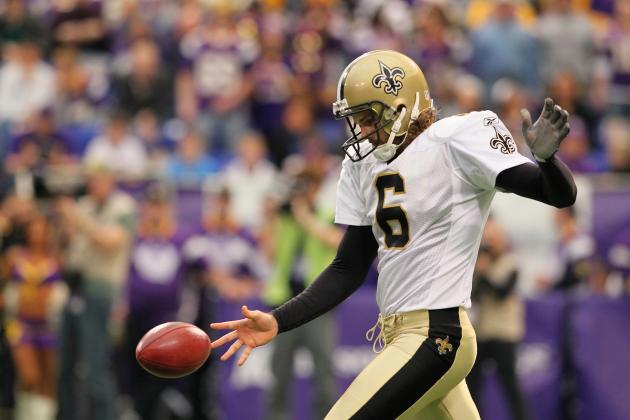 Adam Bettcher/Getty Images

Overall Game Grade--A
The special teams unit did their job in this game. In fact, as a whole the unit outplayed the Atlanta Falcons. It wasn't enough, despite the defense and special teams doing their job for the entire season.
P Thomas Morstead—Grade—A-
Thomas Morstead was outstanding in his few punting opportunities. And his kickoffs were key to the team's positive advantage in field position (see last week, again). His hang time was also crucial in this one. He is a model of consistency from week-to-week.
K Garrett Hartley—Grade—B
Hartley kicked two field goals—one from close, one from long distance. He was money on both. Say what you will, but Hartley has been pretty consistent this season.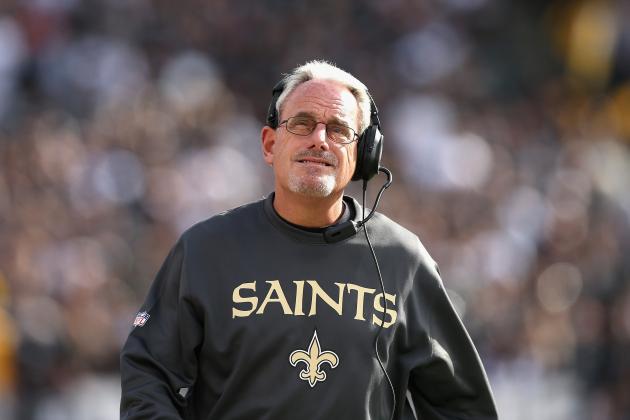 Ezra Shaw/Getty Images

Overall Game Grade--B
The coaching staff gave its team every chance to win in this game. The offensive game plan tried to feature the run game as much as was possible. Unfortunately there came a point where running the ball just was no longer reasonable.
Defensively, Steve Spagnuolo made great adjustments to slow the running game and seriously halter the Falcons' passing game.
It was a good game plan, and good overall game management, but the result did not work out. I blame palyer execution not coaching, though.