Jayne Kamin-Oncea-US PRESSWIRE
Sometimes when we look at the NBA power structure, we can look so much at a single player that we overlook a position as a whole. A very good tandem is often more productive than a single star.
For example, last year the Chicago Bulls had the second best power forward combination in the NBA based on net efficiency. They accomplished this even though neither Carlos Boozer nor Taj Gibson even ranked in the top 10 in efficiency.
This got us to wondering who the top tandems are so far this season.
These rankings do present some difficulties in how to determine what a "platoon" really is. The two biggest issues are how do you define "platoon" and how do you determine what position a player plays.
There are a few rules that were used to make these determinations.
First, a player has to play at least 10 percent of a team's minutes at a particular position to be considered that position.
Second, if a player was a starter at another position he wasn't considered as a backup in a platoon.
Third, a player's position was determined by whichever position he plays the most frequently.
Rankings are determined by which tandems, meeting the above guidelines, had the best net production over their counterparts.
All stats used for this article are current as of the games of November 27.
Minutes for positions was based on data provided on respective player pages at 82games.com.
Opponents positional stats were obtained by data provided by hoopdata.com using the position filter.
Point Guard, Second Team: Toronto Raptors' Jose Calderon and Kyle Lowry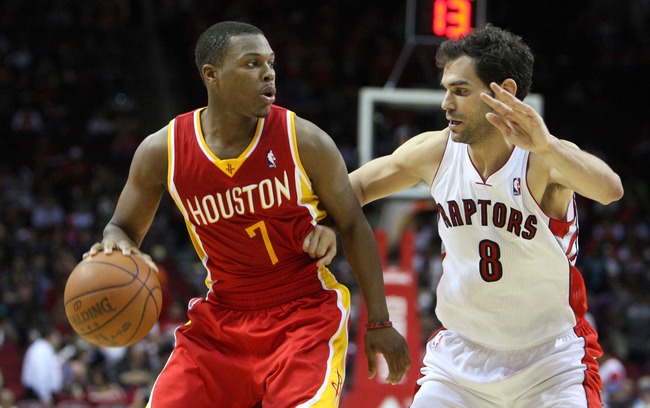 Thomas Campbell-US PRESSWIRE
The Toronto Raptors point guard tandem is arguably the most underrated in the NBA, and some will be shocked to see them on this list. Those who live north of the other border will be glad to see them given due respect.
The numbers here are impressive. The tandem of Lowry and Calderon combine to score 27.3 points, 8.2 rebounds and 13.8 assists per game. That's 7.8 more points, 3.8 rebounds, 4.5 assists, .8 steals and .9 blocks more than what their opponents produce.
These numbers are admittedly a bit inflated by Calderon's having started seven games. Still as backup point guards go, you can't get much better than Calderon, who had a triple-double in one of his fill-in starts for Lowry.
When your starter is ranked fourth in the position in efficiency and your backup can produce a triple-double, you've got a pretty nasty platoon.
Third Team: Boston Celtics' Rajon Rondo and Leandro Barbosa
Point Guard, First Team: Los Angeles Clippers' Chris Paul and Eric Bledsoe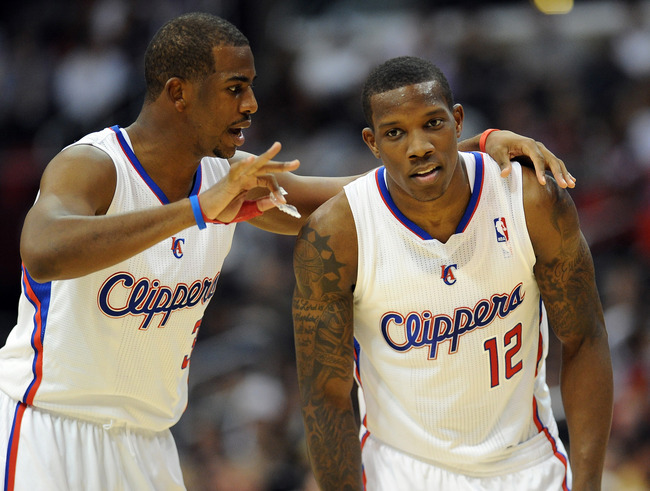 Jayne Kamin-Oncea-US PRESSWIRE
The Los Angeles Clippers' tandem of Chris Paul and Eric Bledsoe have dominated their opponents statistically. In fact, their numbers are nearly identical to Toronto's point guard duo, but without either player missing a single game.
Paul and Bledsoe have combined to rack up 26.2 points, 6.5 boards, 12.1 assists, .6 blocks and a prison-worthy 4.2 steals per game. That's 8.5 points, 2.7 boards, 3.7 assists, 0.4 blocks and 2.8 steals better than their opponents.
Everyone knew that Paul was one of the best, if not the best, point guard in the NBA. Bledsoe has broken out this year to establish himself as one of the best backups. His per 36 minutes are impressive as he's scoring 19.2 points and dishing 5.0 assists as well as thieving 2.6 balls.
The Clippers' tandem is not only the best point guard platoon but arguably the best platoon for any position.
Shooting Guard, Second Team: Milwaukee Bucks' Monta Ellis and Beno Udrih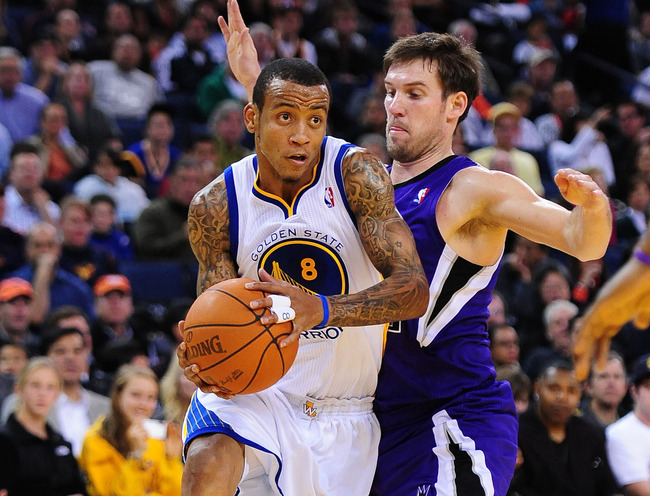 Kyle Terada-US PRESSWIRE
This presented certain difficulties as there just aren't many teams with two quality shooting guards. As a result, there is a lot of position confusion. Many players play shooting guard and either small forward or point guard. In order to have a "platoon" you need more than one player, or one and a half.
For instance, Kobe Bryant and whichever scrub the Lakers are filling in for him make for one of the best "platoons" in the NBA but the scrub, not Bryant, prevents the Lakers from getting named to this list. Both players have to at least have some degree of credibility.
Another issue is that there are some teams, such as the Memphis Grizzlies, who are under-represented by the stats because they put a defensive emphasis on the position—see Tony Allen and Wayne Ellington. Not only do Allen and Ellington not score much, opposing shooting guards average 21 points against them.
However, that's because they are often playing out of position on defense. Allen is widely regarded as one of the best perimeter players in the league and Ellington's opponents have a Player Efficiency Rating of 6.3. The truth is that that there's just no way to quantify their contribution.
So with all that qualification, the second-best two-man platoon at the 2 is the Milwaukee Bucks. Beno Udrih and Monta Ellis combine for 27.1 points, 6.0 boards, 8.7 dimes and 3.1 blocks and steals per game. That's 4.3 points, 1.8 boards, 2.7 assists and 0.7 blocks and steals better than their opponents.
Third Team: Oklahoma City Thunder's Thabo Sefolosha and Kevin Martin
Honorable Mention: Allen and Ellington
Shooting Guard, First Team: Miami Heat's Dwyane Wade and Ray Allen
Steve Mitchell-US PRESSWIRE
There's no question who has the best shooting guard tandem in the league. When you boast two future Hall of Famers at the same position, you've got something special, and that's precisely what the Miami Heat have.
The tandem of Dwyane Wade and Ray Allen combine for 30.9 points, 7.5 rebounds, 6.9 assists, 1.5 blocks and 2.0 steals per game. That's 7.2 points, 3.5 rebounds, 2.3 assists, 1.6 blocks, and 2.0 steals per game more than their opponents.
What does it say, though, that two Hall of Famers combine to post a typical LeBron box score?
Small Forward, Second Team: Minnesota Timberwolves' Chase Budinger and Andrei Kirilenko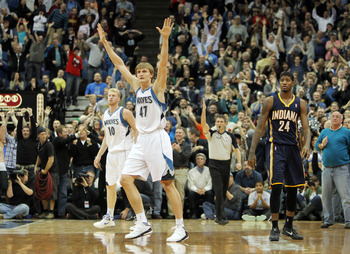 Another position which requires some explanation. The three players who jump to mind when you think small forward aren't going to be a part of the first or second team. Carmelo Anthony and LeBron James have played mostly power forward this season—they aren't included.
The other player, Kevin Durant, has no real backup. The player who plays the most small forward after Durant is the Thunder's starting shooting guard, Thabo Sefolosha. No other Thunder player has filled at least 10 percent of the minutes at small forward. That kills the whole "platoon" notion, and is why the Thunder aren't represented.
If we make Durant a one-man platoon, he is the best platoon in the NBA. But, we're not counting one-man platoons here.
So that leaves us with a couple of surprise selections at the top of the best platoons list, with the second team nod going to the Minnesota Timberwolves' tandem of Chase Budinger and Andrei Kirilenko. The two combine to post 24.8 points, 11.6 boards, 4.8 assists, 2.3 steals and 2.5 blocks per game.
That's 5.0 more points, 1.3 more boards, 1.0 more assist and 0.6 combined steals and blocks more than their opponents. They are also helped by giving up the second lowest efficiency to opposing small forwards. As a two-way selection, this is remarkable unit.
One note to add to this selection is that Budinger is out for the next three months with a knee injury.
Third Team: Chicago Bulls' Luol Deng and Jimmy Butler
Small Forward, First Team: Denver Nuggets' Danilo Gallinari and Corey Brewer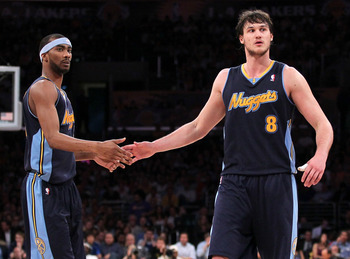 Danilo Gallinari and Corey Brewer of the Denver Nuggets might not be the biggest names in the NBA, but that doesn't mean they aren't a productive tandem. They manage to combine for 25.1 points, 8.7 rebounds, 5.6 assists, 1.7 steals and 1.0 block per game.
That's 7.0 points, 1.0 rebound, 1.9 assists, and 0.2 combined blocks and steals per game better than opposing small forwards.
In addition, the Nuggets have their starting shooting guard, Andre Iguodala, who made the All-Star game as a small forward last year, playing the other 15 percent of their minutes at small forward.
They definitely are a small forward platoon, and the league's best at that.
Power Forward, Second Team: Miami Heat's LeBron James and Rashard Lewis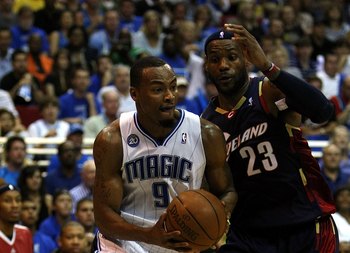 LeBron James and Rashard Lewis are the only players in NBA history with their respective first names. They both have last names that should be first names. They play the same position for the Miami Heat. Those are about the only comparisons you can make between them.
Lewis' numbers aren't completely insignificant, and with the Heat paying him the NBA minimum, they're getting their money's worth from him. But it's James that makes them one of the top platoons in the league, not just at power forward, but overall.
Lewis and James (not to be confused with Lewis and Clark) combine for 32.4 points, 10.8 boards, 7.0 assists, 1.1 blocks and 1.3 steals per game. That's 7.6 points, 5.2 assists and 0.3 blocks and steals per game more than their opponents. However opposing power forwards do edge out the Heat tandem on the glass by 3.2 per game.
Third Team: Utah Jazz' Paul Millsap and Derrick Favors
Power Forward, First Team: Golden State Warriors' David Lee and Carl Landry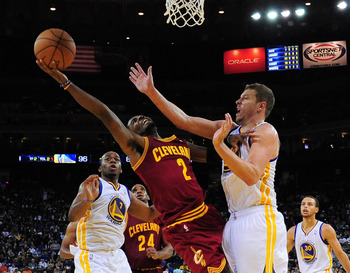 David Lee and Carl Landry might not be the first pair that comes to mind when you think of the top tandems in the NBA, but, at least statistically, they are—not just at power forward but period. No pair of teammates at the same position in the league combine for more net-production than Lee and Landry.
Lee and Landry combine for a 31.2 points and a massive 17.9 rebounds per game as well as 4.8 dimes. While they don't do as well on the defensive stats with an average of just 1.4 steals and 0.6 blocks per game, they do dominate their opponents.
Opposing power forwards score 12.8 fewer points per game, grab 5.3 fewer rebounds and average 2.8 fewer assists.
All together that means that the Warriors' power forwards have 20.9 more points, rebounds and assists than their opponents. That is grotesquely bloated advantage for one position.
It just goes to show, the best platoons don't have to have the most star power.
Center, Second Team: Miami Heat's Chris Bosh and Udonis Haslem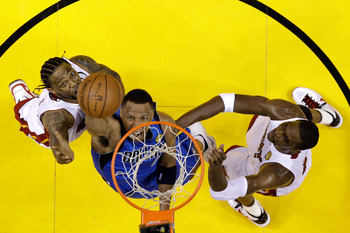 The Miami Heat's Chris Bosh switched positions this year to center, and he's done a pretty respectable job. In fact, he's second in efficiency among all NBA centers. Together with Udonis Haslem they compose the second best center platoon in the NBA.
That puts all three of the "Big Three" on the list.
Bosh and Haslem combine to score 24.2 points, grab 13.2 boards, and add 1.8 assists, 1.5 blocks and 1.0 steals per game. That's 9.8 points, 0.8 boards, and 0.7 blocks more than their opponents. They do, however, fall 0.1 assists and 0.5 steals short of their opponents. As you can see the primary thing they do better is score.
While they might not do much else, that's the greatest scoring disparity of any platoon on the list.
Third Team: Los Angeles Lakers' Dwight Howard and Jordan Hill
Center, First Team: Cleveland Cavaliers' Anderson Varejao and Tyler Zeller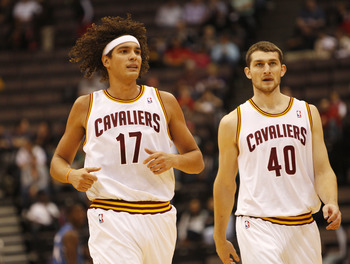 Some will look at this and deem that it proves why there's a problem with using stats. The counter to that argument is that it's proof of why you should. The obvious answers aren't always right, and it's only by using statistical analysis that we notice sometimes there's amazing production coming from the bottom of the league.
Anderson Varejao in particular, with 14.4 points and 14.9 boards, is having a massive year. Together with Tyler Zeller the two combine for an anything but cavalier 20.0 points, 19.9 boards, 3.8 assists and 2.7 combined blocks and steals.
That's 5.1 points, 9.9 boards and 1.9 assists better than their opponents. They do give up 1.8 more blocks and steals per game, but the 9.9 boards in particular greatly overshadows that.
Give credit where it's due. Cleveland, right now, is getting the most production from the center position.
Keep Reading