Kentucky vs Notre Dame: Live Score and Analysis for SEC-Big East Challenge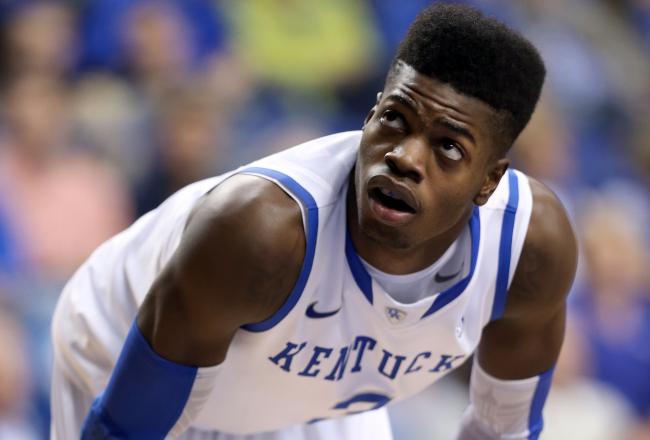 Andy Lyons/Getty Images
Notre Dame beat Kentucky 64-50 in the first game of the SEC-Big East challenge.
If the final score is any indication, Kentucky couldn't score. Notre Dame head coach Mike Brey had an excellent gameplan. His squad forced the Wildcats to play at their pace.
Notre Dame executed on offense, limited turnovers and stayed out of foul trouble.
The Kentucky Wildcats did none of the above.
The Fighting Irish showcased their experience and shooting skill, going 8-of-15 from beyond the arc. They won the rebounding battle 28-26 and kept Kentucky out of sync the entire game.
Moving forward, Notre Dame will play Brown on Dec. 8.
Kentucky will play Baylor on Dec. 1.
All statistics via ESPN.com.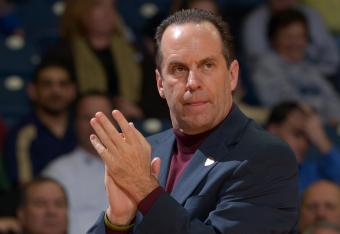 Notre Dame dominated this basketball game.
Kentucky jumped out to a six point lead at the beginning of the game, but the Fighting Irish started to hit shots. They took the lead with 10:42 left in the first half and didn't look back.
Guard play was the key for Notre Dame. Eric Atkins and Jerian Grant controlled the pace of the game and scored 29 points on 11-of-21 shooting from the field. They also hit four three-point baskets.
Double-double machine Jack Cooley grabbed 11 rebounds to go with his 13 points. The length of Kentucky down low did not deter him from scoring the ball, and he consistently outworked the talented Kentucky bigs on the glass.
The story of the game, however, is Mike Brey's coaching. From ESPN's Dana O'Neil:
Very impressive win by Irish from start to finish. Just a well played game and a well thought out game plan from Mike Brey.
— Dana O'Neil (@ESPNDanaOneil) November 30, 2012


Brey went to a 2-3 zone early in the first half, and it clearly threw the Wildcats off on offense. His team also took advantage of the overzealous Kentucky defense, which led to foul trouble for the Wildcats and easy buckets for his Fighting Irish.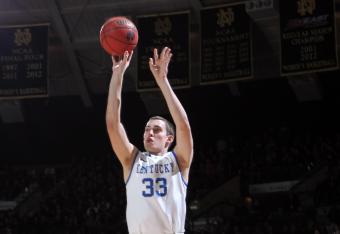 Kentucky is young.
The Wildcats struggles started early with Archie Goodwin and Alex Poythress playing limited first half minutes due to foul trouble.
Rebounding, an issue that has plagued the Wildcats in this young season, was again an issue. Kentucky grabbed only 26 boards all night, down from their already poor 35.4 per game average.
Julius Mays was the lone bright spot for Kentucky, finishing the game with 16 points. He made 4-of-7 three point attempts.
As a team, Kentucky was 4-of-14 from beyond the arc. I'll let you do the math there.
Ryan Harrow returned to action and was challenged on both sides of the ball. He finished the night with two points on 1-of-4 shooting, one rebound, one steal and one turnover.
Point guard play will be critical for Kentucky moving forward. John Calipari's offense was out of sorts all night.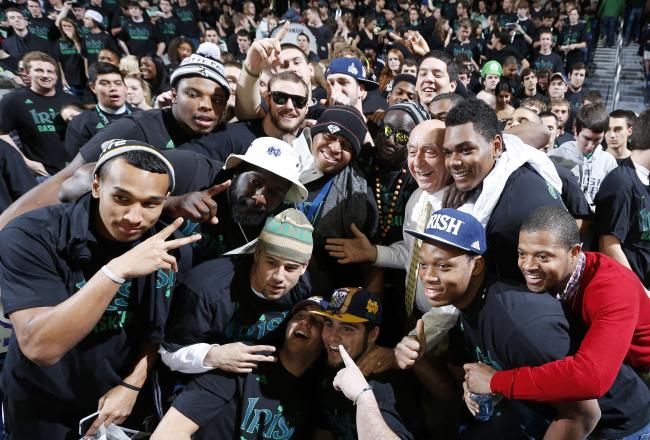 Final Score: Notre Dame 64, Kentucky 50
Notre Dame rushes the court after a great win over Kentucky.
Notre Dame 62, Kentucky 50 (1:40 2nd half)
Just as Kentucky cuts it to ten, Jack Cooley gets an offensive board and kills any and all momentum for the Wildcats.
Notre Dame 60, Kentucky 48 (2:57 2nd half)
Great execution out of the timeout for Kentucky. Julius Mays to Willie Cauley-Stein for a dunk.
It may be too little, too late for the Wildcats. Notre Dame continues to score.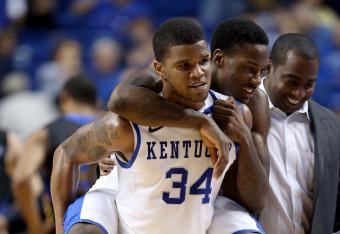 Notre Dame 59, Kentucky 46 (4:37 2nd half)
The Fighting Irish are 8-of-14 from beyond the arc.
The Wildcats are 4-of-12.
Julius Mays has all four of Kentucky's three point makes. He's the only Kentucky player that looks comfortable and under control right now.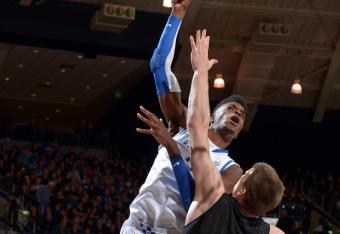 Notre Dame 56, Kentucky 40 (7:40 2nd half)
Notre Dame is keeping Kentucky at arm's length. Nothing but respect for a team that should be ranked next week.
When was the last time the Wildcats were beaten this badly? Might have to go back to the Billy Clyde era to answer that one.
Notre Dame 55, Kentucky 38 (9:23 2nd half)
Julius Mays hits a three to become Kentucky's first double-digit scorer of the game.
Notre Dame has three: Eric Atkins (13 points), Jack Cooley (11 points) and Cameron Biedscheid (10 points).
Notre Dame 53, Kentucky 35 (10:32 2nd half)
It's crazy to think Kentucky was up six at the start of this game.
Nerlens Noel makes a stupid foul 30 feet away from the basket on Jack Cooley.
Inexperience has trumped John Calipari's coaching tonight.
CBS' Jeff Goodman says UK point guard Ryan Harrow is key for Kentucky to turn their season around.
Kentucky still a work in progress. Key is point guard play. Goodwin needs to play off ball as a scorer. Harrow is the key.

— Jeff Goodman (@GoodmanCBS) November 30, 2012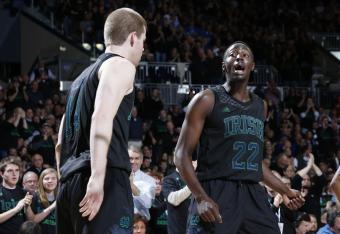 Notre Dame 53, Kentucky 35 (11:22 2nd half)
A three by Jerian Grant forces John Calipari to call a timeout before the 12-minute TV timeout.
Notre Dame is starting to pull away.
Kentucky's window of opportunity is closing, and it would take a monumental effort on offense and a complete Notre Dame meltdown for this to turn into a Kentucky win.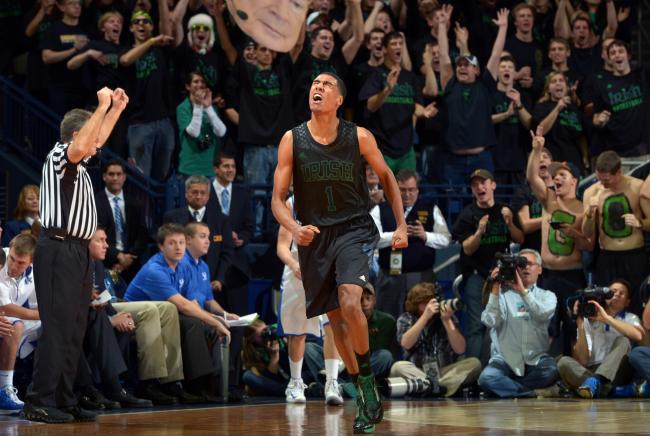 Notre Dame 50, Kentucky 35 (12:49 2nd half)
Ryan Harrow with his first points of the night on a nifty layup.
Cameron Biedscheid answers with a three pointer.
If Kentucky can stop the efficient Notre Dame offense, they could get back in this game.
Right now, that looks doubtful.
Notre Dame 45, Kentucky 31 (14:35 2nd half)
I didn't say this before the game, so I'll take no credit, but I didn't understand why so many expected UK to win tonight.
— Andy Glockner (@AndyGlockner) November 30, 2012


Count me in with that group. Notre Dame is a very strong basketball team and Kentucky hasn't been tested.
Notre Dame 42, Kentucky 29 (15:45 2nd half)
Two straight turnovers for the Wildcats.
There is zero ball movement for Kentucky on offense.
It doesn't look like much has changed for Kentucky. They are simply being outperformed by a more efficient and experienced Notre Dame squad.
Notre Dame 39, Kentucky 26 (18:00 2nd half)
Julius Mays dribbles the ball off of Nerlens Noel's foot, giving Notre Dame the ball.
Scott Martin drills a three on the ensuing possession.
It's been that kind of night for Kentucky. Miscues have led to Notre Dame points.
Notre Dame 36, Kentucky 25 (19:28 2nd half)
Same starting five for Kentucky and Notre Dame in the second half, and Notre Dame is back in man-to-man defense to start the half.
Archie Goodwin with a wild drive. He draws Jack Cooley's second foul.
Notre Dame 36, Kentucky 25 (End of 1st half)
Jarrod Polson makes an acrobatic shot to end the first half for Kentucky.
The first half has been all Notre Dame. They're shooting 57.7 percent from the field on 15-of-26 shooting from the field, and are winning the rebounding battle 16-10.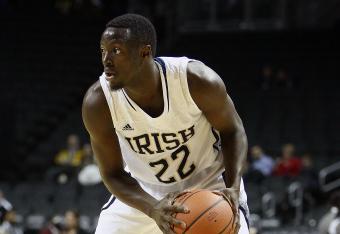 Notre Dame 34, Kentucky 23 (1:46 1st half)
John Calipari calls his first timeout after a three by Jerian Grant.
Notre Dame is hitting shots. Kentucky is not.
Notre Dame 31, Kentucky 23 (2:10 1st half)
Eight fouls for each team.
Free throws will be critical in these final three minutes—definitely a benefit for Notre Dame.
Eric Atkins has a beautiful floater. He's got 13 points on 6-of-7 shooting.
Notre Dame 27, Kentucky 21 (3:42 1st half)
Lexington Herald-Leader writer Mark Story with the stat of the night thus far for Kentucky:
ND 27, UK 21 at final first half TV TO (3:42). UK frosh a combined 2-5 from floor with six points (2 each for Noel, Goodwin, WCS)

— Mark Story (@markcstory) November 30, 2012
Notre Dame 27, Kentucky 21 (3:42 1st half)
Kyle Wiltjer finally asserting himself on offense. He's keeping Kentucky in the game with Alex Poythress and Archie Goodwin on the bench.
Notre Dame is clicking on offense (12-of-23 from the field, seven assists). Their experience is showing against the young Wildcats.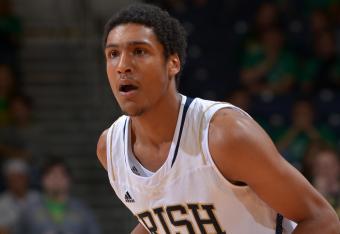 Notre Dame 24, Kentucky 18 (4:50 1st half)
Manti Te'o is in the house. Dickie V wants an autograph.
Jon Hood quickly picks up two fouls, and Jarrod Polson enters the game.
Notre Dame freshman Cameron Biedscheid has given his team an offensive spark.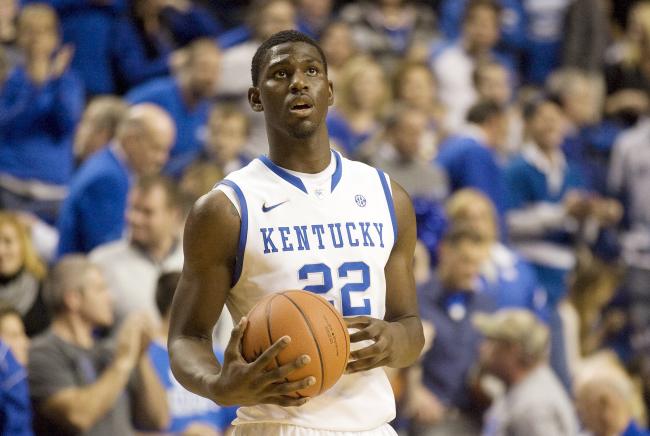 Notre Dame 19, Kentucky 16 (7:12 1st half)
Alex Poythress is on the bench for the Wildcats, meaning Jon Hood will continue to receive minutes. John Calipari needs his offense right about now.
Notre Dame 19, Kentucky 16 (7:46 1st half)
Jon Hood enters the game and makes a nice jumper. His offense is much-needed for the lethargic Wildcats.
Contrast that with the Fighting Irish, who are finally making shots. They are now 9-of-20 from the floor. Eric Atkins is on fire. He's contributed 11 points on 5-of-6 shooting.
In other news, Digger Phelps thinks Rick Pitino is still at UK.
Digger still thinks Pitino is coaching Kentucky.

— John Clay (@johnclayiv) November 30, 2012
Notre Dame 17, Kentucky 14 (9:38 1st half)
Digger Phelps enters the booth, and he makes a great point: The Notre Dame zone has worked wonders. Credit to Mike Brey for making the switch so early in the game.
Notre Dame is controlling the pace of the game. Kentucky hasn't had any fast break opportunities.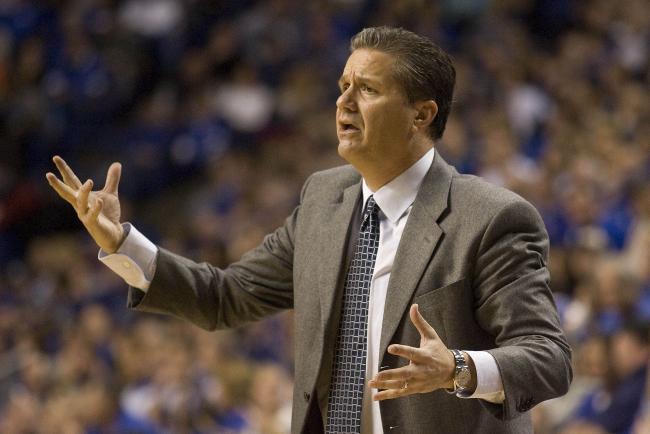 Kentucky 14, Notre Dame 12 (10:52 1st half)
John Calipari has decided to go small, playing Archie Goodwin, Ryan Harrow and Jarrod Polson at the same time.
It hasn't resulted in any points for the Wildcats, and Notre Dame's 2-3 defense has stifled the Kentucky offense.
Notre Dame has been cold from the floor. They're 6-of-17 from the floor and 0-for-4 from beyond the arc.
This article is
What is the duplicate article?
Why is this article offensive?
Where is this article plagiarized from?
Why is this article poorly edited?