The Biggest Coaching Freakouts Ever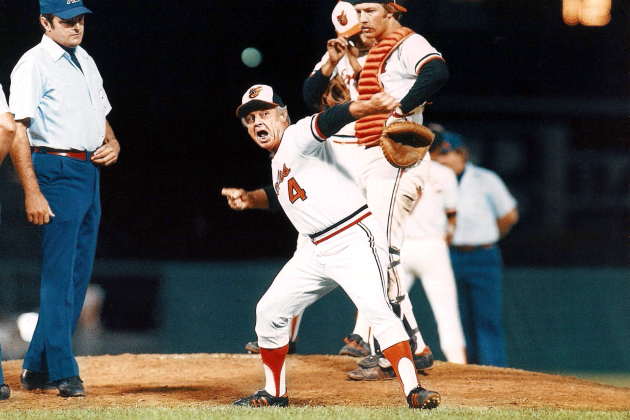 Image via baseball-birthdays.net
Coaches are an emotional bunch. Reporters know that better than anyone, as they're usually front and center to the greatest rants the sporting world has ever witnessed.
Whether a question irks them or a lack of success drains them, coaches often can't control the aggressive freakouts that result from one wrong poke.
Here we'll watch the biggest coaching freakouts ever. Media members beware.
Warning: Offensive language.
Begin Slideshow

»
After losing a 23-3 lead in the fourth quarter on Monday Night Football in 2006, Dennis Green mentally jumped ship and unleashed his wrath. He wasn't exactly who we thought he was.
Quintessential Indiana coach Bobby Knight, on his own show. This quickly escalates toward pure madness.
It may feel calm, but Avery Johnson's tight-lipped frustration with this poor reporter during the 2006 NBA Finals was quite vicious. Two years after losing the Finals to the Heat in six games, Johnson was dismissed as coach.
"Playoffs?!" has become iconic mortar connecting the bricks of gridiron history. Jim Mora remains a legend following this epic 2001 rant.
For pundits who criticized offensive coordinator Bob Schnelker following this Vikings' win in 1989, head coach Jerry Burns was there to shoulder the responsibility and fight the skeptics off.
Schnelker's limited use of tailback Herschel Walker the week prior was a heavy cause of the criticism.
In a 2009 game against the University of Louisiana at Lafayette's Ragin' Cajuns, South Alabama coach Ronnie Arrow argued that the buzzer sounded before the Randell Daigle's game-winning three pointer. He wasn't pleased with the lone jumbotron, either.
Don't celebrate when Mark Mangino is in charge, 77-yard masterpiece or not.
Epic entrance? Check.
Fists and spectacles slamming? Check.
Classy apology? Priceless.
While refusing to accept a loss during his time as UNLV coach, Mike Sanford tripped in epic fashion. His meltdown was slow, steady and uncomfortable.
As head coach of the Broncos from 2009-2010, unorthodox yeller Josh McDaniels compiled a record of 11–17. It wasn't his words as much as his tone that really tore his team to shreds.
Toledo Walleye coach Nick Vitucci, a goaltender entrenched in the ECHL Hall of Fame, wasn't pleased with the way things were handled in a game earlier this year.
Although in tossing water bottles, he only dehydrated his players.
During his time as coach of Michigan State, John L. Smith searched for any way to win. While a 22–26 record doesn't reek of prosperity, Smith clearly learned that bad coaching decisions aren't good for success.
Following a 1993 loss to the Detroit Tigers, Royals manager Hal McRae embarked on a complete meltdown. Tossed furniture and endless profanities made him an immortal legend.
Former AHL coach Jim Playfair never plays fair, pun impossible to avoid. Enjoy his masterpiece.
Earl Weaver spent 17 years as head coach of the Orioles, winning 1,480 games along the way. He knew what he was doing, and set a standard for future managers.
Oklahoma State coach Mike Gundy wasn't pleased with an article written by Jenni Carlson, which questioned the toughness of quarterback Bobby Reid, who'd been benched by Gundy the week before.
He stood up for his player in inspirational fashion.
With more wins than any other coach in NCAA Division I baseball history (1,817) and five college championships under his tight belt, Texas coach Augie Garrido is as respected as they come. And when he talks, people listen.
Mississippi Braves manager Phillip Wellman with the greatest ejection in minor league history; background music a key ingredient.