Game-by-Game Predictions for Phoenix Suns' December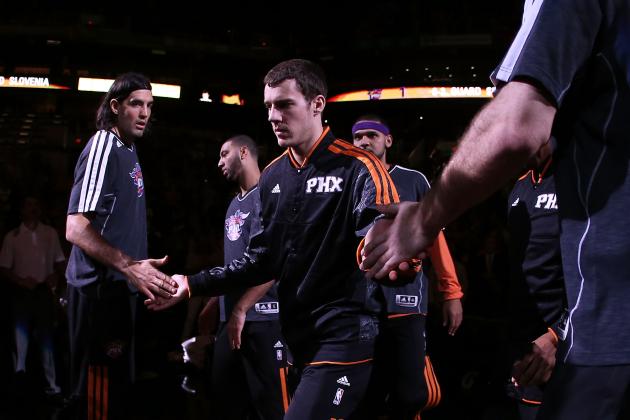 Christian Petersen/Getty Images
Goran Dragic (center) goes through player introductions
Begin Slideshow

»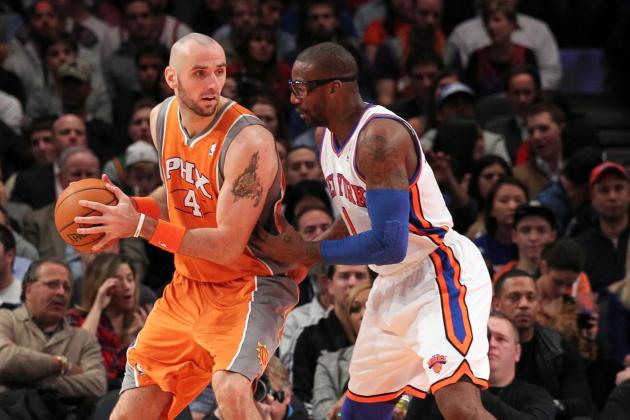 Anthony Gruppuso-US PRESSWIRE
Marcin Gortat (left) posts up against New York Knicks forward Amar'e Stoudemire (right)
The Phoenix Suns play game five of a tough six-game road stretch against a very good New York Knicks team at Madison Square Garden.
This would have been Knicks forward Amar'e Stoudemire's fourth game against his former team, but Stoudemire will continue to be out after having offseason knee surgery.
Instead, the Knicks will trot out Carmelo Anthony and company against a Phoenix team looking to find its identity.
Prediction
I don't think this one will be pretty. The Knicks outmatch the Suns at most positions and have a considerable talent in Anthony.
Knicks win 105-89.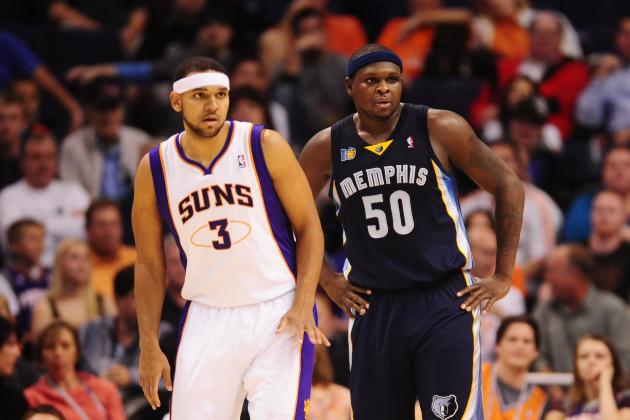 Mark J. Rebilas-US PRESSWIRE
Jared Dudley (left) stands next to Memphis Grizzlies forward Zach Randolph (right)
The Phoenix Suns end a six-game road trip against the red-hot Memphis Grizzlies at the FedEx Forum.
Phoenix started out the road trip with frustrating losses, and I don't see this game being any different. Memphis has the bigs to pound the ball down low and the shooters to hit the outside jumpers.
This is not necessarily about Phoenix being bad but rather Memphis being superior.
Expect a big game from Grizzlies forward Rudy Gay, as terrible defender Michael Beasley should be matched up against him.
Prediction
Phoenix loses yet another game on their extended time away from U.S. Airways Center, but walks away with heads up after playing the Grizzlies tight all game.
Memphis wins 101-98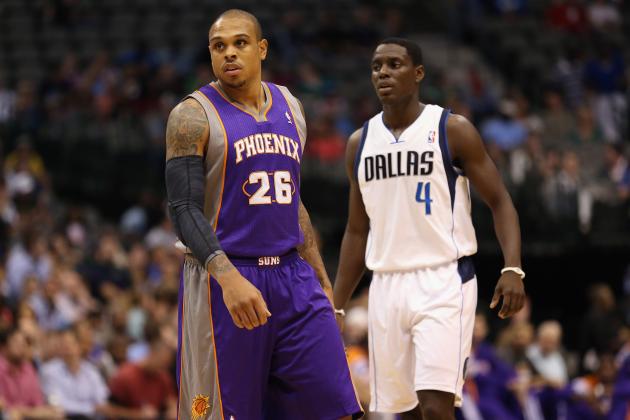 Ronald Martinez/Getty Images
Shannon Brown (left) and Darren Collison (right) of the Dallas Mavericks look on during a 2012 preseason game
The Phoenix Suns start a stretch of nine out of 10 games being played at U.S. Airways Center by squaring off with conference rival Dallas Mavericks.
Phoenix matches up well against the Mavs and should put up a fight against the Mark Cuban-run Dallas team.
Goran Dragic has a noticeable advantage over Darren Collison and should be able to bully around the smaller Collison.
Prediction
Phoenix gets their first win in over a week against the Mavs behind Dragic and Marcin Gortat's big nights.
Phoenix wins 107-103.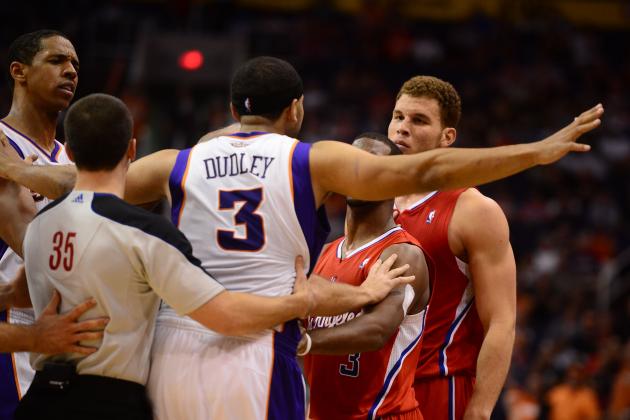 Mark J. Rebilas-US PRESSWIRE
Channing Frye (far left) and Jared Dudley (left) argue with Chris Paul (right) and Blake Griffin (far right), both of the Los Angeles Clippers
Phoenix takes its team to Los Angeles to battle the bitter division rival Los Angeles Clippers at the Staples Center.
The Clippers have surprisingly struggled against the Suns lately and only went 1-3 against the team last season.
However, that was last season. This year's Phoenix team is just not as good as L.A. and should struggle mightily against the improved Clippers squad.
Prediction
Phoenix loses yet another game during a tough December stretch, and the season is really starting to turn on the Suns.
Too much talent from the Clippers forces the Suns to abandon their game plan early. The Suns badly need to string together a couple of wins now.
Los Angeles wins 111-99.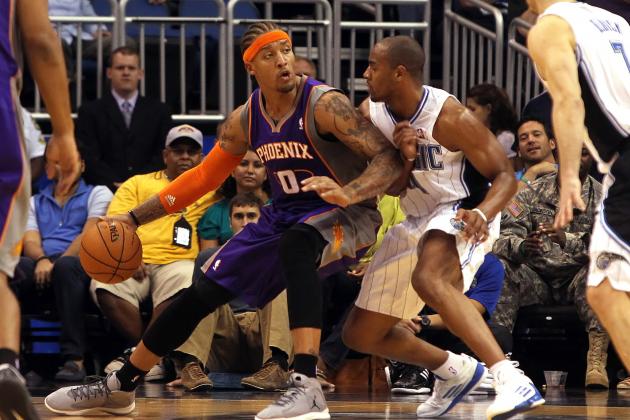 Kim Klement-US PRESSWIRE
Michael Beasley (left) post up against Orlando Magic guard Arron Afflalo (right)
The Phoenix Suns desperately need a win and find themselves matched up at home against the Orlando Magic.
This is a revenge game after Orlando beat Phoenix by 21 points in what was the third game of the season for the Suns.
Michael Beasley should be able to have a huge impact on the outcome of this game, as rookie Moe Harkless should be guarding him.
Prediction
Phoenix comes out fast in the first quarter and never looks back behind Beasley's 25 points. The Suns get a much-needed win against a young Orlando squad not used to winning on the road.
Phoenix wins 106-97.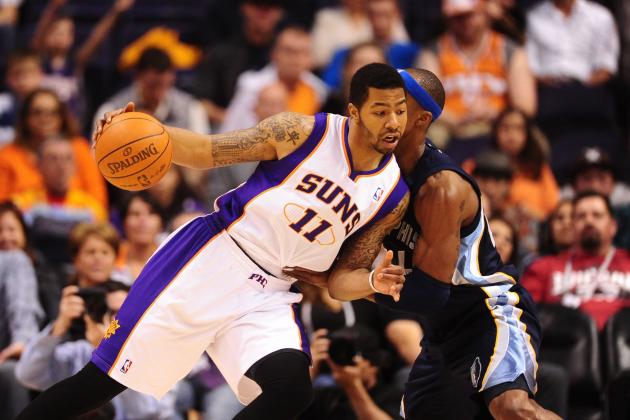 Mark J. Rebilas-US PRESSWIRE
Markieff Morris (left) posts up against the Memphis Grizzlies
Phoenix continues the streak of home games by facing off with the Memphis Grizzlies for the second time in eight days.
Phoenix tries to make adjustments from their recent loss to the Grizzlies but again fail to stop the frontcourt stars of Memphis.
Zach Randolph and Marc Gasol both have huge games after Marcin Gortat gets into foul trouble early in the game.
Prediction
Memphis comes to the desert ready to play and embarrasses the Suns in front of their home crowd. The boo birds begin to come out, and it's looking more and more likely that the Suns will get a high draft pick.
Memphis wins 109-95.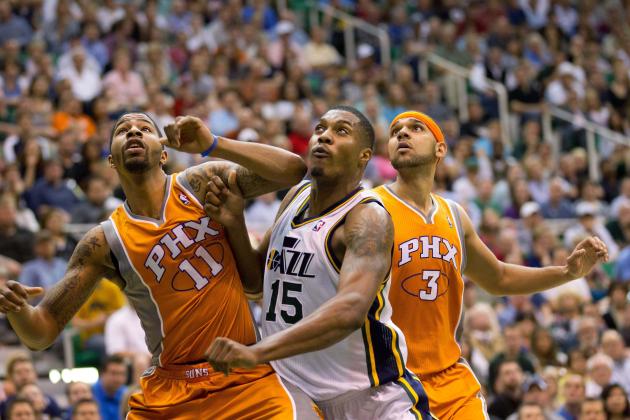 Russ Isabella-US PRESSWIRE
Markieff Morris (left) and Jared Dudley (right) battle with Utah Jazz forward Derrick Favors (center)
The Utah Jazz come to town in game three of five straight home games, and Phoenix fails to avenge a 13-point loss to the Jazz earlier in the season.
Phoenix will struggle to keep Utah's fearsome foursome of post players (Paul Millsap, Al Jefferson, Derrick Favors and Enes Kanter) in check, and they'll wreck havoc on the court.
Wing players will need to help down on those post players, which will in turn open up perimeter shots for the Jazz.
Prediction
The Jazz come into a hostile environment and battle out a close win over the Suns. The post players of Utah prove to be too much as the Jazz lock down Phoenix in the last minute.
Utah wins 99-97.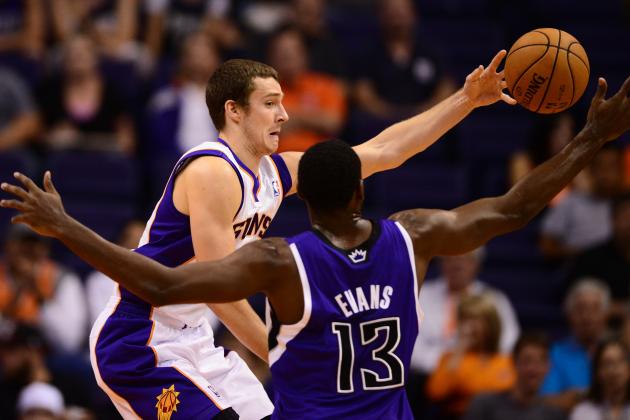 Mark J. Rebilas-US PRESSWIRE
Goran Dragic (left) passes against Sacramento Kings forward Tyreke Evans (right)
Game four of the five-game home stand pits the Phoenix Suns against the talented Sacramento Kings.
Sacramento has the kind of inside-out combo that could really hurt the Suns, and it seems the games between these two teams are always close.
Phoenix can take advantage of the volatile nature of Kings center DeMarcus Cousins, and Jermaine O'Neal is the perfect big to annoy him all game long.
Prediction
Phoenix takes this one after a sluggish start and doesn't look back after gaining a double-digit lead at the half.
Goran Dragic has a big game against former Suns guard Aaron Brooks, and Phoenix kills the Kings.
Phoenix wins 110-91.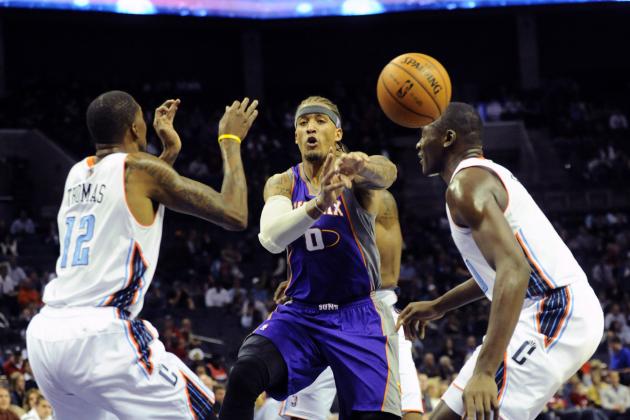 Sam Sharpe-US PRESSWIRE
Michael Beasley (center) passes through two Charlotte Bobcats
Phoenix takes on the Charlotte Bobcats in the final game of the home stand and looks to build the team's first winning streak of the month.
Luckily for the Suns, the Bobcats are still the Bobcats and shouldn't be too much of a problem.
Other than Michael Kidd-Gilchrist and Kemba Walker, the Bobcats will struggle to score, and about the only thing Phoenix consistently does is score.
Prediction
Phoenix goes on its first winning streak in almost a month after Marcin Gortat dominates the thin Charlotte frontcourt.
Phoenix wins 101-95.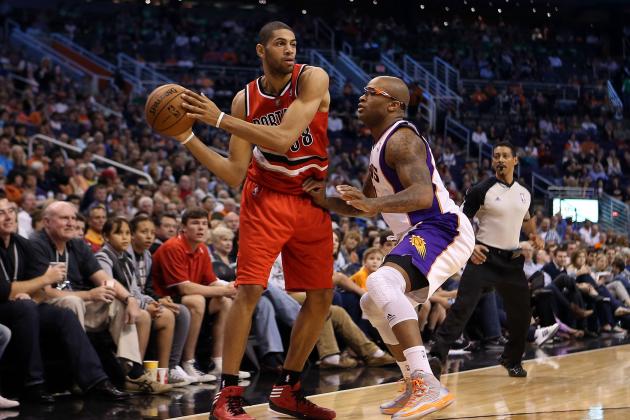 Christian Petersen/Getty Images
P.J.Tucker (right) displays proper defensive technique while guarding Portland Trail Blazers forward Nicolas Batum (left)
The Phoenix Suns take their talents to Portland to face off against the Portland Trail Blazers at the Rose Garden.
Portland is another struggling team, and one that recently got smashed by Phoenix. This shouldn't be a blowout, but Phoenix does have enough talent to matchup with the Trail Blazers.
Marcin Gortat should have a noticeable size advantage against J.J. Hickson down low, and I expect Alvin Gentry will look to exploit that.
Prediction
The Suns take advantage of the terrible depth of Portland to beat the Blazers and continue a winning streak.
The Phoenix bench are the real heroes here, as they triple the scoring output of Portland's bench and secure the win for the Suns.
Phoenix wins 103-89.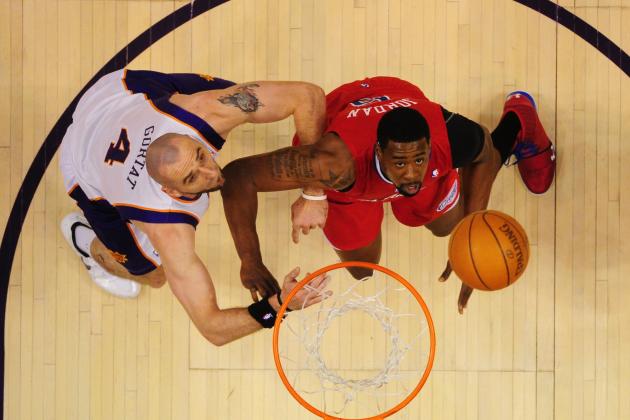 Mark J. Rebilas-US PRESSWIRE
Marcin Gortat (left) looks to rebound against Los Angeles Clippers center DeAndre Jordan (right)
The Phoenix Suns take a three-game winning streak into this matchup with the Los Angeles Clippers, and the U.S. Airways crowd plays a huge part in the game.
Constant noise and energy should help pace the Suns and, in turn, fuel the transition game.
Goran Dragic is more than capable of distributing passes with ease, and he will do that against the feisty Chris Paul.
Prediction
The game goes back and forth throughout until it looks like Phoenix will pull out the victory in the fourth quarter.
That will not be the case, however. Paul leads a furious fourth-quarter comeback and sends the game into overtime with a buzzer-beating, game-tying shot.
OT goes the Suns' way, as Blake Griffin and DeAndre Jordan are used sparingly to discourage hack-a-Jordan or hack-a-Griffin.
Phoenix wins 113-108 in OT.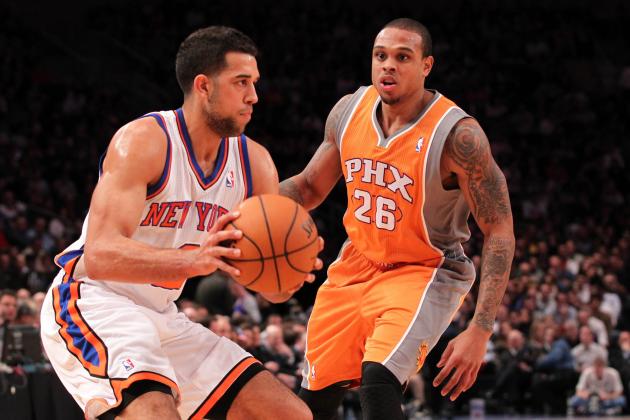 Anthony Gruppuso-US PRESSWIRE
Shannon Brown (right) defends former New York Knicks forward Landry Fields (right)
Phoenix is now riding a four game winning streak at they take on the New York Knicks in Phoenix at the U.S. Airways Center.
Amar'e Stoudemire might be back by this game and will look to put a show on against his former team.
Phoenix continues to have no answer for Carmelo Anthony and it looks like he'll have a large scoring night in a high paced matchup.
Prediction
Phoenix scores early and often but New York is just too much for the Suns to handle. Melo and Raymond Felton close out the game at the line. The longest winning streak of the season is over.
New York wins 115-107.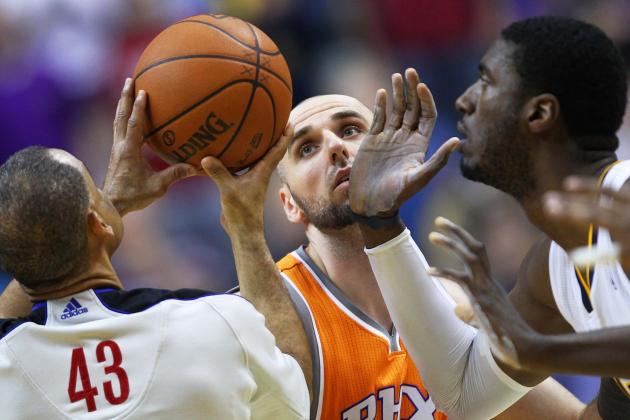 Michael Hickey-US PRESSWIRE
Marcin Gortat (center) prepares for the opening tipoff against Indiana Pacers center Roy Hibbert (right)
The Phoenix Suns look to start a new winning streak as they travel to Bankers Life Fieldhouse to take on the Indiana Pacers.
The Pacers stifling defense will be tough to score against, but their pedestrian offense should allow Phoenix to keep up with them.
Jared Dudley and Luis Scola should be able to lead the bench unit to score on Indiana's second unit, but the starters will struggle against the quicker Pacers starters.
Prediction
Phoenix puts up a valiant effort against a Danny Granger-less Indiana squad but fails to convert down the stretch.
Free throws seal this game en route to a 99-94 Indiana win.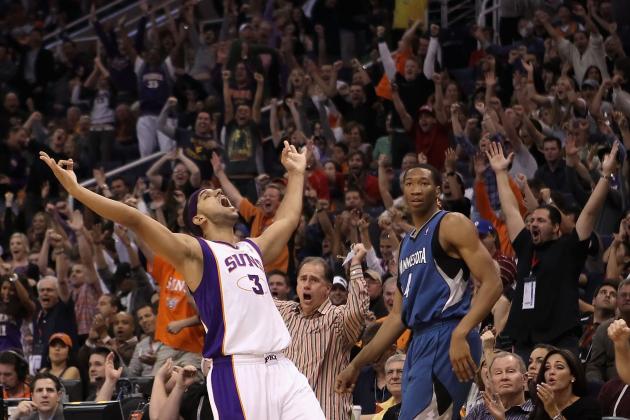 Christian Petersen/Getty Images
Jared Dudley (left) erupts after hitting a three-point shot against former Minnesota Timberwolf forward Wesley Johnson (right)
The Phoenix Suns arrive in Minnesota as they take on the Timberwolves at the Target Center in the second to last game of 2012 for the Suns.
Phoenix will have a very difficult time against the T-Wolves as Ricky Rubio might be back by this time.
If so, then Minnesota will be a formidable opponent at their house.
Prediction
At least Rubio should be cleared to play by this game, so his addition alone gives Minnesota a nice boost.
The offense simply runs more crisply when Rubio is in the game, and I expect a much better Timberwolves offense in this one.
Phoenix just doesn't have enough to beat the almost fully healthy Minnesota team and loses 109-98.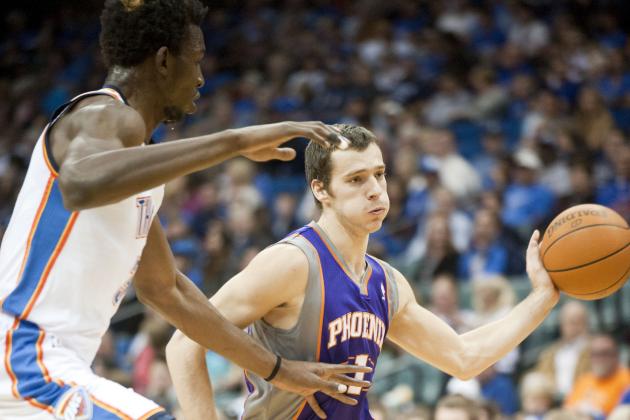 US PRESSWIRE
Goran Dragic (right) passes against Oklahoma City Thunder center Hasheem Thabeet (left)
In the last game of 2012 for the Phoenix Suns, they take on the Oklahoma City Thunder at Chesapeake Energy Arena in what will be a very loud game.
The Thunder own the best home-court advantage in the NBA, and I see no reason why the much more talented OKC team should lose this game.
Phoenix can't match the talent level in the starting lineup, and that will be their downfall against Kevin Durant and the Thunder.
Prediction
Oklahoma City comes out of this matchup with the win, and it's not really a close game. The winning margin will seem smaller than it really was after the Suns struggle to score against the Thunder.
Oklahoma City wins 112-101.