4 Trades the Boston Celtics Should Already Be Thinking About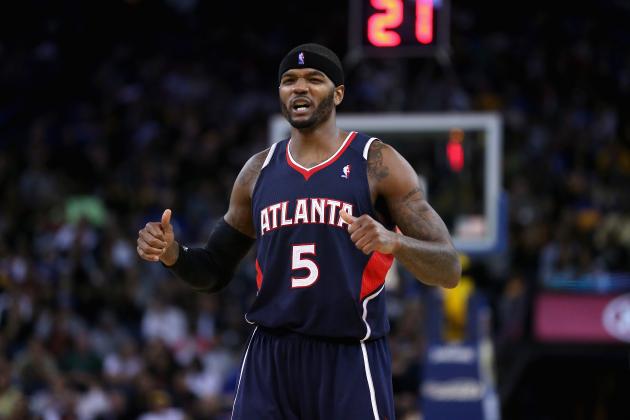 Ezra Shaw/Getty Images

It's early in the season, but it's never too early to start examining potential trades. This is especially the case when a team may have some holes that need patching up. So, what are some trades the Boston Celtics should already be thinking about?
The thing about the Celtics is that they have a lot of pieces they can deal, thanks to GM Danny Ainge's incredible offseason. For example, when Avery Bradley returns from shoulder surgery, Boston will have a guard rotation of Rajon Rondo, Bradley, Jason Terry, Courtney Lee and Leandro Barbosa. One would certainly not be out of line to assume that not all five of those players will be with the team once the trade deadline is up.
Boston also has three rookies in Jared Sullinger, Fab Melo and Kris Joseph who they can use in potential deals. The latter two are currently in the D-League, but that will definitely not prevent them from being asked for in trades, as they both have talent.
Here are a few trades the C's should be considering making.
Begin Slideshow

»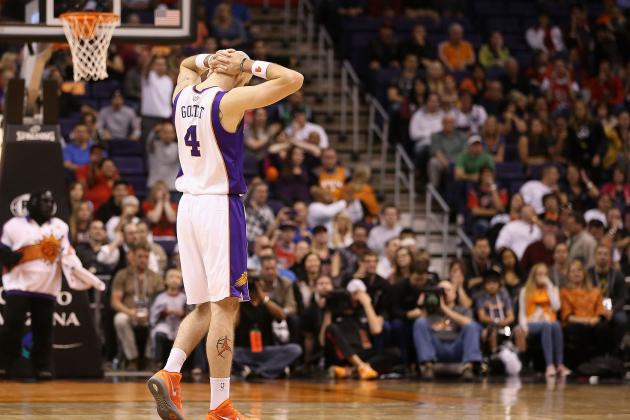 Christian Petersen/Getty Images

Boston Celtics Receive:
Marcin Gortat
Luke Zeller

Phoenix Suns Receive:
Avery Bradley
Fab Melo
Brandon Bass
How: There has already been a rumor thrown around about the Celtics preparing an offer for Gortat. Now how much credence this "rumor" has is anyone's guess, but it is plausible in the sense that The Polish Hammer would be a good fit for Boston.
The rumor said that the potential deal would have to include Bradley and Melo and some type of collection of draft picks, but that would not get it done because Bradley and Melo's salaries do not match that up Gortat's, who has about $15 million remaining on his contract over this season and next year.
Throwing in Bass, who just signed a new deal worth right around $19 million over three years, would take care of that, and the C's would then likely have to take another piece back (in this case, Zeller) just to match salaries.

Pros: Acquiring Gortat would go a long way to remedying the Celtics' rebounding issues, as the 28-year-old big man is averaging just under nine boards a game this season, a year after he averaged 10. He would even provide a nice inside scoring option for Doc Rivers.
Bass, outside of a couple of games, has struggled mightily thus far this season. He is clearly having trouble adjusting to sharing playing time with Sullinger and Chris Wilcox, and his normally reliable jump shot is suffering because of it. Right now, Bass looks fairly lost out there, so dealing him might be best for both parties.
Cons: You're losing a premier perimeter defender in Bradley, someone who has shown he can shut down Dwyane Wade. Let's face it: Boston will likely be facing the Miami Heat in the Eastern Conference Finals, so Bradley would be extraordinarily valuable there. Losing him could really hurt. Not just for this season, but for the future, as well.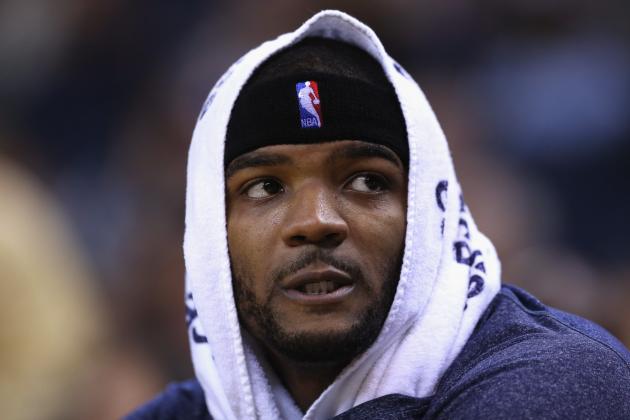 Ezra Shaw/Getty Images

Boston Celtics Receive:
Johan Petro

Atlanta Hawks Receive:
Jared Sullinger
Brandon Bass
Fab Melo
2013 first-round draft pick
How: Smith is a free agent at the end of the year, and he is not signing an extension with the Hawks. Plus, he has expressed his fondness for Boston in the past, and his name was mentioned in Celtics' trade rumors as recently as the draft.
Due to the fact that Atlanta is likely not going to be able to re-sign Smith, GM Danny Ferry would be better off dealing him at the deadline and at least get something for him. Here, the Hawks get a young stud of a forward in Sullinger, a young center with potential in Melo, Bass and a first-round draft pick.
It might take more than that to pry Smith away from Atlanta (maybe Bradley would have to be involved), but given that Smith is hitting the open market, the Hawks don't exactly have a lot of leverage in any potential trade for the star forward.
Petro is merely included to match salaries, as, again, Bass has close to $20 million left on his contract.
Pros: The C's would be getting an All-Star caliber player who can play on both ends of the floor. Smith has been knocked for never reaching his full potential with Atlanta, but maybe he'd play better in a winning environment? He and Kevin Garnett would make an incredible defensive pairing, and he would also provide his good friend Rondo with a heck of a running mate.
Cons: You're trading away Sullinger, a player who has already flashed his incredible potential this season. He is one of the last of a dying breed of pure post scorers, and you won't see too many more like him come out of college at this point. You're also losing Melo who, while he was assigned to the D-League this year, could end up being a defensive anchor for the Celtics in the future.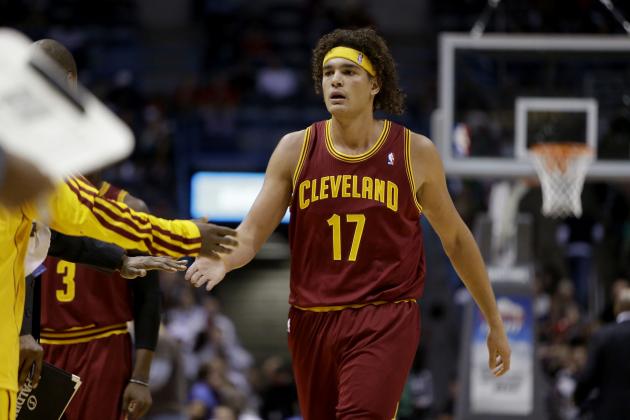 Mike McGinnis/Getty Images

Boston Celtics Receive:
Anderson Varejao
C.J. Miles
Cleveland Cavaliers Receive:
Jeff Green
Avery Bradley
Fab Melo
How: Both Varejao and Green have fairly lucrative contracts, so sending Green to Cleveland would work here. Varejao is now 30, and with the Cavaliers in full-out rebuilding move, they may decide its best they move their center for younger pieces.
Being that Cleveland could really use a small forward, Green makes sense. The Cavs also get a player in Bradley who can serve as a defensive specialist for them, not to mention a young center to give Tyler Zeller some frontcourt competition in Melo.
Pros: The Celtics get a guy in Varejao who is currently averaging just under 15 rebounds a game, so he would obviously correct their problems on the glass. He's also a good defender and gives 100 percent every time he steps on the floor.
Cons: Varejao is not exactly a spring chicken anymore, and he is fairly injury-prone. It would be quite a bit of a gamble to deal three young and talented players for an aging center. Although Varejao's production has skyrocketed, his health has been deteriorating.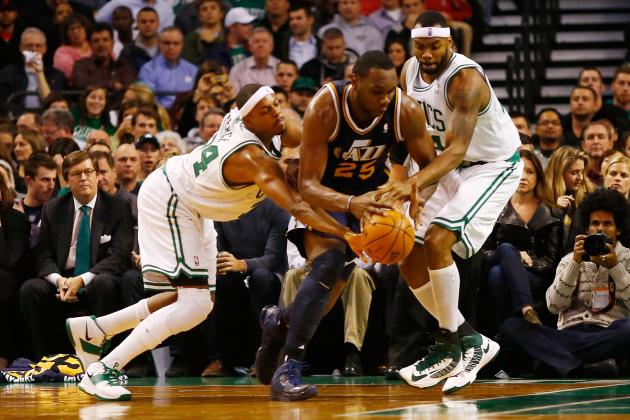 Boston Celtics Receive:
Al Jefferson
Jeremy Evans
Utah Jazz Receive:
Jeff Green
Avery Bradley
Jared Sullinger
2013 first-round draft pick
How: Like Smith in Atlanta, Jefferson is a free agent after the season, and it may be difficult for Utah to re-sign him. Also like Smith, Jefferson has recently stated how much he likes Boston.
The Jazz may want to consider dealing him at the trade deadline to get something in return for him rather than just have him walk. Utah, a team somewhat in need of a small forward, gets Green, plus a perimeter defender that it desperately needs in Bradley.
The Jazz also get Sullinger as a young, big body to replace Jefferson.
Of course, Utah is a very solid team and is therefore a playoff contender, but if the front office feels that it cannot seriously contend this season, then it might want to deal Big Al before he hits the free-agent market this summer.
Pros: There really isn't much not to like about this deal for the Celtics, as they get a beast of a low post player who can also rebound. Yes, they're losing three young pieces and a first-round draft choice, but for a player of Jefferson's caliber, you take that risk.
Cons: Again, you're giving up on a trio of talented youngsters. The loss of Sullinger really won't hurt that much considering Jefferson is the player whom many feel is his ceiling, but you would be losing a perennial all-defense candidate in Bradley.
Regardless, any trade for Jefferson is really a pipe dream, but this is a general idea of potential deal for Big Al that could work.