NASCAR's 10 Best Feuds of 2012
Tyler Barrick/Getty Images

Hey, wait a minute. Haven't you heard this one from me before?
Well, yes and no. Two months ago, I wrote about the top 10 feuds of the NASCAR season up to that point. For the most part, it seemed like a complete list and something that wasn't going to change too much.
Boy, did we underestimate that one.
The final two months of the Chase brought out the worst in just about everybody, from traditional hotheads to four-time champions. Crews combated one another, and the nature ranged from playful to truly peeved. And yes, there were ladies—more than one—who weren't afraid to mix it up, both on-track and off.
So what feuds from earlier this season made the cut this time around, and which ones from late in the Chase proved even better?
Begin Slideshow

»
Teammates don't always get along in NASCAR, and Gordon had an issue with Earnhardt Jr. at Michigan in August this year. Earnhardt Jr. and Jeff Burton split Gordon coming out of turn two and into the backstretch, but Earnhardt Jr. didn't quite clear Gordon when he settled back into the racing line.
That move irked Gordon, who had to let off the gas and fell back about a carlength and a half. Unhappy, he radioed to his crew that Earnhardt Jr. "was lucky I didn't wreck him."
In the September Nationwide race at Atlanta, Keselowski tossed a water bottle from his car with 12 laps to go while Harvick held a huge lead. Soon after, NASCAR threw a debris caution, which Harvick blamed on the water bottle. In the three-lap green-flag dash to the finish, he lost the lead to Ricky Stenhouse Jr. on the final lap.
While NASCAR's Robin Pemberton later clarified that Keselowski's actions did not cause—and would not have caused—the caution, that didn't stop Harvick from expressing his frustration post-race. It also inspired Harvick to drop a bottle from his car during his victory burnout in the Nationwide race at Richmond a week later.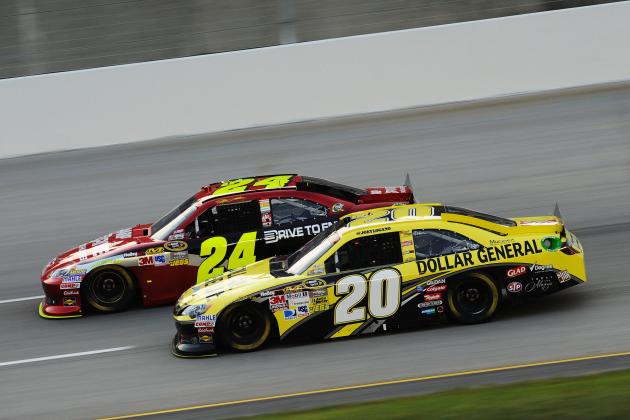 Jared C. Tilton/Getty Images

This one came as a result of Gordon's run-in with Clint Bowyer at Phoenix. Logano was an innocent bystander in that feud and ended up with a car in the wall and a top-10 run ruined.
After the race, Logano took to Twitter with his frustrations:
When I was young I thought @jeffgordonweb was the best driver. Now I've lost a lot of respect for him. #verydumb
— Joey Logano (@joeylogano) November 11, 2012
At the track the next weekend at Homestead, Gordon admitted to a phone call with Logano that didn't "exactly go very well" and that they hadn't met at the track before the race.
Patrick and Cassill had a few run-ins at the back of the pack at Kansas, with Cassill bumping Patrick because "she was driving like an idiot for 30th." Cassill, who once helped coach Patrick at JR Motorsports, was frustrated by her decision to take him and another car three-wide without passing them, and he decided to show his frustration.
In response, Patrick tried to spin Cassill, but her plan backfired in two ways. First, Cassill was able to save his car, eventually rebounding to finish 18th. Second, she put herself into the wall, wrecking the car she had planned to use at Texas.
When Bruton Smith altered the racing surface at Bristol before the August night race, the goal was to return to the action that fans always loved from the half-mile bullring. That also meant inciting some hot tempers, and they belonged to a pair of former Sprint Cup champions—Tony Stewart and Matt Kenseth.
On lap 333, after battling intensely for the lead in the previous laps, the two drivers made contact, sliding head-on into the inside wall. Kenseth drove away, but Stewart required 29 laps' worth of repairs. In response, he angrily tossed his helmet at Kenseth's car as it left the pits, smacking its grill.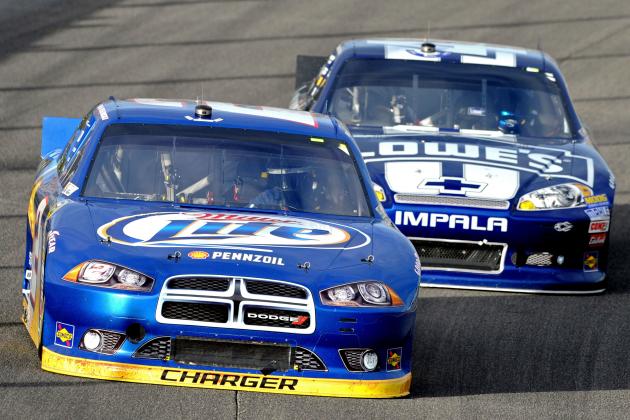 John Harrelson/Getty Images

The head games between Jimmie Johnson's and Brad Keselowski's teams during the final few races of the Chase weren't exactly malicious, but they were meant to throw the other team off of its game. The most humorous anecdote to come out of the ongoing garage battles was the discovery that Chad Knaus, Johnson's crew chief, hates rap music. As such, hip-hop dominated the Penske garage as the Chase wore on.
Though Busch had more significant on-track problems this year, this was the incident that led to his one-race Sprint Cup banishment at Pocono in June. Just weeks after a run-in with Ryan Newman at Darlington (more on that later) left him on NASCAR probation, Busch ran a Nationwide race at Dover, where reporter Bob Pockrass wondered if he may not have raced as aggressively as usual.
Busch, in a fashion we've come to expect from him, didn't handle the question with any level of grace, threatening physical violence. That didn't sit too well with NASCAR, which made the decision to suspend him. It also set a tone for Busch with reporters for much of the rest of the year: continue to handle with care, because little has changed.
Until recently, this was the defining feud of this Sprint Cup season. The former Penske Racing teammates had a run-in at Darlington in May that started when they both spun in the final laps of the race. After that, Busch peeled out of his pit through Newman's stall and later bumped into Newman on pit road after the race, leading to a major confrontation between the parties.
Busch, shown here in his documentary The Outlaw, explains the situation differently. He claims that he had taken his wheel off and stopped paying attention on pit road and wanted to explain to Newman that he meant nothing by the contact until Newman's crew came in and started threatening his girlfriend. Regardless, the suspension put Busch on the probation that would eventually lead to his suspension at Dover.
The defining feud of the year spilled from the track to the garage, called for police involvement to split up the two teams and put NASCAR on every national sports medium in America the next day. Fed up after a handful of run-ins over the season, Gordon decided to take his revenge at Phoenix after late-race contact with Bowyer shredded a tire and ruined his top-10 run.
Gordon slowed in the racing line and ignored a NASCAR black flag to wreck Bowyer, mathematically eliminating the No. 15 team from championship contention. In response, Bowyer's crew jumped Gordon's in the pits, leading to a major altercation and a host of fines. Gordon, who many thought should have been suspended, received the worst at $100,000. He then beat Bowyer to win the season finale at Homestead.
For more from Christopher Leone, follow @christopherlion on Twitter.