Where Would Zack Greinke, Clayton Kershaw Rank Among MLB's Best Pitching Duos?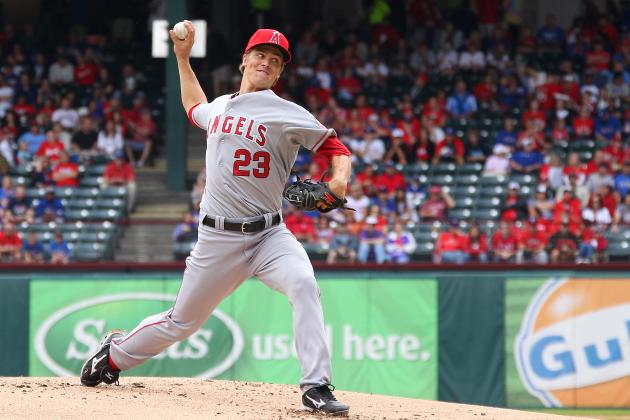 Rick Yeatts/Getty Images

Zack Greinke and Clayton Kershaw in the same rotation?
Yikes.
That's what the rest of Major League Baseball will likely be saying, if Los Angeles Dodgers general manager Ned Colletti gets his wish.
Two separate sources on Tuesday confirmed that the Dodgers are more than serious in their pursuit of Greinke.
Dodgers appear to be committed to outbid the Angels, Rangers & Nationals to land Zack Greinke according to sources

— JIM BOWDEN (@JimBowdenESPNxm) November 27, 2012
Bowden was backed up by Bill Shaikin of the Los Angeles Times.
The #Dodgers have the money to say this to Greinke: Go get your best offer, and we'll top it.

— Bill Shaikin (@BillShaikin) November 27, 2012
The Dodgers would have two Cy Young Award winners at the top of their rotation, with five other veterans vying for the final three spots (Aaron Harang, Chris Capuano, Josh Beckett, Ted Lilly, Chad Billingsley).
Greinke and Kershaw at the top of the Dodgers rotation are a duo that would certainly be considered among the elite tandems in MLB.
But would they be the best?
We will take a look at baseball's best pitching tandems, taking into consideration several factors, including WAR, combined ERA, K/9 rate, BABIP and xFIP for the 2012 season.
Note: K/9 rate, xFIP and BABIP for each pitching duo are averaged based on individual totals. All statistics courtesy of FanGraphs and Baseball-Reference.com unless otherwise noted.
Begin Slideshow

»
Jonathan Daniel/Getty Images

2012 Stats
8.7 WAR, 3.35 ERA, 3.435 xFIP, .285 BABIP, 7.86 K/9
The New York Yankees brought Hiroka Kuroda back for one more season, and if he comes close to replicating his 2012 numbers, the Yankees will again have a mighty tandem at the top of their rotation.
CC Sabathia still pitched 200 innings despite a balky elbow, and he underwent surgery in late October to remove bone chips from said elbow.
Provided Sabathia comes back at full strength and Kuroda can again be a force, this is a tandem that will absolutely be a force at the top of the Yankees rotation.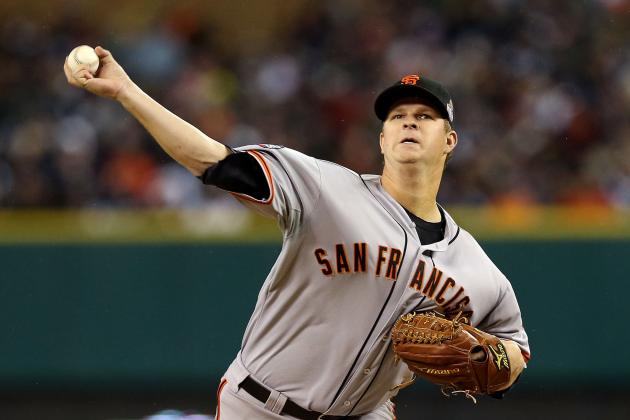 Ezra Shaw/Getty Images

2012 Stats
7.2 WAR, 3.07 ERA, 3.63 xFIP, .268 BABIP, 8.08 K/9
It's certainly not hard to see what Matt Cain and Madison Bumgarner both mean to the San Francisco Giants. Bumgarner made some adjustments to his mechanics to deliver a huge win in Game 2 of the World Series. Cain was simply a model of consistency throughout the entire season.
Cain and Bumgarner have the lowest combined WAR of any tandem on this list but also feature the lowest BABIP and fourth-lowest ERA.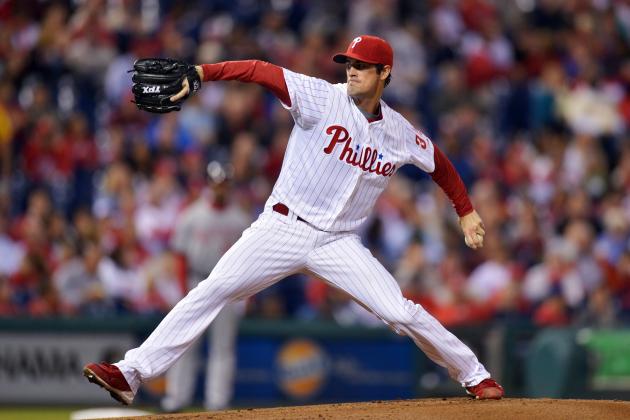 Drew Hallowell/Getty Images

2012 Stats
9.4 WAR, 3.10 ERA, 3.145 xFIP, .300 BABIP, 8.93 K/9
In terms of left-handed pitching tandems, no one in baseball tops the duo of Cole Hamels and Cliff Lee of the Philadelphia Phillies.
Hamels and Lee deliver the second-lowest xFIP, the third-highest K/9 rate and fourth-highest WAR.
They also represent the most expensive pitching duo on this list with a combined salary of $44.5 million for the 2013 season.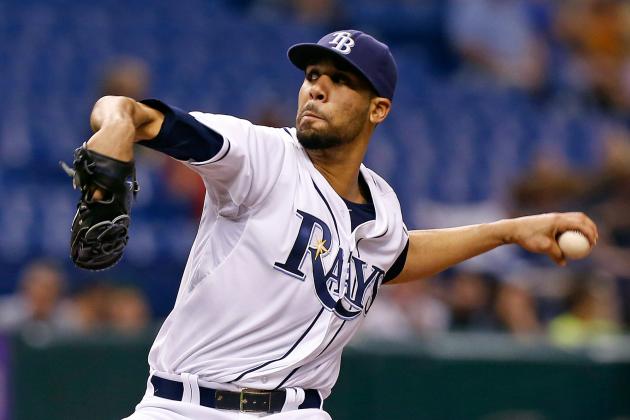 J. Meric/Getty Images

2012 Stats
9.4 WAR, 3.06 ERA, 3.18 xFIP, .289 BABIP, 8.78 K/9
In looking at the above numbers, it's no wonder why so many teams are interested in talking with the Tampa Bay Rays about pitching.
David Price captured this year's Cy Young Award with a spectacular season, and James Shields put together a terrific second half (2.81 ERA, 0.89 WHIP in 15 starts) to help keep the Rays in playoff contention.
The Rays' duo featured the third-lowest ERA and the fourth-highest WAR in this group.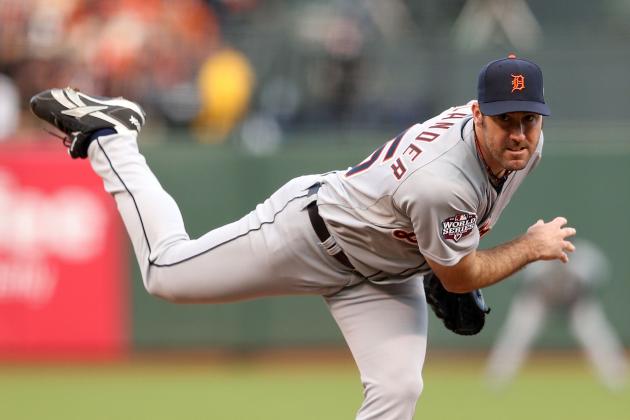 Ezra Shaw/Getty Images

2012 Stats
11.4 WAR, 3.13 ERA, 3.29 xFIP, .303 BABIP, 10.05 K/9
Detroit Tigers starting pitcher Justin Verlander came within four points of winning his second consecutive American League Cy Young Award.
Max Scherzer helped deliver the goods for the Tigers as well.
Together, the two have the highest WAR on this list and the second-highest K/9 rate.
If Doug Fister can rebound from an injury-marred 2012 campaign, one could certainly state a case that they would be the strongest starting trio in baseball. In addition, all are under 30 years of age, giving the Tigers a dominant force in the rotation for the foreseeable future.
Greg Fiume/Getty Images

2012 Stats
9.7 WAR, 3.01 ERA, 3.095 xFIP, .289 BABIP, 10.24 K/9
At just 27 and 24 years of age respectively, Gio Gonzalez and Stephen Strasburg are just coming into their prime years.
That's pretty scary, considering what they've done thus far.
This duo features the highest K/9 rate, the second-lowest ERA and the third-highest WAR.
Not to mention they did it all for the low, low price of $6.25 million, a full 72 percent lower than CC Sabathia's 2012 salary.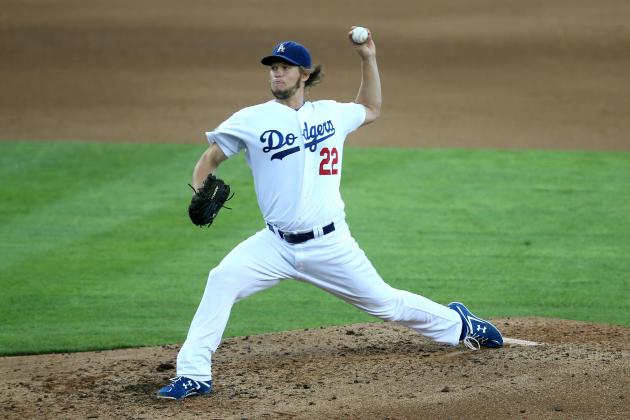 Stephen Dunn/Getty Images

2012 Stats
10.6 WAR, 2.99 ERA, 3.235 xFIP, .284 BABIP, 8.76 K/9
No, Zack Greinke has not signed with the Los Angeles Dodgers, but this is a duo that would be tops in Major League Baseball.
Greinke and Kershaw have the lowest combined ERA, the second-highest WAR and the second-lowest BABIP of any tandem on this list.
In addition, Kershaw has led the National League with the lowest ERA and H/9 rate in the past two seasons. Both Greinke and Kershaw feature low HR/9 rates as well, which certainly bodes well at spacious Dodger Stadium.
If Dodgers GM Ned Colletti is successful in signing Greinke this offseason, not only will the San Francisco Giants be facing stiff competition in the NL West, the rest of the league will be quivering two out of every five days as well.
Doug Mead is a featured columnist with Bleacher Report. His work has been featured on the Seattle Post-Intelligencer, SF Gate, CBS Sports, the Los Angeles Times and the Houston Chronicle.