New York Giants: 3 Ways Eli Manning and Giants Can Light Up Redskins' Defense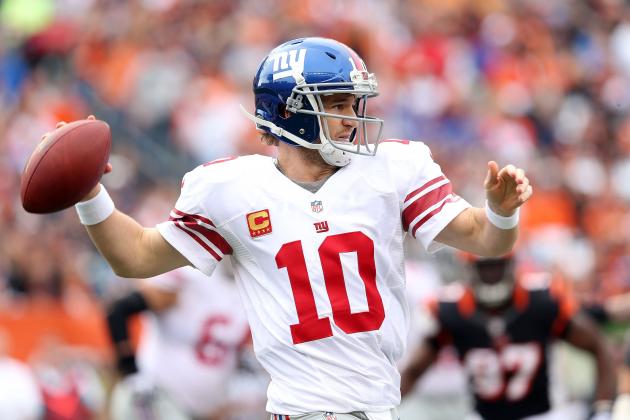 Andy Lyons/Getty Images
Eli Manning and the Giants' offense fired on all cylinders last week against Green Bay
After losing two in a row to Pittsburgh and Cincinnati, the Giants rebounded at home against the Green Bay Packers and put on an offensive clinic. The running game, the passing game and everything in between worked in their 28-point victory over Green Bay.
The Redskins are fresh off of an impressive performance of their own, winning in Dallas on Thanksgiving Day over the favored Cowboys. While Robert Griffin III led an impressive offense, the defense was not nearly as sharp, allowing 31 points to Tony Romo and America's team.
In a pivotal matchup that could be the difference between one or three games of separation in the NFC East, what does the Giants' offense need to do to beat the Washington defense?
Begin Slideshow

»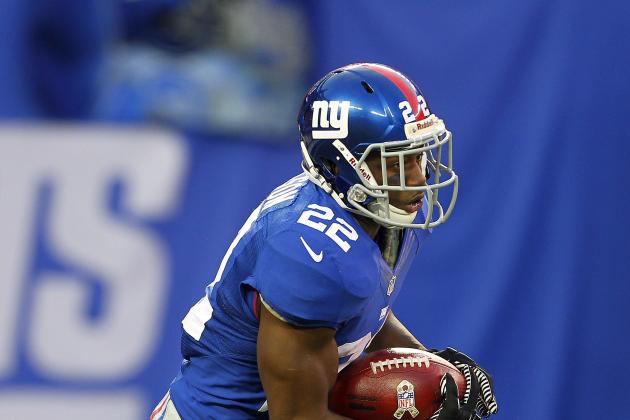 Rich Schultz/Getty Images
Wilson will need to step up in Andre Brown's absence.
One of the ways the Giants were able to get their offense back on track on Sunday was through the running game. Andre Brown and Ahmad Bradshaw led the way with 122 combined yards on 23 carries for a 5.3 yards per carry average.
However, Brown went down with a leg injury and will not play against Washington. Rookie David Wilson, who is just beginning to climb out of Tom Coughlin's doghouse after early season fumble problems, will need to step up and share carries with Bradshaw to create a more balanced attack.
Wilson has only gained 102 yards on 24 carries in his rookie season, so it will surely be a new role for him to carry the ball around 10 times and be asked to play a more integral role in the offense. It is important for the Giants to keep Bradshaw fresh for the whole game while establishing the run to free up space for Eli Manning to throw the ball.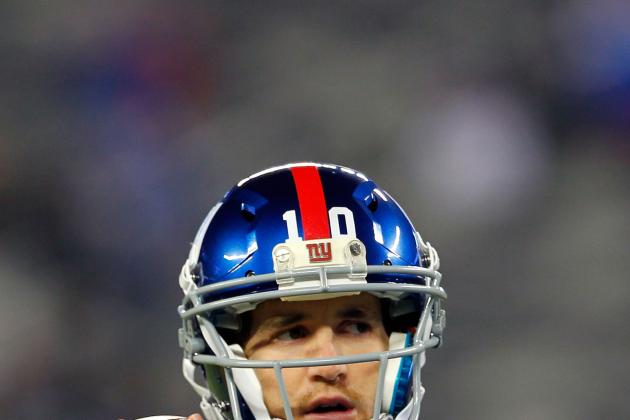 Rich Schultz/Getty Images
When Eli is locked in, the Giants offense is hard to beat.
This goes mostly for Eli Manning as the Giants rank in the middle of the pack in terms of team fumbles in the NFL. Eli has never had a season under 10 interceptions, and has had 14 or more in his last three seasons (14, 25, 16). If there is a knock on Eli Manning, it's that he does a poorer job than he should at protecting the football.
Eli can go into funks and turn the ball over a lot, like the six interceptions he threw in the four weeks before the game against the Packers. In those games, the Giants went 2-2 and started to slip in the NFC East.
The Redskins boast athletic corners in DeAngelo Hall and Josh Wilson. Hall and veteran linebacker London Fletcher each intercepted Tony Romo in Dallas, and those turnovers proved to be costly as they gave Griffin III and the powerful 'Skins offense some momentum.
The Giants thrive on ball control, so Eli will have to make sure that they keep the ball and run long drives to keep Washington's offense off the field.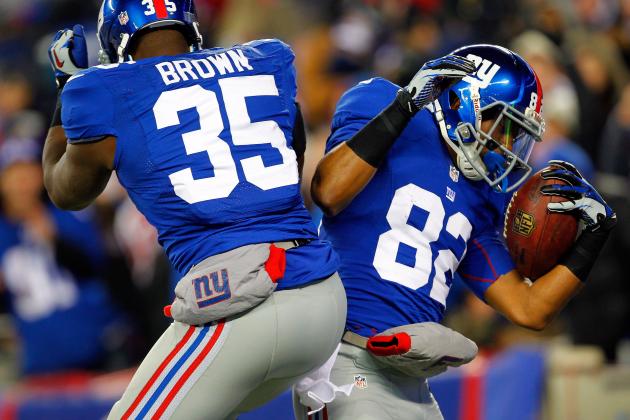 Rich Schultz/Getty Images
Eli Manning has a plethora of options beyond Victor Cruz and Hakeem Nicks
Manning has more options than most quarterbacks could ask for. Between his star receivers in Nicks and Cruz, and his capable receiving running backs in Andre Brown, Ahmad Bradshaw and David Wilson, Manning can throw the ball to anyone at any time.
Eli doesn't excel when he is targeting just Cruz and Nicks. Although they are elite receivers, they do not consistently put up the kind of numbers as Calvin Johnson or Larry Fitzgerald.
Nicks has under 600 yards on the season with merely two touchdowns, and Cruz has compiled under 800 yards just a year after racking up over 1,500. This is not necessarily a bad thing or a sign that either is underperforming.
Manning must spread the ball around in order to keep the Redskins off balance.