5 Things Rafa Benítez Needs to Change at Chelsea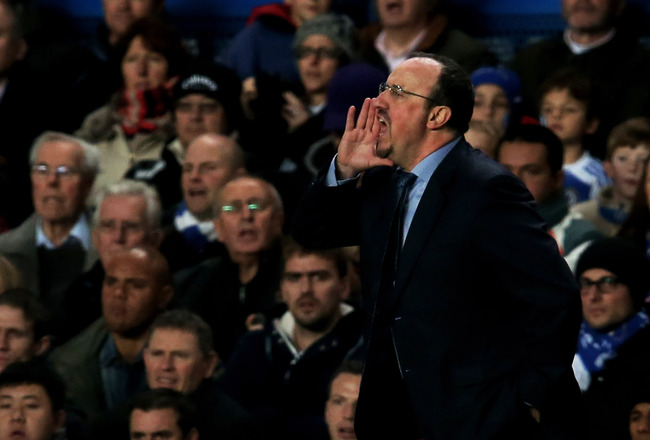 Julian Finney/Getty Images
Appointed by Chelsea owner Roman Abramovich suddenly last week to replace Roberto Di Matteo as club manager on an interim basis to try to stem the team's current slide, Rafa Benítez knows he now has his work cut out for him.

Formerly the manager of Liverpool and many other clubs, the 52-year-old Benítez needs to realize what he can immediately impact at Stamford Bridge as well as what he can't—like whether or not Blues fans choose totally to get behind him.

As hard as it is to digest the fact that Di Matteo is now just a memory, life goes on and there are many important games to be played from now until May. Chelsea needs to now focus on the future and forget about the past—both the good and the bad memories.

Here are five things I think Benítez can try to do to fix King Roman's broken toy.
1. He Needs to Spread the Minutes Around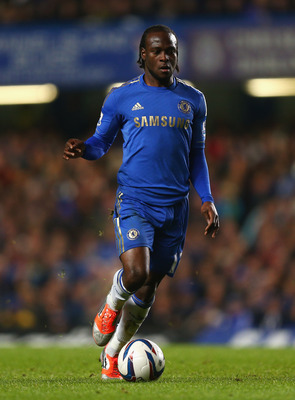 Clive Rose/Getty Images
With such a deep bench, Benítez would be wise to balance the minutes played more than Di Matteo did as well as experiment with a number of different starting lineups.

With a grueling schedule—which sees Chelsea play in the maximum number of tournaments—and the winter transfer window quickly approaching, the Blues' new interim manager should make an effort to see what he has for himself.

Victor Moses, Marko Marin, Oriol Romeu, Ryan Bertrand, César Azpilicueta and Paulo Ferreira should all get more playing time and even occasional starts, which Azpilicueta recently has.
Even a backup goalie like Henrique Hilário or Ross Turnbull should get a start in the right situation to give overworked veteran and legend Petr Čech a well-deserved night off.
2. Do Whatever It Takes to Get the Offense Scoring Again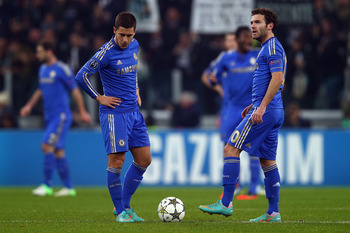 Clive Rose/Getty Images
Chelsea has never really been seen as a club that has trouble scoring goals. However, with just two goals in the last four games and after suffering consecutive shutouts, one could say this team is in a bit of a scoring slump.

We're not even talking about Fernando Torres here—he deserves, and will get, a slide for himself.

Rafa needs to work to get Juan Mata, Oscar and Eden Hazard seeing themselves as primary scorers. They need to start trying to attempt more shots on target in each game.

They are mostly perceived and written about as playmakers because of their style. However, for the Blues to succeed—whether or not Torres ever returns to his old form—other players need to think like scorers and put quality shots on the opposing goal when the opportunity arises.
3. Crank Up the Enthusiasm and Expectation Meters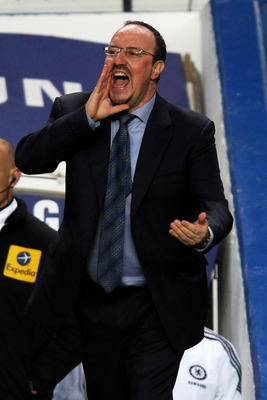 Clive Rose/Getty Images
With so much change in the last year and so many new faces in new spots, it can't be easy for the new players to jell right away or for a brand new manager to instantly be able to rally the troops.

Benítez is filling in for a man who arguably had his reign as Chelsea manager cut far too short, was beloved by the fans and just led the West London club to a first UEFA Champions League crown six months ago. You can see that it won't be easy for him to magically create any instant karma at Stamford Bridge.

For Benítez to keep the Blues in contention in the English Premier League, he will have to get the most out of all the players on his roster from this point on and make sure they're all up emotionally for every game.
4. He Needs to Fix Fernando Torres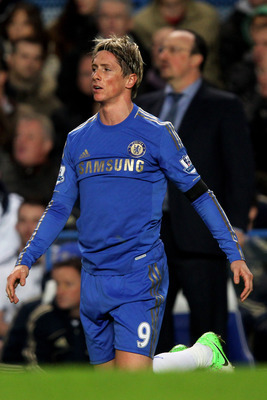 Clive Rose/Getty Images
Some would suggest that Benítez has been brought in to help his former Reds player and fellow Spaniard, Fernando Torres, who seems to be in some kind of a permanent funk after coming over from Anfield in January 2011.
Who knows the real specifics for the reasoning behind this hire?

Whether it's all about Torres or if he and Benítez's Liverpool past is just a small part of the hire, the scuffling Blues do need to get their starting striker back on track, and Rafa is the man who most likely could do just that.

Another thing Chelsea's new field boss can possibly do is experiment with a 4-1-3-2 tactical formation and employ another striker in the starting lineup to take some pressure off El Niño to see if that helps.

The biggest problem for most teams in world football is trying to stop the opposing striker or strikers. When you've apparently devolved into a team who is more surprised than anyone else when your striker "finally scores," you know you have some issues offensively.

5. He Needs to Change Fans' Current Opinions About Him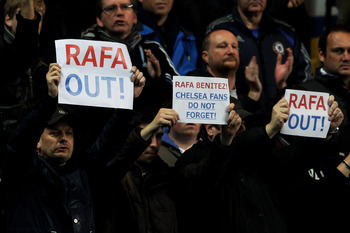 Clive Rose/Getty Images
With all that has transpired, right now is certainly not the time to expect Chelsea fans to welcome Rafa Benítez with open arms, and that's very understandable.

Whether you're in the camp that is still mad about the hire, the camp saying "this is our new guy, we must support him" or even if you're pro- or anti-Abramovich, your own personal feelings and opinions on this development are justified.

Benítez did once manage a rival in Liverpool and did say some nasty things about Chelsea, but Chelsea fans should soon support him en masse as they get over the shock of Di Matteo's departure and realize this is their new guy.

It will be important, no matter how long Benítez's tenure is at The Bridge, to have the fans in his corner—and he can do so quite quickly by simply winning.

Winning forgives a lot of warts, Bubba.
Conclusion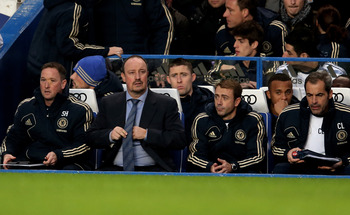 Julian Finney/Getty Images
With six more months of football on the horizon, Benítez will have more than enough time to try to change some of these things for Chelsea, and we all know it won't be easy.

Toss in a relatively soft schedule from early December to early February and the possibility of a couple of nice additions in the winter transfer window, and now is the perfect time for a guy brought in to change the direction of the team to do just that at Stamford Bridge.

The Blues' latest effort in changing that direction comes on Wednesday, when they host Fulham (B/R game preview link) in the West London Derby (Fox Soccer Channel, 2:45 p.m. ET/11:45 a.m. PT).

Let's hope, for Chelsea and Benítez, this will be the turn in the road. Let me know what you think he should change in the comments section below.


Follow me on Twitter: @KevinStott11
Keep Reading

Chelsea: Like this team?