10 Most Under-Appreciated NHL Players of All Time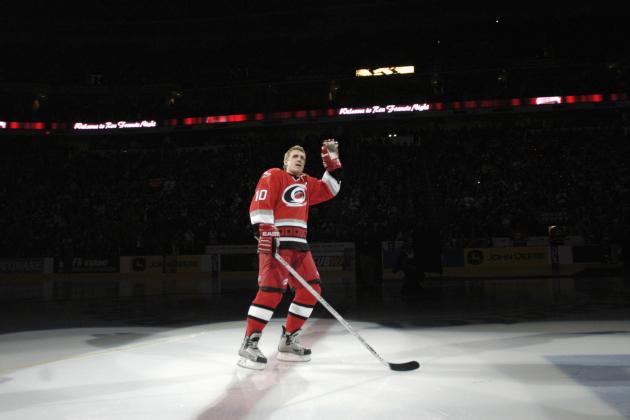 Grant Halverson/Getty Images
Ron Francis being honored by the Carolina Hurricanes in 2006.
Wayne Gretzky, Gordie Howe and Mark Messier are undoubtedly three of the greatest, and most appreciated, players to ever grace the NHL with their talents. There are plenty of players—such as the man ranked right beneath those three legends in terms of scoring—that don't get the appreciation they're entitled to.
Plenty of hockey greats have cemented their legacy in one specific city. Jersey numbers are retired and statues are erected in honor of the contributions made by certain players.
But some players most deserving of appreciation fail to receive it on a league-wide scale.
Yet others are overlooked and left out of conversation because of certain reputations. It's easy to look at a goaltender's stats and label him "awful" because of the amount of losses he's accumulated. It's another thing to go back and actually remember the contributions he made to his clubs and the game.
There are all kinds of other scenarios.
The point is that some of the most important players in NHL history aren't appreciated like they should be. Here are 10 of the most under-appreciated NHL players of all time.
Begin Slideshow

»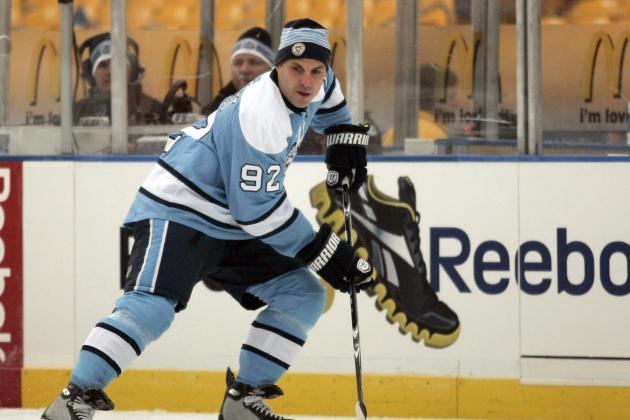 Justin K. Aller/Getty Images
Rick Tocchet playing during the 2011 Winter Classic Alumni Game.
Rick Tocchet is an oft-overlooked player. He spent his 18-year career with the Philadelphia Flyers, Pittsburgh Penguins, Los Angeles Kings, Boston Bruins, Washington Capitals and the Phoenix Coyotes.
A power forward with a keen ability to find the back of the net, Tocchet had something to offer to each of those teams.
It's easy to look back and marvel at Mario Lemieux's 16 goals and 34 points in the 15 playoff games he played in the Penguins' Stanley Cup win in 1992.
What fans often forget is Tocchet's modest 19 points in 14 games in that year's playoffs. His contribution may not stand out like Lenieux's, but it was certainly instrumental in their playoff dominance.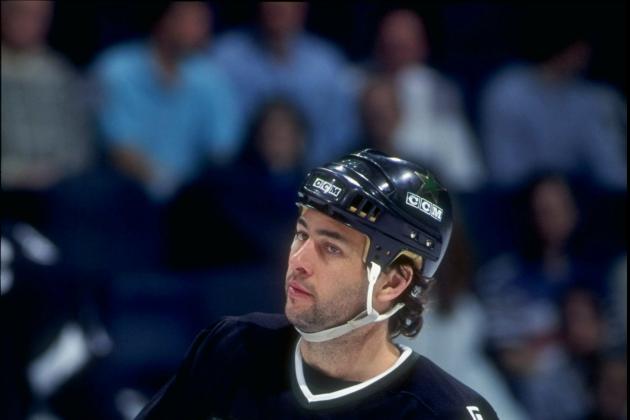 Ian Tomlinson/Getty Images
Neal Broten during a game in 1997.
Neal Broten spent the bulk of his hockey career with the Minnesota North Stars, but also played for the New Jersey Devils and Los Angeles Kings during the tail-end of his career.
From 1981-1997, Broten more than carried his weight. In 1,099 games, he tallied 239 goals and 634 assists.
Also throw in the fact that Broten was a member of the US hockey team during the "Miracle on Ice" prior to his NHL debut and he has a pretty strong résumé.
Fans often forget that Broten also briefly came out of retirement in 1999 to play in the Ice Hockey World Championship qualifying tournament. He scored six points in three games, helping to lead the US team to victory in the tournament.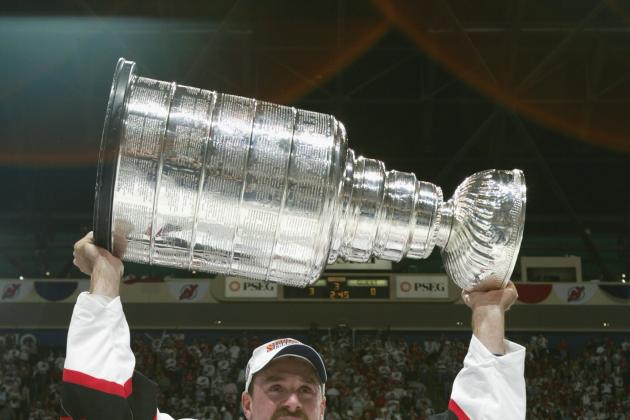 Elsa/Getty Images
Joe Nieuwendyk hoisting the Stanley Cup.
It's hard to have a discussion about the greatest two-way forwards in NHL history without bringing up Joe Nieuwendyk. Even so, he doesn't always get the recognition from people that aren't from Calgary.
Nieuwendyk is on the short list of players to score 50 goals in his rookie season and the even shorter list of players to do the same in his sophomore season.
His three Stanley Cups, Calder Trophy and Conn Smythe Trophy speak for themselves.
Nieuwendyk was valuable beyond his scoring abilities. At 6'2" and over 190 pounds, he had the size and strength to take it to his opponents.
It's shocking that it took until 2011 for him to get inducted into the Hockey Hall of Fame.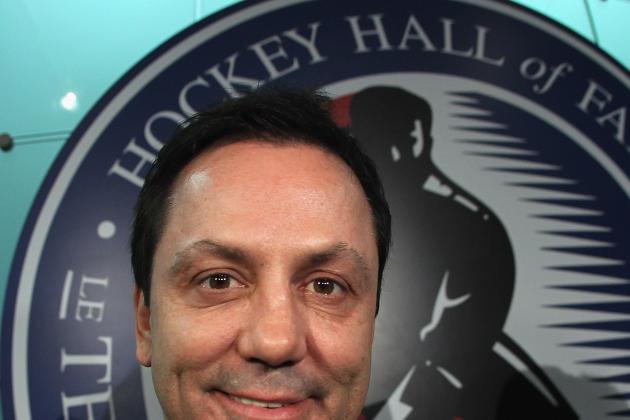 Bruce Bennett/Getty Images
Doug Gilmour during his 2011 Hall of Fame induction.
At 5'10" and 175 pounds, Doug Gilmour was never the biggest man on the ice. Still, his physical style earned him the nickname "Killer."
Gilmour, like Nieuwendyk, doesn't get the league-wide recognition he deserves. He's held in high regard by Maple Leafs fans, but doesn't get the same appreciation from other fanbases.
He tallied 450 goals and 1,414 points in the 1,474 games he played in his career, also contributing a modest 1,301 penalty minutes.
Gilmour was especially potent on the power play. He had a habit of turning the tables on the opposition by scoring shorthanded goals. He holds the record for the two fastest shorthanded goals—scoring two goals just four seconds apart.
His No. 93 is retired by the Leafs. In addition to that, his 2011 induction into the Hockey Hall of Fame is a sign that the hockey community is beginning to recognize his greatness.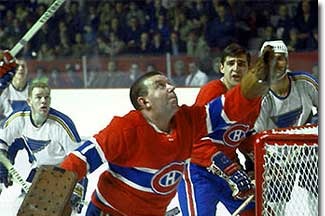 Gump Worsley was one of the last NHL goalies not to wear a mask.
Gump Worsley should be remembered as one of hockey's greatest goalies. He won the Stanley Cup four times between 1965-1969 and won the Vezina Trophy twice in that span.
Instead, he's remembered as the goalie tied for second-most career losses in NHL history.
Let me point out that Martin Brodeur holds that first-place title for most losses.
Also, go take a look at the laundry list of injuries he suffered throughout his career. They're more than enough to keep most of today's NHL players from lacing their skates ever again.
For almost two decades, Worsley was one of the toughest and most reliable netminders. It's too bad he's not brought up more often.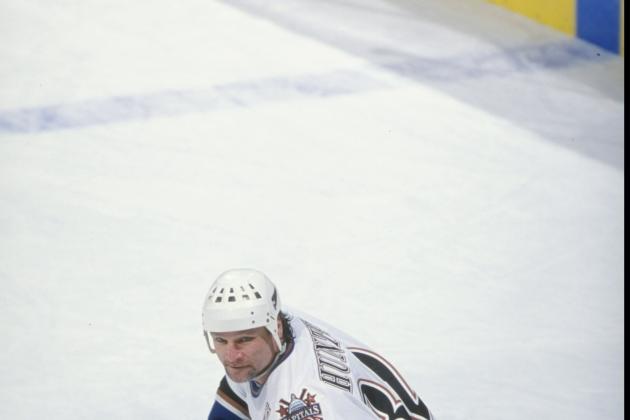 Doug Pensinger/Getty Images
Dale Hunter is likely scoping out his next target.
Dale Hunter isn't the nicest player to ever lace skates. He never claimed to play the cleanest game.
That doesn't mean he doesn't have the keen ability to score goals. In 1,407 games played, Hunter broke the 1,000 point barrier.
What really cemented his legacy was his value as an enforcer. He amassed an astounding 3,565 penalty minutes throughout his career.
Hunter played 12 seasons with the Capitals. Despite his below-average size, he spent that time opening up the ice for the likes of Peter Bondra and Adam Oates. Those guys might not have reached the heights they did without Hunter on the ice.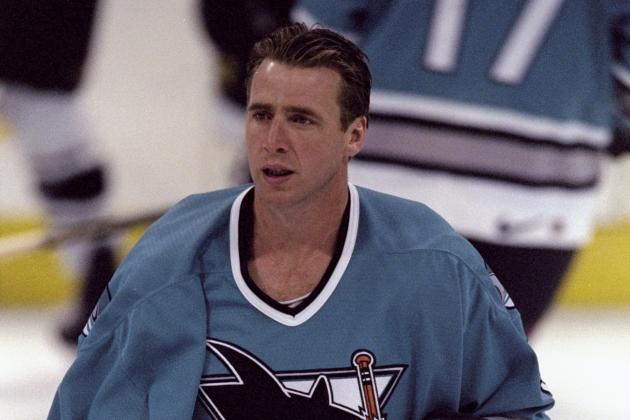 Stephen Dunn/Getty Images
Bernie Nicholls during his time with the Sharks.
As one of five NHL players to ever total 150 points in a season and one of eight to score 70 goals in a season, you'd think Bernie Nicholls would get more praise and fame than he has.
His elite talent for finding the back of the net is only one facet of his greatness. Nicholls was also one of the most adaptable forwards of his time.
He could be relied on to score when his team needed it. When the Devils needed him to fit into their more defensively-oriented game, he was more than willing to change his style.
Nicholls' career-high plus-24 rating during his second season with the Devils speaks for itself.
It's almost blasphemy that Nicholls has been eligible for the Hall of Fame for a decade and has yet to be inducted.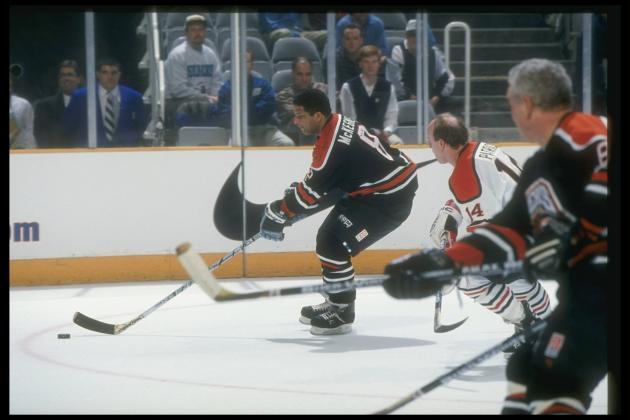 Rick Stewart/Getty Images
Tony McKegney reaching for the puck.
It's funny: Tony McKegney would have been a bona fide first-round pick in the 1978 draft if it weren't for the political mess he was involved in with the WHA's Birmingham Bulls.
Instead, his draft eligibility wasn't known until the second round. Once his agent got the word out, he was promptly picked up by the Buffalo Sabres as the 32nd overall pick.
In his 912-game career, McKegney scored 320 goals and 639 points. He showed the WHA how inane they were for letting him slip by because of racially-motivated reasons.
It's not about the scoring for McKegney, though. Along with Willie O'Ree, McKegney helped lay the foundation for the future of black hockey players.
So while his performance warrants recognition from hockey fans, the barriers he helped break make him deserving of appreciation from everyone—hockey fan or not.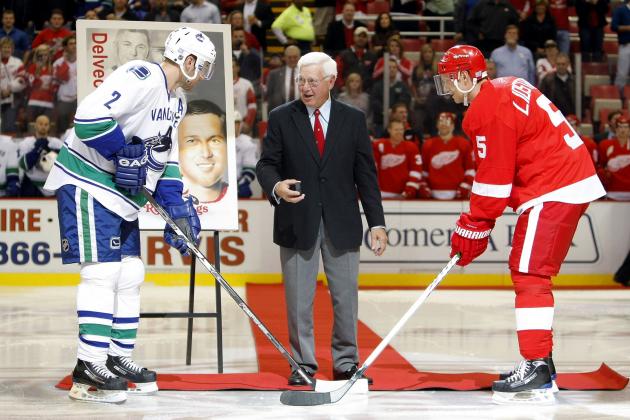 Dave Sandford/Getty Images
Alex Delvecchio dropping the puck for a game between his beloved Red Wings and the Canucks.
Alex Delvecchio is another person who doesn't get the league-wide appreciation he deserves. He more than cemented his legacy in Detroit during his 24-season career.
Apparently, dedicating over 1,500 games to a single team and amassing 456 goals and 1,281 points can solidify your reputation in a town.
Delvecchio won the prestigious Lady Byng Trophy for his skill and sportsmanship on three occasions. Also take into account the 12 seasons he served as Red Wings captain and he is an ideal role model for all hockey players.
If anything, he should be held in high regard simply for setting the standard for sportsmanship. His flair for scoring is just a plus.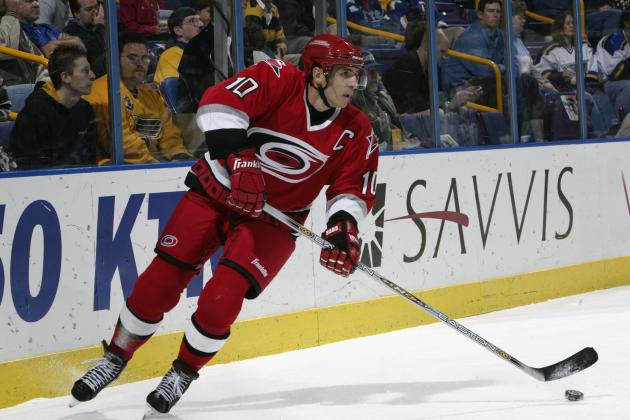 Elsa/Getty Images
Ron Francis wound up his career with the Hurricanes.
Everyone knows Wayne Gretzky, Mark Messier and Gordie Howe. No one ever remembers the NHL's fourth-place all-time scorer—Ron Francis.
Francis had all the makings of a legendary player and showed it every time he stepped on the ice. So why isn't he held in the same regard as Gretzky, Messier and Howe?
He stands out as one of the greatest playmakers in NHL history. He assisted on 1,249 goals in his career—good enough for second place in career assists.
Like Delvecchio, Francis was also a shining beacon for sportsmanship. He also won the Lady Byng Trophy thrice.
Perhaps the most impressive thing about Francis was his consistency. He has a point-per-game career average and even surpassed the 100-point barrier three times in his 25-year career.
Francis is easily one of the greatest players to ever lace up a pair of skates. He worked every day of his career to become the best he could at a sport he loved.
And it was apparent—Francis excelled in about every facet of hockey. From scoring to sportsmanship to leadership, Francis had it all. It's rare to come across a player like him.
There's no doubt Francis is the single most under-appreciated player in hockey history.
Michael Prunka is a Bleacher Report Featured Columnist and Sports Writing Intern. Stay up to date with him by liking his Facebook page and following him on Twitter.