Position-by-Position 2013 NFL Draft Big Board for the New Orleans Saints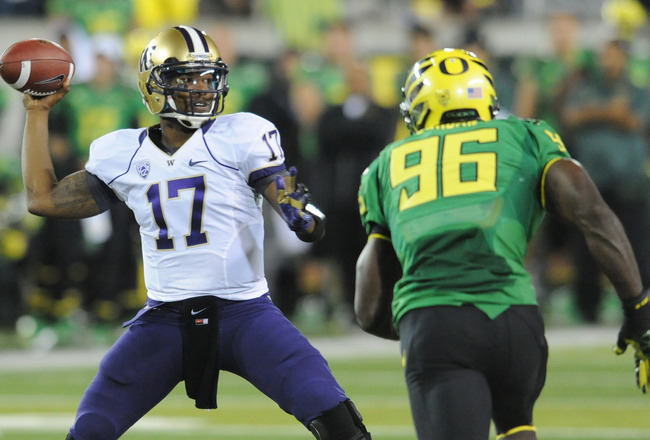 Steve Dykes/Getty Images
Though the calendar is still flipped to November, the NFL draft is on the minds of every NFL franchise, including the New Orleans Saints.
At 5-6, the Saints are still very much in the playoff race. Thus, the team's eventual first-round slot is very much in question. Therefore, it would be unwise to try to slot a particular player or batch of players to them in a mock draft.
Instead, the best practice is to make a big board, similar to the one Mickey Loomis and his staff will have completed at least a few days before April's college selection meeting. This one will have a few caveats, though.
Unlike Mickey Loomis' board, I will not include any of my top 10 draft eligible prospects, since it is nearly 100 percent certain the team will be picking sometime after. As such, Luke Joeckel, Star Lotuleli, Jonathan Hankins, Geno Smith, Damontre Moore, Barkevious Mingo, Manti Te'o, Dee Milliner, Jonathan Cooper and Terrance Williams (my current top-10 prospects) will not be featured on any list.
Likewise, players such as Jarvis Jones, who is exclusively a 3-4 OLB will not be featured because there is zero chance the Saints would draft him because he is not a scheme fit in Steve Spagnuolo's defense.
At the same time, a player such as Southern California safety T.J. McDonald could be given a higher grade because of scheme-specific traits he exhibits that make him a great fit in New Orleans.
Finally, grades will be given even at positions the Saints may not draft players to closely identify with the actual draft process that goes on in NFL war rooms come draft time.
Quarterbacks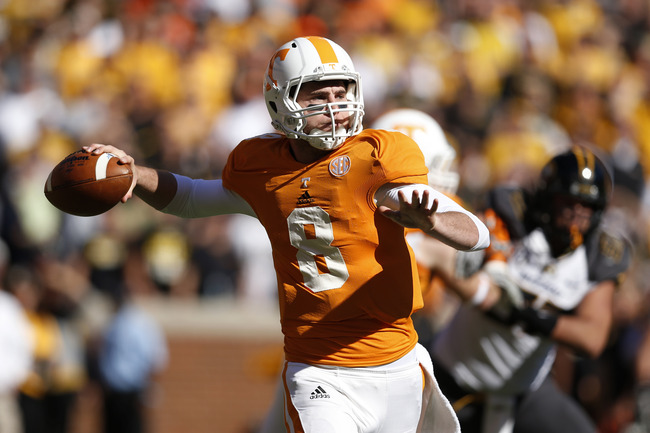 Joe Robbins/Getty Images
Ryan Nassib, Senior, Syracuse (Overall Pos. Rank: 2)
Nassib comes from a pro-ready system and from former Saints' offensive coordinator Doug Marrone. If the Saints really wanted to draft Drew Brees' replacement early in this draft, Nassib would be their best bet. He is my No. 2 QB overall, behind only West Virginia senior Geno Smith. He should be a second-round pick.
Tyler Bray, Junior, Tennessee (Overall Pos. Rank: 3)
Bray has all the "arm talent" a coach or scout could want. Decision-making remains in question, as does intermediate and short accuracy in addition to pocket presence and mobility. He'd be better off returning to Tennessee for his senior year. If he returns, he should be a second-round pick.
Tyler Wilson, Senior, Arkansas (Overall Pos. Rank: 4)
Wilson had a disappointing senior season after an overwhelming junior campaign. His draft stock dropped significantly in my view. As a junior he was my top QB. As a senior, fourth. It's probably irrelevant, though, as many scouts are now projecting him as the top QB, for some reason. He should be an end-of-the-second or early-third round pick.
Zac Dysert, Senior, Miami (Ohio) (Overall Pos. Rank: 5)
Dysert is a late riser on my board. I remember watching him as a young starter at Miami and seeing the potential. As a senior, he's finally started to live up to that billing. He could continue to rise throughout the draft process. He should be a third-round pick.
Landry Jones, Senior, Oklahoma (Overall Pos. Rank: 6)
Jones is another player who has an underwhelming senior season. But the talent around him this year hasn't been tremendous. And he's come on as the year has progressed. Though he won't make many plays with his feet, he has good pocket mobility and good accuracy. With Sean Payton developing him, Jones could become a great starting QB in three to four years. He should be a fourth-round pick.
Others: Matt Barkley, Southern Cal; EJ Manuel, Florida State; Mike Glennon, NC State
Running Backs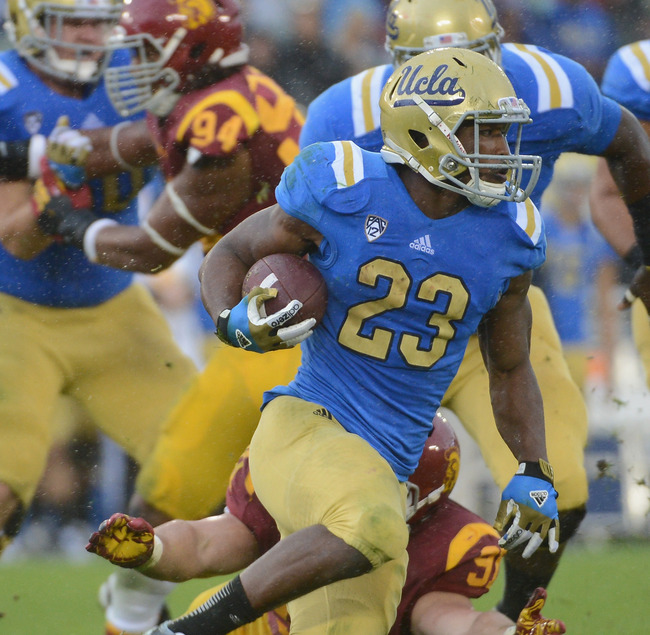 Harry How/Getty Images
The primary caveat here is that the only way the Saints draft a running back is if one of their current backs is lost to possibly career-ending injury, and the Saints are bulled over by a first-round trade offer for Mark Ingram. Nonetheless, here would be the top five backs on the Saints' board.
Mike Gilislee, Senior, Florida (Overall Pos. Rank: 1)
Gilislee might be the most balanced back in this year's draft (assuming Marcus Lattimore stays at South Carolina to rehabilitate his knee rather than go pro). He combines speed with power, great vision and feet to the best natural runner. He is also good in pass protection and able to catch the ball out of the backfield.
Jonathan Franklin, Senior, UCLA (Overall Pos. Rank: 2)
I swear this has less to do with my UCLA alum for a father and die-hard Bruin fan-hood up until I graduated from San Diego State. Instead, I have watched plenty of Franklin and noticed that he really is a cross between the Saints' Darren Sproles (mostly size and body structure with some of how he is used) and Pierre Thomas (great in between the tackles and screen back).
Eddie Lacy, Junior, Alabama (Overall Pos. Rank: 3)
Draft experts have recognized that at running back it is best for a player to come out if given the choice. The fewer carries he has on him when he enters the NFL, the longer he can potentially contribute and produce. For that reason, Lacy should declare and land high on the lists of NFL franchises, especially those needy for a running back.
Giovanni Bernard, Junior, North Carolina (Overall Pos. Rank: 4)
Many have Bernard as their best running back in this year's class. I do not understand the hype. To me, Bernard's success is mostly due to Larry Fedora's brilliant offensive system and the best guard in this year's class (Jonathan Cooper). Still Bernard shows flashes of brilliance.
Joseph Randle, Senior, Oklahoma State (Overall Pos. Rank: 5)
Randle has caught my eye lately. He has really carried the Oklahoma State offense, which has started three different quarterbacks in the 2012 campaign and still had tremendous success. It's because Randle is a rock.
Others: Too many to name, none of them sexy selections
Wide Receivers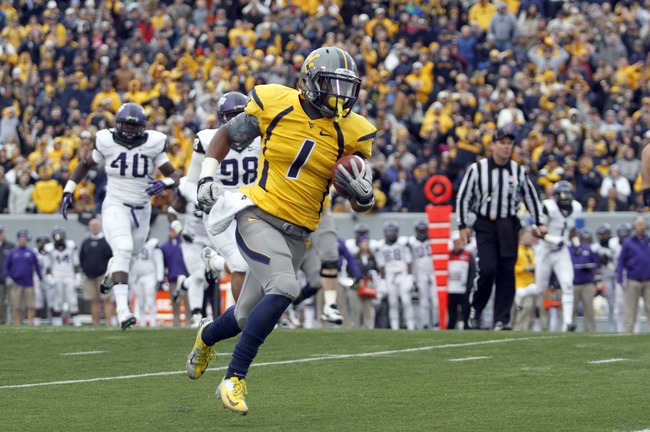 Justin K. Aller/Getty Images
Much like with running backs, it's not as if the Saints need a receiver in this year's draft. But if they were to consider one in the draft, here would be their top five targets.
Cordarrelle Patterson, Junior, Tennessee (Overall Pos. Rank: 4)
Interesting that the top target to replace Robert Meachem is another Tennessee Volunteer. Patterson has a similar skill set to Meachem and may actually be more naturally talented. He has a big body so he can block, but is freakishly quick-twitched and agile and can make plays with the ball in his hands after the catch.
Tavon Austin, Senior, West Virginia (Overall Pos. Rank: 5)
Austin benefits from the wide-open offensive attack brought to West Virginia, or perfected there, by Dana Holgorsen. Austin has a similar skill set to Percy Harvin, in that he can line up out wide, in the slot, or in the backfield. He would likely fill a Lance Moore-type role in New Orleans.
Ryan Swope, Senior, Texas A&M (Overall Pos. Rank: 8)
Some have Swope pegged as a fourth-round talent in this year's draft. Others are not sure what to do with him. Swope is the least explosive of any of the players on this list.
He would bring a slightly different dynamic to the Saints' receiving corps. He would be their first true slot receiver. While the others would bring explosion back to the offense, Swope would guarantee the team remains a first-down machine.
Ace Sanders, Senior, South Carolina (Overall Pos. Rank: 10)
Much like Robinson, Sanders' initial role in New Orleans primarily consist of returning kicks. He does that better than anyone in the college game currently. Over time, though, he could grow into a vertical receiving weapon.
Denard Robinson, Senior, Michigan (Overall Pos. Rank: 11)
I know it seems like an unlikely fit. But the Saints are not as conventional as one might think. Robinson might provide a little wrinkle that the Saints offense could use in the future. Of course, Robinson would be brought in mostly to learn how to play a slot receiver-type role and return kicks.
Others: Quinton Patton, Louisiana Tech
Tight Ends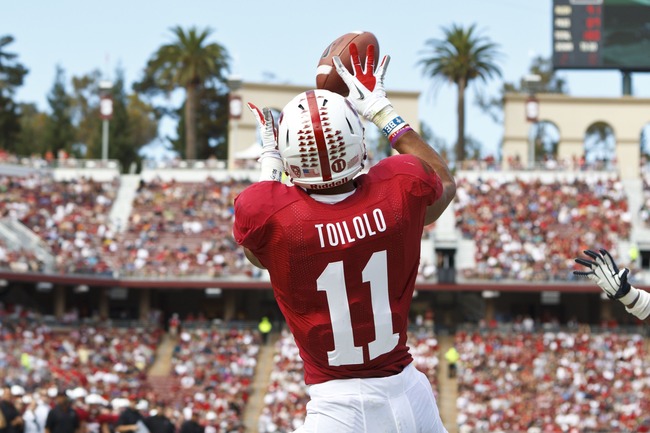 Jason O. Watson/Getty Images
Levine Toilolo, Senior, Stanford (Overall Pos. Rank: 1)
Levine Toilolo is 8' tall, runs a 4-flat 40 and jumps 10 feet. OK, none of those are true, but they all seem true when watching the man play football. He really is a giant at 6'8", 265 lbs. He does run very fast for his size and has great hops.
He is a wonderful athlete and any team would love to have him. The Saints could do worse in their quest to find a consistent third tight end.
Zach Ertz, Senior, Stanford (Overall Pos. Rank: 3)
In case you hadn't realized it, Stanford became 'Tight End U' the past few years. The 2013 draft will make the second consecutive year the team has two tight ends drafted. Not two players, two tight ends. Ertz may not be the freak that Toilolo is, but he might actually be the better football player.
Dion Sims, Senior, Michigan State (Overall Pos. Rank: 4)
Dion Sims is another freak of nature, this time out of the Big Ten and Michigan State. Sims stands 6'5", 285 lbs. He may as well be a guard or center. But he has the ability to move in space and block, really well. And if necessary he can even catch a pass. He's the perfect fit for the Saints.
Joseph Fauria, Senior, UCLA (Overall Pos. Rank: 5)
Fauria is another favorite of mine, again not only because he's a UCLA Bruin. He is pretty much the opposite of the three previous players mentioned. Fauria is an elite stretch-the-field tight end. He has great leaping ability and ball skills. He is nearly as Toilolo and would give the Saints a Patriots-type look at the tight end position.
Mychal Rivera, Senior, Tennessee (Overall Pos. Rank: 6)
Rivera is a player who grew by leaps and bounds from the time he initially stepped on campus in Knoxville. When he first saw game action, he routinely hurt his team. This season he was the team's most consistent weapon in the passing game and more than an able blocker. The Saints could do a lot worse at the position.
Others: No notable players
Offensive Tackles & Guards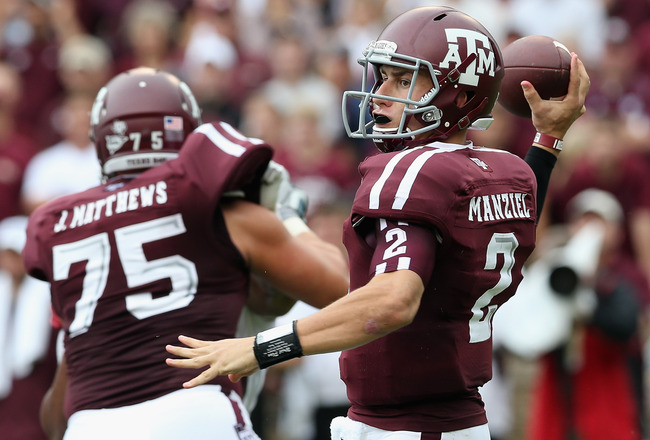 Ronald Martinez/Getty Images
This is where conjecture begins to take a more true form. While any of the players listed in the first four slides would be fantastic adds for the Saints, none of them equate to necessity the way this next batch of players does. In fact, between guards and tackles, centers, defensive tackles, defensive ends, linebackers, safeties and corners, any and all of those positions could be considered needs for the New Orleans Saints.
Jake Matthews, Junior, Texas A&M (Overall Pos. Rank: 2)
Only his teammate, Luke Joeckel ranks higher on the offensive tackle board. I do have North Carolina guard Jonathan Cooper ahead of him as well. But Matthews is a plug-and-play guy. And you can be fairly certain he will start for the next 10-15 years with zero issue whatsoever. He could play right or left tackle for New Orleans.
Eric Fisher, Senior, Central Michigan (Overall Pos. Rank: 3)
It's a good sign when a superior play dominates his competition the way Eric Fisher has done in the MAC this season. Of course, the MAC was actually very solid competition this fall. Still, Fisher has proven to be an elite talent.
Taylor Lewan (Overall Pos. Rank: 4)
Lewan is a guy who is easy to overlook. He isn't a sexy pick, even among the "big uglies." But he always does a formidable job. Because of his workman-like nature he will likely garner a first-round pick, though he is probably more of a second-round player. Still, he is a plug-and-play guy from day one in the NFL, most likely at right tackle.
D.J. Fluker, Senior, Alabama (Overall Pos. Rank: 5)
Fluker is another right tackle candidate, if the Saints choose to address that area in the upcoming offseason. Some may be of the opinion that Fluker is Alabama's best offensive lineman despite playing the right tackle spot.
Oday Aboushi, Senior, Virginia (Overall Pos. Rank: 6)
Aboushi comes from Virgnia, a place known for advancing tackles to the next level. He will not be as highly rated, which is probably a good thing. His expectations will not be as high as his predecessors. A possibility exists that Aboushi could play either side of the line. If so, he'd be another good fit in New Orleans.
Centers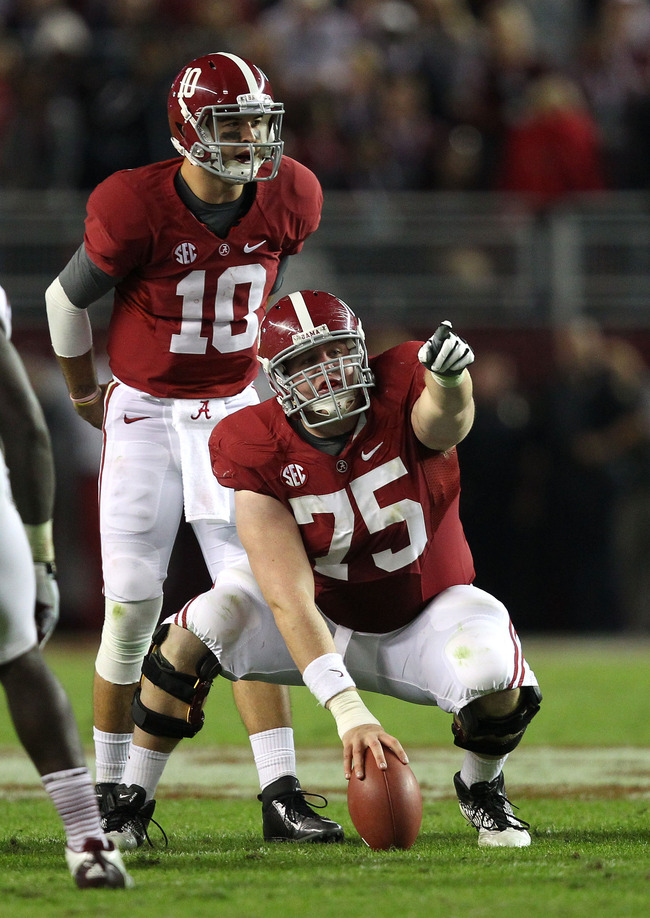 Mike Zarrilli/Getty Images
Barrett Jones, Senior, Alabama (Pos. Rank: 1)
Many draft experts are not as high on Jones as the national media is, nor as I am. Jones' work at Alabama is impressive and his versatility rare and almost unrivaled. Playing other spots makes Jones better as a center. That experience could be invaluable at the NFL level.
I almost included Jones in the tackle/guard section as well. He could have fit there, but I remembered I needed to include another tackle, and that Jones could easily fit here too. That's one of the beauties of a versatile O-lineman like him.
Mario Benavides, Senior, Louisville (Pos. Rank: 2)
Benavides isn't a sexy, must-have prospect for most NFL teams. But he would fit perfectly in New Orleans. At Louisville, he is not asked to move much. But in a "phone booth" he shows off good strength and agility to move his defender side-to-side and rarely get power-rushed. He is a really fine pass protector.
Again, he would fit in New Orleans very well, where the Saints don't ask their center to move much either.
Khaled Holmes, Senior, Southern Cal (Pos Rank: 3)
Holmes is an overrated prospect at this point. He is regularly seen getting blown off the ball by interior defenders. But he does possess the talent necessary to play in the NFL. It would take a good coach to get it out of him I suspect.
Braxston Cave, Senior, Notre Dame (Pos. Rank: 4)
Much like Benavides, Cave appears to be a good fit for what New Orleans likes to do offensively, especially with their centers. As a big, strong young man, Cave can anchor at the point of attack and move his defender where he wants him.
Graham Pocic, Senior, Illinois (Pos. Rank: 5)
One thing Ron Zook did a wonderful job of in his time at Illinois was recruiting and developing NFL-caliber players. Pocic is yet another example of that. There's little doubt he'll fit in the league somewhere.
Defensive Tackles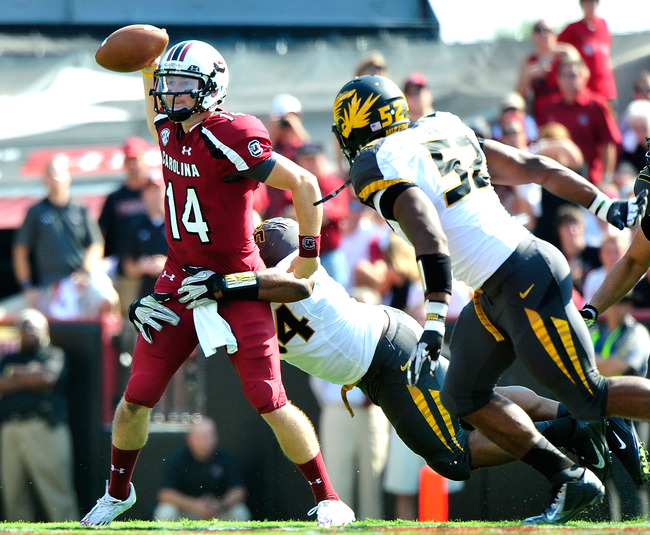 Grant Halverson/Getty Images
Notice I have left off notable defensive tackles Star Lotuleli, Jonathan Hankins and John Jenkins because none really fit the Saints' attack and/or will be gone prior to the Saints' earliest possible first-round slot.
Sheldon Richardson, Senior, Missouri (Overall Pos. Rank: 4)
Based on his play this season, it seems unlikely that Sedrick Ellis will be re-upped this offseason by the New Orleans Saints. Stepping into his place, or at least into a rotation spot opened by his departure could be Missouri's Sheldon Richardson.
Richardson has a great motor and could really be everything Ellis was meant to be, only picked in the late teens to early 20s, which would mean even if he produced at the same level as Ellis, he would not be considered a bust.
Kawann Short, Senior, Purdue (Overall Pos. Rank: 5)
Short is not short, nor is he short on promise. He must live up to his potential though. He screams bust, which is probably why his stock has fallen since the beginning of his senior campaign. He is still seen as a wonderful prospect.
Shariff Floyd, Junior, Florida (Overall Pos. Rank: 6)
Aside from some of the interesting off-the-field issues that have surrounded Floyd, the junior defensive tackle from Florida has proven to be everything a coach could want in his three seasons at Florida.
The kid is highly productive and has a chance to become another great defensive player from the University of Florida. Of course, I noted on Twitter Tuesday, I'd take the entire Florida defense if I could.
Datone Jones, Senior, UCLA (Overall Pos. Rank: 7)
Jones is an interesting kid. He is probably UCLA's best player overall, but for some reason doesn't get the acclaim of others. Some of that is the result of the curse of playing in a 3-4 defense flanked by playmakers such as Anthony Barr and Eric Kendricks (brother of Mychal who is an Eagles' rookie).
Jones appears to be a more natural fit as a 4-3 end, but given the way Steve Spagnuolo likes to move his ends inside on passing downs, he could be an excellent fit in New Orleans' base 4-3 attack.
Sylvester Williams, Senior, North Carolina (Overall Pos. Rank: 8)
Williams is yet another in a long line of productive defensive line talents who played their college ball in the Tar Heel state. Many of them played in Raleigh for the Wolfpack, but there have been some great ones from Carolina (Lawrence Taylor anyone?) as well. Williams will look to continue that trend and represent his state well. Could he be doing so in New Orleans?
Defensive Ends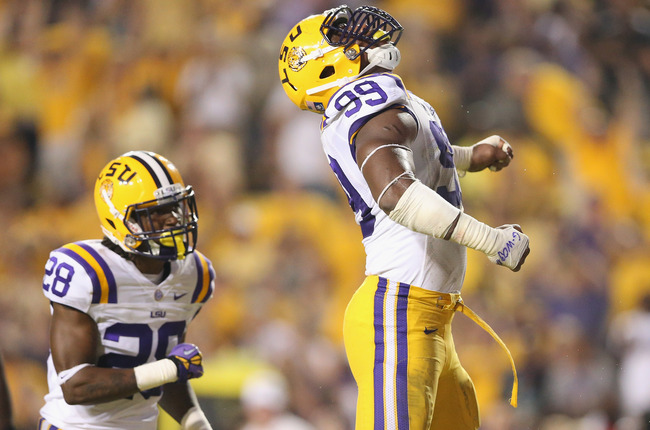 Ronald Martinez/Getty Images
Dion Jordan, Senior, Oregon (Overall Pos. Rank: 3)
Some may not like Dion Jordan as much as I do because of perceived limitations. For me, those limitations only exist if a coach doesn't know how to use Jordan. He is the preeminent talent at the position in this draft.
Yes, he has some ability to drop and play in coverage, but those abilities should be harnessed by using them in special situations only. He is a pass-rusher first and foremost. He would fit in Steve Spagnuolo's defense beautifully.
Sam Montgomery, Senior, LSU (Overall Pos. Rank: 4)
Montgomery is a base 4-3 end if I've ever seen one. He can play the run, he can rush the passer and can drop in coverage on a zone blitz if so desired. Some have questioned his toughness and work ethic, but there is little doubt he has the talent to succeed in the NFL.
Bjoern Werner, Senior, Florida State (Overall Pos. Rank: 5)
The only reason the German-born Werner is listed ahead of his teammates Tank Carradine and Brandon Jenkins is the knee injuries each sustained. Jenkins' timetable for recovery is obviously well ahead of Carradine's, who was only hurt this past weekend in the Seminoles' heart-breaking loss to arch-rival Florida.
Still, Werner possesses a motor, and is probably a more talented version of former first-round pick David Pollack.
Alex Okafor, Senior, Texas (Overall Pos. Rank: 6)
Okafor teamed up Jackson Jeffcoat to make for a dynamic duo at Texas before the latter sustained a season-ending injury. Okafor, though, has all the tools to excel in the NFL. As a late first-round pick, the team could do a whole lot worse.
Tank Carradine, Senior, Florida State (Overall Pos. Rank: 7)
I've never really believed major injuries should derail a young man's stock, unless he clearly has not healed. With the advances in modern medicine, a player can return to full health, and is sometimes better for it (see Drew Brees). Carradine is a player who will be a steal late in the draft.
As the seventh best defensive end on my board, I would love if the Saints took him in the sixth or seventh round. That would be great value.
Linebackers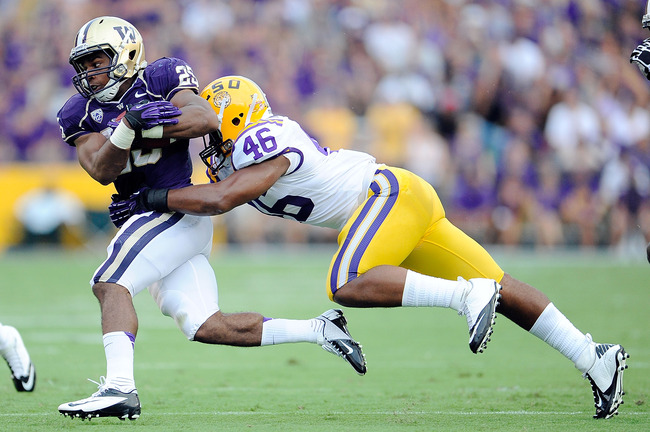 Stacy Revere/Getty Images
I chose not to distinguish between middle and outside linebacker on this slide because the Saints have proven under Steve Spagnuolo they seem to care little of such distinctions. All three starting linebackers for New Orleans are "middle linebackers." Here are the five best backers in this draft, at least who fit in a 4-3 scheme.
Kevin Minter, Senior, LSU (Overall Pos. Rank: 2)
It's very rare and difficult to find a player as productive as Kevin Minter has been at LSU in his senior season. Even more rare is it when that guy is playing on a defense full of future NFL players. Minter is the quintessential middle backer, but also seems to possess the sort of ability to move outside if asked to do so.
Kevin Reddick, Senior, North Carolina (Overall Pos. Rank: 3)
Similar to Minter above, Reddick has been very productive in his entire career at Carolina. And he shows some ability to move outside if called upon to do so.
Jonathan Bostic, Senior, Florida (Overall Pos. Rank: 4)
Bostic is another highly productive player at Florida. The tackles have been a bit more spread out there, in part because that defensive is so balanced and loaded with stars. But Bostic has proven to be a leader on that team and one of those under-the-radar types who is sure to last in the NFL for a decade, if not longer.
Khaseem Greene, Senior, Rutgers (Overall Pos. Rank: 5)
Greene has come on strong in his senior season at Rutgers as an outside linebacker. That's not to say he wasn't good his first three years, only that's he taken that next step and legitimized himself as a second day pick. If the Saints can grab him in the third round, it's almost a must-do.
Arthur Brown, Senior, Kansas State (Overall Pos. Rank: 6)
Arthur Brown is one of my favorite players in this draft overall. Though undersized, Brown plays tough and fast and is a ball hawk (something we all know the Saints are desperate for). He would appear to be a really nice fit for the Saints.
Cornerbacks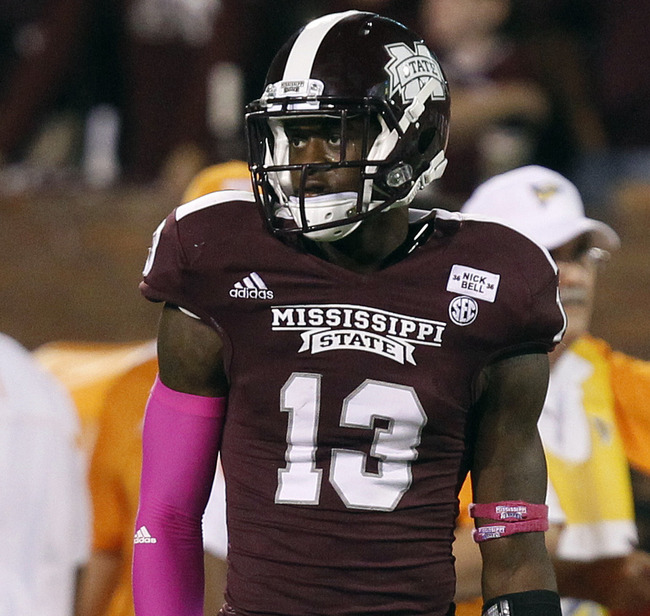 Butch Dill/Getty Images
Johnthan Banks, Senior, Mississippi State (Overall Pos. Rank: 2)
Banks is a big corner who plays tough and isn't afraid to hit you. The Saints need that. His approach to the game would match Corey White's too. Banks might be the closest thing you get to a true No. 1 corner in today's NFL.
Xavier Rhodes, Junior, Florida State (Overall Pos. Rank: 3)
Rhodes is just another supremely talented player on that stacked Florida State defensive roster. No. 27 in the programs has all the talent you want from a corner. He is just a little inexperienced and raw. If he goes to a place where is well-coached, he could actually become the best corner to come out in quite some time.
Jordan Poyer, Senior, Oregon State (Overall Pos. Rank: 4)
Poyer is an interesting prospect. He has played some safety at Oregon State, which makes sense since he plays the corner spot with a safety-type mentality and has the congruent instincts. In that sense, he is similar to Corey White.
Leon McFadden, Senior, San Diego State (Overall Pos. Rank: 5)
McFadden is a kid I find to be super underrated. At the risk of sounding like a homer, SDSU has produced some really good NFL prospects in the past few years, and McFadden has a chance to be among the best of them.
He is a playmaker, but also a shutdown corner (again with the caveat, if such thing existed in today's game). He reminds me a lot of my favorite corner to ever come out of college, Alterraun Verner who is now hands down the Tennessee Titans' best secondary player.
Desmond Trufant, Senior, Washington (Overall Pos. Rank: 6)
As the brother of Seahakws corner Marcus, Desmond Trufant has good genes and talent. He did not join his brother in Pullman, instead opting for the rival school. But he ought to join his brother in making an NFL roster and sticking in the league for awhile.
Safeties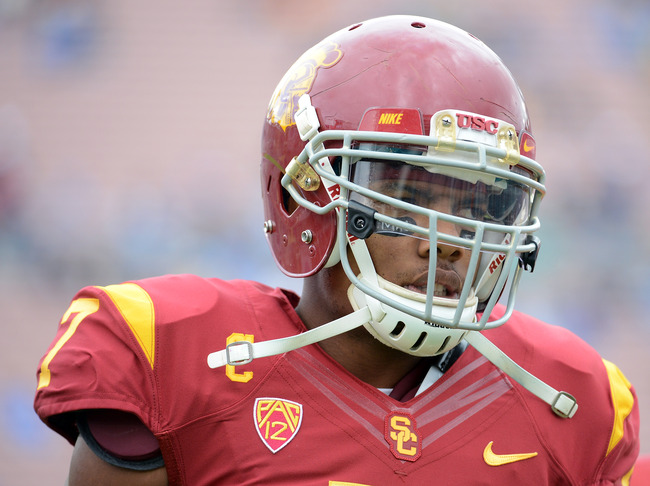 Harry How/Getty Images
Of greatest importance here is that I make no distinction between strong safeties and free safeties. I mix them together just as most current NFL franchises do. Second, I am not sold the Saints must draft a safety this year, but if they want to find an impact player at the position, this might be the year to do it.
T.J. McDonald, Senior, Southern Cal (Overall Pos. Rank: 1)
McDonald has every trait and characteristic a scout looks for in a safety. He has great range deep, can come up to make a tackle and can cover man-to-man. Finally he makes plays. He is solid. The Saints could do a lot worse. He also has great genes, based on the fact his father played in the NFL, and his brother Tevin plays at crosstown rival UCLA.
Kenny Vacarro, Senior, Texas (Overall Pos. Rank: 2)
If McDonald is a bit of a wild card (which I don't believe he is, but some do), Vacarro is a sure thing. Vacarro may never become a star but it's also extremely unlikely to bust. He can play man-to-man, in the box and deep coverage all equally well.
Matt Elam, Senior, Florida (Overall Pos. Rank: 3)
Elam is a player with great ability and great production. I actually like his teammate, Josh Evans, better in some regards. But I know Elam will be taken well above Evans.
Eric Reid, Senior, LSU (Overall Pos. Rank: 4)
Reid is a highly disappointing player to me when I put the film on. He is constantly taking bad angles to the football and just not making enough plays for a top-end safety prospect. Still I know he will be taken high. I would probably stay away if I were the Saints, though. Hence, the reason he's four here.
Bacarri Rambo, Senior, Georgia (Overall Pos. Rank: 5)
Rambo is a player who is very talented and lives up to his talent on the field. Now if he can only stay out of trouble off the field, a team may find something special.
Others I Love: D.J. Swearinger, South Carolina; Josh Evans, Florida; Damion Stafford, Nebraska
As you can see, there are many great players the Saints could consider all throughout the 2013 NFL draft. Many of the players listed here are first- or second-day players. But I tried to list some gem third-day guys who could be around for the picking for general manager Mickey Loomis and his staff.
Finally, this list is absolutely subject to change as more film is digested and senior bowl games are played in addition to some minor changes that may result from workouts.
Keep Reading

New Orleans Saints: Like this team?