College Football: The 3 Tastiest Cupcake Games of Week 14
Jonathan Ferrey/Getty Images
The Week 14 slate of college football games is abbreviated, as most teams have finished their regular-season schedules and are stuck couch-surfing for the conference championships.
But fear not, loyal fans, there are still 19 FBS games being played this weekend, six of which are conference title games with massive BCS implications.
As we prepare for marquee showdowns like Alabama vs. Georgia and UCLA vs. Stanford, it's easy to forget about the cupcake matchups that usually litter the schedule each week.
And while the lineup this week doesn't feature too many powder puffs, there are three pairings, including one conference championship, that look very delicious.
Read on for a list of college football's three tastiest cupcakes games in Week 14.
Kansas at West Virginia
Jamie Squire/Getty Images
West Virginia has struggled mightily since starting out 5-0, stumbling over the past two months to a 6-5 record with one regular season game left.
But the future looks bright for the Mountaineers, especially since they have the distinct pleasure of hosting the Kansas Jayhawks this Saturday.
Kansas (1-10, 0-8) is the only Big 12 team without a conference victory and hasn't won a game since opening the season with an unconvincing 31-17 win over South Dakota State.
The Jayhawks don't have much to write home about, as they rank No. 115 in the nation in scoring and No. 102 in scoring defense. We all know KU is a basketball school, but that doesn't mean the Jayhawks should be that bad on the gridiron.
West Virginia's potent offensive attack, led by QB Geno Smith, should have no trouble carving up the Kansas defense and putting lots of points on the board.
And even if the Mountaineers' defense continues to play as tough as wet paper, WVU should be just fine improving to 7-5 and salvaging a respectable season.
Florida State vs. Georgia Tech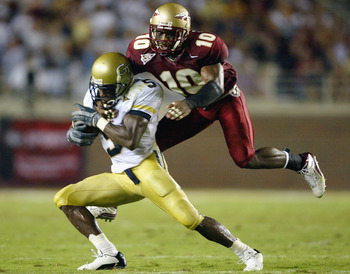 Andy Lyons/Getty Images
The 2012 ACC Championship Game is eerily similar to last year's Pac-12 title game, as the contest features one legitimate representative against a pretender that backed in because of NCAA sanctions.
Due to North Carolina's ineligibility and Miami's self-imposed bowl ban, third-place Georgia Tech will represent the Coastal Division on Saturday in the championship.
Georgia Tech (6-6, 5-3) was absolutely manhandled last week by in-state rival Georgia, and the Bulldogs ended up winning by a final margin of 42-10.
Florida State (10-2, 7-1) is also limping into the conference title game after being bludgeoned by the hated Gators last week. Seminole QB E.J. Manuel left the game against UF due to a head injury on a nasty tackle, but he is listed as probable for this week.
If Manuel is good to go, FSU should easily top the Yellow Jackets, especially considering the 'Noles boast the No. 7 scoring defense in the nation.
The only concern for Florida State is Tech's rushing attack, which ranks No. 3 in the country and managed 306 yards against Georgia's vaunted defensive front.
But in reality, the ground game shouldn't be a problem because the Jackets are entirely one-dimensional, ranking No. 119 in passing yards.
As long as the Seminole front seven keys in on the run, FSU should roll its way to victory and an automatic BCS berth.
Nicholls State at Oregon State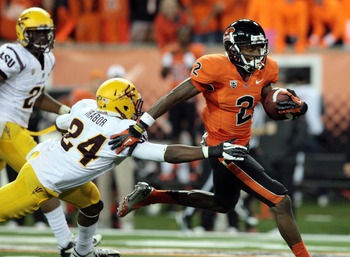 Scott Olmos-US PRESSWIRE
This game was originally scheduled to take place on Sept. 1, but the Nicholls State football team was unable to travel out of Louisiana because of Hurricane Isaac.

Now sitting at 1-9 in the Southland Conference, the Colonels look like the ultimate cupcake for the No. 15 Oregon State Beavers.

The date couldn't have come at a better time for OSU because the Beavs are beaten and bruised from an embarrassing loss to Oregon in the Civil War last week.
The loss deflated OSU's hopes to flip the power balance in the Beaver State (yes, that actually is Oregon's official nickname), but that doesn't mean 2012 hasn't been a huge success.
After finishing 3-9 in 2011, head coach Mike Riley and the Beavs have been very impressive, fighting their way to an 8-3 record with two wins over ranked opponents.
A game against the Colonels is just what the doctor ordered, as Oregon State's defense alone should lift the Beavers to the nine-win mark, setting them up nicely for a mid-tier bowl.


Keep Reading