Toronto Raptors vs. Houston Rockets: Rockets Postgame Grades and Analysis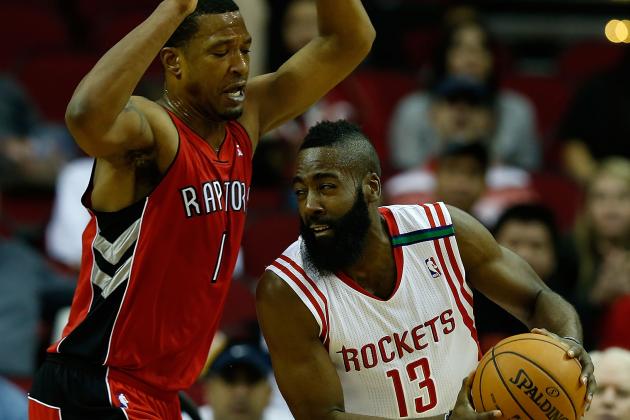 Scott Halleran/Getty Images
The Bearded Man went to work again tonight.
The Houston Rockets just reeled off their third straight win to improve to .500 on the season. Their opponent, the Toronto Raptors, meanwhile dropped their fifth straight and have no one but themselves to blame for the team's 117-101 loss at the Toyota Center.
The Raptors defense was worse than a high school JV team, allowing wide-open threes and easy penetration all night. Their offense wasn't much better, with nine first-half turnovers that led to 16 Rockets points.
The lone bright spots for the Raptors was the impressive play of rookie Terrence Ross, while Andrea Bargnani had an impressive game in his own right. But outside of that duo, the silver lining on this cloud was a pale glimmer that only the most optimistic Raptors fan could find.
Let's take a look at the punishment the Rockets dealt the Raptors in our postgame grades for Houston.
Begin Slideshow

»
For some reason, NBA fans seem to always focus on what Jeremy Lin does wrong instead of what he does right. It should be interesting to see what beef they have with Lin Tuesday night, because he played a nearly flawless game.
Lin cut down on his turnovers, committing only three, while racking up 10 assists. He was able to penetrate past Kyle Lowry and Jose Calderon all night, setting up Omer Asik for some easy dunks and also scoring 16 points of his own on 7-of-9 shooting.
Lin also answered the Raptors' late fourth-quarter run with some strong drives to the basket. The Raptors cut into the lead, causing the Rockets to call time out. Then following the time out, Lin had a break-away dunk. His baskets were timely, his play under control, and his shooting superb.
Hate on, Lin haters.
Grade: A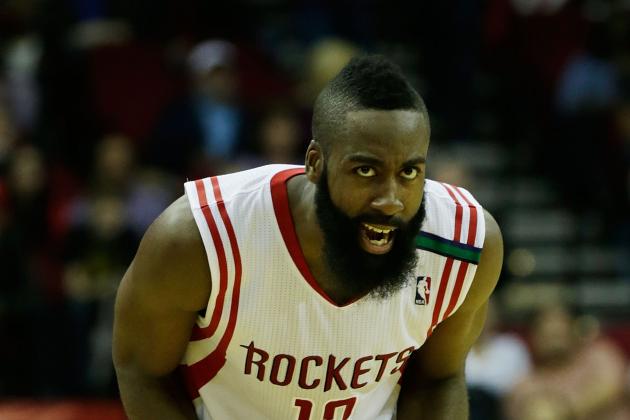 Scott Halleran/Getty Images
Harden was wide-eyed all night against the Raps weak D.
James Harden started out the game in attack mode, but couldn't finish. He missed three of his first four field goals, then decided to diversify his offense. It worked. Harden hit a jumper to put the Rockets up 12-9 and then he got it going. He and the Rockets never looked back.
Harden ran the point a lot, and it allowed Lin to play off the ball, which worked out well for both of them. At the half, Harden was just 4-of-12 from the floor, but the Rockets forced nine first-half turnovers, and Harden had two of those steals. In addition, he had nine assists at the half, demonstrating he can make a huge impact even when his shots aren't falling.
He got it going in the third quarter, hitting 4-of-5 from the floor as Houston opened up the game and turned it into a complete blowout. Harden picked up two more assists and played 42 minutes in a game which didn't even require him to do so.
He finished the game with a double-double—24 points and 12 assists—and is clearly going to be the league's most improved player, whether he wins the actual award or not.
Grade: A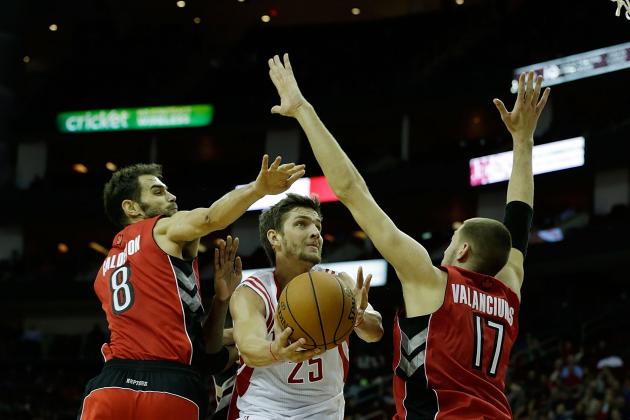 Scott Halleran/Getty Images
Parsons was invisible early, but got aggressive as the game went on.
Early in the game, it looked like Chandler Parsons was on his way to having a horrible night. He was lit up by Andrea Bargnani, who shot 7-of-9 from the floor and scored 19 first-half points. But Bargnani was the only one doing work for the Raptors (outside of rookie Terrence Ross), and Parsons had yet to find his groove offensively.
Find his groove, he did.
By the half, Parsons had eight points and four rebounds, doing most of the damage in the second quarter. When the Rockets got it cookin' in the third, Parsons took part in the parade, nailing a three to give Houston a 94-69 lead.
He finished the game with a well-rounded line of 18 points, seven rebounds and four assists, and save his four turnovers and weak defense early on, there was little fault to be found—especially considering Bargnani and Ross were the only ones to show up for the Raptors.
Grade: B
Scott Halleran/Getty Images
Patterson got active around the hoop when nothing else was working.
Patrick Patterson was relegated to the bench early on, as he picked up two fouls in the first three minutes of the game. His backup, Marcus Morris, came in and caught fire, and it seemed we had heard the last of Patterson for the night.
Wrong.
Patterson came back in the second quarter and got it going. He had seven points and three rebounds in the second quarter, erasing the memory of his early struggles. In one particular play in the third, he was fouled hard by Kyle Lowry on a breakaway, but it only seemed to further wake him up, as he hit a three on the next possession to improve Houston to 9-of-16 from three at that juncture in the game.
Patterson kept it going in garbage time, finishing with 22 points and five rebounds on a night with hapless beginnings. He only had one foul after his two early fouls.
Grade: A-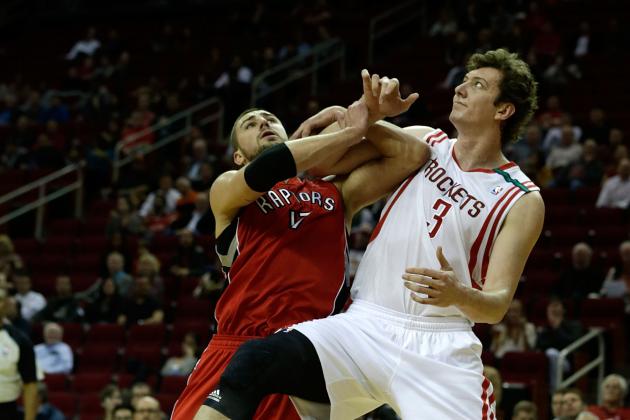 Scott Halleran/Getty Images
Omer Asik worked his tail off—again.
Omer Asik is getting better with each passing game. He's learning his role on the Rockets is simply to rebound, block shots and finish easy baskets around the hoop.
He was the recipient of some nice Lin and Harden passes, and he took full advantage, going 6-of-9 from the floor en route to 13 points. He also grabbed 18 rebounds (three offensive), fulfilling his role as the board snatcher for the Rockets.
Asik even had a nice post-up possession in the second quarter, backing down Jonas Valanciunas and looking as though he may one day have a post game. It wasn't exactly a Hakeem Olajuwon "Dream Shake," but Rockets fans will take progress as it comes from a guy who wasn't expected to provide much offense to begin with.
Grade: A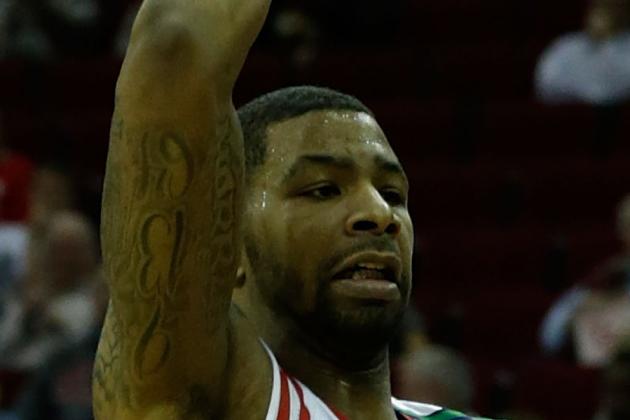 Scott Halleran/Getty Images
Marcus Morris came in and gave the Rockets just what they needed.
When starter Patrick Patterson picked up two early fouls, Marcus Morris found himself in the fortuitous situation of being able to play some quality minutes with the starting unit.
And he took full advantage of it.
Morris hit his first shot, a three, he scored again off a Lin penetration and finished the quarter with 11 points on 4-of-6 shooting.
He didn't do much the rest of the night, but did exactly what was needed when the Rockets needed it. That scores a near-perfect grade, regardless of the lack of minutes he saw after Patterson returned to the court.

Grade: A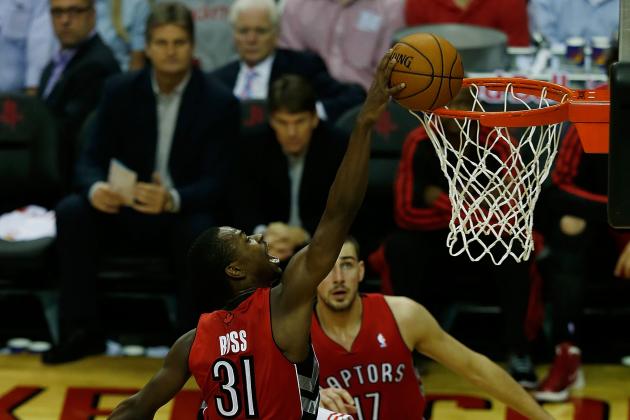 Scott Halleran/Getty Images
Cook stand by as Terrence Ross slams home one of his five awesome dunks.
Outside of sixth man Marcus Morris, the Rockets bench contributed close to nothing. But they didn't have to. The starters all played heavy minutes, as the Rockets tried to run up the score to make sure they covered the Vegas spread (joke, settle down).
The bench shot 4-of-13 (excluding Morris), and Daequan Cook shot a horrible brick that made me almost vomit. Greg Smith checked in and immediately had a nice put back, but then proceeded to miss his next four shots.
Every starter except Patterson saw at least 34 minutes, and it's hard to grade a bench in such a reduced role. I would give them an F, but due to the lack of playing time and need in the game, they're going to skate by with an Incomplete.
Grade: I