Boise State vs. Nevada: Complete Game Preview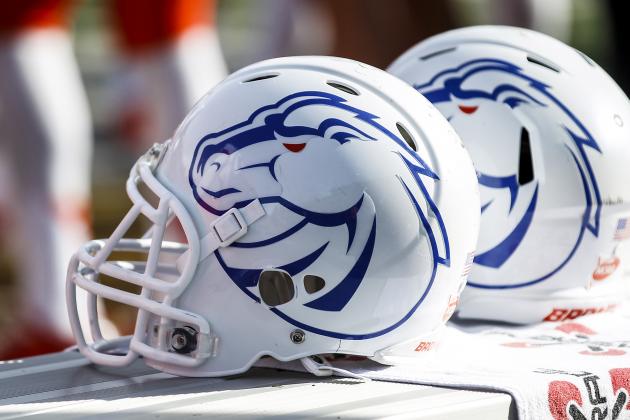 Troy Babbitt-US PRESSWIRE

There are a few reasons that Boise State should be hungering to take on the Wolf Pack in Nevada Saturday. The weather for the game will be great, but with a win the Broncos can grab a share of the Mountain West Conference title, as well as lock up another 10-win season.
And the weather forecast for Reno calls for partly cloudy skies, a few showers but temperatures near 58 degrees. That's pretty good weather for a December football game.
Boise State enters the game with a 9-2 overall record and 6-1 in conference play. Nevada is 4-3 in conference and 7-4 overall. Fresno State and San Diego State both sit atop the MWC conference standings with 7-1 marks, which Boise State can tie with a win.
But getting past Chris Ault's Wolf Pack has not always been an easy proposition. The two teams have a long history together, dating back to (then) Division 1-AA and the Big Sky Conference. Boise State leads the series against Nevada, 25-13.
Let's get started in breaking down the matchup...
Begin Slideshow

»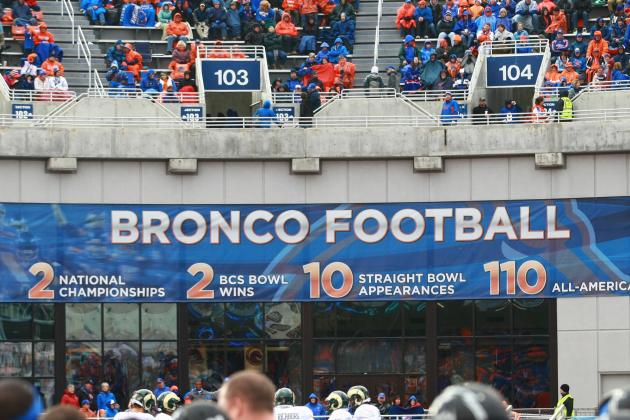 Brian Losness-US PRESSWIRE

Game: Boise State at Nevada
When: Saturday, Dec. 1, 2012
Time: 1:30 p.m. MST
Where: Reno, Nevada
Stadium: Mackay Stadium
Television: ABC Regional Coverage
Radio: Broncos Radio Network, ESPN Radio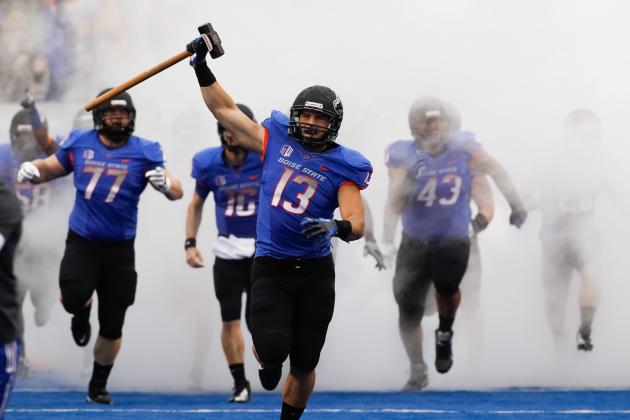 Otto Kitsinger III/Getty Images

Offense
X position wide receiver: 2--Matt Miller; 18--Aaron Burks
Z receiver: 3--Chris Potter; 81--Dallas Burroughs
H receiver: 34--Kirby Moore; 17--Geraldo Boldewijn
LT: 78--Charles Leno, Jr.; 75--Faraji Wright
LG: 61--Joe Kellogg; 77--Spencer Gerke
C: 65--Matt Paradis; 77--Spencer Gerke
RG: 54--Michael Ames; 76--Jake Broyles
RT: 64--Brenel Myers; 67--Rees Odhiambo
TE: 88--Chandler Koch; 85--Holden Huff
QB: 16--Joe Southwick; 9--Grant Hedrick; 14--Jimmy Laughrea
RB: 7--D.J. Harper; 27--Jay Ajayi
FB: 47--Dan Paul; 89--Connor Peters
Defense
E: 8--Demarcus Lawrence; 53--Beau Martin
T: 95--Darren Koontz; 69—Tyler Horn; 40--Armand Nance
N: 43--Ricky Tjong-A-Tjoe; 91--Greg Grimes
SE: 82--Sam Ukwuachu; 41--Kharyee Marshall
LB: 33--Tommy Smith; 13--Blake Renaud
LB: 48--J.C. Percy; 36--Tyler Gray
S: 10--Jeremy Ioane; 24--Hazen Moss
S: 35--Darian Thompson; 28--Dillon Lukehart
N: 6--Dextrell Simmons; 38--Corey Bell; 32--Jonathan Brown
CB: 5--Jamar Taylor; 37--Ebo Makinde
CB: 4--Jerrell Gavins; 30--Donte Deayon; 16--Deon'tae Florence
Special Teams
PK: 84--Michael Frisina; 41--Dan Goodale
KO: 14--Trevor Harman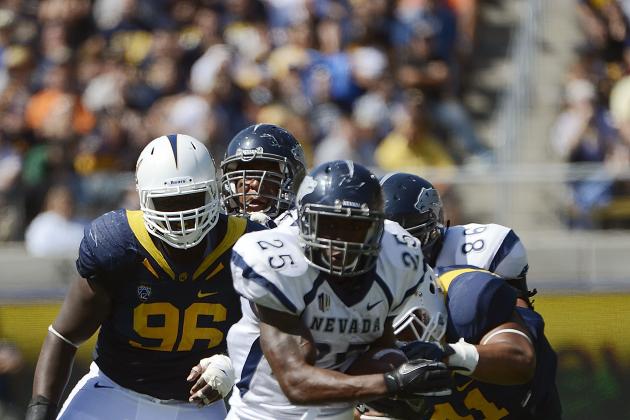 Thearon W. Henderson/Getty Images

Offense
T: 78--Jeff Nady; 66--Kyle Roberts
G: 75--Chris Barker; 59--Kyle Papendorf
C: 65--Matt Galas; 57--Connor Talbott
G: 77--Alex Pinto; 73--Sebastian Tretola
T: 70--Joel Bitonio; 74--Abel De Haro
TE: 44--Zach Sudfeld; 86--Kolby Arendse; 89--Stephen Jeffers
Z: 12--Richy Turner; 83--Joseph Huber
X: 4--Brandon Wimberly; 20--Kendall Brock
F: 81--Aaron Bradley; 80--Dominic Coulter
RB: 25--Stefphon Jefferson; 32--Nick Hale; 6--Anthony Knight
QB: 17--Cody Fajardo, 13--Devin Combs; 14--Tanner Roderick
Defense
E: 53--Brock Hekking; 10--Reggie Coates
T: 97--Mark Avery; 45--Cortez Woods
T: 92--Jordan Hanson; 55--Rykeem Yates
E: 94--Lenny Jones; 9--Jake Peppard
SAM: 54--Jeremiah Green; 11--Burton De Koning
MIKE: 51--Albert Rosette; 49--Jordan Dobrich
WOLF: 42--DeAndre Boughton; 26--Dray Bell
CB: 24--Charles Garrett; 9--Markus Smith
SS: 5--Duke Williams; 29--Arthur Forrest II
FS: 8--Marlon Johnson; 34--Ty Thompson
CB: 2--Khalid Wooten; 19--Evan Favors
Special Teams
KO: 46--Colin Ditsworth; 60--Allen Hardison
PK: 60--Allen Hardison
P: 37--Chase Tenpenny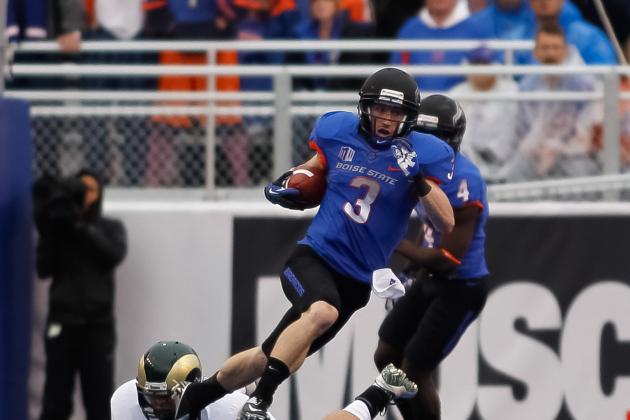 Otto Kitsinger III/Getty Images

The Broncos had a bye week, following a 42-14 shellacking of Colorado State.
The time off late in the season proved a boon to Boise State. There was time to recover from injuries, to get some space from the game, and generally prep for the last regular season game.
A couple of Bronco stalwarts—wide receiver Mitch Burroughs and starting nickel Dextrell Simmons—are expected to return to action Saturday, but with so much time off due to injuries, their timing may be off.
Soobum Im-US PRESSWIRE

South Florida scored with 38 seconds left in the fourth quarter to nip the Wolf Pack 32-31 in what was an offensive showcase. The Wolf Pack put up 549 yards of offense but allowed 572 yards of offense from its opponents.
The Bulls hit Nevada with a potent throwing attack. South Florida quarterback B.J. Daniels was 22-of-40 for 363 yards and three touchdowns with no interceptions. He was only sacked once and carried the ball 11 times for 53 net yards.
For the Wolf Pack, Cody Fajardo was 27-of-38 for 271 yards and one touchdown. He was sacked twice. Fajardo also ran for 134 yards on 18 carries and scored two rushing touchdowns. Nevada coughed up the football four times and lost three of the fumbles.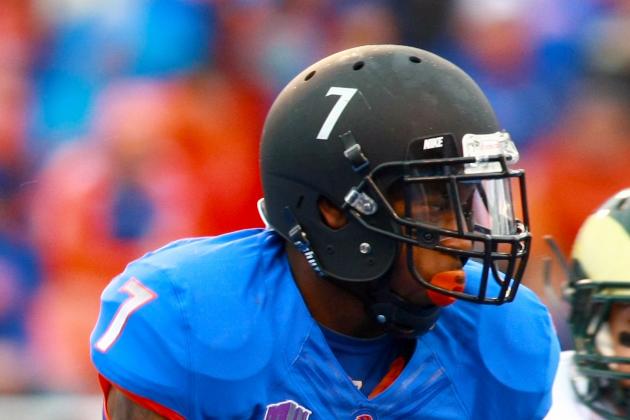 Brian Losness-US PRESSWIRE

According to a story published by the Idaho Statesman, Bronco coach Chris Petersen called the matchup between Boise State's touted defense and the potent offense of Nevada "our biggest test of the year on defense, without question."
For the Wolf Pack it is a great way to end the season and hand it to the Broncos in Boise State's last MWC game.
For Boise State, this has to be a springboard towards a bowl game and see what the Bronco defense can do against a highly productive college football offense.
Nevada can wreck Boise State's chances of claiming a share of the MWC title, while bidding adieu to the long rivalry with a win.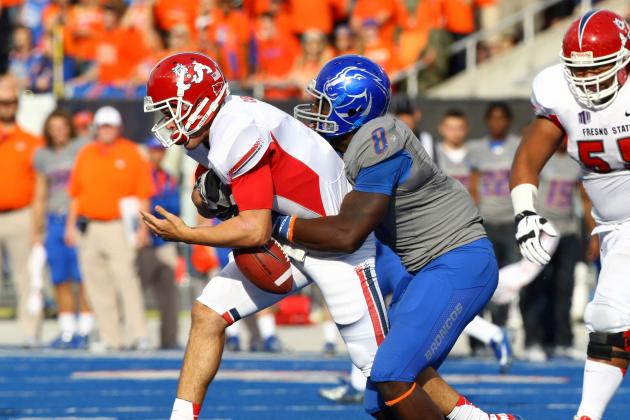 Brian Losness-US PRESSWIRE

Demarcus Lawrence will be a key player for the Broncos. The sophomore junior college transfer will have to get past some huge linemen, get into the Nevada backfield and disrupt the entire flow of the Wolf Pack offense.
Nevada is huge across the front line, averaging about 307 pounds between the starting guards and tackles. The lightest lineman for Nevada is the center, weighing in at 275 pounds.
This is what Boise State's defense will have to contend with, and one of the reasons Nevada has been so successful on offense.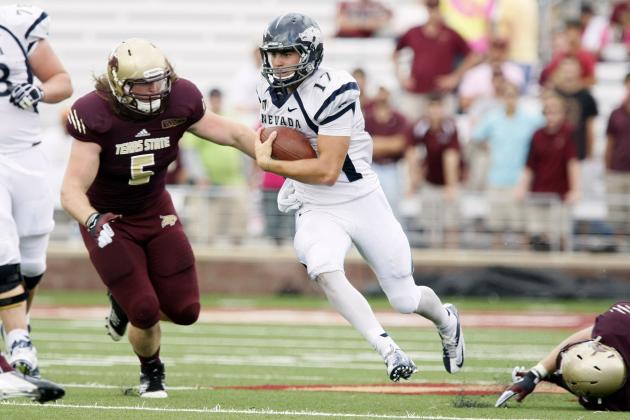 Soobum Im-US PRESSWIRE

Quarterback Cody Fajardo will have a lot of pressure put on him, but the 6'2", 205-pound sophomore has seen that kind of pressure all season. As a rushing quarterback, he has ripped off a 5.9 yard per carry average with net yardage of 900 yards rushing on the season and 10 rushing touchdowns.
As a passer, Fajardo has completed 210-of-316 passes for 17 touchdowns against seven interceptions. He is averaging 232.7 yards passing per game with 2,327 total yards.
If he can stay tough under the pressure of the Bronco defense, he may be the difference-maker.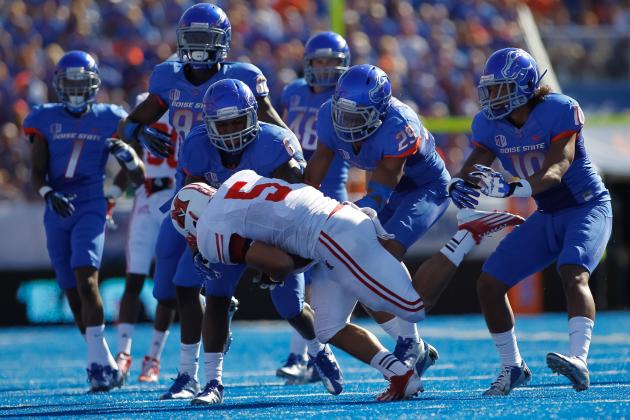 Otto Kitsinger III/Getty Images

The Broncos will beat the Wolf Pack only if the defense has a monster game. The Bronco defense needs to generate turnovers, and keep the Wolf Pack off the scoreboard. Nevada is averaging 38 points per game but allowing 33.
The Broncos will have to contend with a Nevada defense that is averaging 509.5 yards per game, and is ranked No. 10 in the nation.
Nevada has lost nine fumbles and given up eight interceptions on the season. The Broncos will need to generate turnovers, take advantage of those, and not give up any big plays on special teams.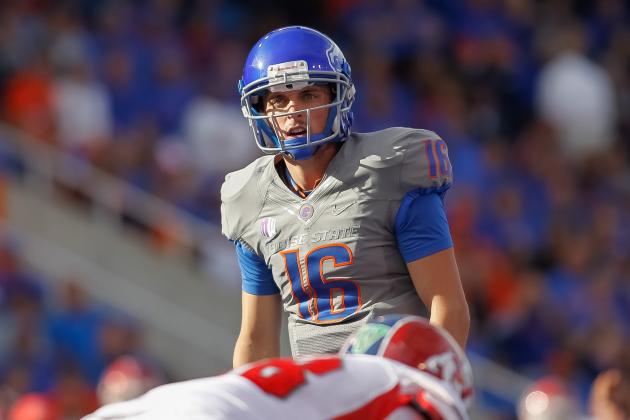 Otto Kitsinger III/Getty Images

Nevada will win if it can shut down the Bronco offense. Nevada's defense has allowed 33 points per game and 430.9 yards per game by opposing offenses. Boise State's offense is only scoring 30.7 points per game and 386 yards of offense.
If the Wolf Pack can get to Bronco quarterback Joe Southwick and force him to make fast decisions, that may favor Nevada. Southwick has struggled in the past when pressured, and if the passing attack is taken away.
Boise State will have to beat Nevada with its ground game. That is doable, and Boise State has the horses to put together a potent attack, but this game may hinge on a few key plays springing from the arm of Southwick.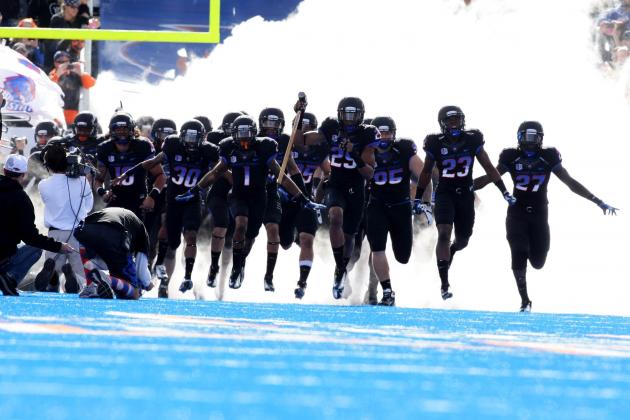 Brian Losness-US PRESSWIRE

The battle between the Broncos defense and the Nevada offense will be a marquee event, but the onus will be on the Bronco offense to score. The Vegas line favors Boise State by nine points, but it may be much closer than that.
So much of this game will be riding on how the Broncos can handle the Nevada defense, and whether the Bronco offense can produce against a Nevada defense that has not been overly successful in slowing down opponents.
For the Broncos, there is a lot riding on this game so expect to see some gambles and perhaps some quick changes in personnel to get the team going.
Prediction? Boise State by three.