Toronto Maple Leafs: Power Ranking Their Last 15 First-Round NHL Draft Picks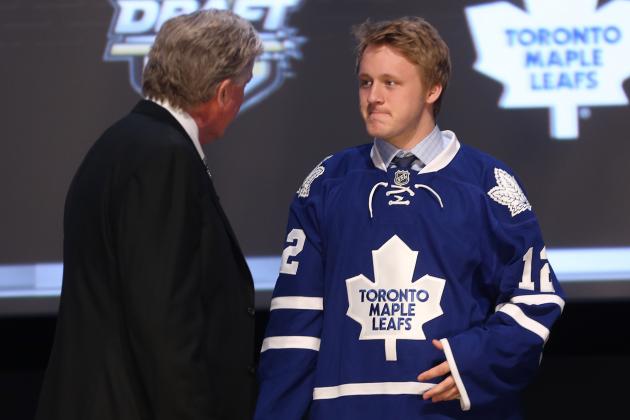 Bruce Bennett/Getty Images

In recent years, the Toronto Maple Leafs have not had a lot of success with their first-round draft picks. As a direct result, they are amidst one of the worst stretches in franchise history.
Some of their picks have indeed turned into productive players. Unfortunately for the Leafs, far too many of them are no longer with the team.
Ranked based on each player's success as well as potential, regardless of current team, here are the power rankings of the Toronto Maple Leafs' last 15 first-round picks.
Begin Slideshow

»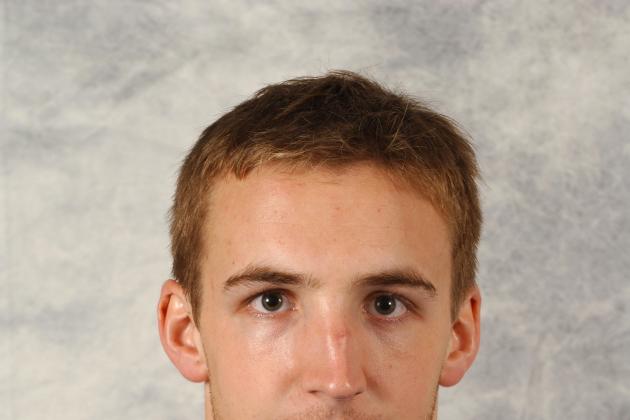 Dave Sandford/Getty Images
The Leafs drafted Luca Cereda 24th overall in 1999.
Drafted in 1999, Luca Cereda played several years in the AHL, but never played an NHL game.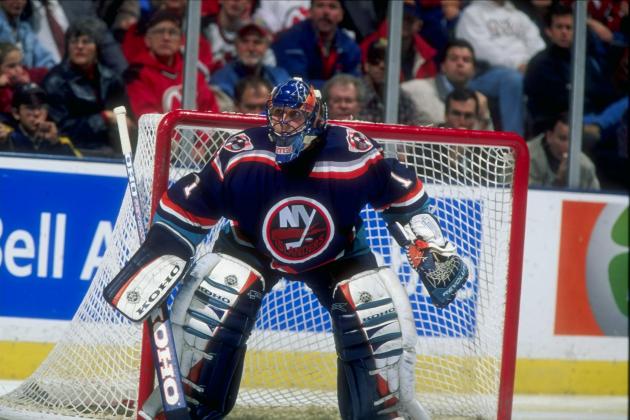 Al Bello/Getty Images
The Leafs drafted Eric Fichaud 16th overall in 1994.
Highly regarded entering the 1994 draft, Eric Fichaud never ended up playing for the Maple Leafs, nor did he ever spend significant time as a starting NHL goaltender.

The Leafs drafted Jeff Ware 15th overall in 1995. Photo: SLAM! Hockey.
Drafted 15th overall in 1995, Jeff Ware played a total of just 15 games with the Maple Leafs. He spent most of his career in the AHL—a stint with the Florida Panthers didn't last very long either.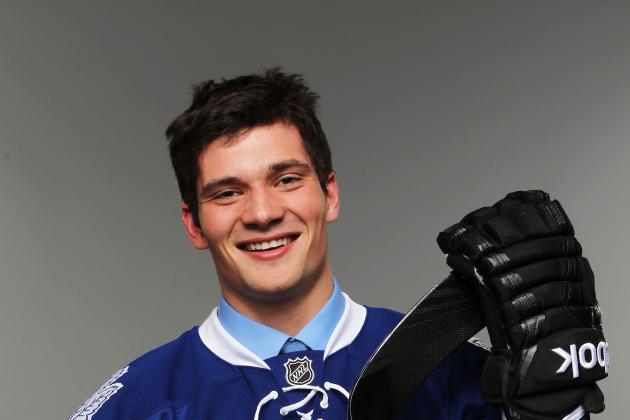 Nick Laham/Getty Images
The Leafs drafted Tyler Biggs 22nd overall in 2011.
One of two first round picks in 2011, Tyler Biggs is still developing his game for the Maple Leafs. Lauded as a physical prospect, he is currently doing so with the Oshawa Generals of the OHL.
We won't know exactly how Biggs will turn out for the team in the long run until he arrives in the NHL, but the potential is there. He could very well provide the Burke-era Leafs with the kind of productive, physical presence that they have long been searching for.
Still just 19, Biggs won't be rushed into the NHL.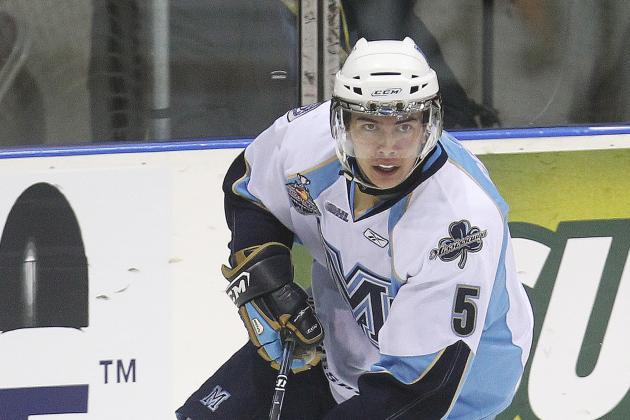 Claus Andersen/Getty Images
The Leafs drafted Stuart Percy 25th overall in 2011.
Stuart Percy is a young defensemen that the organization really likes. Drafted in 2011, and still just 19 years old, he has a while to develop before he is counted on at the NHL level.
Percy saw time with the Toronto Marlies during the playoffs in 2012, which bodes well for his development. A smart player that can move the puck, he could prove valuable for the Leafs' organization moving forward.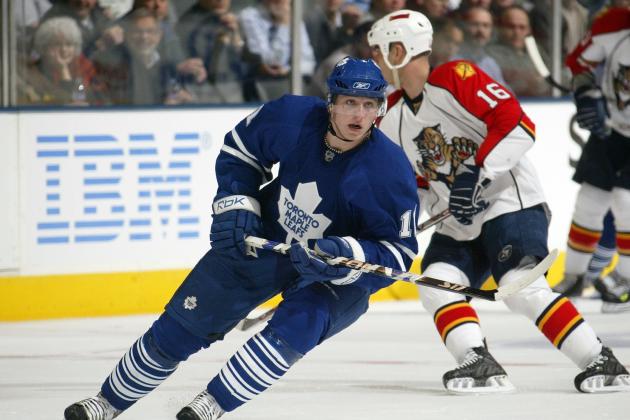 Dave Sandford/Getty Images
The Leafs drafted Jiri Tlusty 13th overall in 2006.
Drafted in 2006, Jiri Tlusty spent a short time in Toronto before being traded away. In three years with the club, he totalled just 10 goals and 10 assists.
The team may have given up on him a little bit too soon, as the now 24-year-old forward added 17 goals this past season with the Carolina Hurricanes. It remains to be seen whether he can continue that development, but after enjoying a breakout year, the Hurricanes rewarded him with a two-year $3.2 million deal.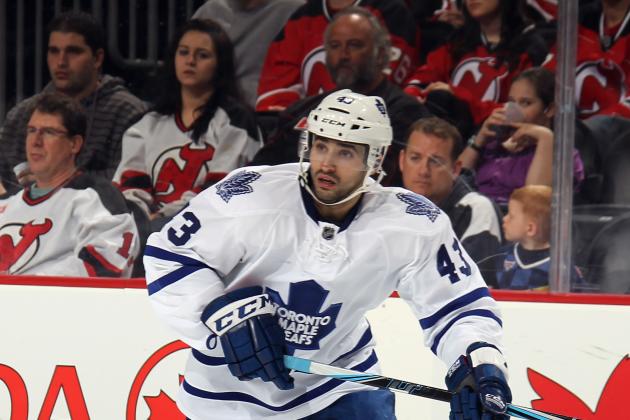 Bruce Bennett/Getty Images
The Leafs drafted Nazem Kadri 7th overall in 2009.
Nazem Kadri has been somewhat disappointing thus far, but there is still hope for the young forward.
He has been a productive player in the AHL with the Toronto Marlies—elected to the AHL All-Star game in 2012. However, upon call-ups to the NHL team, Kadri has not yet been able to maintain that production.
Having received criticism at times for his struggles in development, continued patience will be the key with Kadri. He has the skill to succeed at a high level, but may just need more time.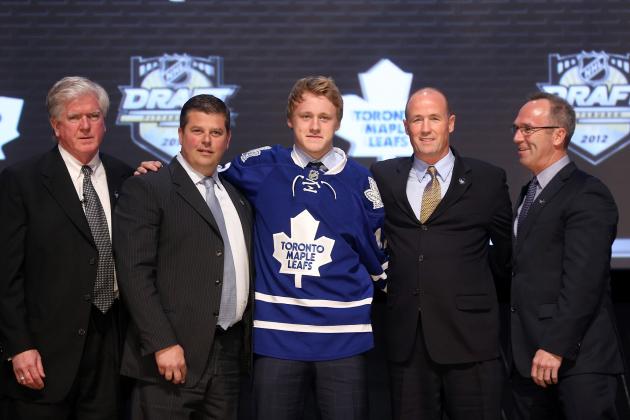 Bruce Bennett/Getty Images
The Leafs drafted Morgan Rielly 5th overall in 2012.
The Leafs' most recent high draft pick, hopes are high for defenseman Morgan Rielly. Just one year removed from a significant knee injury, Rielly is enjoying plenty of success at the WHL level.
It's extremely early, but Rielly looks like he could be the first draft pick that the Leafs have nailed in quite a long time. Should he keep up the pace, he could very well end up in blue and white upon the NHL's return from lockout.
It is this kind of young blue-liner that any team would love to build around for the future.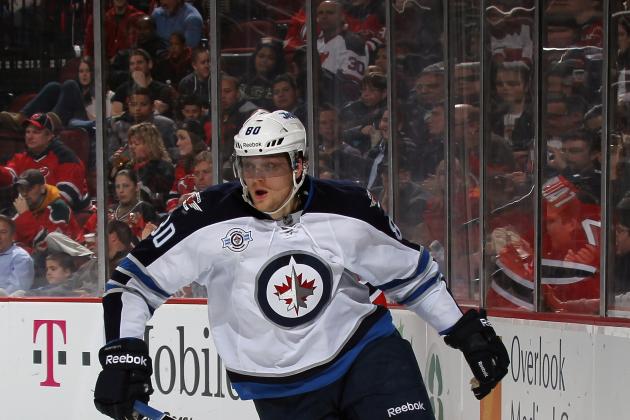 Bruce Bennett/Getty Images
The Leafs drafted Nikolai Antropov 10th overall in 1998.
Drafted in 1998, Nikolai Antropov had some up and down years in Toronto amidst injury struggles.
Antropov significantly improved in his last year with the club, and continued that improvement thereafter. His two highest career point totals came in the two years immediately following his departure from Toronto, with the New York Rangers and the former Atlanta Thrashers.
He has now found a home as a consistent contributor with the Winnipeg Jets.
Ezra Shaw/Getty Images
The Leafs drafted Carlo Colaiacovo 17th overall in 2001.
Talent was never the issue for Carlo Colaiacovo in his time with the Maple Leafs, rather, he could not seem to stay healthy.
Since being dealt to the St. Louis Blues, in the same trade as Alexander Steen, Colaiacovo has been both healthy and extremely productive.
His play was rewarded to the tune of a two-year $5 million free-agent contract with the Detroit Red Wings this past summer.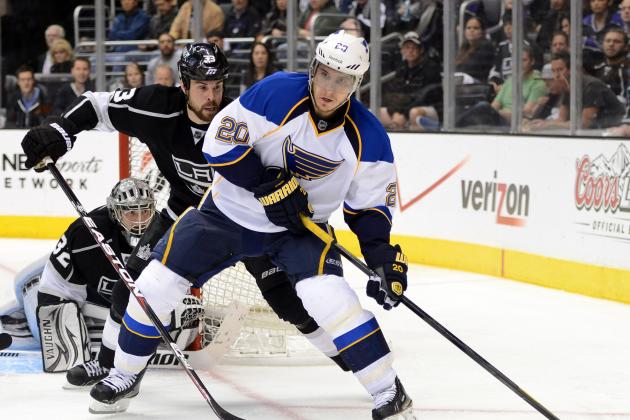 Harry How/Getty Images
The Leafs drafted Alexander Steen 24th overall in 2002.
Alexander Steen, who was traded to the St. Louis Blues in 2008, is another player that enjoyed more success after his time with the Leafs than during.
Steen has been a key component in St. Louis' recent development and subsequent success. In a Blues uniform, now an alternate captain, he enjoyed consecutive seasons of 20+ goals and 20+ assists.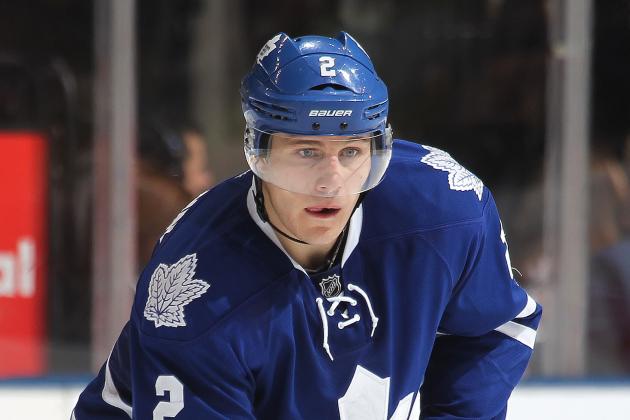 Claus Andersen/Getty Images
The Leafs drafted Luke Schenn 5th overall in 2008.
Luke Schenn was one of the Leafs' most highly regarded draft picks in recent memory. Drafted in 2008, he showed much promise, and was a key building block on the team's blue line.
However, with the emergence of other young defensemen, like Jake Gardiner, Schenn became tradable. The Leafs opted to trade him to the Flyers this past summer, getting forward James van Riemsdyk in return.
Schenn could, and likely will, turn into a very good player for the Flyers, but the Leafs deemed the value of Van Riemsdyk to be more significant moving forward.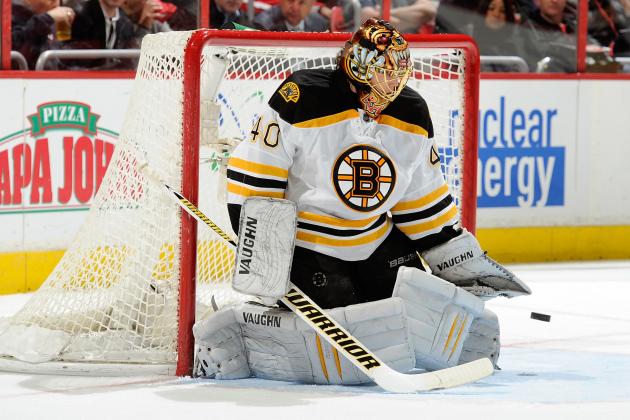 Greg Fiume/Getty Images
The Leafs drafted Tuukaa Rask 21st overall in 2005.
Drafted in 2005, Tuukka Rask became another young, high-potential goaltender in the Leafs' system. However, when the opportunity came to upgrade the position on the NHL team in 2006, the Leafs traded him to Boston for Andrew Raycroft.
Looking back, this is not a move has been well-receievd by Leafs fans. Raycroft spent just one full season with Toronto and Rask is now ready to take over the starting gig in Boston after more than proving himself as a backup.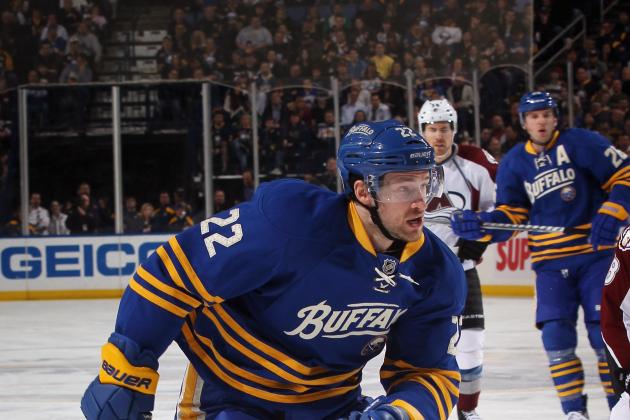 Bruce Bennett/Getty Images
The Leafs drafted Brad Boyes 24th overall in 2000.
Drafted in 2000 Brad Boyes was traded away in 2003 as part of the deal that brought in Owen Nolan.
The Leafs got some good years out of Nolan, but Boyes turned into quite a productive player himself. His best season came in 2007-08 where he scored 43 goals for the St.Louis Blues.
After some years in which his production took a hit in Buffalo, Boyes has had a fresh start in New York with the Islanders. With the possibility that he could play on the team's top line with John Tavares, we could very well see that goal scoring ability return in a hurry.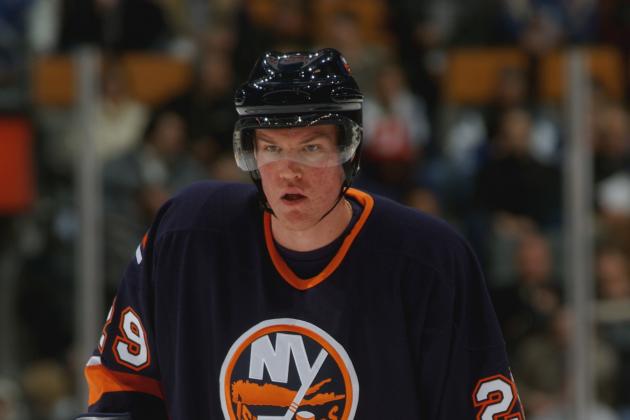 Dave Sandford/Getty Images
The Leafs drafted Kenny Jonsson 12th overall in 1993.
Many forget that Kenny Jonsson was indeed drafted by the Maple Leafs in 1993. After playing with them for one season, he was traded to the Islanders the following year in a deal that brought fan-favorite Wendel Clark back to the blue and white.
Jonsson had both a very successful NHL and international career—consistently a solid blue liner. In his eight full seasons with the Islanders, Jonsson, now a member of their Hall of Fame, never once totaled less than 20 points.