Toronto Raptors vs. Houston Rockets: Live Score, Results and Game Highlights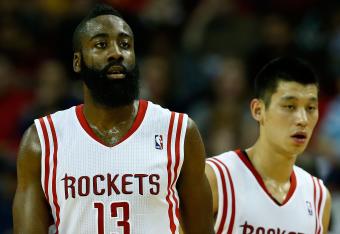 Scott Halleran/Getty Images
The Houston Rockets finished off the Toronto Raptors 117-101 to move to 7-7 on the season compared to Toronto's 3-12.
Jeremy Lin, James Harden and Omer Asik all registered double-doubles in this high-scoring affair.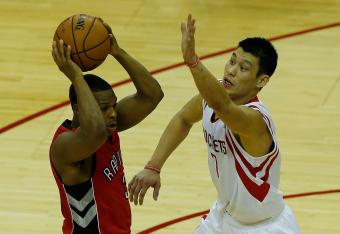 Keys to the Game
Houston grabbed ahold of this one in the first quarter and never let go. After a six-point lead at the end of the first Houston let Toronto go on a little run, but they stretched it back out to 10 points and the Raptors never got any closer.
Three things were key to the Rockets effort in this one, allowing them to absolutely dominate the Raptors.
First, Toronto turned the ball over 16 times in the game, most of which came in the second and third quarters. Houston did give the ball up 14 times, but they only turned it over twice in the first half, giving them plenty of time to stretch out their lead and coast to the end.
Houston was also able to dominate on the offensive glass early on. They only picked up 12 offensive rebounds to Toronto's 11, but they led the offensive rebound battle 12-4 as late as two minutes left in the third quarter. At that point only an ungodly amount of offensive rebounds would have put Toronto back in this one.
Finally, they hit a ton of three-pointers to give them an early lead. Houston made 13 of their 26 three-pointers, compared to Toronto making just eight of their 23.
In all it was a very good win for the Rockets, even if they did take their foot off the gas in the fourth quarter.
Rockets 117, Raptors 101
Let's take a look at the box score for tonight's game. First the Raptors:

And the Rockets:

Rockets 117, Raptors 101, Final.
There's the game folks. Houston dribbles the clock out and the buzzer blows. Big win tonight for the Rockets.
Rockets 117, Raptors 101, Final.
Aaron Gray is in? Yep, it's over.
Toronto was able to fight back a bit, but they never really were in the game after the first half. The final 10 minutes were all about making this one look respectable for the Raptors.
Rockets 117, Raptors 101 with 0:39 left in the fourth.
There's depression. A Jeremy Lin steal and slam gets them through the final two stages. Now we're at acceptance. That was fast.
Rockets 114, Raptors 99 with 1:11 left in the fourth.
It seems like the Raptors announcers are going through the five stages of grief with this game tonight.
At first it seemed as if they wouldn't believe what was going on, then they were on to a bit of an angry vibe after Toronto got down big. Right now we're at the bargaining stage. No word yet on when depression and acceptance will set in.
Rockets 112, Raptors 99 with 2:27 left in the fourth.
We've got a lot of stat sheet stuffing going on in this one.
Rockets filling the box score. 3 now have double doubles. @jlin7 11p/10a, @jharden13 24p/12a, @asikomer 13p/16a. Lead 109-96, 4:19 Q4.

— Houston Rockets (@HoustonRockets) November 28, 2012
Rockets 112, Raptors 99 with 2:37 left in the fourth.
Oh, whaddaya know, it's a 12-point game in Houston. It still seems crazy to think of any kind of comeback happening.
Rockets 111, Raptors 99 with 3:31 left in the fourth.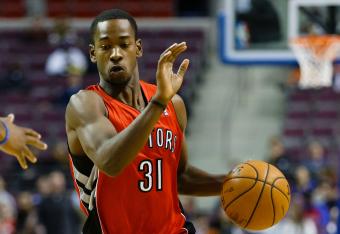 Terrence Ross just dropped in another transition dunk. I think he might have about 48 points off dunks tonight, but I'm not positive about that one.
That's got to be a kid to watch out for in the dunk contest this year.
Rockets 107, Raptors 94 with 5:08 left in the fourth.
It seems like all the highlights have all come from Toronto tonight, even though Houston is dominating. Oh well, sometimes that how things go.
This is Terrence Ross' second of three huge dunks on the night.
Rockets 107, Raptors 87 with 6:45 left in the fourth.
Toronto is still digging even with the big deficit. Unfortunately they just can't knock down their jumpers to get this one to be a bit more interesting.
Rockets 100, Raptors 85 with 8:54 left in the fourth.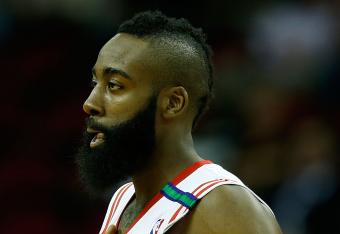 Toronto is still led by Andrea Bargnani who has 21 points. Terrence Ross has 13, DeMar DeRozan has 12 and Jose Calderon has 10.
Patrick Patterson and James Harden are leading the way for Houston with 22 points each. Harden has also piled on 11 assists. Omer Asik has 13 while Chandler Parsons and Marcus Morris have 11 each.
Rockets 100, Raptors 83 with 10:31 left in the fourth.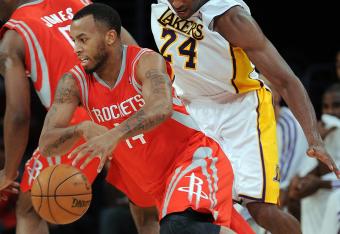 Ed Davis hits a jumper to cut this one down to below 20.
Of course, with everybody else hitting threes for Houston Daequan Cook has to knock one of his own down at the buzzer.
Rockets 99, Raptors 79 after three.
It's games like these, and Houston's past three that make them look like they should be able to challenge for a playoff spot.
Of course, when they go and reel off five losses in a row next week it's going to be the exact opposite story.
Rockets 96, Raptors 77 with 0:28 left in the third.
There are two big things accounting for the huge deficit in this one.
First, Toronto has 13 turnovers to Houston's six. Then they've got just four offensive rebounds to Houston's 12.
Second-chance points and points off turnovers will kill a team any day of the week.
Rockets 94, Raptors 69 with 2:01 left in the third.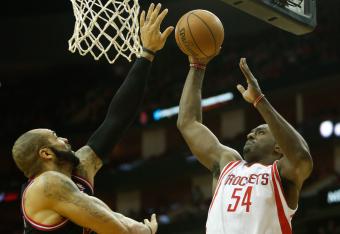 Patrick Patterson couldn't be on any more of a roll at this point. He's got two three-pointers in the third and is absolutely abusing the rim. He's got 22 points.
Rockets 91, Raptors 66 with 3:04 left in the third.
I'm not so sure that the hashtag "beardalert" is going to catch on any time soon, but Harden is certainly heating up.
#BeardAlert Harden is heating up. Hits a 3 to give him 20p. Rockets up 81-62, 5:49 in Q3.

— Houston Rockets (@HoustonRockets) November 28, 2012
Rockets 89, Raptors 64 with 3:44 left in the third.
Jeremy Lin seems to be the only one unable to knock a three down for the Rockets tonight. He just took and front-rimmed a three from the elbow.
Lin has been struggling with above-the-break three-pointers all season long, making just 20 percent of them.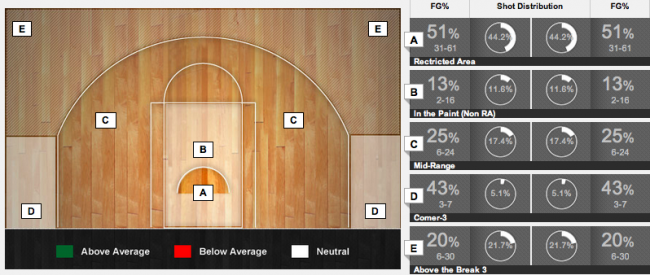 Rocekts 81, Raptors 62 with 5:47 left in the third.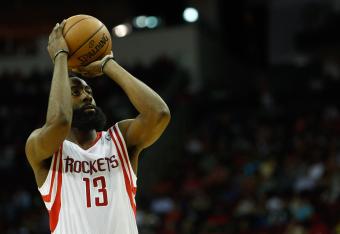 James Harden is playing through LeBron James' career in a single game here tonight. In the first quarter he proved that he could score in the lane, then he decided to go off with assists, this quarter it's three-pointers.
Let's see if he ends up grabbing 10 rebounds in the fourth.
Rockets 78, Raptors 60 with 6:56 left in the third.
A flashy flush from Jimmy Harden leads to a Toronto timeout. This one is starting to get out of hand.
In the meantime, check out Terrence Ross' monster jam from late in the second quarter:
Rockets 73, Raptors 55 with 8:40 left in the third.
Bargs is continuing to get to the rim, something he hasn't continually done in a single game this season.
Rockets 68, Raptors 53 with 10:13 left in the third.
Harden kicks this quarter of with a "no problem" three, stepping forward and burying it.
Rockets 66, Raptors 51 with 11:03 left in the third.
Check out the slick little and-1 from Amir Johnson early in the second quarter after Terrence Ross was blocked.
The beginning of the third quarter is coming up shortly.
Rockets 61, Raptors 51.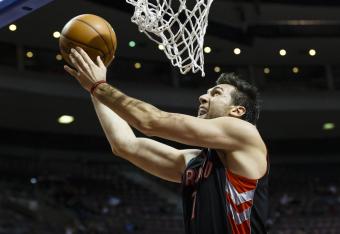 Bargnani is leading the way for the Raptors with 19 points on nine shots as their only player in double-figures. Terrence Ross and DeMar DeRozan are on the verge of breaking through with eight each.
Patrick Patterson continues to lead the Rockets with 11 points as Omer Asik has 10. Jeremy Lin and James Harden each have nine, but Harden has added in nine assists.
Rockets 61, Raptors 51 at the half.
The quarter ends with a dime from Harden to Asik. No surprise there.
Rockets 61, Raptors 51 after two quarters.
This article is
What is the duplicate article?
Why is this article offensive?
Where is this article plagiarized from?
Why is this article poorly edited?