NC State vs Michigan: Live Score & Analysis for ACC-Big Ten Challenge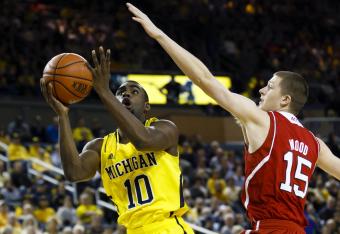 Final Score, Michigan 79 N.C. State 72
The No. 3 Michigan Wolverines sent a warning shot to everyone in the Big Ten Conference on Tuesday night by defeating the No. 18 N.C. State Wolfpack 79-72 at the Crisler Center in the Big Ten-ACC Challenge.
Usually the Wolverines rely on sophomore point guard Trey Burke to carry the scoring load, but the Ohioan was held scoreless in the first half, which allowed true freshman shooting guard Nik Stauskus to have a career night.
Stauskus scored 20 points on 6-of-10 shooting, including a 4-of-7 mark from three-point range, while Burke finished the game with 18 points and 11 assists.
N.C. State wasted some possessions early in the game as a result of poor shot selection, and star forward C.J. Leslie took over too late for the Wolfpack to hang around on the road.
Leslie scored 16 points, freshman forward T.J. Warren added 18 points on 8-of-10 from the field and senior forward Richard Howell finished with 12 points before fouling out of the game.
The Wolfpack were doomed by 13 turnovers and poor defensive play, which allowed Michigan to make 9-of-24 three-point attempts.
As for N.C. State, the Wolfpack have a lot of talent with Purvis, Leslie, Warren and Howell, but all of them look like they want to be the team's primary scorer, which is going to be a problem for this team going forward.
Leslie is clearly the best player N.C. State has, but he settled for too many jumpers in the first half. Leslie looked much better attacking the basket and getting inside in the second half.
The Wolfpack have to avoid possessions where they fire up quick jumpers and don't make the defense work and need to get the ball inside more to Warrenn and Howell. Those two combined for 30 points on 14-of-17 from the field.
N.C. State looks like it should be ranked in the 20-25 range in the polls right now, but I expect this team to look very different in March.
Once again, the Michigan Wolverines proved they are every bit worthy of being ranked inside the top five and although this one tightened up late, the Maize and Blue put this one away midway through the second half once Trey Burke took over.
Burke did not score at all in the first half, and only took two shots, but dished out nine assists. Burke scored 18 points on 5-of-7 shooting in the second half.
Nik Stauskus poured in 20 points to lead all scorers and has proved game after game this season that he is more than just a shooter. Stauskus played smart, knocked down open shots and got to the basket a couple of times.
Michigan definitely deserves to be the No. 3 team in the polls and there shouldn't be any doubters left out there right now.
FINAL: Michigan 79, N.C. State 72.

— Wolfpack Basketball (@ThePackReviewBB) November 28, 2012
This one is in the books.
More analysis to come once we get the final score. Michigan closing it out with Burke at the free-throw line.
Michigan 76 N.C. State 70, 20 seconds remaining in the game
Hardaway makes 1-of-2 free throws and N.C. State follows it up with a travel at the other end.
WOW! Could not believe the officials called an offensive foul initially, but the replays clearly showed Leslie moving McGary out with his elbow.
Leslie's basket would've made this one a three-point game. Instead, Michigan gets the ball and can ice it away at the free-throw line.
N.C. State continues to battle. Nice steal by Lorenzo Brown, who picked Glenn Robinson III's pocket.
Brown wins the battle for the ball on the floor and calls timeout. N.C. State ball.
Hardaway's bucket turns this into a three possession game. Now, Michigan needs to actually play defense.

— Chantel Jennings (@ChantelJennings) November 28, 2012
Michigan 75 N.C. State 68, 1:32 remaining in the game
Michigan needed a basket. Hadn't scored in six minutes, so Hardaway finally got to the basket for the Wolverines. He hasn't done that as often in the second half, but that's where he does his best work.
Other Big Ten-ACC action:
Virginia Tech finished off its rout of Iowa. Final score, VT 95 Iowa 79
N.C. State is not going away.
Questionable block-charge call, but T.J. Warren lays one in to cut Michigan's lead to five.
Wolfpack on a 10-0 run.
Michigan 73 N.C. State 66, 2:33 remaining in the game
Jordan Morgan with a great shot-fake and two-step to get to the free-throw line, but threw a pass into traffic trying to get it to Burke. N.C. State knew he wasn't a threat to pull up and shoot, which is why no one came up to guard him.
The Wolfpack have quietly snuck back into this one. Michigan's offense has gone cold. Not rotating as well and Hardaway has had to just throw up two shots before the 35-second clock expired.
NC State is on an 8-2 run right now, cutting the lead to 9 with 4:30 remaining. U-M 73, NC State 64

— Michigan Basketball (@umichbball) November 28, 2012
Michigan 73 N.C. State 64, 4:05 remaining in the game
Leslie is as good as advertised. Leslie took one away from McGary for a fast-break dunk after he made a nice play to get to the rim for a finger roll on the previous possession.
Unfortunately, it's too little too late for the Wolfpack.
N.C. State had some foul problems tonight, but those were created by Michigan's aggressiveness. The Wolfpack were not nearly as aggressive on the offensive end and settled for too many jumpers.
Michigan 71 N.C. State 58, 5:57 remaining in the Second Half
Nice double move by Brown under the basket, but Howell had to come in to clean up the miss.
Howell now with a dozen for the Wolfpack.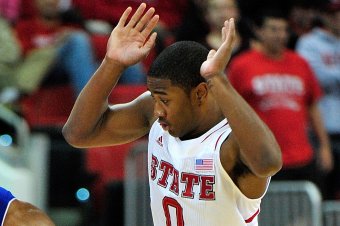 Grant Halverson/Getty Images
Michigan 71 N.C. State 56, 7:20 remaining in the Second Half
Rodney Purvis is getting torn up defensively tonight. Stauskus left open in the corner, so Purvis came over to take him, but bit on the shot-fake. Stauskus finds the bottom of the net again.
Stauskus leads all scorers with 18 points. Burke has the quickest 15 points I've ever seen.
Michigan 69 N.C. State 56, 7:43 remaining in the Second Half
NOBODY stepped up to stop C.J. Leslie from driving to the basket on that one. Another thunderous throw-down delivered by N.C. State's top player.
Burke answers with another three-pointer.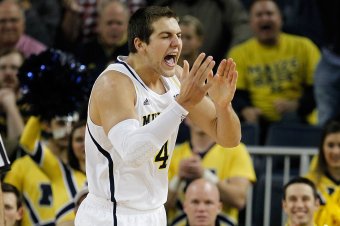 Gregory Shamus/Getty Images
Michigan 66 N.C. State 52, 9:11 remaining in the Second Half
Burke and Leslie both showing off their slashing abilities, but neither can finish at the rim.
Burke comes back with a nice floater working against Purvis and comes up with a steal-and-dish to McGary on the fast-break. Michigan pulling away.
Freshman guard Rodney Purvis has four points in the second half after being shut out in the first half.
N.C. State trying to hang around, but they've got to get out of the zone and play man-to-man defense.
Michigan 62 N.C. State 50, 11:47 remaining in the Second Half
The Wolverines have gone on a 12-6 run after N.C. State cut Michigan's lead to six points.
Stauskas hits his fourth triple of the game...he has career-best 16 points

— Rod Beard (@detnewsRodBeard) November 28, 2012
Andy Lyons/Getty Images
N.C. State clearly has a lot of talent on the floor, but until they find a way to come together, get the ball inside more consistently to Richard Howell and stop settling for jumpers it should be ranked between 20-25 in the polls.
That's N.C. State's eighth turnover. Still struggling to get in rhythm and establish some inside-outside action like Michigan has all night.
Trey Burke with a double-double the hard way. Gets 10 assists, then starts scoring & gets 10 points.

— CBSSportsBigTen (@CBSSportsBigTen) November 28, 2012
This article is
What is the duplicate article?
Why is this article offensive?
Where is this article plagiarized from?
Why is this article poorly edited?

Michigan Wolverines Basketball: Like this team?