College Football: 10 Coaches We Trust Most Under Pressure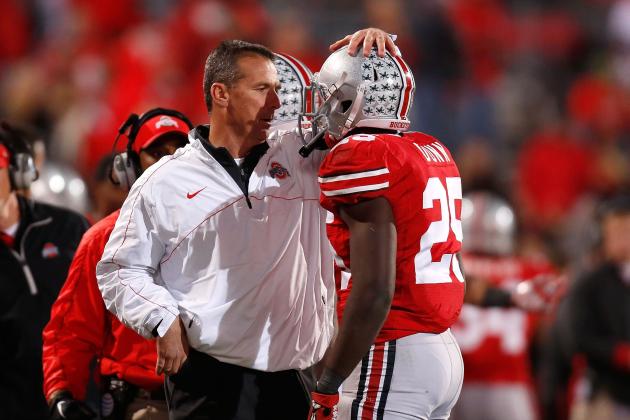 Kirk Irwin/Getty Images

There are certain times in life when all we really need is a steady hand holding the clipboard that guides the actions of our beloved college football team.
Yes, though a good marriage, strong family ties and faithful friends all enhance our life's journey, sometimes having the right guy making the calls into the headset on Saturday will do more to make us happy than all the stuff that really is more important (outside of game time).
The following slideshow celebrates the college football coaches who we'd most want stalking our sidelines and making the crucial decisions when the most important games (the ones that happen 12, 13 or 14 times each season) suddenly morph into a nail-biter.
This list is not about which specific playmaker's hands we want the ball to be in when the game comes down to wire; instead it's all about who is the best guy to decide which playmaker to give the ball to.
For some of us it's a dreamy wish list of college coaches, while for others the mention of a certain special somebody's name reminds us that we should send an extra Christmas card this holiday season.
Seriously, if you are going to give the bus driver, teacher and postman a Starbucks gift card, why wouldn't you take the time to send your beloved gridiron leader, the guy you rely on each and every Saturday, a little bit of holiday cheer?
Begin Slideshow

»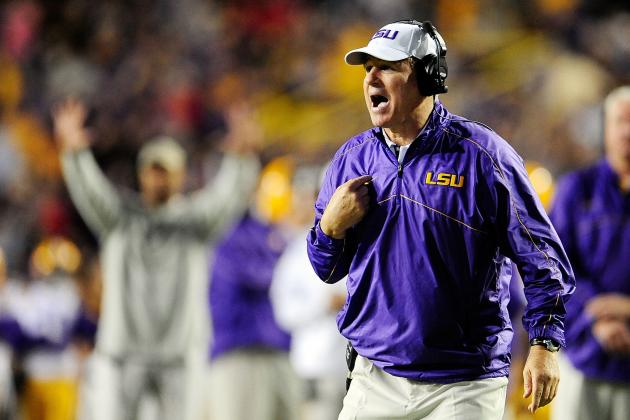 Stacy Revere/Getty Images

What makes LSU's Les Miles seem almost wizard-like (in a mad hatter kind of way) is his ability to take what looks like a narrow loss and magically transform it into a thrilling, paper-thin victory.
Miles is 85-20 over his eight seasons in Baton Rouge and though his margin of victory overall (due to early season mismatches) is sizeable, the difference in SEC games is decidedly narrow.
To illustrate, in 2012 the Tigers beat Auburn 12-10, South Carolina 23-21, Texas A&M 24-19, Mississippi State 27-17, Ole Miss 41-35 and Arkansas 20-13.
Furthermore the defeats this season were also narrow: a 14-6 decision at Florida and then a 21-17 near miss at Alabama.
Miles has also historically done well during the heavy pressure of overtime and LSU's 2007 national championship campaign included triple-overtime wins over both No. 17 Kentucky and Arkansas.
As far as pressure cooker games as a whole, Miles is 13-11 vs. Top 10 teams at LSU and holds a 34-16 advantage vs. Top 25 squads.
Though Miles has historically made some questionable calls late in big games and at times he comes across as nutty as a fruitcake, it's impossible to deny the fact that he's a guy who works really well under pressure.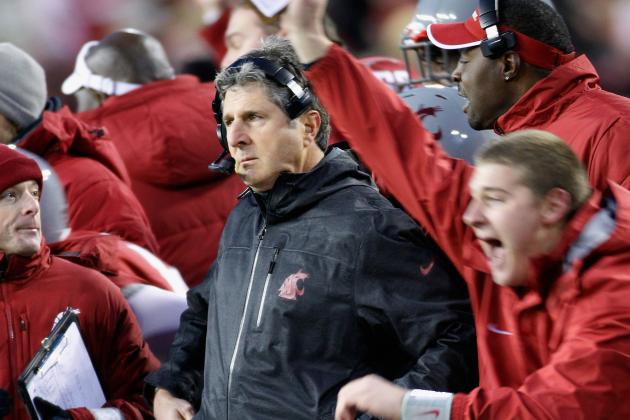 William Mancebo/Getty Images

Like a couple of other guys on our pressure honor roll, Mike Leach doesn't have near the level of success as do others in terms of taking down top-ranked teams.
But, Leach is a guy who coaches his teams to believe that a game is not over until the final whistle, no matter what.
A lot of this mentality may have to do with his all-out offensive approach, but just because you have a potent point-scoring squad doesn't necessarily mean you think you can come back in games from huge deficits.
To illustrate the pressure thwarting stylings of Leach think back to the 2006 Insight Bowl when Texas Tech was down 38-7 to Minnesota midway through the fourth quarter.
Tech ultimately scored four unanswered TDs on the Golden Gophers and pushed the game to overtime on an unlikely 52-yard field goal.
Tech's final TD came in the extra period, and the Red Raiders triumphed 44-41 achieving the biggest comeback in bowl history.
Though Leach's opening salvo at Washington State this season has been far from glorious, a glimpse of the past and perhaps the future could be gleaned from the Cougars 18-point fourth-quarter comeback over Washington in the Apple Cup last Saturday.
Washington State reeled off three unanswered TDs in the final period, successfully converted a two-point try and pushed the game to overtime where it won on a 27-yard field goal.
In the case of Mike Leach, it may be that his "never say die" or "it's never over" mentality is every bit as dangerous as his fascinating offense.
Jamie Sabau/Getty Images

Leading a team to perhaps the most fruitless undefeated regular season in the history of college football, Urban Meyer somehow managed to coach Ohio State to perfection despite the serious lack of a consistent passing attack or pass defense.
Yes, 2012 was filled with narrow victories over barely ranked foes, but the 12 wins are legit and so is the fact that Meyer remains one of the steadiest hands in the biz.
Highlights to the road to the Promised Land that serves up neither milk nor honey are narrow wins over Cal (35-28), UAB (29-15), Michigan State (17-16), Indiana (52-49) and Michigan (26-21).
To bolster Meyer's 2012 pressure-beating resume are overtime victories over Purdue (29-22) and Wisconsin (21-14).
What's intriguing is considering what this year's Buckeyes record would have been sans Urban Meyer on the sidelines.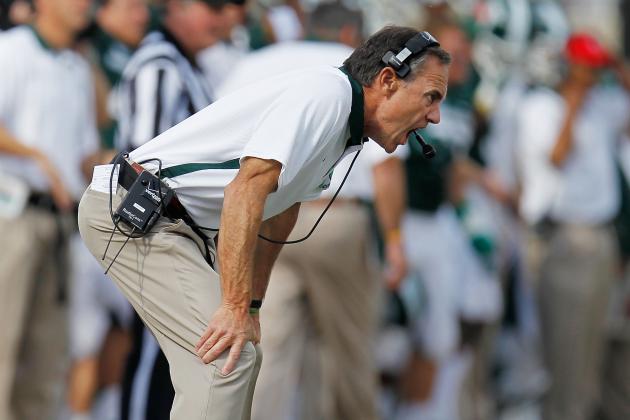 Gregory Shamus/Getty Images

Mark Dantonio's case is similar to that of Mike Leach in that he performs admirably under pressure but lacks the success against top-ranked teams that others on our list have managed.
Minus the glowing record in huge games with title implications, Dantonio is a lot like LSU's Les Miles in that he has a quirky edge to him that gives him a bit of mad-professor aura.
What you've got to love about Dantonio is that he's not afraid to make a ballsy call late in a close game, and he'll back it up even if it all goes horribly wrong.
To illustrate what the head Spartan can do under the gun refer directly to the 2010 season when State went 11-2 and earned a piece of the Big Ten pie.
The thrilling campaign began with the magical fake-gate 34-31 overtime win over Notre Dame and included almost surreal victories over Northwestern (35-27), Purdue (35-31) and Penn State (28-22).
Additional examples of Dantonio's skill vs. the pressure cooker come via Michigan State's 33-30 triple-overtime thriller over Georgia in the 2011 Outback Bowl (33-30) and this season's 16-13 overtime triumph at Wisconsin.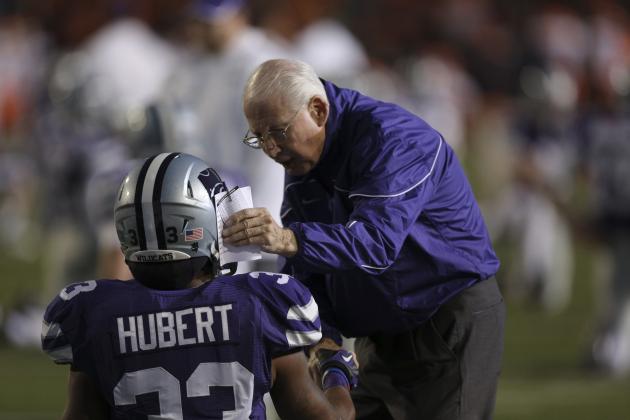 Ed Zurga/Getty Images

Perhaps there is no complete way to pay tribute to Bill Snyder, a coach who has managed to rescue a program like Kansas State from the depths of obscurity not once but twice.
One of the many attributes that make Snyder a great coach is that he performs as well as anyone under pressure, a trait that is even more impressive when you realize that K-State doesn't necessarily have the same talent pool as, say, LSU.
Drawing from the second Snyder era at Kansas State, take a look at the 2011 season when the Wildcats went 10-3 with a total margin of victory, across 13 games, of 50 points.
This means that despite a 37-0 win over Kent State and a 59-21 blowout of Kansas that K-State scored a mere 413 points for while allowing a whopping 363 points against.
This resume includes nail-biters like the 28-24 victory at Miami (Fla.), a 36-35 win over Baylor, a 24-17 win over Missouri, a 41-34 victory at Texas Tech, a 17-13 win at Texas, a 30-23 decision vs. Iowa State and then the heart-stopping 53-50 triumph at Oklahoma State in quadruple overtime.
Though the 2012 season has brought more wins and less drama (minus the obvious exception at Baylor), the pressure winning carries over in triumphs like the 24-19 victory over Oklahoma in Norman and the 27-21 decision at Iowa State.
Regardless of age or disadvantages at recruiting, Bill Snyder is the right guy to have making the calls when the game is on the line.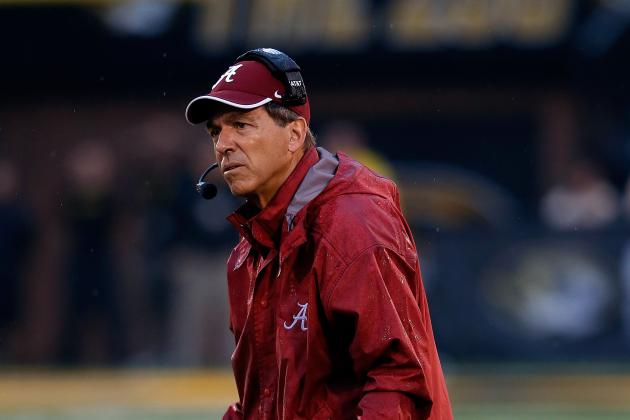 Jamie Squire/Getty Images

Love him or leave him, it's nearly impossible to fathom a "coaches we trust" listing that does not include the name of Alabama's Nick Saban.
Though Saban's resume is not necessarily full, especially recently, of a string of narrow wins and overtime triumphs, it's difficult to deny that he can pull out a win in nearly every pressure-cooker situation imaginable.
Yes, this is the guy who led the Tide in their 9-6 overtime loss to LSU in last season's "game of the century part one" and OK this is the same dude who got zapped by Johnny Football and the Aggies 29-24 in 2012, but ask yourself this, who would you rather have on your sidelines?
Indeed, who would you rather have recruit, who would you rather have prepare, who would you rather have draw up the game plan and who would you rather have making the in-game decisions than Nick Saban?
To illustrate, Saban is 12-5 at Alabama vs. Top 10 opponents and then is an inspiring 23-10 with the Tide when facing Top 25 foes.
You don't have to like the guy to agree wholeheartedly with the fact that he's the man.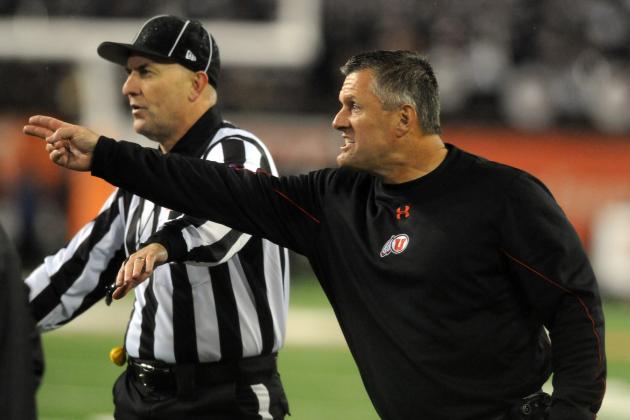 Steve Dykes/Getty Images

Perhaps a bit of a wild card on the surface, when you're talking performing under pressure don't forget the pleasingly silver-haired Kyle Whittingham from Utah.
Whittingham and Utah's resume under the gun has been somewhat downgraded with the move up to the Pac-12 last season, but he's still a guy who has gotten it done, gets it done and will no doubt improve in terms of getting it done against the "big boys" as time goes on.
To illustrate, Whittingham is 4-1 in overtime games since 2007, and this includes guiding the Utes to a win in a topsy-turvy game vs. Georgia Tech in the 2011 Sun Bowl.
Looking back to last season when Utah launched its initial offering into the Pac-12 waters, Whittingham and company managed a very admirable 8-5 finish while only outscoring opponents 325-263.
Utah still has work to do to ramp up to the level of play in the BCS world, but Whittingham offers a huge asset in the fact that he's consistently performed well when the game is on the line.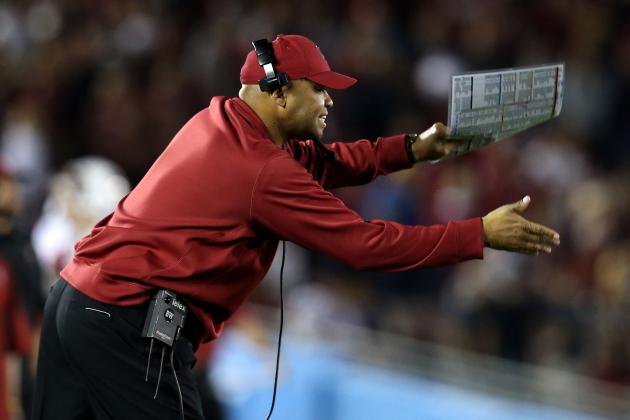 Stephen Dunn/Getty Images

After guiding Stanford to an 11-2 mark in 2011 which was largely attributed to the play of QB Andrew Luck and the energy and culture left behind by his predecessor Jim Harbaugh, 2012 is David Shaw's version of a breakout coaching season.
Shaw's performance under what are now huge expectations in Stanford need to be viewed with a perspective is mindful of the fact the Cardinal came into 2012 fielding one of the least experienced teams in the FBS.
To quantify this statement, numbers guru Phil Steele ranked Stanford No. 109 nationally in the comprehensive experience ratings included in his preseason magazine, a publication that is hard not to fall in love with.
How this all fits into the idea that Shaw is a pressure-beater and worthy of our trust is fairly simple when you look at Stanford's body of work in 2012.
Things kicked off with a narrow 20-17 win over San Jose State (remember how green Stanford was coming into the year and then respect SJSU for being 10-2 this season) and then really got underway with Stanford's jaw-dropping 21-14 victory over then No. 2 USC in Week 3.
Add in a 54-48 overtime win vs. Arizona, a 24-17 near-miss at Washington State, a 27-23 decision over then No. 11 Oregon State and a 17-14 overtime thriller at No. 2 Oregon and you get the picture.
On the flip side, Stanford's losses have also been paper-thin with a 17-13 defeat at the hands of Washington and then the 20-13 overtime thriller at Notre Dame that ended with one of the most controversial calls in all of 2012.
Shaw is and more than likely will become a lot of things as a coach, but for 2012 he's one of the best college football coaches vs. a full dose of pressure.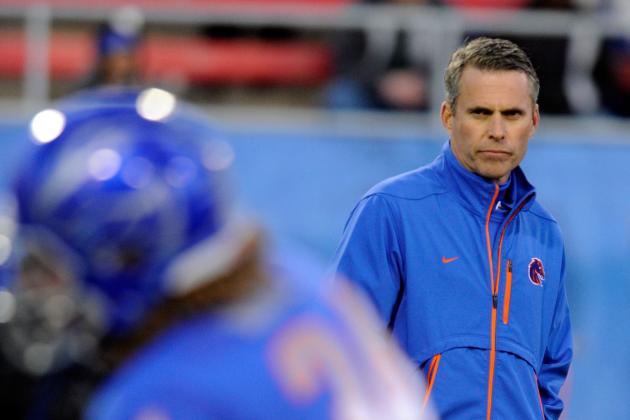 Ethan Miller/Getty Images

Don't let Boise State's two-loss offering in 2012 fool you, Chris Petersen is still one of the very best college football coaches in the nation, and that includes being a top-tier guy to trust when the game comes down to the wire.
And Petersen gets it done with recruits that by and large don't ever touch even a top 100 ranking.
When you think of Chris Petersen and performance under pressure, it's easy to be drawn to be the glittery example of the Broncos' thrilling 43-42 overtime triumph over Oklahoma in the 2006-07 Fiesta Bowl, but just like the knife commercial, wait, there's more…
Yes, Petersen not only knocked off the Sooners he's also 3-0 vs. Top 10 teams and 8-4 when facing Top 25 opponents. And don't you know that these teams have wanted, with every ounce of their beings, to knock the Blue Turfers off their well-earned perch as the biggest of BCS busters?
That's pressure, especially when your guys are smaller and slower.
Like David Shaw at Stanford, Petersen's 2012 season needs to be viewed while remembering that Boise State was young, criminally young, coming into this year.
Yes, where Phil Steel had the Cardinal ranked a dismal No. 108 nationally in experience in 2012 he had the Broncos ranked an even more unsettling No. 118.
This makes narrow wins over BYU (7-6) and New Mexico (32-29) more understandable, and frankly more impressive as does the fact that the Broncos two losses (to Michigan State and San Diego State) came via a total margin defeat of six points.
Petersen is a guy any college team would be lucky to have on their sidelines, especially so when the score is close, the time is short and the outcome is crucial.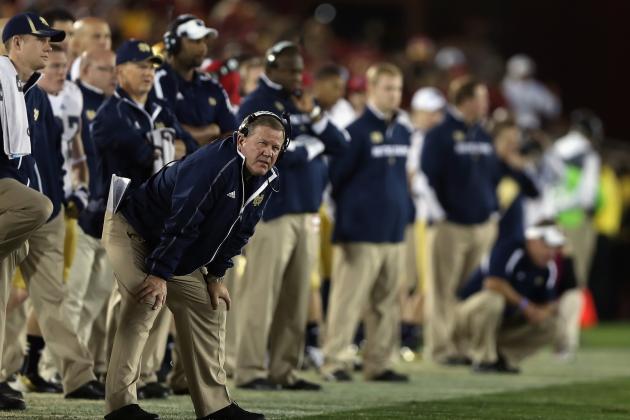 Jeff Gross/Getty Images

Though Brian Kelly's record as a college football coach has been worthy of note ever since he took the reins at Grand Valley State back in 1991, his tour de force at Notre Dame in 2012 cements his place in pressure coaching lore.
Kelly's 12-0 triumph this season includes a 20-17 win over Purdue in Week 2, a 13-6 decision vs. Michigan, the 20-13 win over Stanford that ended on a suspect call in overtime, the 17-14 hangover win vs. BYU, a closer-than-the-final score 30-13 blockbuster at Oklahoma, the 29-26 triple-overtime victory vs. Pitt and then the down to the wire 22-13 deal sealer last Saturday night at USC.
Whew.
If you take out the 50-10 win over Navy, the 41-3 beatdown of Miami (Fla.) and a very yawnful 38-0 win over Wake Forest the Irish outscored the other nine foes on their 2012 slate by a mere 192-111.
Though you can point to Kelly's stifling defense as both the font of victory and the underlying reason the scores were so close, he also had to manufacture enough points to actually win all 12 of the games.
The truth is when you manage a 12-0 record with some paper-thin victories against a quality set of opponents your coach will have had to make the right calls, at the right time on multiple occasions.
This fact makes Brian Kelly perhaps the best coach under pressure in 2012, and it also makes the possibility of him squaring off with Nick Saban for all the marbles absolutely provocative.