Powered by You: The Loudest Stadiums in the NFL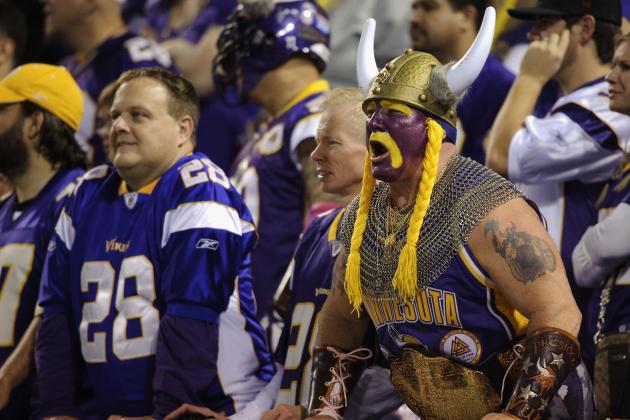 Some people don't believe that there's such a thing as home-field advantage, but anyone who has been to an NFL game knows that's simply not the case.
Whether it's in a dome or an outdoor stadium, rabid fans around the NFL have been losing their voices, shattering ear drums and forcing the opposition to burn through timeouts in a feeble attempt to get everyone on the same page.
To figure this one out, we'll go to the video tape, we'll see what former-and-current NFL players have to say on the matter and narrow it down to the 10 loudest stadiums in the NFL.
Begin Slideshow

»
Obviously, you can hear how loud the crowd is in Atlanta seeing as how we can barely hear the music or announcements being made over the video playing on the scoreboard.
Now realize that the place wasn't even full yet.
That they play in a dome obviously plays a major role in keeping the noise level up, but make no mistake about it—Falcons fans are a loud bunch.
That last introduction was Hall of Fame running back Jerome Bettis, but you wouldn't know it from the video because the crowd simply drowns out the announcer.
Steeler fans are among the most passionate in the NFL, and as Philadelphia Eagles' tight end Brent Celek notes, walking into the chaos that is Heinz Field can be a difficult thing to deal with (h/t CBS Sports):
Their fans are a lot like our fans – they're crazy. And I love that. I love playing games where you can feel the excitement and the passion and they definitely have that in Pittsburgh. It can be a daunting place to go play.
Since Mike Tomlin took over as head coach in 2007, Pittsburgh is 37-10 at home. While much of that success lies with the players on the field, don't think for a second that the sea of black-and-gold, terrible towel-waving lunatics hasn't played a big part in the Steelers dominance at home.
They have.
Who knew that a band from Australia could work a New England crowd into a frenzy?
But that's what goes down at Gillette Stadium whenever AC/DC's "Thunderstruck" blares from the sound system—or when Tom Brady does, well, pretty much anything.
With a team that has gone to the Super Bowl an average of once every three years under Bob Kraft's ownership, it's no surprise that Patriot fans brave the snow, rain and blustery New England winters to cheer on their favorite team.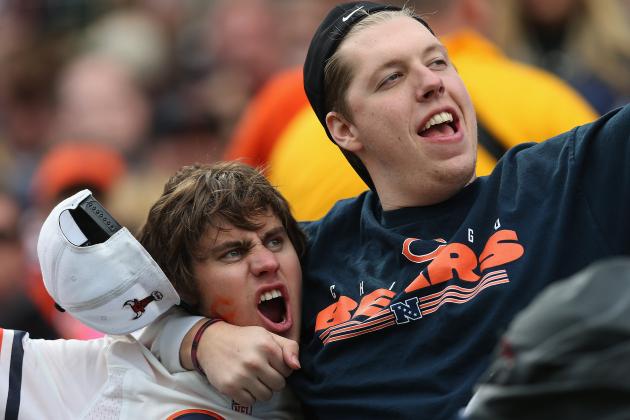 When your starting quarterback needs to plead with the fans in his home stadium to quiet down so that the team can run its red-zone offense, things are getting loud.
Yet that's exactly what's been happening over the last few seasons at Soldier Field—so Bears QB Jay Cutler decided to try and reason with the fans (h/t CBS):
Please, please, please let's tone it down a little bit when we're down in the 20. You're more than welcome to yell and scream and do whatever you want to do after we score, but please, let's go ahead and quiet the stadium down and save it for after we score. Thank you. That's my PSA.
If the Bears offense has trouble hearing itself, you can only imagine how difficult things get for those teams that have to walk into Soldier Field to take on Da Bears.
From the "frozen tundra" to its namesake touchdown celebration (thanks Leroy Butler), Lambeau Field has as storied a history as any home field in the NFL.
It's also home to some of the most passionate fans in the league, fans who routinely crack triple-digits on decibel meters and give the impression that there are more people in attendance than there actually are.
Just ask Packers linebacker A.J. Hawk (h/t ESPN): "Lambeau, it's a college stadium, really. At Ohio State, they'd get 105,000 in there. In Green Bay, they make a lot of noise even though it's not as big."
Lambeau has gotten even louder in 2012 with the expansion of the south end zone by nearly 7,000 seats, creating a "Wall of Lambeau," as team CEO an President Mark Murphy grew fond of calling the project (h/t Packers.com).
It's loud, it's cold, it's...home for the Green Bay faithful.
The Black Hole, The House of Thrills—it's Raider Nation.
Notorious for their face paint and spiked helmets, Raiders fan are just about as crazy as you can get.
While the results on the field haven't come close to meeting expectations that the fans have for the team, the faithful still show up, week-after-week, their faces painted, their spikes on and their throats raw from screaming at the top of their lungs.
Just imagine how loud it'll get once the Raiders return to respectability.
Who Dat Nation gets fired up for the coin toss, much less the electrifying offense that Drew Brees and the New Orleans Saints roll out on a weekly basis.
All we really need to know about how loud the Superdome gets comes from former safety Darren Sharper, who spent the last two years of his career playing with the Saints (h/t The Times-Picayune)
"A guy could be pressing face masks with you and you're yelling and he still can't hear you."
That's loud.
Brett Favre, in preparing for the 2010 NFC Championship Game at the Superdome as a member of the Minnesota Vikings, told reporters in the week leading up to the game that Saints fans were going to cause a problem (h/t The Times-Picayune):
These games, they're tough anyway, but they're really tough on the road because of the noise. Not only are you playing the Saints, but you're playing the fans, and all of those things work against you.

I'll emphasize that during the week. We'll practice as much like a game as possible with those elements, but there's no substitute for the game itself.
We all know how that game ended—with a Saints win in overtime and ultimately a Super Bowl championship.
You've heard the roar of jet engine as it's taking off at the airport, right?
Well, you wouldn't if the jet was inside Arrowhead Stadium during a Kansas City Chiefs game.
According to ESPN, the Acoustical Design Group measured the crowd noise inside Arrowhead at 116 decibels—10 more than a 747 jet taking off.
Baltimore Ravens center Matt Birk, a six-time Pro Bowler and veteran of 14 NFL seasons, explains to Yahoo! Sports how incredibly loud Arrowhead can get when the stadium is packed:
I remember in the playoffs, one play we were down on the goal line. Obviously, I'm pretty close to Joe (Flacco, Ravens QB) before the snap and I could hardly hear him. You just feel the vibration of his voice, that's how loud it is.
When a center can't hear his quarterback, you know the volume has been raised to another level altogether.
If you didn't know any better, you'd think that was video from a college stadium or an English Premier League football match.
But, alas, it's fans of the Baltimore Ravens getting worked into a frenzy by the White Stripes' "Seven Nation Army," which we can only assume is playing through the PA system at M&T Bank Stadium.
With one of the most boisterous players in NFL history—linebacker Ray Lewis—as the face of the franchise, it's only fitting that the team's fans would be equally as rambunctious.
Kevin Byrne, the Ravens' senior vice president of public and community relations notes that the team has no need for cheesy gimmicks like a decibel meter or pleas for the crowd to get louder—and that they've tweaked a long-time practice that NFL clubs use to get ready for road games (h/t ESPN):
Our fans are too sophisticated for that. We think that's demeaning. They know when to get loud. I'll tell you how good our fans are: We practice to loud music—the week leading up to home games.

Ray Lewis will tell you he'd almost rather play away from home, because at least on the road he can talk to his teammates on the field.
When your own team needs to prepare itself to play at home, you know you're doing something right.
Well done, Baltimore.
While the concept of the "12th man" may not have originated in Seattle, there isn't a group of fans in the NFL who have more of a direct impact on the game than those who cheer for the Seahawks.
The noise reaches insane levels, forcing opposing offenses into committing false start penalties and a sense of general frustration, something Green Bay Packers QB Aaron Rodgers can attest to (h/t ESPN):
Those fans are really intelligent fans. They get so stinking loud out there. They do a really good job of giving the defense that advantage when we have to go on some silent counts or when we're trying to hear each other. They should be commended for that.

We practice with sound at practice, and you try to simulate some of that. But I think you know when you play at a stadium like Seattle -- Seattle and Kansas City are probably the two loudest outdoor stadiums -- but it's definitely an extra factor and aid for that defense.
Rodgers wasn't the only NFL player to be taken with the incredible noise that Seattle fans create.
Deion Branch, who spent time with both the Seahawks and New England Patriots over his 11-year career, didn't hesitate when the Boston Globe's Zuri Berry asked him about playing in Seattle earlier this season:
"It's by far the loudest stadium [in the NFL], and it can get louder if things go bad for us on the offensive side of the ball."
For anyone who has ever been to CenturyLink Field, this should come as no surprise.