The Sandman, Big Bossman: 25 Terrible Wrestling Name Changes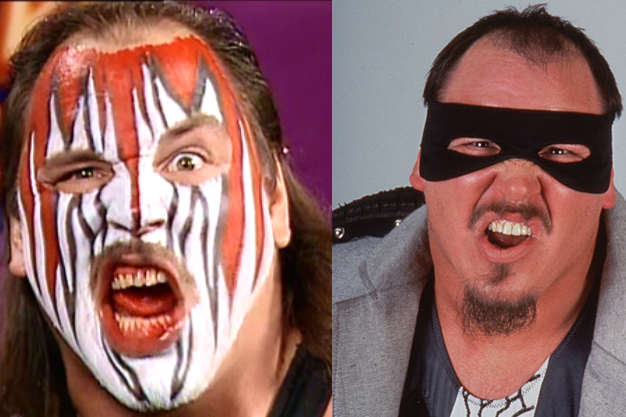 photos from photos from whatistheexcel.com and lordsofring.gr
Would Steve Austin have been as popular had his name been Chilly McFreeze?
Besides having the right look, a high dose of athleticism and charisma, a wrestler needs a good name to complete his character.
But from Isaac Yankem to The Ding Dongs to Bastion Booger, there have been plenty of terrible names in the history of professional wrestling.
But what lousy names were created after a wrestler became popular?
Often, when a wrestler left the WWF or WCW, they could no longer keep the name that made them famous in their new home. Worse yet, the new name was often a cheap knock-off of their old one.
Sure, some got lucky, and it just took a little getting used to like Razor Ramon to Scott Hall, or Victoria to Tara.
But other times, a wrestler gets a new gimmick, complete with a moniker that is primed to fall on its face.
The names on this list are only from men and women who achieved some level of success with their name in WWE, TNA, ECW or WCW and then changed it later (sorry Michael McGillicutty, you're not on this one).
Here are 25 wrestlers who shouldn't have embraced change, and in a perfect world could have kept their most popular ring name throughout their career.
Begin Slideshow

»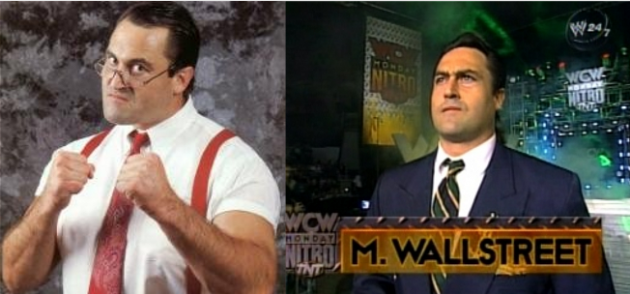 photos from onlineworldofwrestling.com and accelerator3359.com
When Mike Rotundo went to the WWF, there were a couple ways they could have gone with him.
He could have slapped on a college jacket and done a Varsity Club-type gimmick. They could have created a whole new character for him, or done a take off of his Michael Wallstreet character.
WWF chose the latter.
While Michael Wallstreet is an obvious wrestling "rich man" name, at least his name wasn't Irwin R. Schyster.
He's a tax collector who was born with the initials I.R.S.
What are the odds?
You'd also think if your last name was Schyster, and you had a lot of money, you would consider buying a new last name.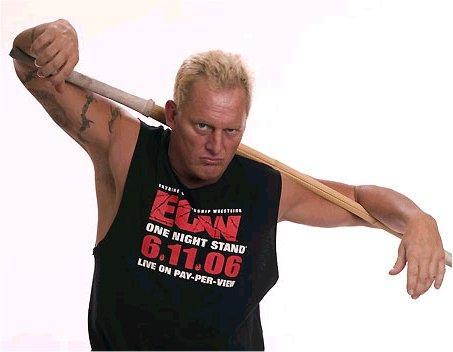 photo from notinhalloffame.com
This was a confusing one.
There shouldn't have been any legal troubles with Jim Fullington keeping The Sandman name.
He later used it in his WWE and TNA runs, but in WCW, The Sandman must have went to sleep.
Raven, Saturn and Sabu all kept their names during their time in WCW, but poor Fullington had to switch.
The creative team came up with "Hak."
They probably should have tried for a bit longer.
Maybe WCW just didn't want to try and deal with Metallica and try to get the Enter Sandman theme song, so they just gave up altogether and went a different direction.
Well, I guess he's somewhat lucky. At the very least he avoided a knockoff of something like "Mr. Sleepy" or "The Bed Time Boy."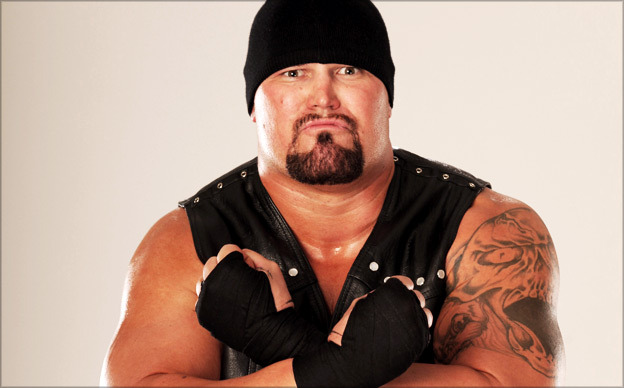 photo from chaddukeswrestlingshow.com
"Nahhhhh, what's up, Doc?"
I'm sorry, but that's all I can think of when Mike Tenay or Tazz mention Drew Hankinson's TNA name.
Sure, the name Luke Gallows isn't great, but it at least sounds intimidating. D.O.C. just sounds silly.
Don't forget, it's not "Doc" it's "D.O.C.," as in the acronym standing for "Director of Chaos."
Unfortunately, that doesn't make it sound any more menacing. It actually just makes it even more stupid.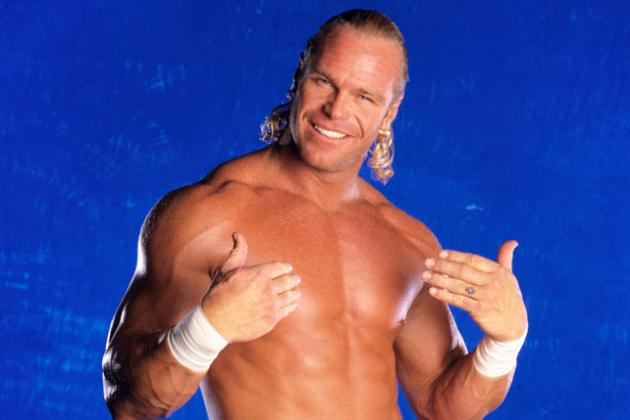 photo from windows8osx.deviantart.com
Poor Monty Sopp, he must have one of the worst real names in wrestling history (perhaps only above Michael Shawn Hickenbottom).
Fortunately, he was given the name Billy Gunn in the WWF. It's pretty catchy (except for that period he was referred to as "Mr. Ass").
Unfortunately, after he was released and signed with TNA, there were concerns on what to name him. Initially he was called "The Outlaw," which was a play off of his old New Age Outlaws tag team.
Apparently, the WWE wasn't too thrilled with this, and he then changed to Kip James.
Yes, in the sport of professional wrestling, we had a man named "Kip." There's not much more you can say about that.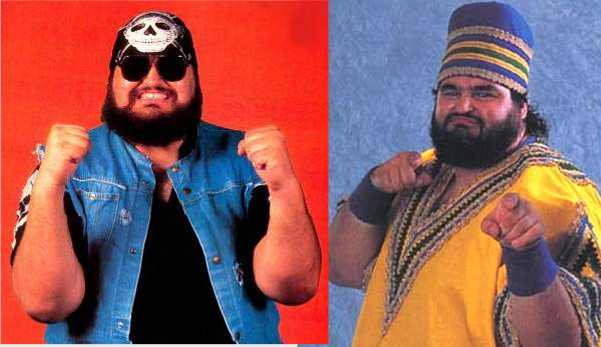 photos from onlineworldofwrestling.com and notinhalloffame.com
The name "The One Man Gang" is pretty sweet.
He doesn't need a whole gang, he just needs himself.
"Akeem the African Dream" on the other hand, sounds a little odd. What made it even more strange was that the man playing the role was Caucasian.
The WWF thought that the One Man Gang wasn't quite working out, so they went the comedy route with the character.
Mr. Gang found out that he was of African descent, so he decided to fully embrace it.
The skits highlighting this transformation were more racist than entertaining, and not surprisingly, Akeem didn't ever become a big star.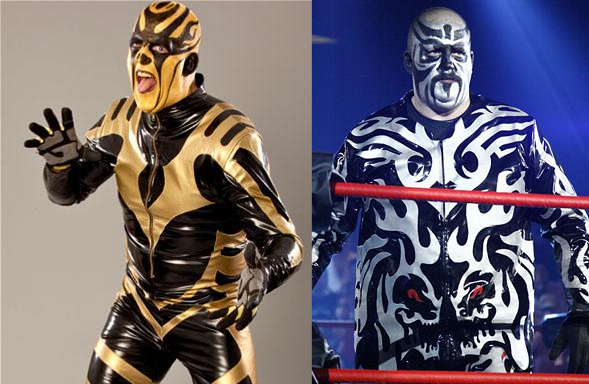 photos from screened.com and turnheel.blogspot.com
You may never, ever forget the name of Goldust, but the odds are you probably forgot the name of Black Reign.
Like others on this list, Dustin Runnels simply is Goldust.
When he was Dustin Rhodes, he was stuck forever in his father's shadow. He needed to create his own identity. He went off the deep end and portrayed the flamboyant, perverse character of Goldust.
Runnels played the role perfectly. In fact, he played it so well, though, that there was no going back.
When he joined TNA (the second time), he wore black and silver instead of black and gold. The whole act was just a poor man's Goldust and the fans saw right through it.
Runnels also gets bonus points for his portrayal of Se7en. For some reason the "V" became the number "7," most likely to capitalize off of the movie.
For a wrestling name, it was destined to be a dud.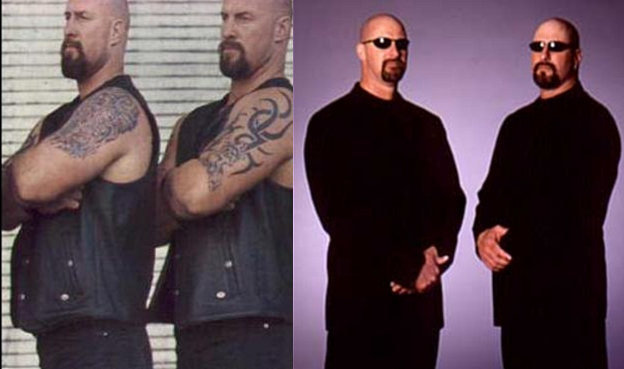 photos from bleacherreport.com
Most people associate D.O.A. as Dead on Arrival, but not for the Harris Brothers. They were the Disciples of the Apocalypse.
Pretty bad ass, right?
Too bad for them that they were pretty lousy wrestlers. The WWF released them, and the new Vince Russo led WCW snatched them up.
The former Disciples became "Creative Control."
Wait, what? What does that possibly even mean?
Notice that I mentioned Vince Russo's name before.
It was his specialty to mix the backstage on-goings of wrestling with what was happening in front of the camera. These supposed "shoot" storylines were meant to appeal to the online wrestling fans, but went over the heads of the other 95 percent.
To the surprise of no one, Creative Control didn't last very long. They eventually regrew their beards and simply became The Harris Brothers.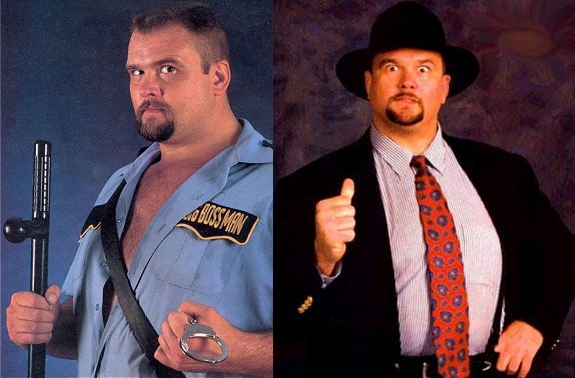 photos from tumblr.com and wrestlehub.com
Would a rose by any other name smell as sweet?
Would Ray Traylor known as anything other than The Big Bossman work?
Apparently not.
Yes, Traylor achieved success as Big Bubba Rogers in the UWF, but once he became The Boss Man, there was no going back.
After Traylor's run in the WWF, fans just identified him with the nightstick swinging, babyface beating, handcuffing machine. Without the cop outfit, he just looked strange.
He went through various name changes in WCW, but none of them stuck. Fans just wanted the Bossman back, and luckily he came back to WWF to once again reprise the character.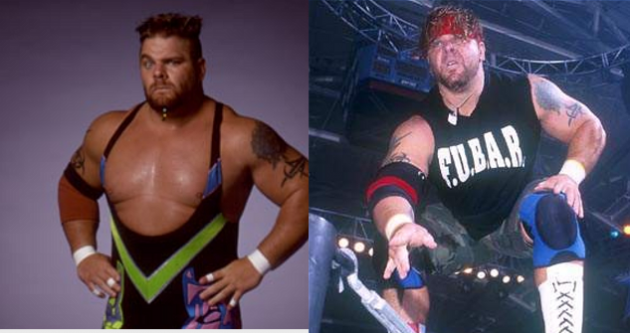 photos from obsessedwithwrestling.com
For years, fans thought that Hugh Morrus had more potential than his bad gimmick gave him.
The name was nothing but a lousy pun, but it somehow got worse for him.
Enter Vince Russo.
The D-Generation X knock-off group, The Misfits in Action, had a whole slew of terrible names each worthy of their own slide (Lieutenant Loco, G.I. Bro, Major Stash), but it was the Morrus pun that was the most groan inducing.
You see, Hugh Morrus revealed to us that his real first name is in fact Hugh, but his last name is Rection. His middle name starts with a G.
Put it all together, and sound it out: Hugh G. Rection.
Are you laughing? If so, then Vince Russo succeeded, and shame on you!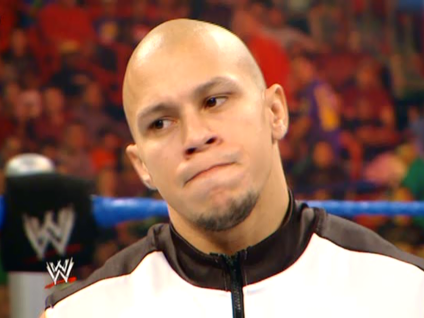 photo from whatistheexcel.com
Senshi means warrior.
Kaval means flute.
Which one would you be more afraid to fight?
Kaval also sounds too close to Kabal from Mortal Kombat for comfort.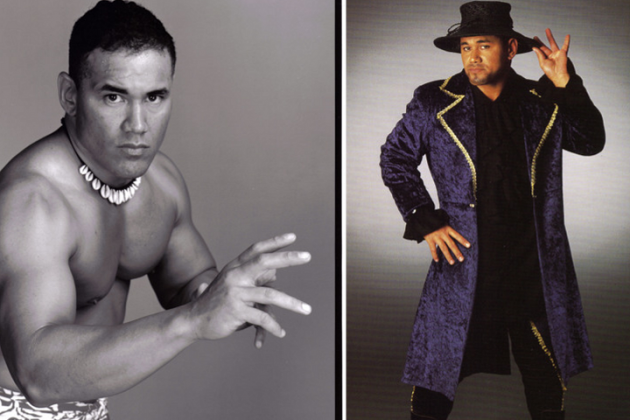 photo from tumblr.com/tagged/prince-iaukea
WCW had a thriving Cruiserweight division at one point, and Prince Iaukea was a part of that.
After awhile, he started to be pushed to the side though, and didn't have much to do…until Vince Russo (noticing a theme here?) took over.
Iaukea reemerged on WCW television, but he was no longer Prince Iaukea. No, he was The Artist Formerly Known as Prince Iaukea.
The only reason for this was because he had the name "Prince," you know like the singer Prince, who at one point years earlier was referred to as "The Artist Formerly Known as Prince"?
Apparently, one man thought that would be a good gimmick and name change. Everyone else thought that was a bad idea.
Everyone else was right.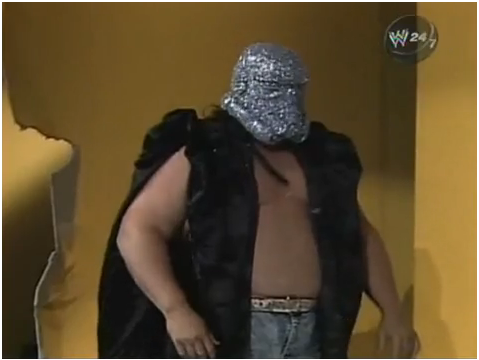 photo from tumblr.com/tagged/the shockmaster
Sure, he was the ridiculous sounding Tugboat at one point, but then Fred Ottman upgraded to Typhoon when he joined The Natural Disasters in the WWF.
Then, he went to WCW and became The Shockmaster.
Anyway, not only was his debut shockingly horrible (and funny), but the name was just plain bad.
So what exactly is a Shockmaster? Sadly, we may never know.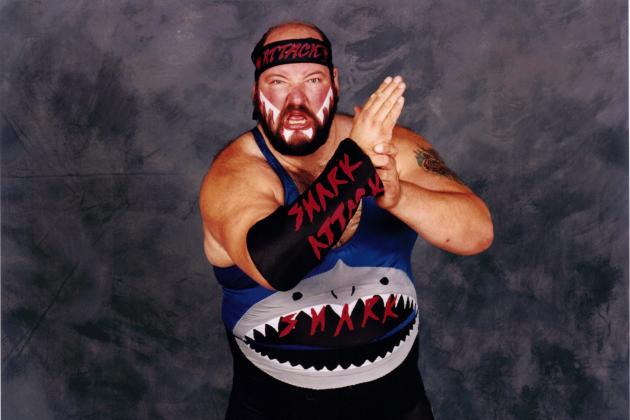 photo from imageevent.com
Much like Earthquake's old partner Typhoon, John Tenta didn't have much success without his recognizable name.
Once he went to WCW, he became Avalanche.
Sounds good enough, until the WWF threatened legal action.
Avalanche then became The Shark. Sadly, this wasn't the worst of his names as Sharky became Golga in the WWF.
I have no idea what a Golga is, and I'm not sure I want to find out.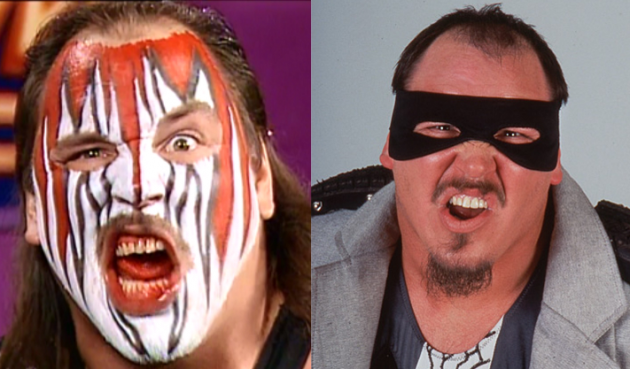 photos from whatistheexcel.com and lordsofring.gr
Smash sounds like a stereotypical, but tough wrestling name, Repo Man sounds like a repo man.
And that's exactly what The Repo Man was.
Sure, the gimmick was fun, but there's not much potential for moving up the card when you're stuck with that name.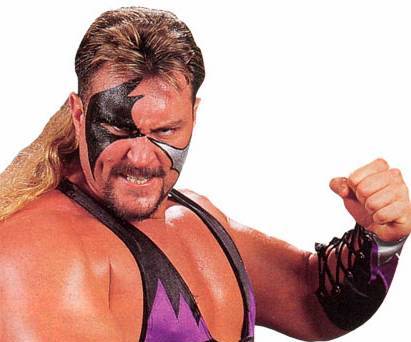 photo from notinhalloffame.com
Brian Adams isn't really a bad sounding name, except for the fact that it's also the name of a famous Canadian pop singer.
The only consolation is that the singer spells his name with a "y."
Yes, it was Crush's real name, but that's no reason not to try and find something else. It would be like a wrestler named Barry Manillow keeping his name.
It just doesn't sound that menacing.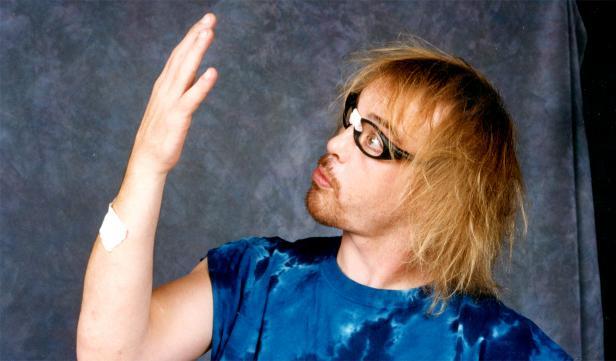 photo from wwe.com
First, The Dudley Boyz came to TNA and became Team 3D.
It took a little adjusting, but fans seemed to be fine with it.
Their transitions from Bubba Ray and D-Von to Brother Ray and Brother Devon worked just fine too.
What didn't work so well was Spike joining the group as Brother Runt.
Brother Runt just sounds lame.
TNA was forced to try and find something to keep with the "Brother" gimmick, but you think they could still do better than Runt.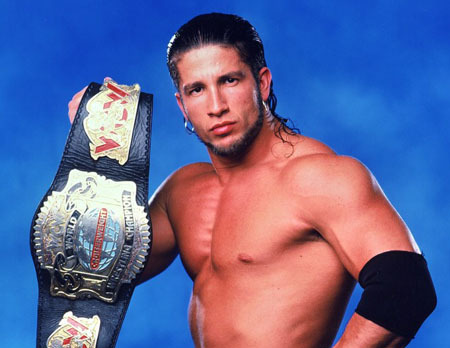 photo from ecwfrenchtribute.free.fr
A lot of people in sports have used the nickname "Sugar" over the years, but Sugar Shane Helms still had a nice ring to it.
Gregory Helms did not.
Once Shane Helms joined the WWF, he became Gregory at the beginning of the Invasion. It didn't last long though as he soon became The Hurricane.
At the end of his run, he was once again known as Gregory, and then he was gone.
Coincidence?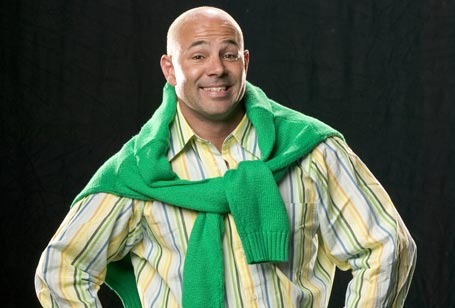 photo from popstarsplus.com
Guerrero, as you may know, is a pretty famous last name in wrestling.
Kerwin White, on the other hand, was an awful wrestling name. It was also a stupid, idiotic and offensive gimmick.
That is all.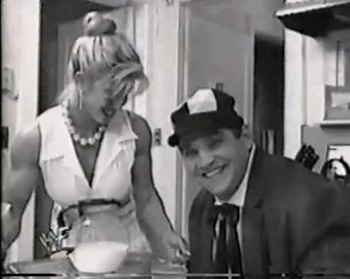 photo from bleacherreport.com
Let's be fair, Mosh is a pretty mediocre wrestling name.
It doesn't really pack any sort of punch to give it main event potential. But Beaver Cleavage on the other hand is downright embarrassing.
Luckily that gimmick didn't last and he went to the name Chaz. The most positive thing you could say about that name is that it sounds like "Tazz."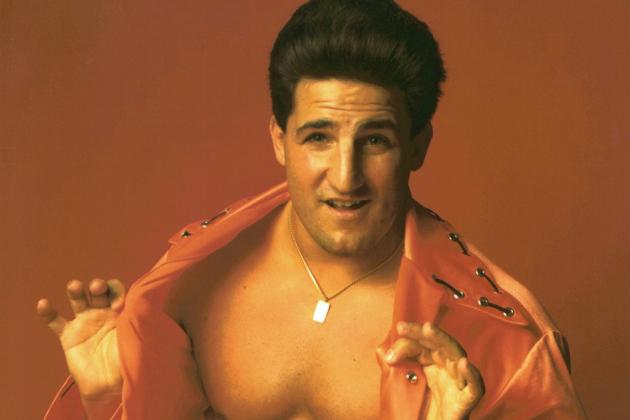 photo from smoothcriminaldesignz.com
You gotta give Glen Gilbertti credit for trying.
After WCW closed up shop, Gilbertti joined TNA and wanted to reinvent himself.
He could have gone the easy route and just played The Disco Inferno, but he had higher aspirations and just went with his given name.
It didn't quite work out for him. Sure, he was the leader of the S.E.X. (Sports Entertainment Extreme…Oh for the love of God, Vince Russo!), but his run didn't last long and he took on a backstage role within the company.
Some people are just born to dance.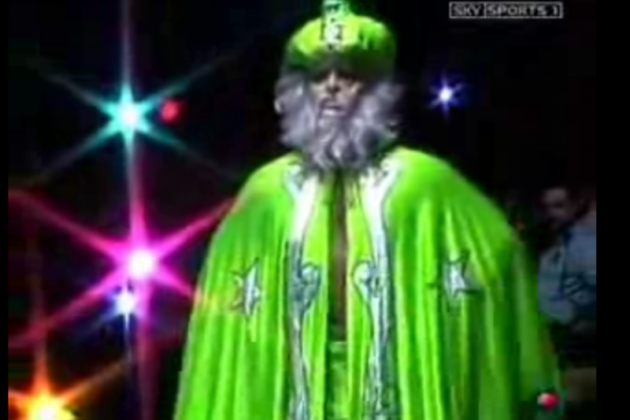 photo from zombiebloodfights.blogspot.com
Kevin Nash has had a few terrible names in his career (Vinnie Vegas anyone?), but he went from the relatively cool-sounding "Steel" to being repacked as "Oz."
Unfortunately, Oz wasn't a tough prison character like on the HBO show (which would have been amazing since the show didn't come out until years later).
No, this was Oz as in The Wizard of Oz.
The only thing Nash had to be thankful for was that Oz sounds slightly more menacing than "The Tin Man."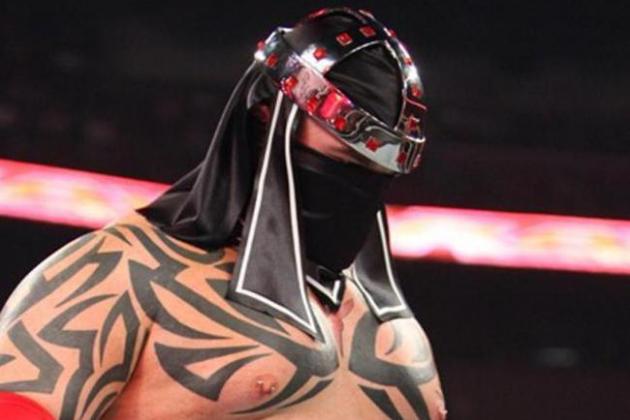 photo from wwe.com
Matt Bloom got a huge upgrade in the naming department when he went from Prince Albert to The A-Train.
Too bad we'd seen Albert jobbing for years, so even a shiny new name didn't get him very far.
He then disappeared from the company for over seven years until he returned...as a fat Japanese-looking guy.
The A-Train left the station and in his place was Lord Tensai.
For anyone who has watched Raw lately, Tensai (they dropped the "Lord" part after a few weeks) is basically a jobber these days.
Perhaps there's hope he can go back to A-Train before it's too late or maybe they'll just find something even dumber.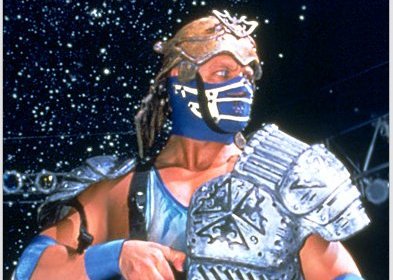 photo from ioffer.com
Glacier isn't the greatest name, as it's really just a big hunk of ice.
But Buzz Stern just sounds like a ridiculous, indy wrestling, high school coach gimmick, which is exactly what it was.
It was somehow even less successful than the Mortal Kombat rip-off character.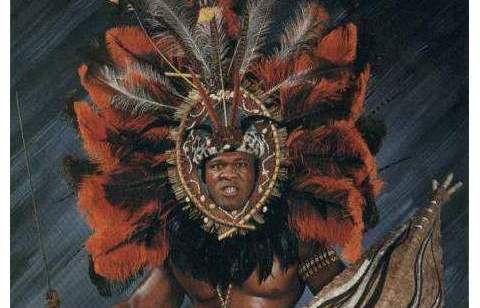 photo from ugo.com
After a long absence from the WWF, Tony Atlas made his grand return to the company in 1990.
He was no longer Tony Atlas though, he was now Saba Simba.
His character came from a tribe in Uganda. Not only was this new name much worse, it was pretty damn racist.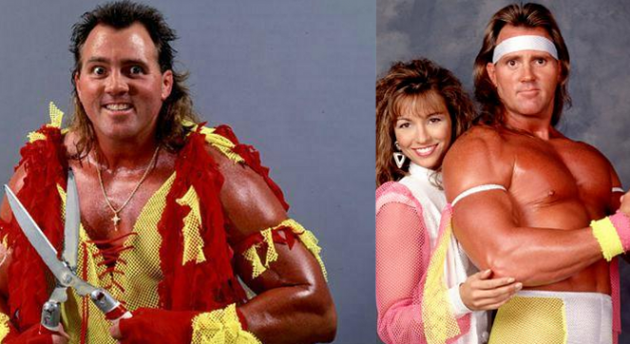 photos from kingscountnews.com and wwf4ever.de
Sure, playing a barber is a pretty one-note gimmick, but it was the only note that Ed Leslie could play.
Leslie had perhaps the biggest case of identity crisis in wrestling history after he joined WCW.
His good buddy Hulk Hogan got him a job in the company, but unlike Hulk, he didn't get to keep his name.
He became Brother Bruti which didn't last long, as he transformed into The Butcher. That name made the WWF a bit uncomfortable, so it was time for a new one.
WCW seemed like they were out of ideas and went with the catchy "The Man With No Name."
After that, it was one bizarre and random gimmick after the next.
It was like the South Park episode where manatees randomly strung jokes together for Family Guy.
None of these name stuck, and each one amazingly, against all odds, became progressively more stupid.
Finally, they settled on The Disciple (which granted, is actually less stupid than The Booty Man). But this gimmick only required him to stand there behind his friend Hogan while looking emotionless.
So apparently, Leslie can play two notes.