UFC and Fox Looking for Bright Future Including Possible Super Bowl XLVIII Card
Use your ← → (arrow) keys to browse more stories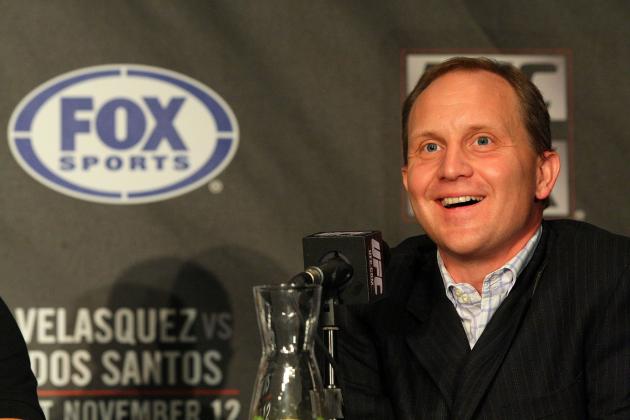 Victor Decolongon/Getty Images

The UFC and FOX are a little more than one year into the seven-year partnership and if one is to listen to UFC president Dana White and FOX Sports Media Group president Eric Shanks, things are going better than planned and only looking up.
The partnership has its doubters in the MMA community, with most of the naysayers pointing to what they perceive as lackluster ratings from the four events that have appeared on FOX since Nov. 12 of last year. To listen to Shanks, those folks have it all wrong:
The first year was really to get the mainstream advertiser base behind it and also to promote the UFC with the likes of the NFL and Major League Baseball and college football and make it part of a big FOX Sports portfolio, we've done that.

This is exactly where we thought we would be, if not ahead and with some of the things that we're talking about with Dana and Lorenzo (Fertitta, UFC CEO), this relationship is going to look different over the next two years, three years and it's only going to get bigger because you're going to get much more economic support from the advertiser base behind it and when that happens, this thing is going to be one of the top sports in the US on television.
The UFC will hold it's fifth event on FOX on Dec. 8 when it travels to the Key Arena in Seattle, Wash., to present a card headlined by a UFC title bout, something the promotion has not done since they debuted on FOX with the Cain Velasquez vs. Junior dos Santos bout. The Seattle event will feature lightweight champion Benson Henderson defending his crown against Nate Diaz.
In addition to a current champion fighting on the card, two former champions will step inside the Octagon in Seattle as BJ Penn faces Rory MacDonald and Mauricio "Shogun" Rua will meet Alexander Gustafsson.
As far as getting a championship bout on this card and the next FOX card, which will take place on Jan. 26, 2013 in Chicago, White said, that's just the way things shook out:
As far as timing, this is the way it lined up and the same thing with the (Demetrious) Johnson (vs. John Dodson title fight booked for Chicago) fight. I've always believed that you showcase these guys on free television and it helps build the sport, it helps build these fighters.
As for future plans, Shanks said that the UFC would play a bigger role with the FOX Sports group as time goes on, including the possibility of a card taking place on he weekend of Super Bowl XLVIII.
FOX will be televising the Super Bowl in 2014 from MetLife Stadium in East Rutherford, N.J., and to hear Shanks tell it, he would like nothing more than to have a UFC event to go with the biggest sporting event in the world:
We think that Super Bowl week in New York is going to be unlike anything else. We're going to own the city, we're going to own that week of sports television and there's nothing better we can think of than a big fight that week. We're talking to Dana and Lorenzo about that, we're seeing if they can put it together.
If the two sides can put a card together, it would make perfect sense to hold the event at the IZOD Center, which sits in the shadows of MetLife Stadium and has hosted UFC events in the past.
Then again, there's always the off chance that MMA will be legal in New York by that time, which could possibly open the door for the UFC to hold its first event in Madison Square Garden.
The Super Bowl and a UFC event in the Garden, one can dream, right?
**all quotes obtained by BR MMA from Tuesday's UFC on FOX media call