North Carolina vs Indiana: Live Score and Analysis for ACC-Big Ten Challenge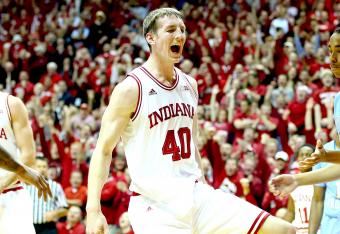 Final: Indiana 83, UNC 59
Andy Lyons/Getty Images
Game Analysis:
It never really seemed like North Carolina was in this one, despite the close score through most of the first half. Indiana was able to pull away in the final minutes of the half and never looked back.

The Hoosiers' defense was relentless, never allowing the Tar Heels to establish a rhythm on their half-court sets. To make matters worse for UNC, even when they had opportunities they would fumble the ball or miss the open jumper. Simply nothing was going right for Roy Williams' group.

It's actually surprising to see UNC only turned the ball over 12 times—it felt like 30. Carolina showed their youth and Indiana showed why they are the deepest team in the nation right now.

Cody Zeller led all scorers with 20 points. Victor Oladipo and Will Sheehey were right behind him with 19 points each. Jordan Hulls seemed to be the biggest difference maker in my book, though.
Hulls finished with only 13 points, but he seemed to hit the big three every time his name was called. He finished 3-of-5 from downtown. On top of that, the combo guard was able to drop eight dimes on the night.
Sheehey was also 3-of-4 from downtown and added four rebounds, two steals and one rebound to his totals.
The biggest difference in this game was transition and ball movement. UNC was sloppy in both areas, while Indiana executed to perfection.
The Hoosiers had 21 assists to the Tar Heels' eight.
Dexter Strickland was the leading scorer for UNC with 14 points on the night. The guy they were counting on, James Michael McAdoo, was 4-of-15 from the floor and 2-of-6 from the line. McAdoo finished with just 10 points.
McAdoo continues to struggle against tough defenses. I think it was way too early to hype him up to the level folks did this summer. He has a lot to work on.
Without P.J. Hairston, the Tar Heels desperately needed Reggie Bullock to show up, but shining glass was the only thing he was able to do efficiently tonight. Bullock finished with five points, nine boards, one steal and one assist.
There is some promise with this young UNC squad, but it was barely visible tonight. Meanwhile, Indiana proved why they deserve their top ranking.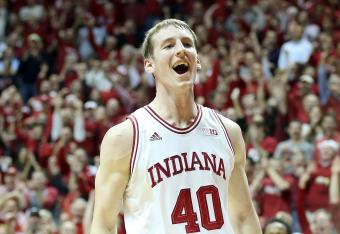 UNC 59, Indiana 83 (End of Game): The game finally comes to a merciful end. This was a great game to watch for Indiana fans, and a very painful one for fans of the Tar Heels.
UNC 55, Indiana 83 (2:14 2nd Half): Williams is working his freshman now, trying to get them some experience for the future. They definitely need it.
UNC 51, Indiana 83 (4:22 2nd Half): Will Sheehey buries another three in the corner. He is 3-of-4 on the night from deep.
UNC 49, Indiana 75 (6:44 2nd Half): I think it may be time for UNC to throw in the white flag after that three from Hollowell. Hulls penetrated deep and kicked it back out for the wide-open trey.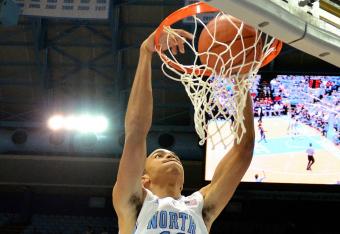 UNC 43, Indiana 68 (9:46 2nd Half): Paige dished an alley-oop to Brice Johnson. That may have been their best play of the night.

UNC 41, Indiana 66 (10:40 2nd Half): Indiana has been better in transition and is simply out-shooting Carolina in this game. Their defense has been superb to boot.
UNC 40, Indiana 66 (11:30 2nd Half): This isn't Butler, and I don't see Carolina coming back from this. They have been sloppy all night on both sides of the court.
UNC 40, Indiana 63 (13:13 2nd Half): Hoosier fans were chanting "airball" while Tokoto was at the line, mocking his earlier three-point attempt.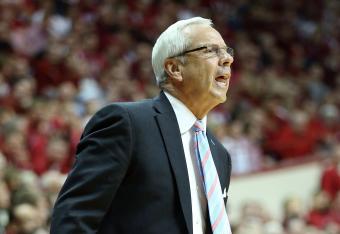 UNC 39, Indiana 63 (13:43 2nd Half): Roy Williams calls his first timeout of the half. This team desperately needed to regroup. We'll see if they can muster a comeback after this.
UNC 39, Indiana 61 (14:54 2nd Half): UNC just got their first bucket of the half, but not until after another Hulls three.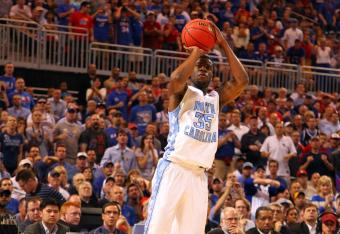 UNC 37, Indiana 56 (16:05 2nd Half): Reggie Bullock missed another three. Carolina is 1-of-5 tonight from downtown. Not only are they missing them, but Indiana's defense is limiting their looks.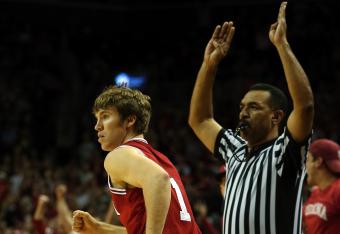 UNC 37, Indiana 54 (16:48 2nd Half): Hulls was left all alone at the top of the key, knocking down the three. This is where UNC will get buried if they continue to leave the wings open.
UNC 37, Indiana 49 (17:55 2nd Half): UNC is struggling to hit the few decent shots they have had tonight. Indiana's defense has them shaken.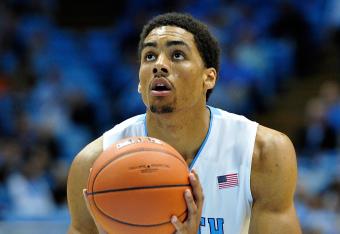 UNC 37, Indiana 46 (19:35 2nd Half): McAdoo must have had trouble seeing the basket after getting poked in the eye by Zeller. He missed both free throws on the foul.
UNC 37, Indiana 46 (End of 1st Half): Zeller and Oladipo lead the floor with 13 points each. McAdoo is UNC's leading scorer with 10 points.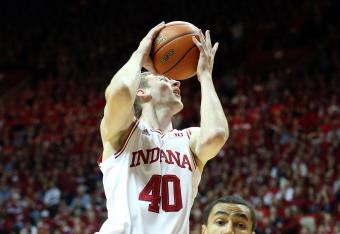 UNC 37, Indiana 46 (End of 1st Half): Cody Zeller owned the final minutes of the half. He put the cherry on top with a tip-in at the buzzer.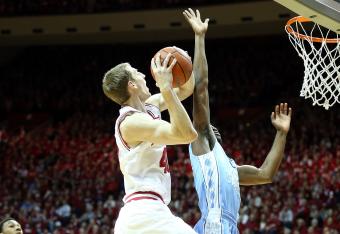 UNC 33, Indiana 42 (1:26 1st Half): Zeller just followed up his miss with an emphatic put-back jam. Indiana is starting to pull away.
UNC 33, Indiana 37 (2:20 1st Half): McAdoo is getting roughed up down low and threes aren't falling for the Tar Heels. It's pretty amazing they are even staying in this game.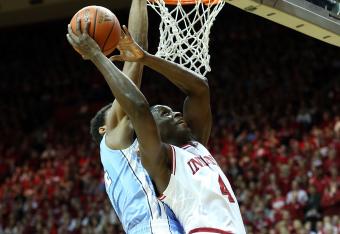 UNC 31, Indiana 35 (3:45 1st Half): Dexter Strickland picked up a flagrant and Oladipo was able to make both free throws.
UNC 25, Indiana 27 (6:17 1st Half): Great look from Zeller to Oladipo. He really has great vision for a big.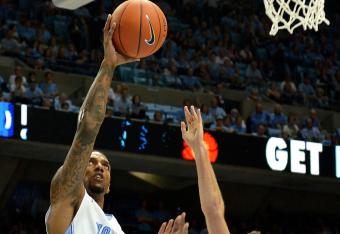 UNC 25, Indiana 25 (6:43 1st Half): Leslie McDonald gets penetration and a friendly roll on the lay-in.
UNC 21, Indiana 23 (7:53 1st Half): This game has been intense on both sides of the floor. Neither team looks dominant, but these two look like they will be sweating it out all night long.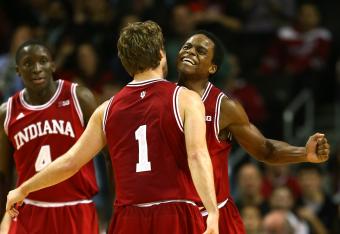 UNC 19, Indiana 20 (9:15 1st Half): Carolina's lead didn't last long. Hulls buried his first three to give the lead back to the Hoosiers.
UNC 19, Indiana 18 (10:09 1st Half): UNC just took their first lead off a Brice Johnson jumper. Johnson is already making his presence felt.
This article is
What is the duplicate article?
Why is this article offensive?
Where is this article plagiarized from?
Why is this article poorly edited?

UNC Basketball: Like this team?