Recently, two veteran figures in the world of combat sports ended their careers. British boxer Ricky Hatton hung up his gloves following a ninth-round knockout loss to Vyacheslav Senchenko, while UFC fighter Nick Denis decided he had enough MMA after 14 professional bouts.
Neither fighter needed to retire; there were still fights and money to be made for both. Nevertheless they decided to walk away, showing fighters, that you can turn your back on the bright lights, cheering fans and cash on your own terms.
Hatton, with only three defeats on his record, two of which came to Floyd Mayweather Jr. and Manny Pacquiao looked in the mirror after Saturday's fight, and even through his swollen eyes was able to see the time was right to walk away.
However, his words did give insight into what some fighters with deteriorating skills go through in their thought process. Hatton said, "If I don't draw a line in the sand now and call it a day on my boxing career, I'm never going to do it."
Hatton continued:
A fighter knows and I know it isn't there any more. It's too many hard fights, I've burned the candle at both ends, I've put my body through the mire in and out of the ring but it doesn't matter how hard I train, I couldn't have done any better.
Hatton makes a good point, a fighter knows when it's time to walk away, sadly too many don't do so at the right time, a fact that Hatton alluded to when he said if he didn't walk away now he never would.
A fighter will always remain a fighter; the never-quit attitude is an integral part of a fighter's makeup. The thinking that they can get back in there for one more fight, one moment in the spotlight, one more chance at a title, one more payday, keeps too many fighters from drawing that line in the sand.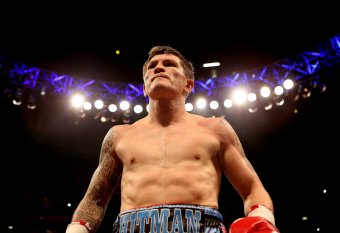 Scott Heavey/Getty Images
As long as there's a promoter willing to make a buck off that fighter's name and past accomplishments, they will find a fight. We are seeing it now as the early wave of mixed martial artists are getting up there in age and finding they are not the fighters they once were.
The will is there and sometimes the victories do come, but all too often it feels like fans are seeing an imposter play out the string of a once admirable career.
Nick Denis didn't want to be one of those fighters. He took a look at his career and prospects for a healthy life once out of the fight game and walked away, just two fights and a little more than five minutes of fight time into his UFC career. A career that saw him debut with a memorable 22-second Knockout of the Night performance over Joseph Sandoval.
For Denis, the lure of fighting out his five-fight contract with the premier organization didn't outweigh his fears of what he was doing to his brain every time he took a shot in a fight or while training, so he walked away, a process he detailed in his blog.
Some will point out, and rightly so, that Hatton and Denis have fallbacks. Hatton is a boxing promoter and Denis was a PH.D. candidate in biochemistry before he elected to put that career on hold to become an MMA fighter. They both are going to be fine.
Which brings up another point, too many fighters don't plan for the end of their careers, they feel there will always be one more fight. Tomorrow will come for everyone and to not plan for that inevitable day is something that needs to be avoided at all costs.
Ricky Hatton and Nick Denis have shown fighters can walk away at the right time, more fighters should put pride to the side and follow suit.