6 Surprise 2012-13 NBA Teams That Will Be Buyers at the Trade Deadline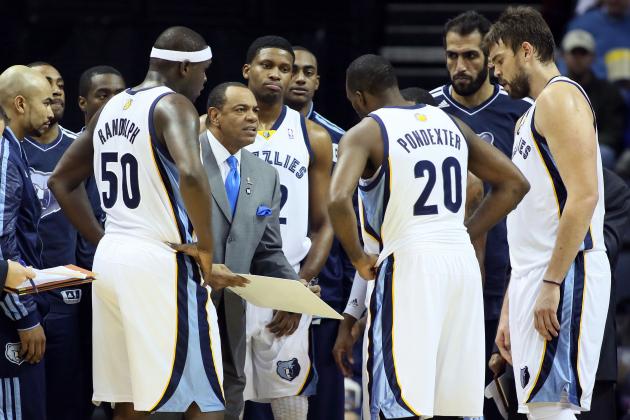 Nelson Chenault-US PRESSWIRE

The NBA trade deadline is months away, but the stage is already being set for which teams' squads will be ones to watch once the negotiations begin. A few teams have gotten off to good starts, and assuming they maintain consistency, they will look to make a deal or two as the deadline draws nearer.
The Memphis Grizzlies are one of these teams, having started the season 10-2. Their tenacity on defense and offensive approach are highly respectable, but their lack of overall depth is a cause for concern. The team has no reliable shooting guard and relies heavily on Rudy Gay and a combination of Zach Randolph and Marc Gasol to produce most of the scoring. On top of that, the team has no sixth man.
The same can be said about the Houston Rockets, despite their slow start. Carlos Delfino is the closest player they have to a sixth man, but he is currently injured and his overall production can be highly unpredictable. If Houston is to make a run, it needs more depth.
That said, though the trade deadline is far away, GMs like Daryl Morey, Chris Wallace and others should not be shy about starting their research now. Just one move can make a difference as the playoffs draw closer.
Begin Slideshow

»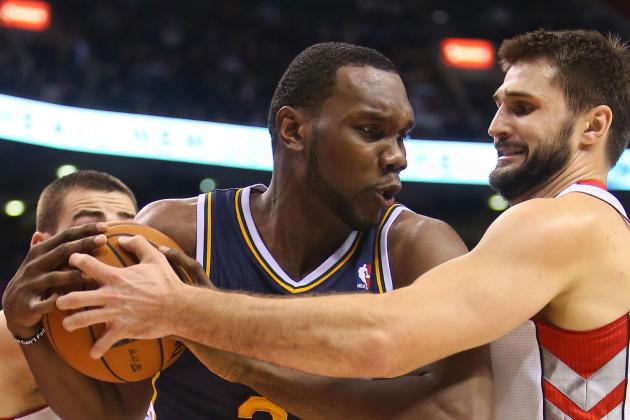 Tom Szczerbowski-US PRESSWIRE

One thing that often happens during the trade deadline is teams trading star players that are about to hit free agency. This ensures that they will receive something in return for a top contributor, rather than let him test free agency and risk losing him for nothing.
The Jazz could very well be one of those teams this year as they look to get back to the postseason. The team needs a lot of help at shooting guard and has two big men in Al Jefferson (pictured) and Paul Millsap, both of whom will hit the open market this summer.
Assuming that the 8-7 Jazz maintain pace in the Northwest Division and find themselves on the verge of or in the playoffs come deadline time, it is likely that at least one of these men will be dealt. Both are fine scorers and rebounders, so teams that need frontcourt help and have too many guards will surely give Jazz GM Dennis Lindsey a call about his prize bigs.
Utah just barely made the playoffs last year. If it can make it again this year and a trade gives the team an extra push, look for Lindsey to pull the trigger.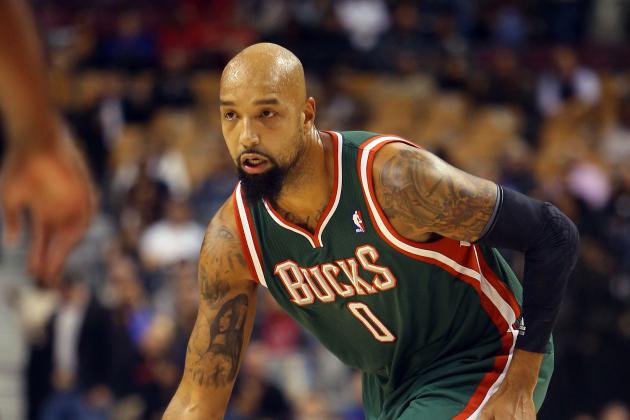 Tom Szczerbowski-US PRESSWIRE

The Bucks have taken full advantage of the Chicago Bulls being without Derrick Rose, and currently stand 7-5 and in first place in the Central Division. Though Scott Skiles runs a defensive system, Milwaukee's frontcourt could use some help, particularly at power forward.
John Henson has a bright future, but is still raw and needs to develop his game a bit more before becoming a regular. Ersan Ilyasova, despite signing a $45 million contract over the summer, has been inconsistent all season.
GM John Hammond should look to acquire some help at the 4, but should not trade either Henson or Ilyasova. Rather, he should look to find any takers for veteran Drew Gooden's contract. Ever since signing a five-year deal back in 2010, Gooden has been oft-injured and an ineffective defender.
Trading Gooden is easier said than done since he is due about $20 million over the next three years, but Hammond should be able to find a buyer so long as younger players like Tobias Harris and/or Doron Lamb are included. It's a tough sell, but one that's just tough enough to pay off.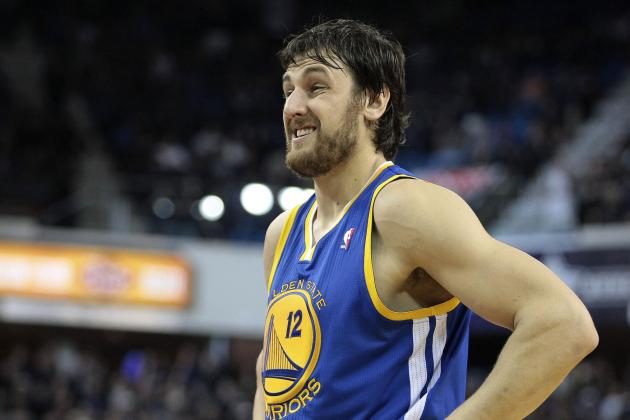 Kelley L Cox-US PRESSWIRE

The Warriors thought they were getting a much-needed center when they acquired Andrew Bogut at last year's trade deadline, but he has been nothing short of a disappointment this season. Bogut has appeared in just four games due to his surgically-repaired ankle still hurting, and the Warriors could use help at the position despite sharing a tie for first place in the Pacific Division.
GM Bob Myers has plenty of trade chips on the roster, from the expiring contracts of Jarrett Jack and Richard Jefferson to youngsters Draymond Green and Charles Jenkins. The center he pursues doesn't necessarily have to be an A-lister, but one who is capable of playing starter minutes and providing solid defense in the paint.
If Golden State can maintain its pace in the division and keep the Los Angeles Lakers at bay, not to mention get Bogut back healthy and still make this trade, the Warriors will look all the better come playoff time. All Myers needs to do is dangle some players in front of other GMs and wait to see which ones bite at the bait.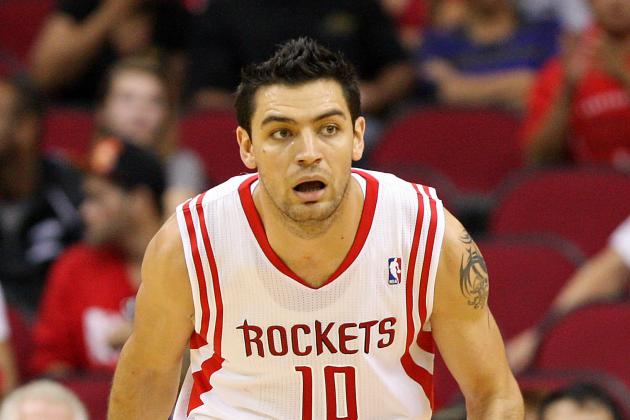 Troy Taormina-US PRESSWIRE

As a run and gun team, the Rockets tend to rely a bit to heavily on their starters for most of the offensive production. This has been an issue this season for a couple of reasons.
First, point guard Jeremy Lin has been disappointing after signing a three-year, $25.1 million deal in July. More importantly, Houston's bench is iffy at best and has no sixth man.
The closest thing to a sixth man the Rockets have is Carlos Delfino (pictured), whose best attributes are his defense and three-point shooting. He is currently out with a groin injury and has averaged just 8.1 points per game this season in 23.6 minutes. Even his scoring has been hit or miss, as he has shot just 33 percent from the field and 32 percent from long range.
The only other reliable offensive player is shooter Daequan Cook, who is slowly becoming a non-factor and is averaging just 10.5 minutes per contest.
In short, the Rockets need two things: a bench player who can enter the game at any time and provide solid scoring, and a reliable backup point man whose name is not Toney Douglas. The sad part is that GM Daryl Morey already lost his best trade chip in Kevin Martin, who was sent to the Oklahoma City Thunder for James Harden.
Thus, he will have to pull out all the stops to make a trade happen come the deadline, be it trading more draft picks and rookies (i.e. Terrence Jones) or getting a third team involved. No matter how you look at it, assuming the struggles don't disappear, Houston will be looking to buy hard at the trade deadline in order to make that push for the playoffs.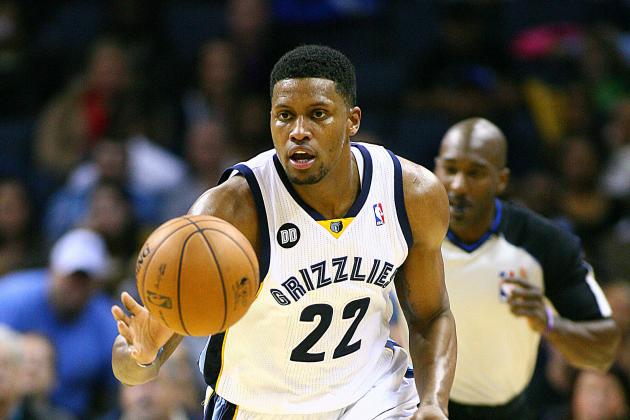 Spruce Derden-US PRESSWIRE

Memphis is off to a great start, but lacks the bench depth to go far in the playoffs, not to mention a shooting guard who can actually score points and not just play defense. Nothing against Tony Allen, but his offensive game pales in comparison to his stellar defense. A change needs to be made if the Grizzlies are going to make noise in the playoffs.
All that the team really needs is a go-to guy for Rudy Gay. Zach Randolph and Marc Gasol can fill these roles easily, but what if one or both of them is having a rough night? Who on the team's current bench can come in and consistently score a good number of points night after night?
Making a trade will prove to be a tough task for GM Chris Wallace, whose only real trade chips are Allen and draft picks. Still, Memphis has done nothing but improve the past two seasons. This season has been a giant step forward for them, and they'll need to make a deal at the deadline so as not to take a step back.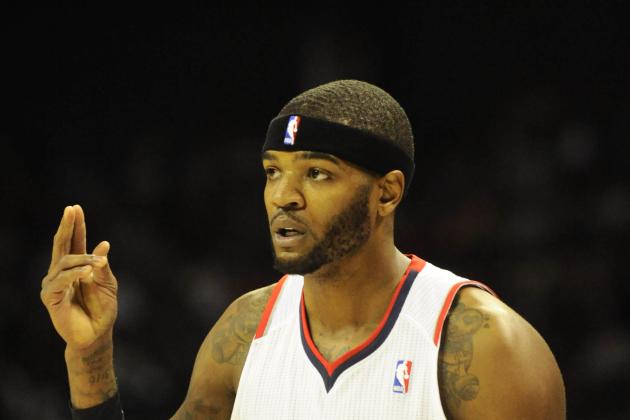 Sam Sharpe-US PRESSWIRE

On paper, the Atlanta Hawks are a young and feisty team capable of going far in the playoffs. The problem is that ever since returning to contender status in 2009, the team has struggled to get past the second round of the playoffs. This is primarily because the team is still young and lacks the veteran playoff experience to carry them that extra step forward.
This season, GM Danny Ferry has a distinct advantage heading into trade season. He has, quite possibly, the best trade chip in forward Josh Smith. The athletic power forward is averaging 15.2 points, 7.1 rebounds and 2.1 blocks per game, and his contract is up at the end of the season.
Smith has expressed his desire to be traded before, but to no avail. This time, with free agency looming, Ferry would be wise to listen to offers. Atlanta needs a consistent shooting guard and assuming Smith is part of any deal, the team will also need a forward or center, not to mention a good number of draft picks.
Smith has never played in an All-Star game, but his overall talent is undeniable. He is the type of power forward most coaches and executives can only dream of, with his ability to score points and also play good defense.
Should he become available, the offers will fly in. Assuming the Hawks are still making some noise in the Southeast Division, Ferry will have little choice but to pull the trigger on the deal he likes best.