NFL Playoff Picture Week 13: Updated Odds and Projections for Every Seed
Mark L. Baer-US PRESSWIRE

Your favorite team's darkest days are looming, and just when you think it's got no chance, it goes out and wins a big game in Week 12. That's the beauty of the NFL.
The old adage that "on any given Sunday" any group of football players can pull off an upset is truly what makes this game so incredible.
As the playoffs get closer, the picture of who will be competing in the postseason gets clearer and clearer. Take a look at some odds and projections with my own twist for what to expect.
Use the key below as a guide as you navigate through the following slides. This should help make sense of things to follow, especially if you missed last week's edition.
("+" or "-" denotes change from last week, either up [+] or down [-])
It's in the bag: 95-100 percent
Very likely: 80-94 percent
Strong possibility: 65-79 percent
Possible: 50-64 percent
Outside looking in: 35-49 percent
Playoffs? Don't talk about no playoffs!: 10-34 percent
No, just no: zero-to-nine percent
Begin Slideshow

»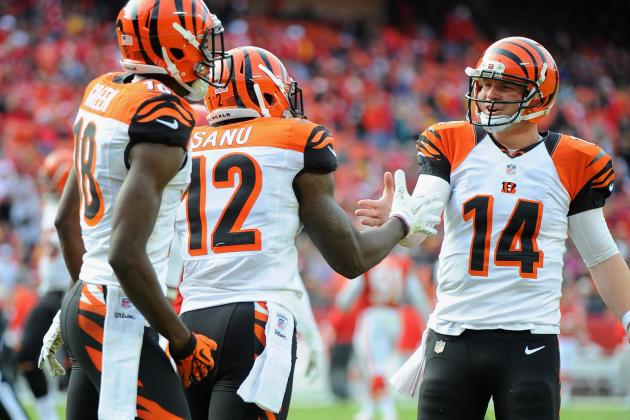 Denny Medley-US PRESSWIRE

The AFC playoff race is really a seven-team sprint towards the finish line.
Four of those teams are pretty much postseason locks at this point. If the Denver Broncos and New England Patriots win, they will clinch division titles. The other two, the Houston Texans and Baltimore Ravens, will clinch playoff appearances, but not their respective divisions with a win in Week 13.
New England plays divisional-rival Miami this week and will secure not only a playoff berth but the AFC East title in the process with a win. The Pats have been the same old Pats this season behind Tom Brady leading the charge. No matter who is in that offense, or defense, for that matter, Brady has withstood the test of time and continues to be on the of best in the game.
Denver has had a relatively easy schedule up until this week, when the 6-5 Tampa Bay Buccaneers come to town. The Broncos have still won six consecutive games, but all but one have come against teams with a losing record. A win against the Bucs this week would dispel all doubt about how deep this Broncos team is capable of going in the postseason.
Baltimore has a date with the Pittsburgh Steelers this week. These two teams met in Week 11 and it took a Jacoby Jones punt-return touchdown for the visiting Bengals to usurp the Ben Roethlisberger-less Steelers. Home-field advantage is important for the Ravens, who have not lost a home game since Week 13 of the 2010 season against the Steelers. Wouldn't it be something if the Steelers could somehow walk out of Baltimore, two years later, with the first win at M&T Bank Stadium since their last win?
The AFC South-leading Houston Texans are well on their way to the playoffs and will likely clinch their berth in Week 13 against a Tennessee Titans team that they dismantled, 38-14, in Week 4. Pass defense has been somewhat of a concern, and that may come back to haunt them come playoff time. They'll get their first look at Tom Brady and Andrew Luck in the coming weeks. Both quarterbacks have a chance of meeting the Texans in the playoffs.
Then there's the wild-card race. As much as we'd like to think the Buffalo Bills or New York Jets have an outside shot at the final wild-card spot, it just isn't very likely. The race for the final two playoff spots has narrowed to three teams: the Pittsburgh Steelers, Miami Dolphins and Cincinnati Bengals.
Sure, the Miami Dolphins have looked good at times, winning a big Week 12 game against the Seattle Seahawks to stay in the hunt, but their inconsistency coupled with a tough remaining schedule makes them virtually a lock to miss the postseason. The Fins have upcoming games at home against the Patriots, at San Francisco and another at New England.
The Bengals are perhaps the biggest "wild card" in this year's wild-card race. After losing four straight games before its bye week, Cincinnati has jumped back into playoff contention with three straight wins. There's no telling which Bengals team is going to show up from week to week, but the one that's been out there lately has looked like a playoff-caliber team.
A Week 16 showdown with the Pittsburgh Steelers at Heinz Field may determine the final wild-card spot.
Speaking of the Steelers, they are currently in free-fall mode. Without Ben Roethlisberger behind center, the team has started on a downward spiral with no end in sight. If the star quarterback misses this week against Baltimore, the team may find it hard to maintain pace with the Bengals in the wild-card race even after he returns.
AFC South
Houston Texans (10-1)
Playoff Odds: It's in the bag
Indianapolis Colts (7-4)
Playoff Odds: Very likely (+)
Tennessee Titans (4-7)
Playoff Odds: Playoffs? Don't talk about no playoffs!
Jacksonville Jaguars (1-10)
Playoff Odds: No, just no
AFC West
Denver Broncos (8-3)
Playoff Odds: It's in the bag
San Diego Chargers (4-7)
Playoff Odds: Playoffs? Don't talk about no playoffs! (-)
Oakland Raiders (3-8)
Playoff Odds: No, just no
Kansas City Chiefs (1-10)
Playoff Odds: No, just no
AFC North
Baltimore Ravens (9-2)
Playoff Odds: It's in the bag (+)
Pittsburgh Steelers (6-5)
Playoff Odds: Possible
Cincinnati Bengals (6-5)
Playoff Odds: Possible
Cleveland Browns (3-8)
Playoff Odds: No, just no
AFC East
New England Patriots (8-3)
Playoff Odds: It's in the bag
Miami Dolphins (5-6)
Playoff Odds: Outside looking in (+)
NY Jets (4-7)
Playoff Odds: Playoffs? Don't talk about no playoffs! (-)
Buffalo Bills (4-7)
Playoff Odds: Playoffs? Don't talk about no playoffs!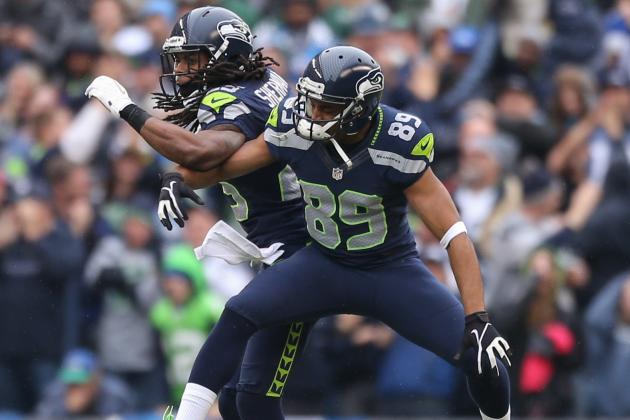 Otto Greule Jr/Getty Images

Just when you count the New York Giants out, they come off their bye week and put a beat-down on one of the best offensive teams in the NFL. Eli Manning and the Giants didn't just beat the Green Bay Packers on Sunday Night Football; they sent a message.
This week, they have another message to send. A win over divisional-rival Washington would effectively end the playoff hopes of the Redskins and put the Giants in the driver's seat of the NFC East. Can they pull it off? It took a last-second prayer from Eli Manning to Victor Cruz to knock off the Skins in Week 7.
The Dallas Cowboys, reeling from a loss to the Redskins on Thanksgiving, are likely hoping the Skins can pull off the upset as well. Dallas has a tough remaining schedule, but could be playing for a wild-card spot against Washington in Week 17 if everything falls into place.
Speaking of the wild-card race, how about them Seattle Seahawks? Fresh off a loss to the struggling Miami Dolphins, the Hawks are no longer a lock to reach the postseason. Plus, they could be playing without both standout cornerbacks, Brandon Browner and Richard Sherman, who are facing four-game suspensions for PED violations. Sherman is fighting the accusation, citing that he drank a teammate's Adderall "by accident," according to Mike Garofolo of USA Today.
Tampa Bay is coming off of a disappointing loss to divisional-rival Atlanta and in desperate need of a win against the 8-3 Denver Broncos in Week 13. They're depleted all over their roster, though, losing defensive backs to suspensions and key offensive and defensive linemen to injuries. That's led to a weak pass rush that's accumulated just 18 total sacks through 11 games. It's also attributed to opposing quarterbacks' ability to pick apart their weak secondary. It's certainly not making things easy for them, that's for sure.
Minnesota started out hot, winning four of its first five games. The Vikes also scored a big, unexpected win over the San Francisco 49ers, but have cooled off recently. They've won just two of their past six games, including a significant tie-breaking loss to the Bucs in Week 8. Minnesota can run the football as well as anyone, but quarterback Christian Ponder has struggled behind center. That's been especially true due to the absence of Percy Harvin for the past two games because of an ankle injury.
NFC East
New York Giants (7-4)
Playoff Odds: Very likely (+)
Dallas Cowboys (5-6)
Playoff Odds: Possible
Washington Redskins (5-6)
Playoff Odds: Possible (+)
Philadelphia Eagles (3-8)
Playoff Odds: No, just no
NFC North
Chicago Bears (8-3)
Playoff Odds: Strong possibility (+)
Green Bay Packers (7-4)
Playoff Odds: Strong possibility
Minnesota Vikings (6-5)
Playoff Odds: Possible
Detroit Lions (4-7)
Playoff Odds: Playoffs? Don't talk about no playoffs! (-)
NFC West
San Francisco 49ers (8-2-1)
Playoff Odds: It's in the bag
Seattle Seahawks (6-5)
Playoff Odds: Strong possibility
St. Louis Rams (4-6-1)
Playoff Odds: No, just no
Arizona Cardinals (4-7)
Playoff Odds: No, just no
NFC South
Atlanta Falcons (10-1)
Playoff Odds: It's in the bag
Tampa Bay Buccaneers (6-5)
Playoff Odds: Strong Possibility
New Orleans Saints (5-6)
Playoff Odds: Possible
Carolina Panthers (3-8)
Playoff Odds: No, just no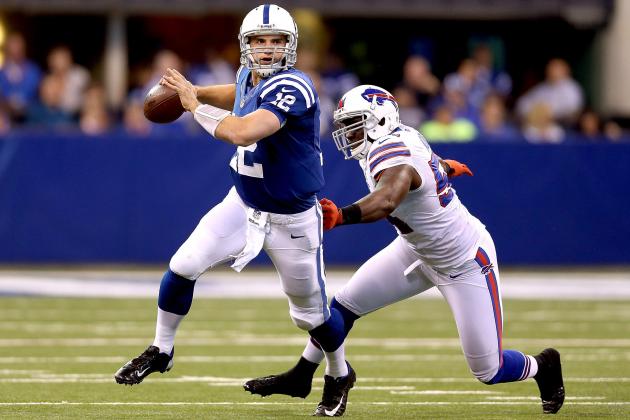 Matthew Stockman/Getty Images

Ultimately, the Pittsburgh Steelers are the better football team and will make the playoffs over the Cincinnati Bengals. Once Ben Roethlisberger is back in the lineup, the team takes on a new dimension. They're well-versed in winning in December and will overcome the midseason surge by the Bengals to secure the final playoff spot.
Cincinnati has proved to be inconsistent at best this season. It has also struggled against winning teams, which helps explain that inconsistency. The Bengals' six wins have come against teams with a combined record of just 21-45. Their five losses came against teams with a combined 31-24 mark. Two of those losses were against teams with losing records: Cleveland (3-8) and Miami (5-6).
It hasn't been pretty at times for the Indianapolis Colts, but they've gotten the job done in an improbable season with rookie quarterback Andrew Luck leading the charge. Their schedule looks difficult down the stretch, but there isn't a game on it they don't have a chance of winning. They play Houston twice, including in the final week.
The Texans will likely be resting their starters for the playoffs, and that should be enough to get the Colts into the postseason just one season after a 2-14 finish.
Talk about a turnaround.
Speaking of the Texans, they have two remaining games against those Colts and a three-game lead in the division over them. If Houston falls to the Patriots and the Colts continue to win, that season finale could actually be for the AFC South division title. While it's unlikely, stranger things have happened. The Texans have proved to be vulnerable to teams that throw the football.
The rest of the conference is pretty predicable at this point. Denver is surging, but should not be able to catch the Texans for the No. 1 seed, and the Ravens should drop their Week 15 matchup with Denver to fall to the No. 3 seed.
Of the projected division winners, New England has perhaps the most difficult schedule down the stretch. The Patriots are battling injuries, but will still pull through, winning the division and securing a playoff spot.
Projected AFC Playoff Seeds
1. Houston Texans
2. Denver Broncos
3. Baltimore Ravens
4. New England Patriots
5. Indianapolis Colts
6. Pittsburgh Steelers
Just Missing the Cut
Cincinnati Bengals
Chris Graythen/Getty Images

Two teams went out in Week 12 and proved a couple of things to the world.
First, the Atlanta Falcons went into Raymond James Stadium in Tampa Bay and stole a win from the surging Tampa Bay Bucs. Not only did that win virtually guarantee a playoff appearance, but it basically secured the division. The No. 1 seed is still a work in progress, but it's finding ways to win and that's what matters.
Speaking of the Bucs, their road to the playoffs is not going to be easy. They have remaining road games against the Denver Broncos, New Orleans Saints and Atlanta Falcons. Although, the Falcons could hypothetically have the No. 1 seed locked before their Week 17 matchup. This could benefit the Bucs if they are still in contention during that final-week matchup.
Secondly, the New York Football Giants bounced back after their bye week to shock the red-hot Green Bay Packers in Week 12. That surprised everyone, but at the same time, no one. We've all seen this type of thing out of the Giants in the past. Just when you think they're slipping, they come out and put on a clinic on both sides of the ball against one of the top teams in the NFL. They will be a big threat once the playoffs kick off.
The San Francisco 49ers made a statement against the high-powered New Orleans Saints offense. Drew Brees played well, but the Niners proved that it takes both offense and defense to win football games in the NFC. Brees was harassed all game and sacked five times, and threw two interceptions as a result. Both picks culminated in 40-plus-yard touchdown returns. That ended up being more than enough to be the difference in the game. If the Niners' defense is still playing at a high level down the stretch, there won't be a team that can hang with their style of hard-nosed running and physicality on the other side of the ball.
Green Bay should be worried about the Chicago Bears, but could have the opportunity to end the Bears' NFC North-title aspirations in a big Week 15 matchup at Soldier Field. Four of the Pack's five remaining games are against NFC North opponents, giving them control over their own destiny. Two wins over the Vikings and one over the Bears would more or less guarantee a playoff spot for Green Bay.
Chicago's road to the playoffs lies in their ability to navigate through a pretty tough remaining schedule. They have games on the horizon against Seattle (Week 13) and Minnesota (Week 14). Wins in both of those contests would distance themselves and give them a nice cushion in the wild-card race as they approach their Week 15 matchup with the Packers. Even if they lose out on the NFC North, which they likely will, they'll still have a good shot at the Wild Card.
Seattle is a very inconsistent team that relies heavily on defense and running the football. When that plan doesn't work, turning to quarterback Russell Wilson has returned mix results this season. Marshawn Lynch was shut down by the Dolphins last week, illustrating that point. If cornerbacks Richard Sherman and Brandon Browner miss significant time, the Seahawks' remaining schedule, which once looked manageable, could end up being their undoing.
Lastly, the Minnesota Vikings are not playoff contenders. Their remaining schedule is one of the hardest in the NFL, with two games against Green Bay, another against Chicago and one against the Houston Texans. It will take a miracle for them to come out on the winning end of that lineup.
Projected NFC Playoff Seeds
1. Atlanta Falcons
2. San Francisco 49ers
3. Green Bay Packers
4. New York Giants
5. Chicago Bears
6. Tampa Bay Buccaneers
Just Missing the Cut
Seattle Seahawks
Follow me on Twitter for NFL and other breaking sports news and analysis: