4 Areas Klay Thompson Must Improve on This Season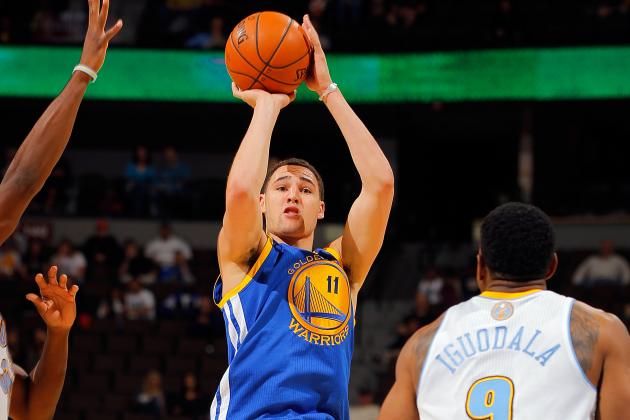 Doug Pensinger/Getty Images
Klay Thompson had a very successful rookie season and is looking to build on his excellent play in 2012.
There's little doubting that Klay Thompson has thus far lived up to his billing as the 11th overall pick in the 2011 NBA Draft. Thompson has proven he has the ability to score as well as anyone and can be a leader on a team that needs it more than most.
But Thompson's overall production with Golden State is not without flaws. The guard is still young, still has much to learn and must improve as quickly as possible on the fly due to his increased minutes on the court.
On a team filled with youth, Thompson can rise up and become a leader. Once he irons out all the kinks, he should be a fine player in the NBA and fashion a nice career in Golden State. There are still aspects of his game that need work, but his future is bright.
Begin Slideshow

»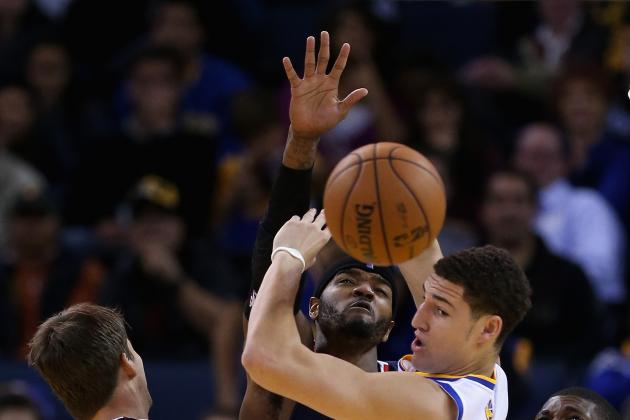 Ezra Shaw/Getty Images
Thompson has struggled with shooting percentage in 2012.
Most young scorers tend to struggle with shot selection, especially shooting guards like Thompson. But there comes a point when you have to improve, and that time has arrived for the second-year player.
Thompson shot around 40 percent in college, though he was very good in his rookie year, knocking down 44 percent of his shots. He has regressed this year, hitting on just 37 percent and really struggling from beyond the arc at 32 percent.
The issue is Thompson's reliability on the jump shot. According to 82games.com, Thompson shoots jumpers on 80 percent of his shot attempts. That leads to bad shots and poor looks at the hoop.
It's understandable why Thompson shoots from distance so much: He's a guard and he's a young player. But he'll never become great if he's a one-dimensional threat on offense. If he doesn't improve his efficiency, he'll be destined for the bench.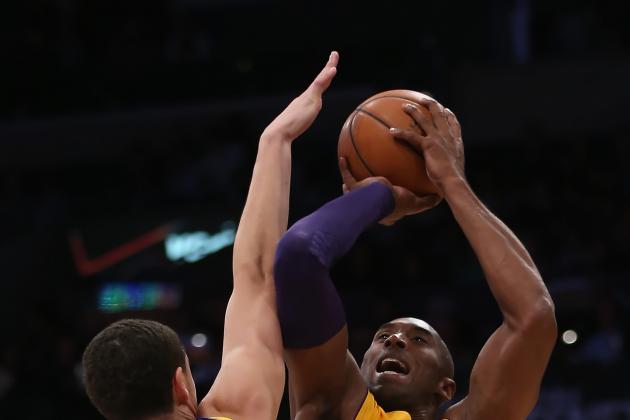 Jeff Gross/Getty Images
The numbers don't lie: the Warriors are a better defensive team without Thompson on the floor.
Klay Thompson is bad at defense. There's no question about it. He just seems disinterested and his performance on that end of the floor has decreased even more since his rookie season.
The number that really stands out is the Warriors' plus-minus rating when Thompson is on the court. According to 82games.com, he plays 69 percent of a given game and the Warriors give up more points than they score, an average of minus-2.3 per 48 minutes.
It appears as though Thompson is nothing more than a scorer on a bad defensive team. If he wants to make a legitimate career out of his skills, he's going to have to put a lot more effort in on defense. Sooner or later, the Warriors will catch on to his ineptitude and realize that they are simply better without him.
Thompson will cost himself a lot of money if he refuses to improve. Many great players have had to make offensive sacrifices in the name of defense, and Thompson will have to make those sacrifices.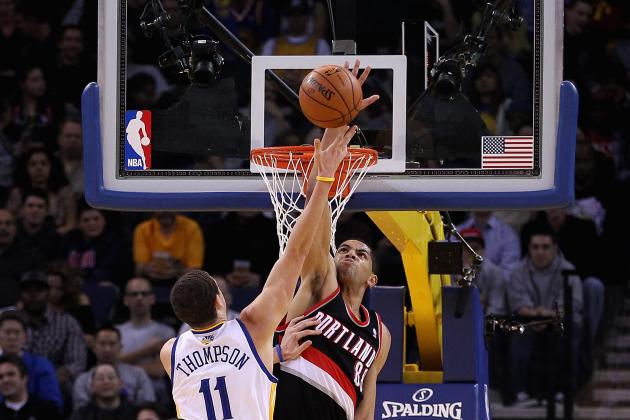 Ezra Shaw/Getty Images
If he wants to be a more consistent scorer, Thompson must become more than just a jump shooter.
It's not usually assumed that drawing fouls is something one needs to be good at, but the pressure to have the ability to find contact rises when you have the status of "scorer."
Thompson is one such player. He's not at a 20-point per game average yet, but he's getting there. Or, he could be there already if he knew how to draw fouls. Right now, Thompson averages 2.4 free throw attempts per game, a number that is embarrassingly low for someone who prides himself on putting the ball in the basket.
Most big-time scorers find probably a third of their points at the charity stripe. The ability to draw fouls and make free throws is what separates a 25-point guy from a 20-point guy. It's an important part of being a legitimate scoring threat.
If Thompson wants to be looked at as a guy who can be a consistent weapon on the offensive side of the ball, he must learn to get physical. He won't make an impact if he keeps shooting jump shots for the rest of his career.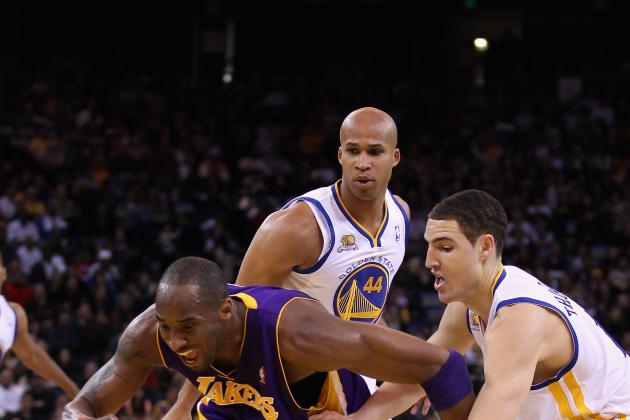 Ezra Shaw/Getty Images
Thompson turns the ball over more than he should, and he must improve if he wants to stay on the floor.
Thompson's issues with turnovers isn't dire, but keeping possession of the ball is still something he needs to improve on if he hopes to become an All Star-caliber player in the future.
At Washington State, Thompson's turnovers per game increased with each year he played. That somewhat disturbing trend has continued in the NBA, where he is averaging half a turnover more per game than last season. That may not seem like much, but it is in the long run.
The one positive is that Thompson's turnovers haven't exactly skyrocketed since he became a full-time starter. So while he had the chance to get much worse, he only got slightly worse. That's something to build on.
Ultimately, most scorers have issues with turnovers because they handle the ball more. But this is still something Thompson must fix soon.