Real Madrid Transfers: The Best Player to Pair with Cristiano Ronaldo in January
Denis Doyle/Getty Images

Jose Mourinho has seen his Real Madrid team slip to 11 points behind leaders Barcelona following their latest defeat, and could well look to the January transfer market to spark a comeback over the second half of the season.
Cristiano Ronaldo is the main man at the Santiago Bernabeu and rightly so. Whoever does come into the club needs to be able to both work alongside the Portuguese star and also let him shine at what he does best.
Finding such a player is not the easiest of tasks, though.
Mourinho, and his team of scouts, have their work cut out to identify and bring in the man who can aid the team and Ronaldo in order to turn the season around.
To that end, here's who they should be looking at signing.
Begin Slideshow

»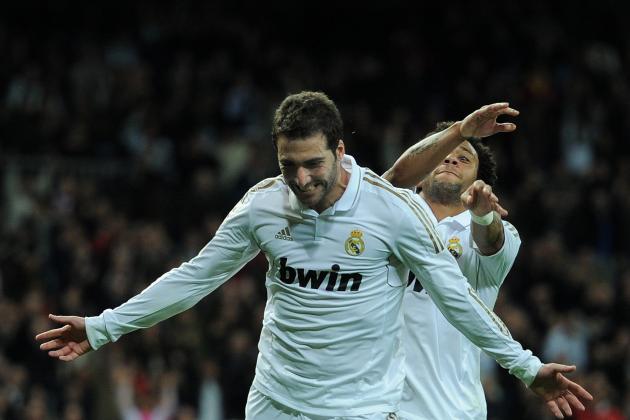 Jasper Juinen/Getty Images

It's Real Madrid; despite "languishing" in third place in La Liga right now, they are a formidable team with huge strengths in depth at most positions.
There aren't all that many areas of the team which could be significantly strengthened.
In terms of linking up with Cristiano Ronaldo, there are three options: Central midfield, striker and left-back.
With Ronaldo operating from the left side of the attack, cutting infield and running centrally inside the left channel more often than not, those are the three areas of the side which he interacts most often, and therefore can help get the best out of him.
On the overlap, the left-back position can offer Real width in attack, pace after the turnover of possession and ensuring that Ronaldo is free to exploit any spaces centrally.
The central midfielders are of course the players who would most often be looking to play the ball to him—but with Xabi Alonso, Sami Khedira, Mesut Ozil and Luka Modric already in place, it is doubtful there is much improvement to be had here in the immediate future.
Karim Benzema is possibly the better all-rounder from the forward line over Gonzalo Higuain, but the Argentine remains the first choice for Mourinho, scoring seven goals from seven starts in La Liga compared to two in five starts (and six as sub) from the Frenchman.
Morata and Callejon provide further depth in that area of the pitch, though neither can lay a genuine claim to being the solution right now.
Left-back then, with the injuries and inconsistencies suffered by Marcelo and Fabio Coentrao this season, is where Mourinho should be looking.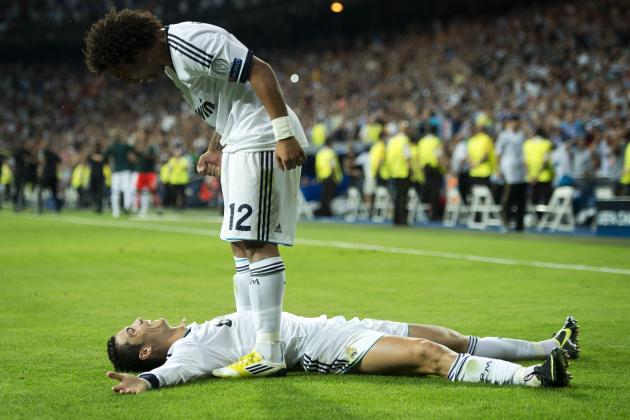 Jasper Juinen/Getty Images

The modern full-back is required to do much more than merely defend.
In saying that, Real Madrid certainly need their defenders to have that capacity too; between Arbeloa, Ramos, Pepe and Marcelo their first-choice back four average more than two tackles per game each.
Marcelo makes the fewest in that particular category, and also lags behind his teammates in making interceptions and clearances.
Jose Mourinho could do with an upgrade defensively on that flank, though it is important to acknowledge that these statistics should be taken in context; down the opposite flank Arbeloa might be getting more protection and assistance from Angel Di Maria, for example, than Ronaldo affords Marcelo.
On the other hand, Coentrao consistently rates above Marcelo in these defensive areas—though he has amassed just four league games this season to take as a sample.
Going the other way, ability on the ball is just as important.
Real Madrid look to the left-back to overlap down the flank, widen the pitch in attack and commit opposition full-backs wherever possible. When that happens, Ronaldo is more likely to have a few extra yards of space to operate in and has the possibility to contribute to his team's attack.
Both Marcelo and Coentrao rate at the highest dribbles per game on the squad so far this season, with 1.7 and 1.8 respectively.
Marcelo though, is dispossessed more often than anyone in the squad at an average of 2.8 times per match.
Of course, the physical capability to pull off these aspects of the game week in, week out are also an absolute must. Having a winner's mentality and the experience of playing for a big team is more likely to make an immediate impact for a player.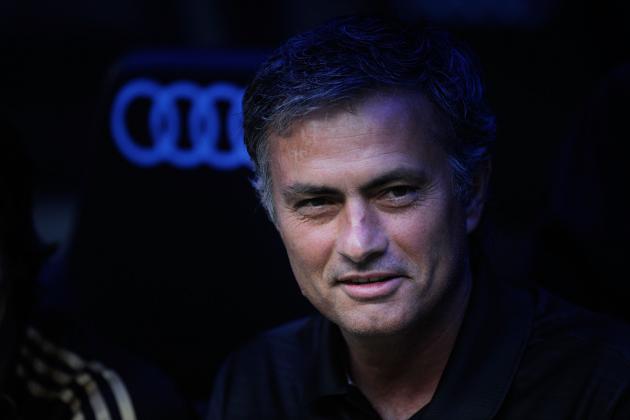 Denis Doyle/Getty Images

Fabio Coentrao and Marcelo are both 24 years of age. With good stretches of their careers still ahead of them and plenty of time to improve, the opportunity to nail down the position for years to come and establish themselves as automatic first picks is highly probable.
Right now, Real have no need for a new, young, up-and-coming player in this particular area of the team.
To help defensively and offensively, in that they would release Ronaldo to be more effective in the final third, the Madrid side would be best served with a more experienced player who can come in and immediately take the field and perform to their maximum level.
January is often said to be a difficult time to bring quality players to a club; it's not, in truth, though teams might well be loathe to let their best players leave if they cannot replace them.
Those who are approaching the end of their contracts are not getting regular first team matches or are at the end of their season in other countries, are all more than attainable though.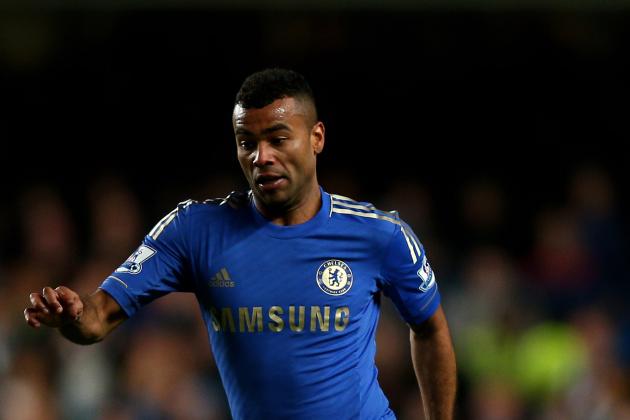 Clive Rose/Getty Images

Arguably the best and most consistent left-back on the continent over the past half a dozen seasons, Ashley Cole is reported to be on the verge of leaving Chelsea.
Whether or not he has already agreed to a deal with Paris St Germain is perhaps still up for debate; what seems sure is that Cole is ready and willing to call time on his Premier League career and Real Madrid could do an awful lot worse than make a call to see if he can be brought to La Liga.
Cole is still, at 31, a fantastic athlete who could cope with the physical demands of the role at the Santiago Bernabeu without any problems.
A European Cup winner from last season and a multiple Premier League winner, he is experienced in competing for major titles and would relish the chance to link up with such high profile players on the Madrid squad.
Given that his contract at Stamford Bridge expires in the summer, he can leave for free, and would require only a minimal initial outlay to prise him from Chelsea which could provide a return on his considerable wages without delay.
Real Madrid need to shore up at the back and improve in the final third if they are to mount any sort of comeback against Barcelona over the second half of the season.
Bringing in Ashley Cole at left-back could have exactly that effect, combining his own abilities with the space and freedom he would give others to showcase their own—in particular with Cristiano Ronaldo.
statistics from whoscored.com