Fact, Fiction and Farce Heading into NFL Week 13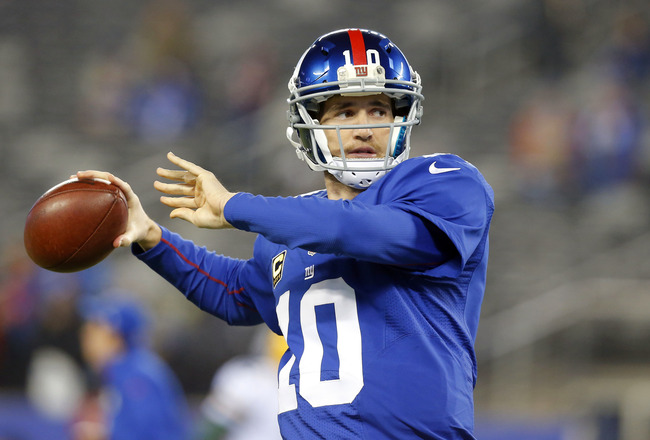 Jim O'Connor-US PRESSWIRE
Geno Atkins Is the Best Defensive Tackle in Football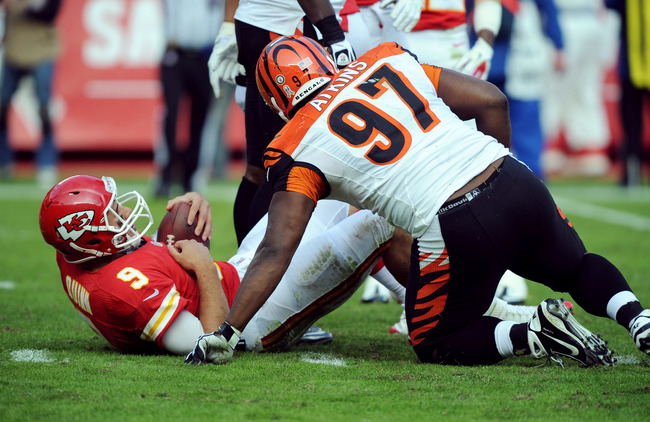 John Rieger-US PRESSWIRE
Verdict: Fact
Geno Atkins is the best defensive tackle in football and by a wide margin. I'd call him the best defensive lineman in football were it not for the amazing J.J. Watt.
But what Atkins is doing this season is amazing. Atkins is strong against the run and the pass, but it is against the pass where he is really standing out. Atkins is tied for sixth in the league with nine sacks on the season.
Defensive tackles are not supposed to get those kinds of sack numbers. The next closest defensive tackle in sacks is way back at 41st in the league with five.
But wait, there's more.
Khaled Elsayed of Pro Football Focus took a close look at Atkins season. He points out that PFF began grading players on every play in 2008. Atkins currently checks in with a plus-49.1. The previous best, for a season, by a defensive tackle, was turned in by Kyle Williams in 2010 when he had a plus-44.2.
He also points out that Atkins has 51 quarterback disruptions, which is more than any DT has turned in for an entire season, since they started the grading in 2008.
And on top of this amazing play in the pass game, Atkins, as Elsayed points out, leads all defensive tackles with 21 stops in the run game.
Atkins is not just having a great season, he is having a season for the ages.
Cam Newton Is Irreversibly Regressing
Verdict: Fiction
Every Carolina Panthers fan should be breathing a sigh of relief over franchise quarterback Cam Newton's recent play.
In the Week 6 addition of this series, the week following the Panthers failure to the Seahawks, I wrote about Cam Newton being in a dangerous position.
He was slumping, and that slump appeared to be on the precipice of becoming a Rick Ankiel-type "forgot how to throw" slump.
It looked like Newton was headed right off that cliff, too. His next two games were terrible, as he combined to throw three interceptions to just one touchdown.
Well, Newton has managed to right the ship since. Three of his four best games this season, in terms of QBR, have come in the past four games.
And in those four games, he has seven touchdown to just two interceptions.
Newton still has plenty of room to improve, especially with his accuracy, but the fact that he has managed to reverse the terrible slump he was in is a fantastic sign.
Chad Henne Is Awful
Verdict: Fiction
Chad Henne is not going to be better than Dan Marino—not even close, but the guy is a quality backup and could even become a decent starter.
Since taking over the reins from Blaine Gabbert two weeks ago, the five-year pro has completely revitalized the Jaguars offense.
He is 33-of-59, with 615 yards, six touchdowns and one interception in the past two games. That is only three less touchdowns than Gabbert mustered all season, and Henne has led the Jaguars to their two highest scoring outputs of the year in those two games.
While Henne's four years with the Dolphins will widely be regarded as a bust, the fact is he improved his quarterback rating each season, and he is on track to do so again this year.
Henne is proving he belongs, and he has been so impressive in the last two games, that he should be considered a viable second option on fantasy rosters.
Ndamukong Suh Needs to Mature
Verdict: Fact
Some people just don't ever get it. I'm starting to think Ndamukong Suh will be one of those people. Suh came into this season under the spotlight due to poor behavior on and off the field, and it doesn't seem to have changed anything.
There he was on Thanksgiving letting a leg fly into Texans quarterback Matt Schaub in the most inappropriate of spots.
Now, this certainly was not as egregious as the stomping of Evan Dietrich-Smith he offered up last Thanksgiving, and it very well may be that it was completely inadvertent. It is impossible to tell by watching the replay.
However, this isn't the only recent transgression for Suh. The Associated Press, via Fox Sports, reports, "An officer wrote up Suh after seeing the third-year pro driving fast and passing cars from the right lane." This occurred on Nov. 15.
And as NFL.com's Dan Hanzus reported, this is Suh's fourth known traffic-related incident since he was a senior at Nebraska.
Either of these things taken on their own is not a huge red flag, but given Suh's past they are. This is a young man who needs to learn to be responsible on and off the field, before he costs his team, or forbid, costs someone their life while behind the wheel. And there is little reason to suggests that Suh sees any of this as a problem.
Seahawks' Playoff Hopes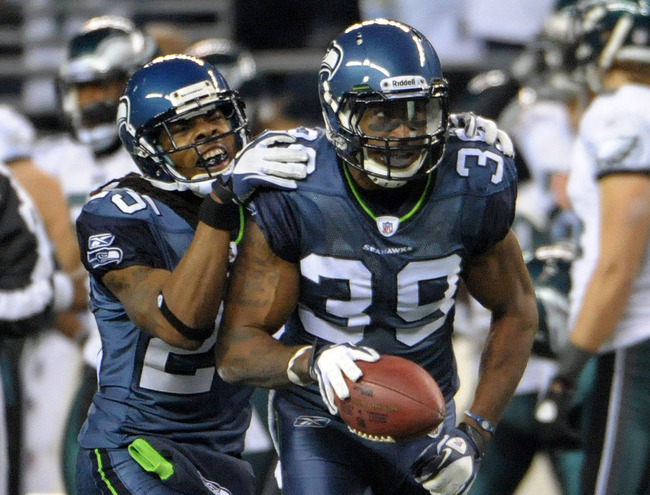 Kirby Lee-US PRESSWIRE
Verdict: Farce
It has been a bad week for the Seahawks. For starters, they went to Miami to take on a sinking Dolphins team while trying erase their road woes. They couldn't get the job done, and they fell to 6-5 on the year.
Then came this report by ESPN's Adam Schefter:
Filed to ESPN: Seattle CBs Richard Sherman and Brandon Browner facing 4-game suspensions for violating performance enhancing drug policy.
Now, both players, as the Associated Press reports, are appealing the suspension and Pete Carroll expects them on the field for this week's key game against the Bears.
However, it seems unlikely that there appeal will be successful. They seldom are in drug testing cases.
And the loss of these two players will ruin the Seahawks. Seattle's pass defense has been the backbone of this team, and that all starts with the two big physical corners. As Khaled Elsayed of Pro Football Focus points out:
Sherman has our third-highest coverage grade this season (he was fourth as a rookie); Browner is down to 12th overall after finishing 10th last season.
That is a lot for any team to withstand, and the Seahawks don't have the depth to find competent backups. They have Marcus Trufant, but it has been years since he's been anything but a liability on the outside. Behind that it is a bunch of unproven youngsters that were never projected to be great in the first place.
The Seahawks are currently in a three-way tie for the NFC's final wild-card spot, and there are three teams that are just a game behind them. Seattle will not be able to hold off these teams without their corners.
It's Time for the Jets to Start Over
Verdict: Fact
The Jets need to wipe the slate clean. They are a stumbling, talentless mess. They've lost four of their last six games and are having a hard time just not embarrassing themselves.
For example, check out the attached video, which has to be one of the most embarrassing fumbles in the history of fumbles.
It is time to clean house in New York. I am still in the shrinking group who feel Rex Ryan is a good coach, but New York's overhaul should not spare him.
This team needs an influx of new players and a new attitude, and getting a new head coach will be a good way to spur that process along.
After that, they need to make finding a legitimate franchise quarterback priority No. 2, and after that, they just need to upgrade at nearly every position.
The good news for the Jets is that they are headed toward a prime draft pick.
The Giants Are Still the Giants
Verdict: Fact
Oh, those whacky Giants. They are an impossible team to gauge.
The Giants entered their Week 11 bye having lost two straight, and looking bad while losing them. Their defense couldn't stop anyone and Eli Manning seemed to completely forget how to throw the football.
If it was not the Giants, it would have been time to write them off, but we've seen this before. They did nearly the same thing last year, and then went onto win the Super Bowl.
So, they come off their bye and what do they do in Week 12? They destroy the Packers and look unbeatable while doing so.
The defense was on fire, and Eli Manning was on point.
So when the playoffs roll around, expect the Giants to be there and ready to defend their title.
Vontaze Burfict Can't Hack It in the NFL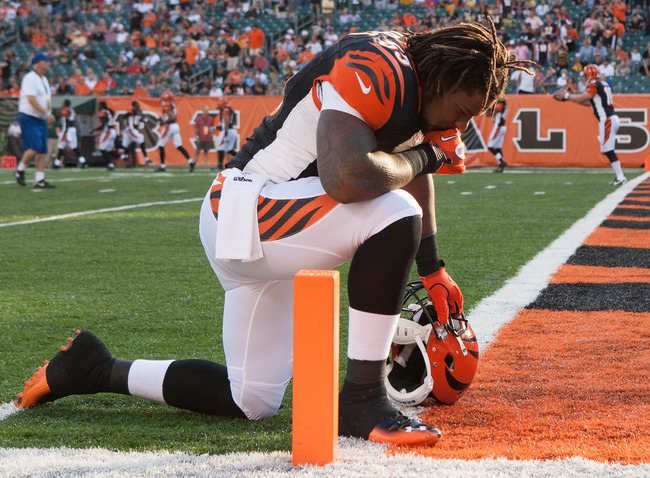 Rob Leifheit-US PRESSWIRE
Verdict: Fiction
So Vontaze Burfict should have been drafted after all.
Burfict has been through a strange saga. Early in last year's college football season, Burfict was thought of as one of the best inside linebackers in college football.
Then his play was erratic, and he had a hard time keeping his emotions in check—then came the NFL scouting combine. In case you don't remember, it did not go well.
CBS Sports' Bruce Feldman passed along this quote from a scout after Burfict's combine performance:
I'm not sure any player here sparked a worse reaction than Vontaze Burfict. I wouldn't touch him.

The guy is completely out of control. There's no way you could trust him. I can't believe they (ASU coaching staff) didn't cut him loose.
That sentiment was apparently shared by many scouts and teams as Burfict went undrafted.
Flash forward to this season and Burfict is second on the Bengals with 76 tackles, and he has been able to keep his emotions in check.
It's a Game of Inches
Verdict: Fact
Yes, it is a game of inches. The winning teams win those battle of inches, and the losing teams lose them. In this league of parity, that can be the difference between battling in the playoffs or preparing for the draft.
This has never been more apparent than it was on Ray Rice's remarkable 4th-and-29 scamper for a first down against the Chargers.
It was an amazing effort by Rice, but it is equally baffling that the Chargers' entire defense could not stop him before hitting that first-down marker.
This is why the Ravens are battling to earn the AFC's top seed, and the Chargers are likely preparing to clean house.
I could go onto describe the importance of this battle for inches, but I could never do that as well as Al Pacinio does in Any Given Sunday. *Caution: Do not click the link if you are around walls you do not want to run through.
Something Is Seriously Wrong in Philadelphia
Joe Sargent/Getty Images
Verdict: Fact
Of all the overpriced, underperforming players the Eagles could have cut, they chose to set free the team's leader in sacks and relatively moderately-priced, Jason Babin.
ESPN's Adam Schefter reported the news.
Philadelphia Eagles announced they have released DE Jason Babin.

— Adam Schefter (@AdamSchefter) November 27, 2012
Babin was quickly claimed off waivers by the Jacksonville Jaguars, the second team to have a shot at him on the waiver wire.
This move is baffling. Babin, at 5.5, has 2.5 more sacks than any other Eagle. And it's not like he is slumping. He has three sacks in his past four games.
Now, let's take a look at his contract. According to Pro Football Talk's Mike Florio, Babin's contract will pay him "$4.325 million in 2013, $6.175 million in 2014, and $6.15 million in 2014."
This contract could get overpriced as Babin will be 35 in 2014, but this can't be the actual reason. The Eagles have far worse contracts when looking ahead, and Babin is still producing.
Somewhere, there has to more to this story, and we may never know what that is, but what we do know is that the Eagles are in complete disarray.
Keep Reading