Pittsburgh Steelers: Little Things to Love About Seeing a Game at Heinz Field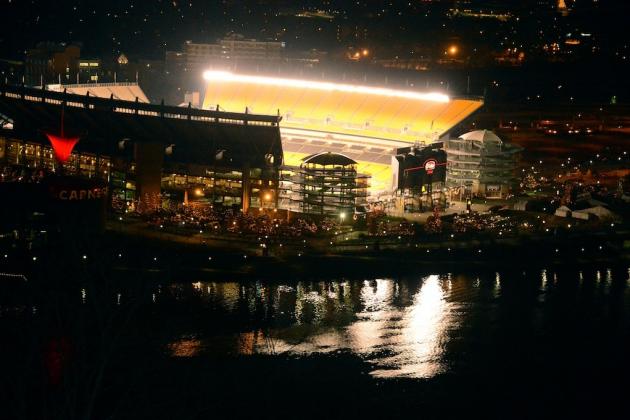 © Potok's World Photography
Catching a Steelers game at Heinz Field is obviously on the bucket list of every diehard Steelers fan, especially if he or she is from out of town. A chance to see the Black and Gold in Pittsburgh is not to be missed.
But don't just come to see the team play. The stadium itself also makes the trip worthwhile.
Though not as iconic as Lambeau Field, Cowboys Stadium or Candlestick Park, Heinz Field has its own little treats and quirks that give Pittsburgh a home-field advantage and enhance the experience of watching Steelers game.
Here are a few things that make a visit to Heinz Field special.
Begin Slideshow

»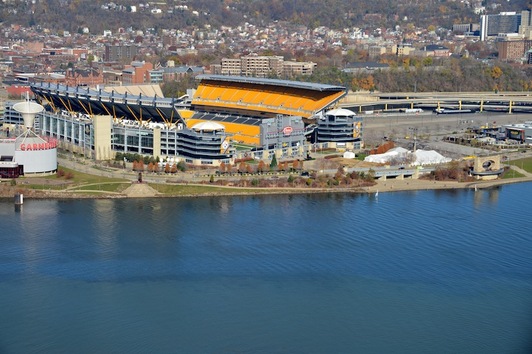 © Potok's World Photography
The view of Heinz Field from the top of Mount Washington on the city's south side reminds visitors that the Steelers don't just live in the figurative heart of Pittsburgh.
Just like its city, Heinz Field is a stadium born of rivers. Like Three Rivers Stadium, its late, aptly-named predecessor, Heinz Field sits at the confluence of the Allegheny, Monongahela and Ohio Rivers. Pittsburgh itself grew from forts built at the strategically advantageous juncture of these three defining geographical features. That the city's present-day fort rises from the same key part of Pittsburgh's cityscape is testament to the current inhabitants' pride in their warriors.
Heinz Field's significance to the city is even more apparent when viewed from above. Pittsburgh's layout begs us to gaze upon the home of its favorite sons. The stadium is set slightly apart from the clutter of the city center. The Golden Triangle downtown area points toward it like an arrow, however, redirecting the eye to its steely bulk. The spoke-like lines of the steel bridges connecting the North Shore to the rest of the city further focus the attention on Heinz Field.
With the stadium at their center, these arteries also remind us that though the booming business district is the city's head, Heinz Field is Pittsburgh's literal heart.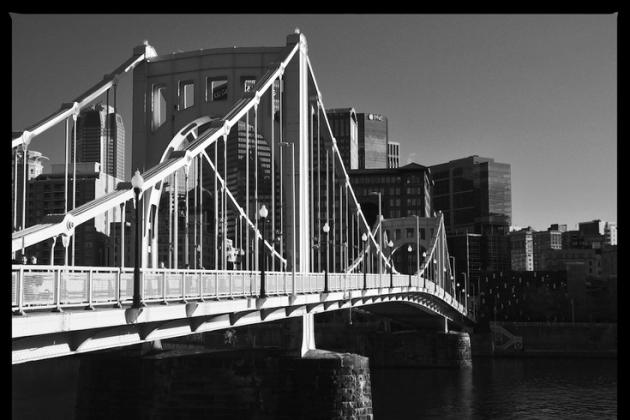 © Potok's World Photography
Getting to the stadium from downtown takes a visitor across one of the most spectacular of Pittsburgh's bridges. On the way to Heinz Field, fans pass over the Roberto Clemente Bridge, one of a world-record 446 that traverse the city's three rivers. Yellow like the colors of Pittsburgh's three professional sports franchises, this bridge over the Allegheny River is one of a set of near triplets. Its sisters connect the North Shore to the Golden Triangle a few blocks away and are easily visible on the walk to Heinz Field.
On game days, a trickle of excited fans steadily grows to a meandering stream making its way across the bridge. By a few hours before kickoff, a roaring black and gold river of humanity flows across its length, laughing, shouting and singing in anticipation of seeing their beloved Steelers. Getting swept along by the current, listening to the chatter and checking out people's often inventive gear are perfect ways to get in the mood for Pittsburgh football.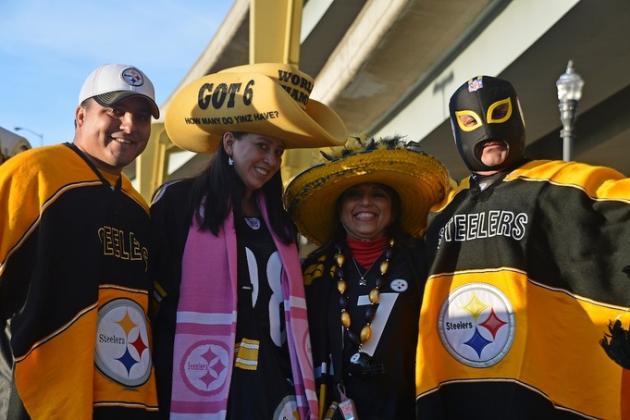 © Potok's World Photography
The river of Black and Gold supporters flowing toward the stadium passes by several parking lots that gradually fill up with the cars, grills and tailgaters that the current carries along.
Occasionally raucous but always welcoming and hospitable, the Steelers fans who gather to indulge in pregame revelry wear their hearts and passions on their sleeves. And sometimes on their faces.
Every team's fans claim to be the most dedicated, but as the following pictures illustrate, nobody can top Steelers supporters when it comes to wearing their team's colors with pride, exuberance and a sense of humor.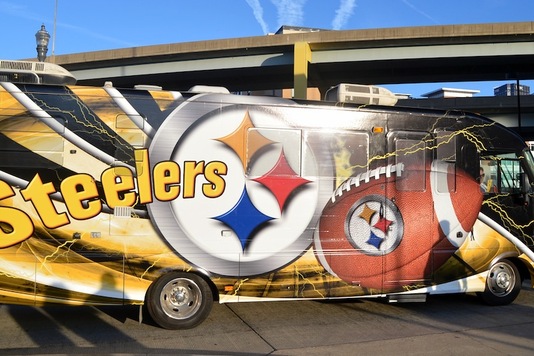 © Potok's World Photography
Steelers fans are known for traveling well, frequently appearing in sizable pockets in opposing stadiums. This family turns a home game into a road trip.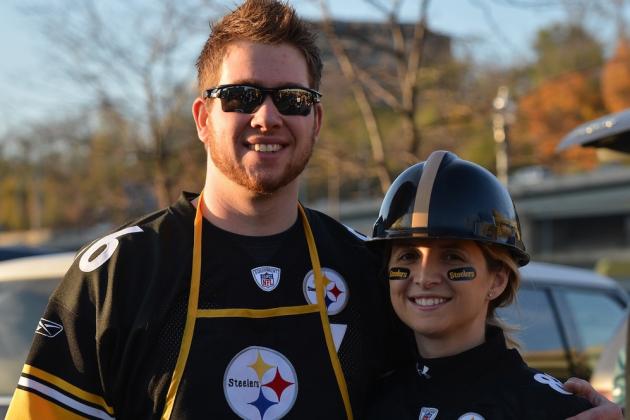 © Potok's World Photography
Despite the blue-collar image of their city, Steelers fans are comfortable with non-traditional gender roles.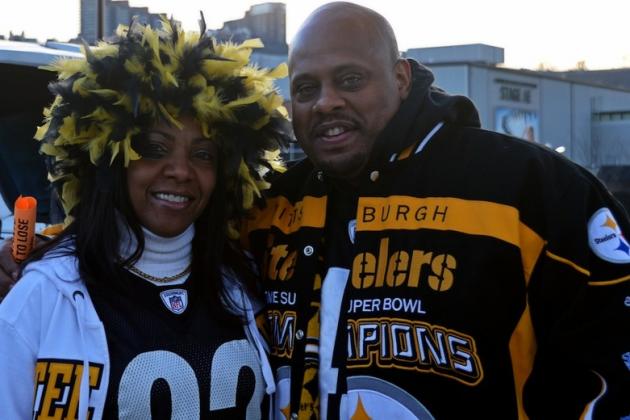 © Potok's World Photography
This lady told her beautician, "Give me the Troy Polamalu with streaks of yellow."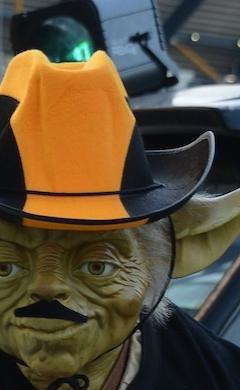 © Potok's World Photography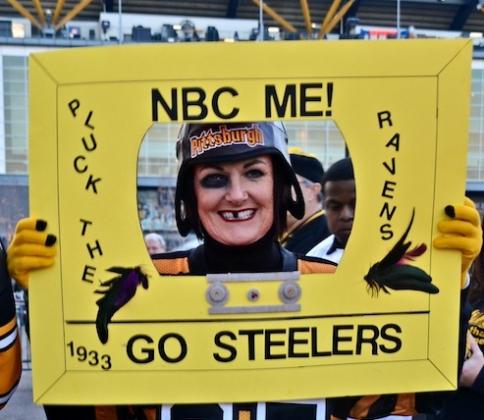 © Potok's World Photography
Ah, for the days of leather helmets, bad dental care and really, really primitive TVs.
© Potok's World Photography
The dream of every Steelers-themed professional wrestler is to have his son grow up to be an old-timey Steelers football player.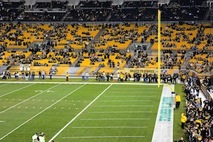 © Potok's World Photography
In the modern era of sanitized NFL stadiums crammed with luxury boxes, it is rare to see reminders of football's blue-collar ethos. Heinz Field's south end zone, however, has a quirky little touch that hearkens back to simpler times.
Marked with diagonal white lines instead of the team's name (at least until the Pitt Panthers' season ends), the distinctive south end zone reflects beautifully and appropriately Pittsburgh's gritty, Steel City image and its football team's no-nonsense playing style.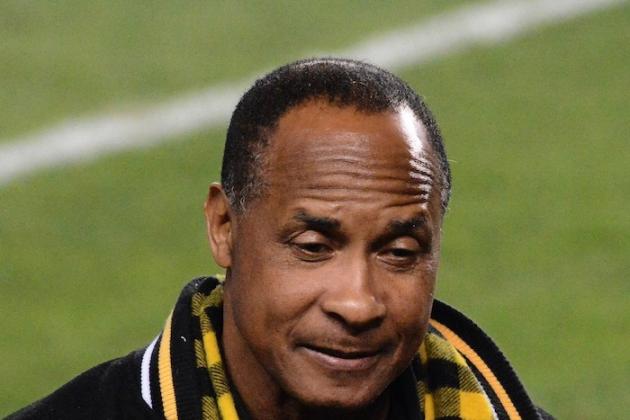 © Potok's World Photography
Pittsburgh embraces Steelers players, and it is no surprise that retired Steelers maintain close ties to the community. I imagine it's not unusual to see your favorite players from yesteryear at games.
As an out-of-towner, however, I was jumping up and down with excitement when I saw Lynn Swann mingling on the sidelines before the Sunday Night Football game against the Ravens.
I grew up idolizing the Steelers receiver after seeing his gravity-defying catches on a Super Bowl highlights tape we had when I was a boy. I practiced catching passes for hours in our yard, repeatedly hurling myself to the ground diving to grab difficult throws. I wore No. 88 in high school in the hope that it would give my idol's ability to catch any pass thrown my way. But I never imagined that I would have a chance to see my hero in person.
Sports never mean as much to you as they do when you're young. The realization that your heroes are flawed and the grind of everyday life usually dull your passion for the game. But sports can occasionally surprise us and remind us why we liked them in the first place.
Gracious and accommodating, Swann took a moment to slap hands with the fans gathered along the fence separating the stands. When he gave me a high five, I felt, for a brief moment, the purity of my boyhood love for the game. And that rare treat wouldn't have happened in a city that doesn't appreciate its players the way Pittsburgh does.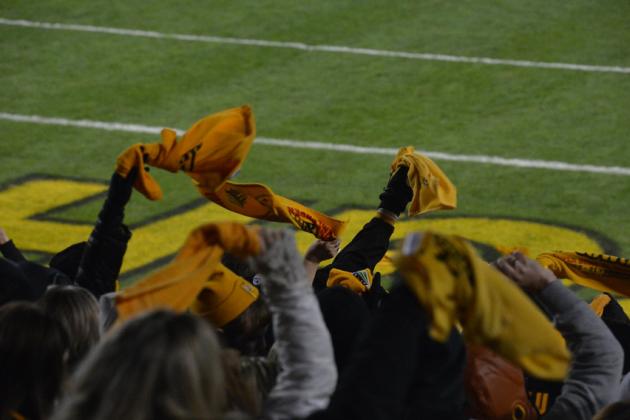 © Potok's World Photography
Nothing says Steelers football like the Terrible Towel, a physical expression of Pittsburgh's shared community, identity and fandom. Anyone who has watched a Steelers game on TV has seen Heinz Field explode in a yellow flurry of Terrible Towels swinging, flapping and whirling to celebrate a big play or to give the Steelers a boost when they need it.
It's one thing to see it on TV, but another entirely to be one of 65,000 people yelling and whipping the towel around their heads. To see how much the team means to its city. To be part of something bigger than yourself. To know what Steelers football is all about. Not what happens on the field, but the way the community rallies around the team like a giant family.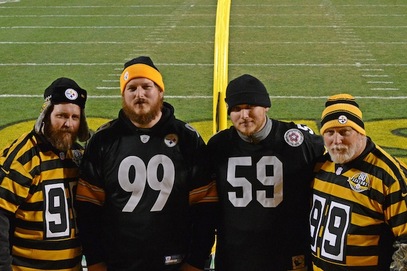 © Potok's World Photography
Sunday's tilt with the Ravens was the second game that my wife and I have attended in celebration of her birthday. It was also the second time we came away impressed by the friendliness of our fellow Steelers fans.
Nobody embodied this more than Earl Smith and his family. Down from Erie, PA, with his three Brett Keisel-sized and bearded sons, Earl sat next to us during the game. After seeing me struggle to carry a couple of beers back to our seats only to have them end up on the stadium floor, Earl's son Derek insisted on buying us new ones. I tried to refuse, but it's not that easy to say no to a former Air Force drill sergeant the size of a house.
We bought Earl and family the next round and then spent the rest of the game chatting with them and bonding over our shared appreciation for Steelers football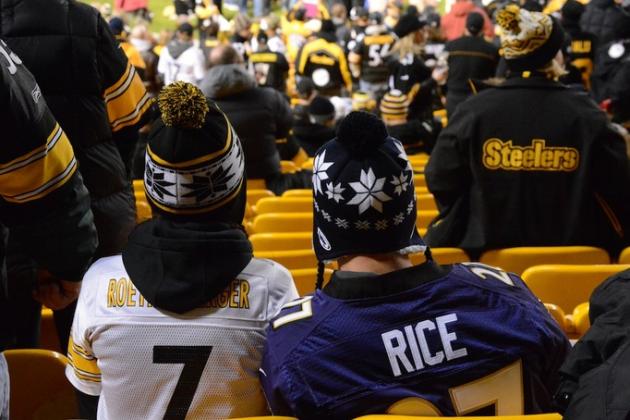 © Potok's World Photography
Steelers fans aren't just hospitable to their own kind. To our great surprise, a fair number of Ravens fans were brave enough to wear their colors to enemy territory.
I expected them to be harassed, verbally abused and pelted with food and drink. Steelers fans in Baltimore certainly would have endured that or worse. I've heard horror stories of Ravens fans harassing Jaguars fans during a preseason game and of a group of thugs forcing a Cleveland fan to change his Browns shirt in a Baltimore airport bathroom. I figured they were in for reciprocal treatment in Pittsburgh.
Beyond lobbing some good-natured jibes at their rivals, however, our fellow fans largely left the interlopers alone. Though the results of Sunday's game were disappointing, Steelers supporters showed class and dignity befitting the City of Champions.
I suppose we shouldn't have been surprised. The side that truly holds the upper hand in a rivalry is confident in its superiority and feels no need to belittle the other. It is the little brother who has something to prove, a chip on his shoulder and a need to overcompensate by instigating.
Besides, what's the point of harassing and insulting Baltimore fans? They like the Ravens. They need our pity, not our scorn.