College Football: USC and the 10 Worst Preseason No. 1's Ever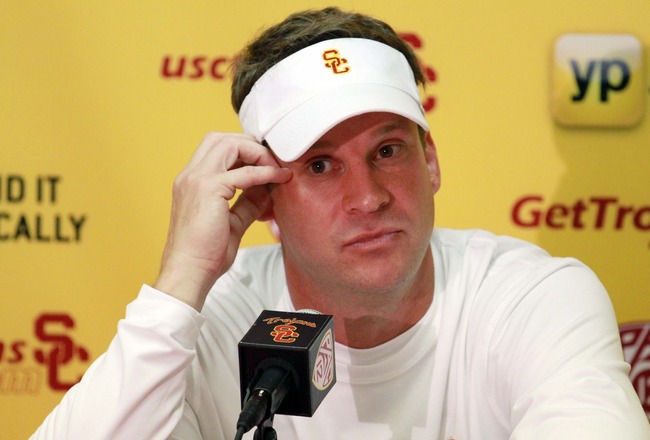 Kirby Lee-US PRESSWIRE
Since 1950, the Associated Press has anointed 62 teams as the preseason No. 1 team. However, out of those 62 teams, only 10 also finished No. 1 and received the AP national championship. Regardless, most of the teams picked to finish No. 1 before the season begins finish in at least the Top 10. Only 15 teams have failed to do so.
It looks like USC is going to be the 16th team on this infamous list. Lane Kiffin should be scratching his head as his Trojans have lost to Stanford, Arizona, Oregon, UCLA and Notre Dame to finish the regular season 7-5.
As it stands, it looks like the Trojans are going to be the first preseason No. 1 in the BCS era to be ranked outside of the final AP Top 25. However, as there is still football to be played, let's wait to pass final judgment on USC until the season is over.
But while USC sits on the waiting list, who are the AP's worst preseason No. 1's ever? Read on.
No. 10: 2008 Georgia Bulldogs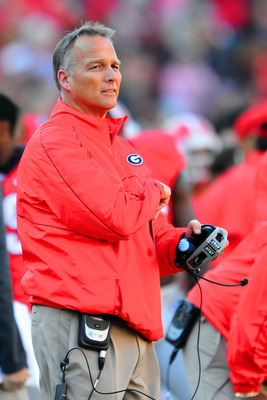 Dale Zanine-US PRESSWIRE
People forget that it wasn't too long ago that Georgia was picked to be top dog in the nation over programs like Alabama and Florida.
That was a poor choice as both the Crimson Tide and the Gators both beat the Bulldogs.
Worse, Georgia lost in its Clean, Old Fashioned Hate game against Georgia Tech to finish the regular season. Mark Richt and the Bulldogs did get a measure of redemption after beating Michigan State, but still...
No. 9: 1971 Notre Dame Fighting Irish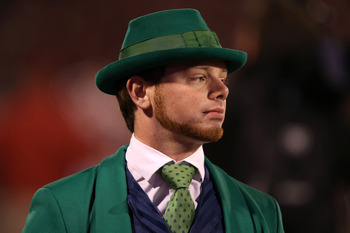 Matthew Emmons-US PRESSWIRE
The Fighting Irish looked dominant in the first few weeks of 1971 as Notre Dame held its first five opponents to a touchdown or less.
Then, rival USC came to South Bend and smacked Notre Dame, 28-14.
LSU put an even worse smackdown on the Irish to finish the season as the Tigers dominated them, 28-8.
The '71 Irish finished without a bowl invite and ranked only No. 14 in the final AP poll.
No. 8: 1984 Auburn Tigers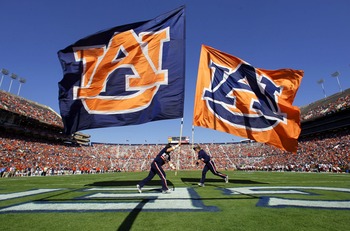 John Reed-US PRESSWIRE
The No. 1 Auburn Tigers knew that they were in for a test as they opened up the season at Giants Stadium against No. 14 Miami (FL).
They didn't pass the test as the Hurricanes won, 20-18.
Texas and Florida both got the better of the Tigers that year as did hated rival Alabama in the Iron Bowl, pushing Pat Dye's squad to just 9-4 and a final ranking at No. 14.
Maybe we shouldn't be that hard on the Tigers, though. 1984 was such a chaotic year that BYU became the first and last team outside of a power conference to win the national championship.
No. 7: 1980 Ohio State Buckeyes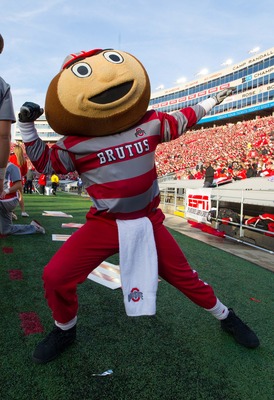 Jeff Hanisch-US PRESSWIRE
It's understandable for even a preseason No. 1 to lose to a ranked team. However, to get shut out at home 17-0 to the then-No. 11 UCLA Bruins is less so.
The Buckeyes seemed to get back on track as they rose back to No. 5 in the AP and went to face Michigan in The Game. Ohio State lost that one 9-3 and then to Penn State in the Fiesta Bowl 31-19. The Buckeyes finished No. 15 on the year.
That's enough to make you want to hit your head against something.
No. 6: 1960 Syracuse Orange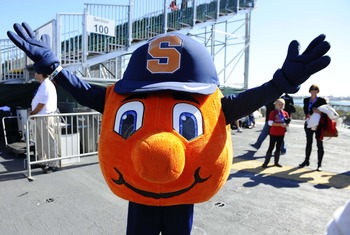 Christopher Hanewinckel-US PRESSWIRE
Syracuse produced its best team in its history in 1959 as the Orange ran the table and won the national championship. I suppose it was only natural for people to think that they might do it again.
Besides, they had Ernie Davis, the man who would become the first African-American to win the Heisman Trophy.
But Syracuse learned that even with a good team it was hard to live up to such expectations. Pitt stunned the Orange 10-0, and Syracuse ended up 7-2 and ranked No. 19 that year.
No. 5: 2011 Oklahoma Sooners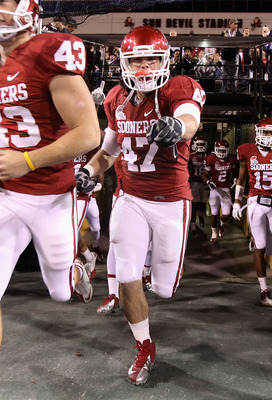 Christian Petersen/Getty Images
It is interesting to note in this case it didn't take a loss for the Sooners to drop out of the top spot. In fact, LSU leap frogged Oklahoma after the Tigers destroyed West Virginia.
It was an omen of things to come.
First, Texas Tech defeated the Sooners at home, 41-38. Oklahoma would rise back up as high as No. 5 before dropping to both Baylor and rival Oklahoma State.
And this was the team that was supposed to put an end to the SEC's national championship streak.
Oklahoma finished the year No. 16 in the AP, which stands as the worst finish for a preseason No. 1 in the BCS era. However, one team looks to surpass even that disappointment.
No. 4: 1997 Penn State Nittany Lions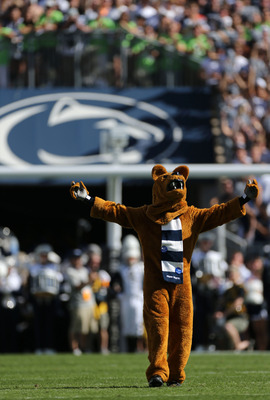 Rob Christy-US PRESSWIRE
The 1997 Penn State Nittany Lions started the season strong enough. After all, they did start 7-0 including a solid win over No. 7 Ohio State.
Then, Michigan came to town and routed the Nittany Lions, 34-8.
Penn State bounced back to beat ranked Purdue and Wisconsin squads, but the Nittany Lions dropped their final two games of the season to Michigan State and Florida by a combined score of 70-20.
After all, it isn't how you start that matters. It's how you finish.
No. 3: 1961 Iowa Hawkeyes
Reese Strickland-US PRESSWIRE
In 1960, Iowa head coach Forest Evashevski took the Hawkeyes to an 8-1 record and finished No. 2 in the final AP Poll that year second only to Minnesota. After this season, Evashevski decided to take the job as Iowa's AD and hired former assistant Jerry Burns as his successor. Expectations were high as Iowa was No. 1 coming into the 1961 season.
It didn't end well.
Iowa finished a mediocre 5-4, including a losing 2-4 record in the Big Ten to finish tied for seventh. It stands as no surprise that Burns lasted only five seasons as head coach.
By the way, if I were to put the 2012 Trojans on this list, I'd put them just ahead of this Iowa squad.
No. 2: 1964 Ole Miss Rebels
Jim Brown-US PRESSWIRE
As it turned out, putting Ole Miss No. 1 in 1964 was nothing more than whistling Dixie.
The Rebels finished unranked that year and became the last preseason No. 1 to fail to at least get a winning record. Ole Miss went 5-5-1 and a terrible 2-4-1 in conference to finish No. 7 in the SEC.
And the Rebels' stay at the top of the AP lasted just until Week 2 of the 1964 season as Kentucky took them out, 27-21.
No. 1: 1950 Notre Dame Fighting Irish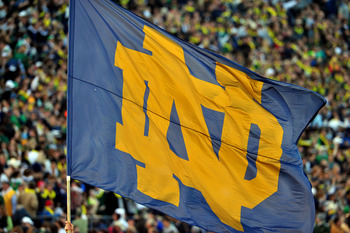 Matt Cashore-US PRESSWIRE
1950 was the first year that the AP decided to do a preseason poll, and it is certainly understandable that they'd go with a program like Notre Dame that year.
The 1950 Irish, however, still stand as the worst No. 1 preseason pick in history.
This team lost 28-14 to Purdue, 20-7 to Indiana, 36-33 to Michigan State and 9-7 to USC plus a 14-14 tie with Iowa.
The Irish finished 4-4-1. Only the 1964 Ole Miss Rebels have also started the season No. 1 and failed to at least get a winning record by the end.
Maybe that should have been a sign that preseason polls weren't such a good idea after all.
Keep Reading