What We've Learned About the Phoenix Suns After the First Month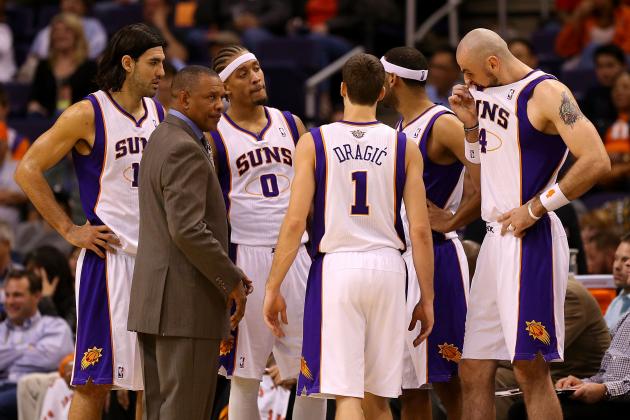 Christian Petersen/Getty Images
The Phoenix Suns huddle during a game against the Chicago Bulls
Through 14 games the Phoenix Suns have compiled a 6-8 record but have played relatively well for having so many new faces on the team.
Expectations have been low considering long-time point guard Steve Nash is gone, but the existing players on the roster have performed admirably in the first month or so of the season.
Looking at how the first month has gone, it's clear there are both positive aspects, like the emergence of Goran Dragic, and negative aspects, like the failures of Michael Beasley.
Read on to see what we've learned about the Phoenix Suns after the first month.
Begin Slideshow

»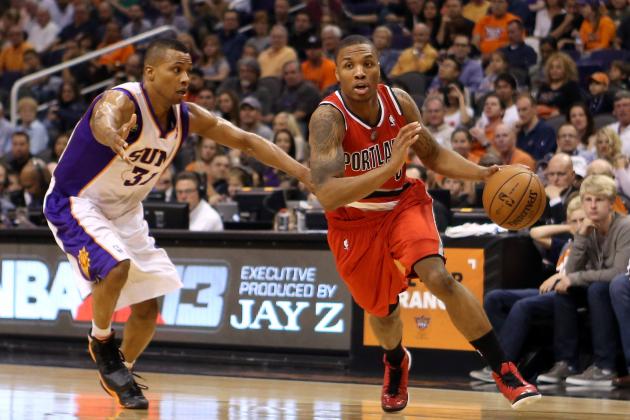 Christian Petersen/Getty Images
Sebastian Telfair (left) attempts to defend Damian Lillard (right)
It's clear this Phoenix team is not the best defensive squad, but I don't think anyone thought the defense would be giving up an NBA-worst 103.3 points per game.
Looking at the 14 games the Suns have played so far, the opposition has scored in triple figures in all but five games.
It doesn't make sense considering the team has solid individual defenders on the roster like Marcin Gortat and P.J. Tucker.
Taking a closer look at the numbers show the Suns are terrible at restricting opposing teams' shooting, as 47.6 percent of two-point shots and a whopping 43 percent of three-point shots are going in.
This comes from a combination of factors but chief among them is closing out to shooters.
On every shot, defenders are taught to close out with their hands up and to contest at the release point.
Far too often the Suns seem to have weak contests, and opposing offenses are allowed to shoot all over the team.
Just look how a couple games ago Ryan Anderson torched the Suns by hitting eight three pointers and finished with 34 points.
This is a troublesome trend that can not continue if Phoenix will have any shot at a playoff spot.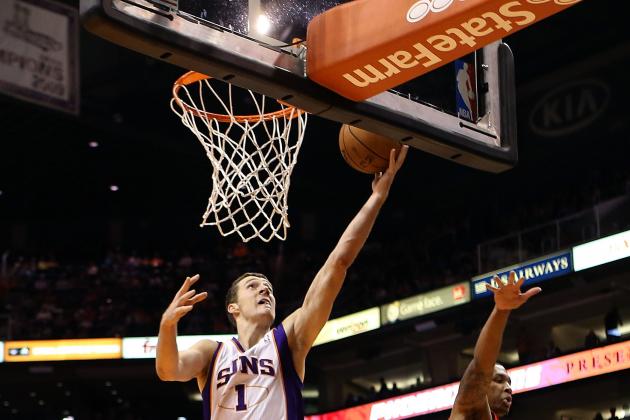 Christian Petersen/Getty Images
Goran Dragic scores on the Portland Trail Blazers
Goran Dragic was signed this offseason by the Phoenix Suns in order to replace Steve Nash and has done a great job in the first month of the season.
Most Suns fans remembered Dragic from his days as Nash's backup a couple years ago, but what they did not know was how much Dragic has improved from those days.
His stat line of 16.0 PPG, 7.1 APG, 2.8 RPG and 2.14 SPG has been impressive as he has emerged as the best player on this Suns team.
What really strikes me about Dragic is how poised he is now.
In his first stint with the Suns, Dragic let his emotions get the better of him and often struggled with himself rather than the opposition.
This year, Dragic has stepped into a leadership role and hasn't looked back whatsoever. It's truly refreshing to see how far he has come in a short few years.
At a position that looked to be under immense turnover in the next couple seasons, Dragic has come in and stabilized a team that should grow around him.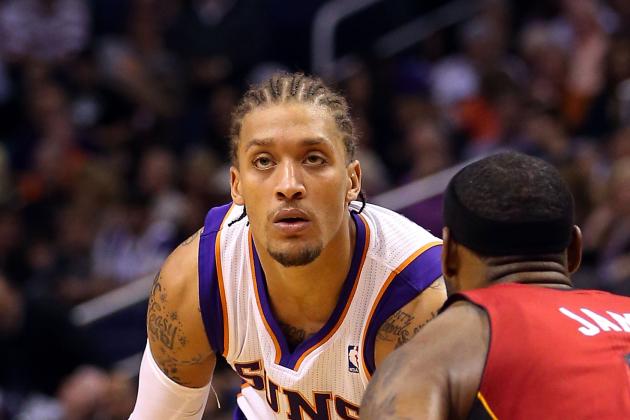 Christian Petersen/Getty Images
Michael Beasley (left) surveys the court against LeBron James (right) of the Miami Heat
Michael Beasley signed a three-year deal this offseason with Phoenix, and many hoped he could grow in to the team's leading scorer.
In reality, Beasley has struggled to consistently make shots and has become a defensive liability.
It's just not right for a player of Beasley's talent to shoot 37.4 percent from the field and 26.3 percent from three-point territory.
The scariest thing is both numbers would easily be career-lows for Beasley.
I don't expect these numbers to stay this low all season but, from seeing Beasley play double-digit games, I don't see a dramatic increase coming anytime soon.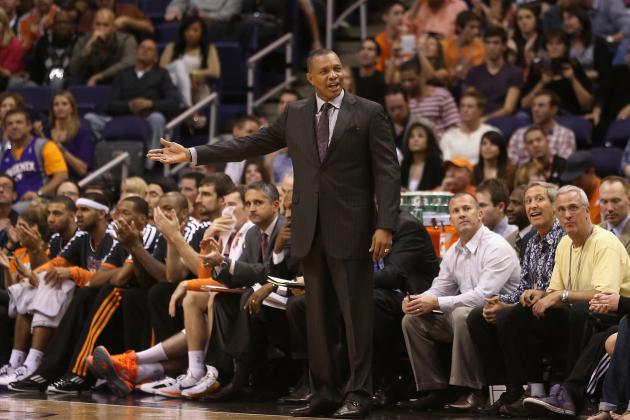 Christian Petersen/Getty Images
Phoenix coach Alvin Gentry questions a call against the Miami Heat
Alvin Gentry has gone through incredible highs and frustrating lows in his four-plus years of coaching the Phoenix Suns and has proven to be a capable NBA coach.
However, Gentry has been tasked with coaching the fourth-winningest team in NBA history through a transition period and is at risk to lose his job if things turn south.
After surprising a lot of people last year, Phoenix has faded to the bottom half of the league and is considered a long-shot to make the playoffs.
For Gentry to keep his job, he has to work on developing the talent on this roster and, at the very least, keep them competitive in games.
So far this season, it's clear the team has a ton of fight, but the lack of attention to defense could end up being Gentry's downfall.