Six Players Whose Value Doesn't Show Up in Box Scores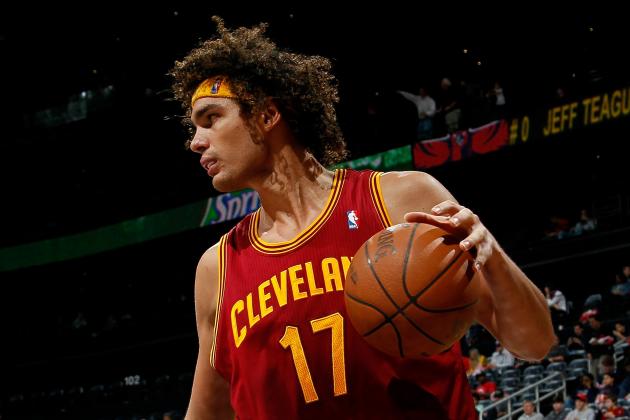 Kevin C. Cox/Getty Images
Cleveland Cavaliers Anderson Varejao
Hall of Fame coach Red Auerbach once said, "They said you have to use your five best players, but I found you win with the five who fit together the best."
These six players, whose ultimate value doesn't show up in an NBA box score, do whatever is required to make their teams fit together the best.
They infuse their locker rooms with professionalism while demonstrating an unquantifiable toughness and intensity in their approach to the game.
Each of these six maximizes his teammates' ability to succeed around him. They defend multiple positions and pursue loose balls and rebounds with reckless abandon.
If you only look at the box scores, you will lose sight of the value these players provide.
Begin Slideshow

»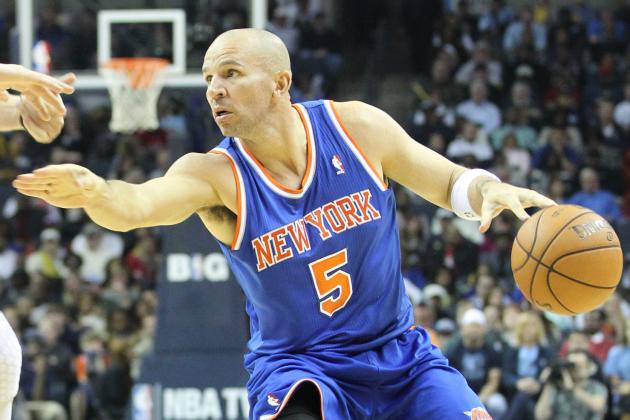 Nelson Chenault-US PRESSWIRE
New York Knicks Jason Kidd
Jason Kidd did not play on Monday night due to back spasms and his New York Knicks lost to the Brooklyn Nets. In the games he has played this season, the Knicks are 9-3.
He has brought a level of professionalism to his new team that it simply did not have last season.
Kidd is only averaging eight points and 3.4 assists per game as of Monday night, but he is making everyone around him better by holding them accountable.
He has played 18 seasons in the NBA and came to New York determined to win. He won't allow his teammates to focus on anything other than that.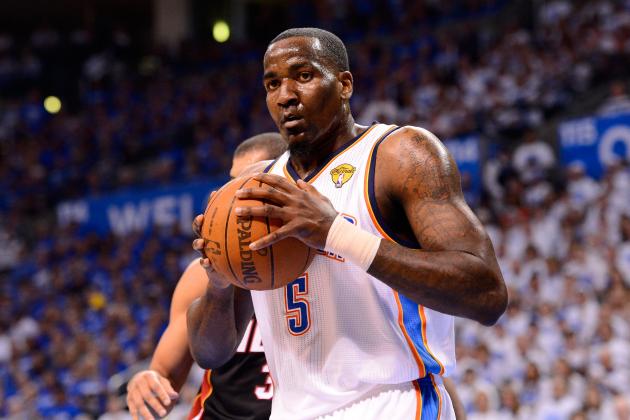 Ronald Martinez/Getty Images
Oklahoma City Thunder's Kendrick Perkins
The Oklahoma City Thunder had plenty of scoring when they first traded for Kendrick Perkins. They were never looking for him to get 15 points per night.
The Thunder needed Perkins to infuse their young roster with defensive toughness and championship experience. That's why they traded for him and that what's he delivered, despite averaging less than five points and five rebounds per game.
Perkins provides a physicality on defense that simply shouldn't be asked of Kevin Durant. He's an enforcer and does that as well as anybody in the NBA.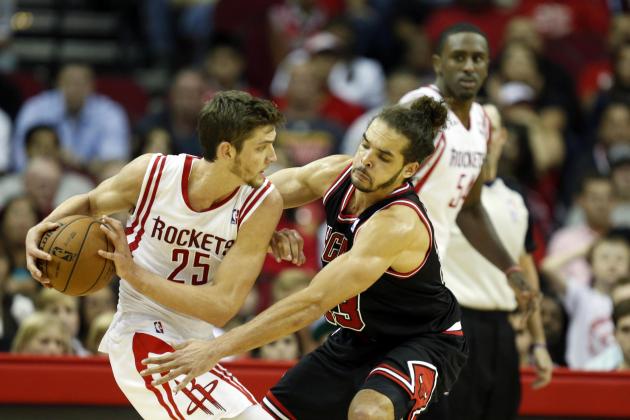 Thomas Campbell-US PRESSWIRE
Chicago Bulls Joakim Noah
Joakim Noah is the perpetual antagonist. That's why you only like Joakim Noah if he's playing on your team.
Despite how you feel about him, Noah does bring an unmatched level of intensity and enthusiasm to the court every single night.
He fights for rebounds and dives for loose balls like he's a 5'9" point guard.
This year, with Derrick Rose out, he's averaging 13.4 points, 4.4 more than his career average, and 9.7 rebounds, one more than his 8.7 career mark.
However, he plays with an energy that's worth much more than that to the Bulls.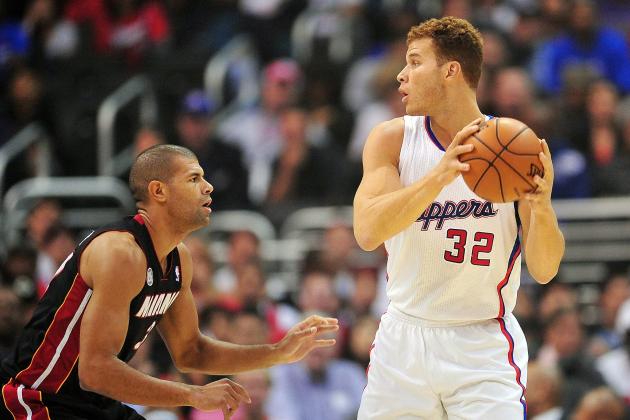 Gary A. Vasquez-US PRESSWIRE
Miami Heat's Shane Battier
Shane Battier can guard power forwards and defend both wing positions.
After averaging less than five points and three rebounds per game last year coming off the bench for the Miami Heat, he's now in the starting lineup.
As of Monday, through 13 games this season, he's averaging seven points, 2.5 rebounds and less than one assist per game.
But his versatility allows LeBron James and Chris Bosh to play the 4 and 5 positions, where each has excelled.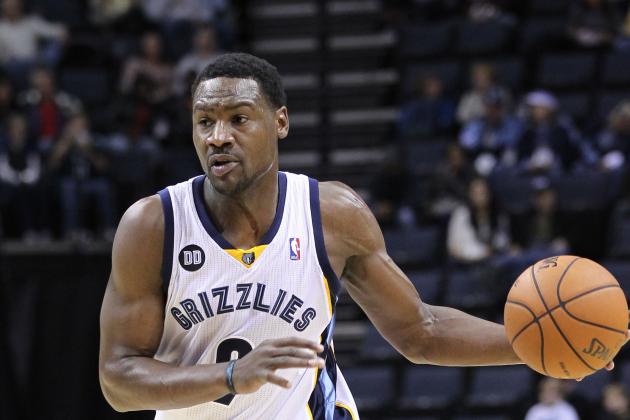 Nelson Chenault-US PRESSWIRE
Memphis Grizzlies Tony Allen
Tony Allen provides a defensive toughness that every young player in the NBA should aspire to.
He's averaging 1.8 steals per game, but his true defensive impact can't be measured by takeaways alone.
Allen can beat you defensively as an on-ball defender or he can create turnovers by penetrating the passing lane from the weak side.
He plays with a grind-it-out attitude that has been contagious among his teammates during his time with the Memphis Grizzlies.
Allen is only averaging 7.9 points, 3.4 rebounds and 0.6 assists as a starter. But he is a major reason why the Grizzlies are 10-2.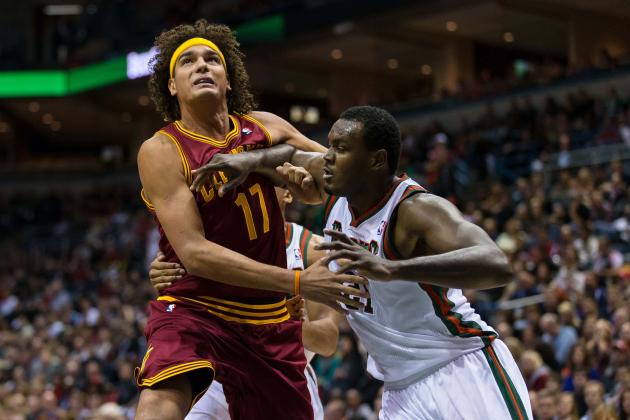 Jeff Hanisch-US PRESSWIRE
Cleveland Cavaliers Anderson Varejao
Anderson Varejao is playing like it's the Eastern Conference Finals every night.
The Cavs' roster is young and Kyrie Irving is sidelined with an injury. But none of that matters to Varejao.
He believes his team can win any time he steps on the floor, and he's giving the Cavaliers as good a chance to do so as anyone could right now.
On Monday he collected 22 rebounds in Memphis against the Grizzlies, but it's his perpetual motion that provides the most value.
In his eighth season, his offensive skills are better than they were five years ago. That's because he is always working.
He's scoring a career-high 14.1 points per game and leading the league in rebounding. But those numbers only tell half the story.
Varejao is playing like an All-Star because of his all-out effort.