Position-by-Position 2013 NFL Draft Big Board for Detroit Lions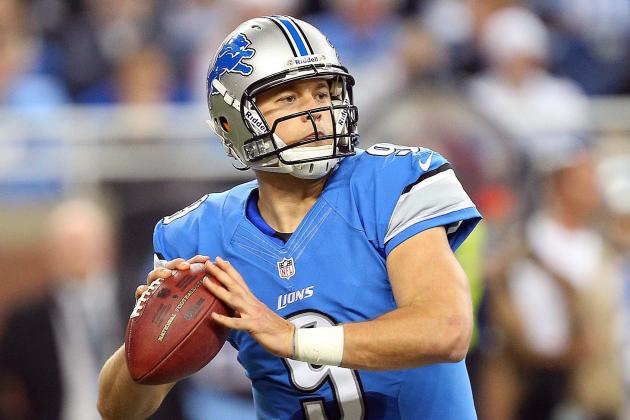 Mike Carter-US PRESSWIRE

The 2012 Detroit Lions are already out of playoff contention after Week 12, and it is time to turn our focus to the 2013 NFL draft by looking at their positional needs. The Lions have a variety of needs from cornerback, safety and defensive end on defense to offensive line and a speed back on offense.
In some areas, the Lions are set for years and there is no reason to even give the position any consideration. In other cases, the Lions may be targeting a free agent to fill a certain spot. In either case, we know what their needs are.
The Lions are going to end up with a selection near No. 10 overall. There are many different ways they can go with that pick. Let's look at the position-by-position 2013 NFL draft big board for the Detroit Lions.
Begin Slideshow

»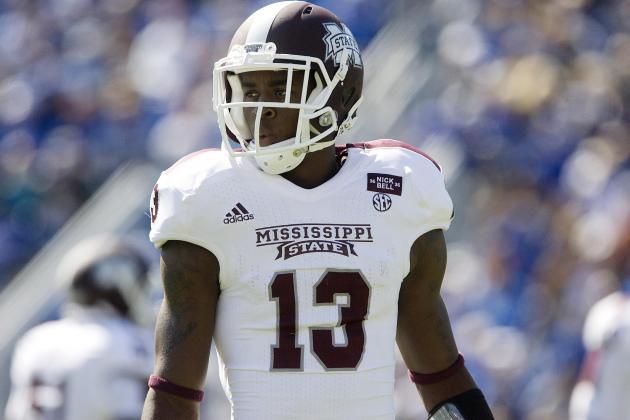 Mark Zerof-US PRESSWIRE

The Detroit Lions are desperate for quality, consistent cornerback play as they have played a multitude of combinations of players at the position in 2012. Chris Houston is the only cornerback who has been consistent, both with his play and his health. The Lions have played rookie Bill Bentley, Jacob Lacey, Drayton Florence and Alphonso Smith at cornerback opposite Houston in 2012.
Most consider cornerback the Lions' primary need, but we also know that the Lions always surprise by going best player available. In a perfect scenario, the Lions will have one of the following players fall to them in the 2013 NFL draft.
The top of the draft is dominated by offensive linemen and defensive linemen, and that might help to push one or both of these cornerbacks down the board to the Lions.
Johnthan Banks, CB, Mississippi State
It is rare to find an elite cornerback with elite coverage skills who is as 6'2" tall like Banks is. Banks is 185 pounds and needs to bulk up a little, but in a league with receivers getting taller, the size that Banks offers is a massive bonus.
Banks plays in the SEC, is exceptionally experienced, and he has no problem matching up with the bigger wide receivers that he will see in the NFL (see Brandon Marshall). He is a physical football player who is willing to deliver hits in run defense.
He can play press man, off-man and zone coverage, but he is probably best suited to play in a zone scheme like the scheme Detroit plays. Banks is a versatile football player and an automatic upgrade for the Lions.
Dee Milliner, CB, Alabama
Milliner is a junior, and it is not known whether he will declare for the draft. Some consider Milliner the No. 1 cornerback in the draft if he comes out. It would make sense for Milliner to enter the 2013 NFL draft with the guaranteed money that would be there for him.
Milliner is 6'1" and 198 pounds, and he is also bigger than most at the position. Milliner has had a strong junior season at Alabama, with 45 tackles, 14 pass breakups, two interceptions, four tackles for loss and 1.5 sacks.
Milliner is another cornerback who embraces the physical aspects of the game. Milliner is also an instant upgrade for the Lions at the cornerback position, and a player that fans have been screaming for.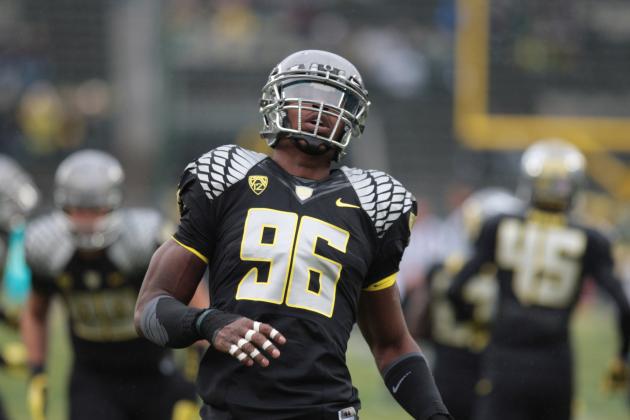 Scott Olmos-US PRESSWIRE

The Lions have a clear need for a defensive end, considering that they may lose Cliff Avril to free agency, and Kyle Vanden Bosch is really getting up there in age and has not been very productive on the field since 2010.
The strength of the Lions defense is the defensive line's ability to pressure the quarterback, and they need to continue to get pressure whether it's from Avril and Vanden Bosch or not. The Lions defense can take a nice step forward if they can find a young pass-rusher to get after the quarterback.
Dion Jordan, DE, Oregon
Jordan is 6'6" and 240 pounds, and he is an electric pass-rusher. He has extremely long arms (think Aldon Smith), and he is a very fluid athlete with incredibly quick feet. He is a very smooth athlete who can threaten the edge of the offensive line with a quick first step. Jordan is the kind of athlete who could really benefit from playing next to Detroit's defensive tackles.
Bjoern Werner, DE, Florida State
Werner's combination of speed and power are very intriguing. He is 6'4" and 273 pounds, and he plays with a nasty streak that the Lions would love. Werner's get-off is very impressive, and it allows him to get into an offensive lineman and push him back into the pocket.
Werner would be a nice replacement for Avril, as his speed might be too much for the right-tackles he would be facing. Werner's physicality would really help the Lions.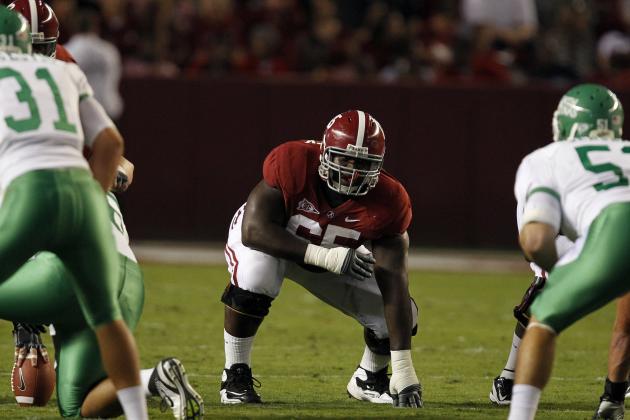 Butch Dill/Getty Images

The Lions took offensive tackle Riley Reiff in the first-round of the 2012 NFL draft, and it has given them a long-term fix to the left tackle position. The next area of concern is the right side of the offensive line. Current right tackle Gosder Cherilus is a free agent in 2013, and even if the Lions plan on bringing him back, they could really use an upgrade over him.
The other position to upgrade would be right guard, as the Lions struggle to protect the pass and to run the ball from the right side of their line. Stabilizing the offensive line for the long-term makes sense, as the core of this team is young.
Luke Joeckel, T, Texas A&M
Joeckel is fantastic in pass protection, and he would take the left tackle position and move Riley Reiff over to the right side. The Lions' offensive line would go from weakness to strength in two years, and they would transition from an older unit to a younger unit quickly.
Joeckel has great feet and phenomenal ability to mirror defenders. He has played against speed throughout his college career and handled it very well. He is agile enough to get to the second-level of the defense and help in the run-blocking game.
Joeckel is an instant upgrade for the Lions.
Chance Warmack, G, Alabama
Warmack is a monster on the interior of the offensive line. He is 6'2" and 320 pounds, but he plays a nasty style. He is a mauler in the running game, and he does a great job in pass protection. Warmack might be the best interior lineman to enter the draft in many years.
Warmack would take Lions starting right guard Stephen Peterman out of the lineup, and he would instantly upgrade the interior of the line. He would give the Lions a player to run behind and some stability on the right side of the line.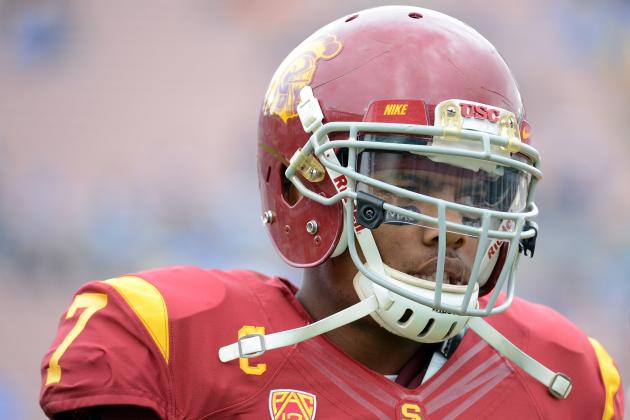 Harry How/Getty Images

The safety position is another major area of concern for the Lions. Starter Amari Spievey went to IR because of a concussion, and Louis Delmas, the Lions' other starting safety has been in and out with knee issues all year.
The Lions have received good play from their backups, but it is a matter of time before these injuries really cost them. They need high quality, consistent play from players who can stay on the field.
T.J. McDonald, S, USC
In my opinion, McDonald is the safety for the Lions to get because of his ability to play either safety position and his ability to cover in pass defense. He can defend the run, but his strength is running the seam against tight ends and playing against receivers deep down the field.
McDonald has played against a West Coast offense at USC, and he is the most NFL ready safety in the draft. McDonald is a player who the Lions should target in Round 2, as his addition would really upgrade the back end of the defense.
Eric Reid, S, LSU
Reid is considered the best safety prospect in the nation, but he is also a very aggressive player who is prone to mistakes. His physicality is a nice asset in run defense, and he does a solid job in pass protection, which matters in today's NFL.
Reid is a very powerful football player who would immediately bolster the back end of the defense. He can step up and fill against the run, and he can cover some ground in pass protection. Reid would instantly upgrade the Lions secondary.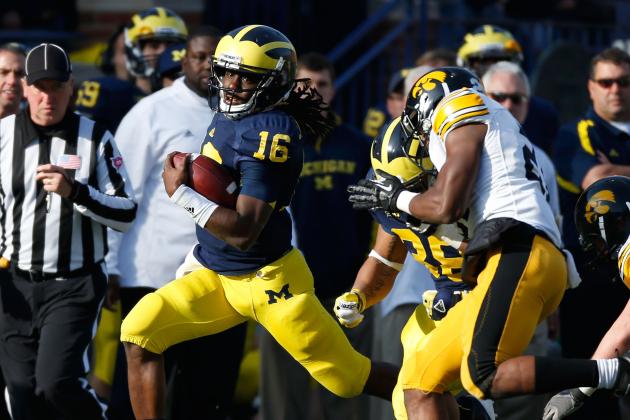 Gregory Shamus/Getty Images

The Lions need to add speed to their back field, as the loss of running back Jahvid Best has really hurt the offense. The pure speed lining-up out of the back field causes problems for defenses, and it should surprise no one that the Lions have lost a little big-play ability because of the lack of speed at running back.
I'm not talking about drafting a running back, but adding a player like Vikings wide receiver Percy Harvin to stretch the defense and free up other areas of the field for their other weapons. The addition of one of these players would significantly help the Lions' offense.
Tavon Austin, WR, West Virginia
The addition of Austin would really add an electric element that the Lions are missing on offense. He is one of college football's most electric players, and he would certainly open up other areas of the field for wide receivers Calvin Johnson and Ryan Broyles.
Austin is an incredible athlete and a player who would add a lot of punch to the Lions' offense, but he would cost an early pick, something that isn't going to be popular with other needs so pressing.
Denard Robinson, ATH, Michigan
Denard Robinson has incredible athleticism and is big enough to play the "Percy Harvin" role that the Lions would really benefit from. He is 6'0" and 200 pounds, and his athleticism is off the charts. He is incredibly fast, and he can make plays with his feet like no one else in college football can.
Robinson has a burst of speed that is hard to match, and the draft price would be right, as he wouldn't cost nearly the price that Austin would. Robinson would give the Lions a speed element that they are missing and be a player who upgrades the offense right away.