Breaking Down Every NFL Award Race Heading into Week 13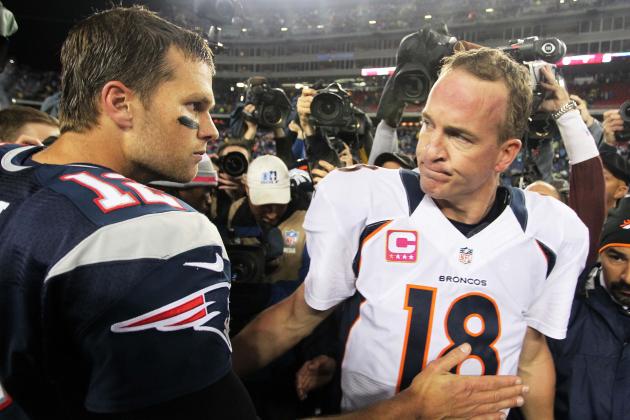 Stew Milne-US PRESSWIRE

As we enter into Week 13 of the NFL season, contenders and pretenders for each of the major NFL seasonal awards—MVP, rookies of the year, head coach of the year, etc.—are beginning to separate.
Voters now have 12 weeks of film and stats to digest who has been the best of the best during the 2012 season.
In the following slides, we break down and rank each of the major NFL awards. Feel free to leave your opinion on each award in the comments below.
Begin Slideshow

»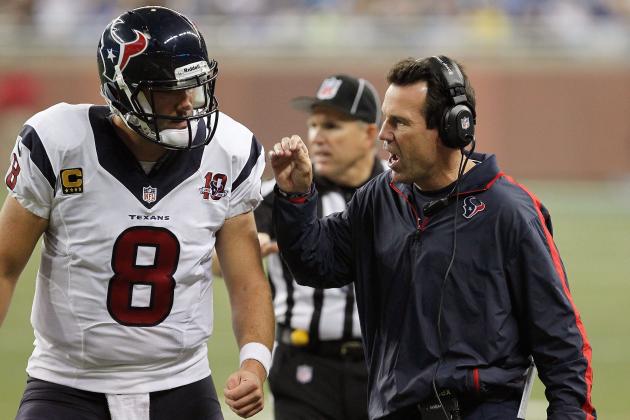 Gregory Shamus/Getty Images

1. Gary Kubiak, Texans
The Texans are arguably the best team in football, and Kubiak deserves some national praise for the overall job he's done in Houston.
2. Chuck Pagano/Bruce Arians, Colts
Can a duo of coaches win Coach of the Year? If so, Pagano and Arians are probably an easy choice.
3. Greg Schiano, Buccaneers
The Bucs are playoff contenders in Schiano's first year despite a disappointing 4-12 season in 2011.
4. Mike Smith, Falcons
Well-coached teams win close games, and nobody has been better in games decided by seven or fewer points (7-1).
5. Jim Harbaugh, 49ers
Harbaugh's decision to change quarterbacks midseason could either make or break this season for the 49ers. So far, so good.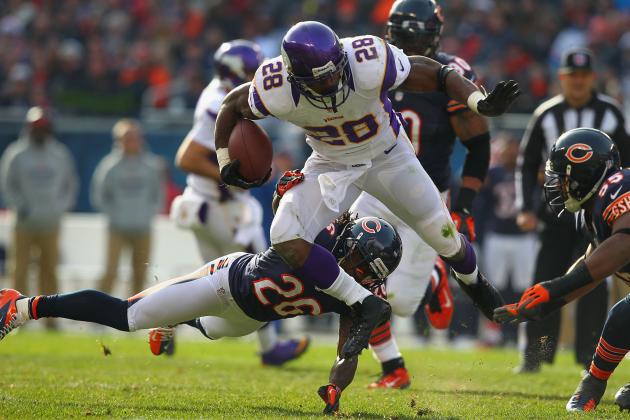 Dilip Vishwanat/Getty Images

1. Adrian Peterson, Vikings
This is a two-man race, with both Peterson and Manning putting together All-Pro seasons after devastating injuries last season. Peterson gets the nod here because he's been the premier player at his position in 2012 despite suffering a catastrophic knee injury last December. Five-straight 100-yard games (ties Vikings' franchise record) has Peterson first in the NFL in rushing (1,236) and on pace for a career high 1,797.
2. Peyton Manning, Broncos
There's a strong case for Manning too, mostly because he missed the entire 2011 season and then had to get to comfortable with a new team and city. Manning has hardly missed a beat, as the Broncos are 8-3 and Manning is currently third in the NFL in passer rating (104.8).
Ronald Martinez/Getty Images

1. Robert Griffin III, Redskins
OK, so the Redskins are still on the outside looking in to the NFC playoff picture. But how can this award be anyone but RG3? The No. 2 overall pick has 22 total touchdowns and over 3,000 total yards (including 642 rushing). Both his passer rating (104.6) and completion percentage (67.4) are fourth-best in the NFL. And he's thrown eight touchdowns over his last two games (against division rivals) to revive the Redskins' season.
2. Doug Martin, Buccaneers
Most seasons, Martin would already be a lock for this reward. His 1,050 rushing yards are fourth-best in the NFL, and his nine rushing touchdowns rank second. He's on pace for nearly 2,000 total yards from scrimmage. He's a complete back that does everything well, especially for a young player.
3. Andrew Luck, Colts
The wins have come at a pace no one saw coming in Luck's first year, but the surface stats that mean so much to voters—passer rating, completion percentage, etc.—aren't as good for Luck.
4. Russell Wilson, Seahawks
Wilson isn't throwing (just over 2,000) or running (227) for a bunch of yards, but his completion percentage (63.6) and passer rating (93.4) are both very good for a third-round quarterback. He's simply efficient at the position. The Seahawks are still playoff contenders, too.
5. Alfred Morris, Redskins/Trent Richardson, Browns
In the shadow of RG3, Morris has quietly amassed the fifth-most rushing yards (982) in the NFL this season. Richardson is the only real weapon on the Browns offense yet continues to produce (1,071 total yards).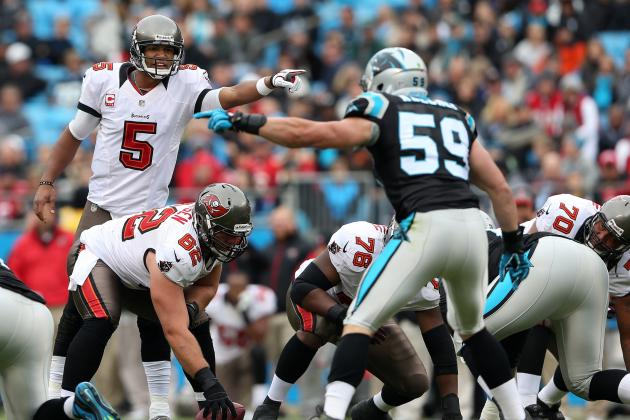 Streeter Lecka/Getty Images

1. Luke Kuechly, Panthers
His switch to middle linebacker has been a good look for Kuechly. He has six straight double-digit tackle games and needs just three Monday night to crack 100. Playing inside, Kuechly has looked like the most impactful defensive rookie in 2012.
2. Chandler Jones, Patriots
Jones was starting to cool down before an injury early against the Colts later cost him a start in Week 11. He still has six sacks, however, and there's time for him to get a handful more before the end of the season.
3. Casey Hayward, Packers
The second-round pick has been one of the NFL's better slot cover men this season, and his five interceptions are third in the NFL. He doesn't play every snap, but the impact has had a ripple effect for the Packers defense.
4. Lavonte David, Buccaneers
Watch a Buccaneers game, and David (No. 54, for those of you watching at home) is everywhere and anywhere the ball is. His 98 tackles lead all rookies, and his impact in the run game has helped turn around Tampa Bay's ability to stop teams on the ground.
5. Janoris Jenkins, Rams
Jenkins hasn't always been great during his rookie season, but few of his peers have his big-play ability. He now has three picks, two of which he returned for touchdowns Sunday.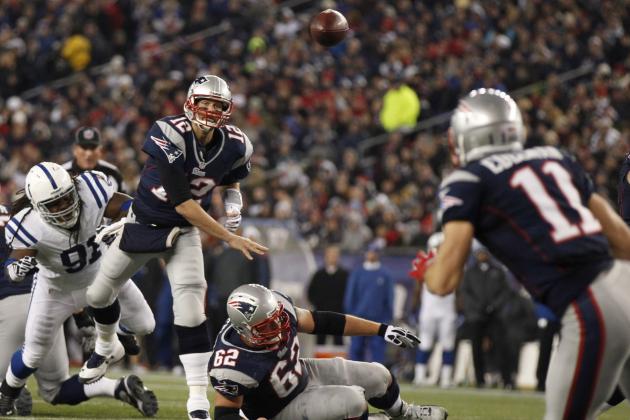 David Butler II-US PRESSWIRE

1. Tom Brady, Patriots
Brady runs the league's top offense in both yards (435/game) and scoring (37.0), and he does it as efficiently as any quarterback in the NFL. His 24 touchdowns, three interceptions and average yards per game of 300 make this a much easier choice than it appears.
2. Drew Brees, Saints
Brees leads the NFL in touchdown passes with 31, doing so not only with one of the NFL's worst running games, but also without his offensive mastermind head coach on the sidelines.
3. Adrian Peterson, Vikings
Peterson leads the NFL in rushing yards (1,236), yards per carry (5.8), 20-yard runs (14) and yards per game (112.4), a rare quartet of achievements for a running back.
4. Calvin Johnson, Lions
Are the touchdowns lacking (four)? Yes. Definitely. Certainly. But this is still the game's most dominant receiving option (leads NFL in receiving yards), a player no one can figure out.
5. A.J. Green, Bengals
If there's any receiver close to Johnson, it's Green. In fact, he has a pretty good case in 2012. Touchdowns in nine of his last 10 games have Green leading the NFL in the category (10).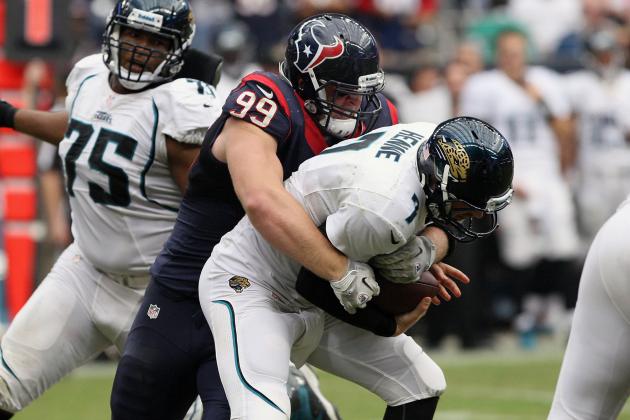 Troy Taormina-US PRESSWIRE

1. J.J. Watt, Texans
It's a very, very close race between Watt, Miller, Smith and Tillman. Watt gets the nod heading into Week 13 because he does so many things well for the Texans defense. His profile of sacks (14.5), passes defensed (13) and contributions against the run are unmatched.
2. Von Miller, Broncos
According to Pro Football Focus, Miller has 64 total quarterback disruptions (sacks, hits, hurries) and 39 stops (tackle that constitutes an offensive failure). He's neck-and-neck with Watt with five weeks left in the season.
3. Aldon Smith, 49ers
Sacks have inflated value in this day and age of passing football, but there's no denying Smith's 16.5 for 122 lost yards (both first in the NFL). Smith only needs six over the final five games to tie Michael Strahan's single season record for sacks, and 6.5 to overtake it.
4. Charles Tillman, Bears
Getting the president recommendation for defensive player of the year was well warranted. On one of the best defenses in football, Tillman has been the brightest star (seven forced fumbles, two defensive touchdowns).
5. Tim Jennings, Bears/Cameron Wake, Dolphins/Clay Matthews, Packers
Jennings leads the NFL in interceptions (eight), Wake is arguably the hardest defensive end to block in football (9.5 sacks), and Matthews' absence from the Packers defense has been more than felt.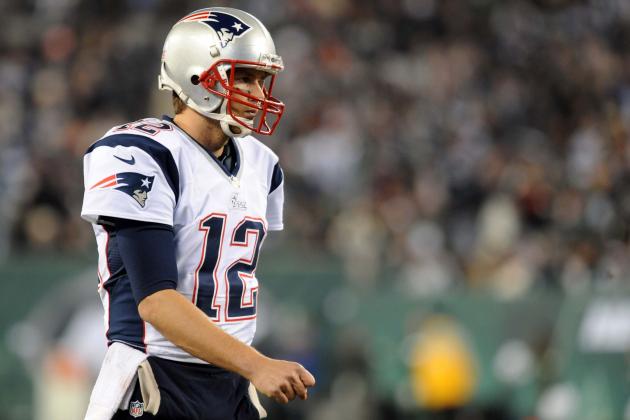 Joe Camporeale-US PRESSWIRE

1. Tom Brady, Patriots
Both Brady and Manning are fantastic MVP options, and their gap is growing away from Rodgers at the top. But how do you deny Brady? The Patriots are the top scoring team in football, and Brady currently has the best total QBR, according to ESPN. The defense in New England still isn't any good, either.
2. Peyton Manning, Broncos
Manning has adjusted to new surroundings and a new offense like it was no big deal. The Broncos also continue to win football games and look like one of the true Super Bowl contenders.
3. Aaron Rodgers, Packers
Few quarterbacks are asked to do more. The Packers lead the NFL in sacks allowed, and there still isn't an answer at running back. The fact that Rodgers' numbers aren't perfect will keep him from winning the award, but he's still in the discussion.
4. Adrian Peterson, Vikings
The fact that the Vikings can't throw the football (30th in passing yards) makes Peterson's season even that more incredible.
5. Matt Ryan, Falcons/Matt Schaub, Texans
Quarterbacks that play well on the best football teams (record-wise, at least) almost always get MVP consideration. Ryan and Schaub qualify for both factors in 2012.