NBA's All-Decade Team (2000-2009)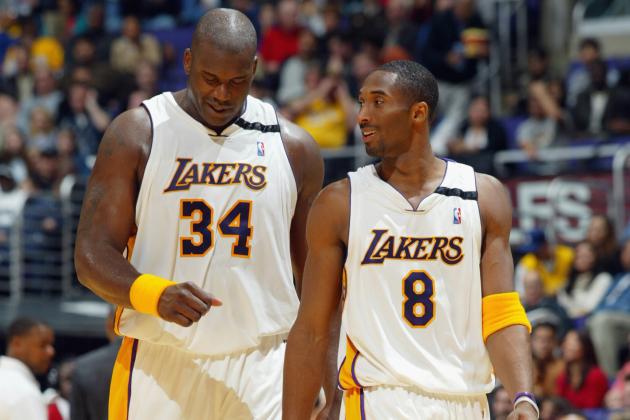 Lisa Blumenfeld/Getty Images
Shaq and Kobe--2002
I think it is now safe to begin to discuss the All-NBA team from the 2000-2009 time period, which was a decade dominated by the Los Angeles Lakers (six NBA Finals appearances) and the San Antonio Spurs (three championships).
At the start of the decade, the question in every NBA fan's mind was, "Who is going to be the next Michael Jordan?"
Would it be the young Kobe Bryant, would LeBron James prove to be the next great one, or would the colorful personality of Allen Iverson replace the greatness of Jordan? Time has shown us that no one can replace Jordan. He is completely irreplaceable, and no player will ever be like him.
While there were many players who tried to be like Jordan, there were many others who brought their own style of play to the NBA throughout the first few years of the new millennium that should be celebrated as well.
With this being said, let's take a look at the best players of the 2000s.
All stats and information are taken from Basketball-Reference and Wikipedia, unless otherwise noted.
Begin Slideshow

»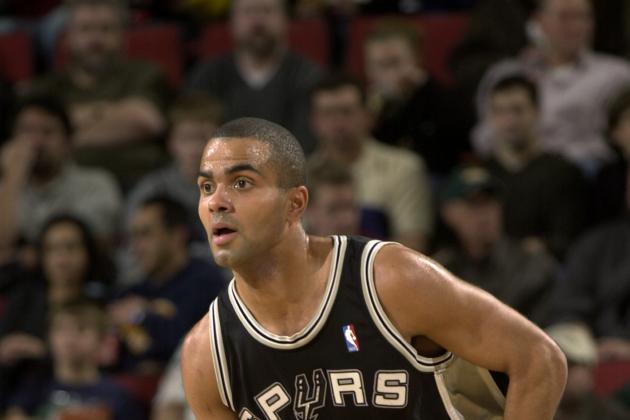 Otto Greule Jr/Getty Images

After breaking into the NBA in 2001 at the age of 19, Tony Parker has been a crucial member of the San Antonio Spurs.
He struggled offensively earlier in his career, but Parker developed into a reliable scorer for the Spurs and became the Spurs' starting point guard in his rookie season.
Parker's hustle and leadership was a contributing factor to the Spurs' championship runs in 2003, 2005 and 2007. Tony Parker deserves to be included in any discussion of the greatest point guards in NBA history.
Accomplishments (2000-2009)
Three-time NBA All-Star
Three NBA titles (2003, 2005, 2007)
2007 NBA Finals MVP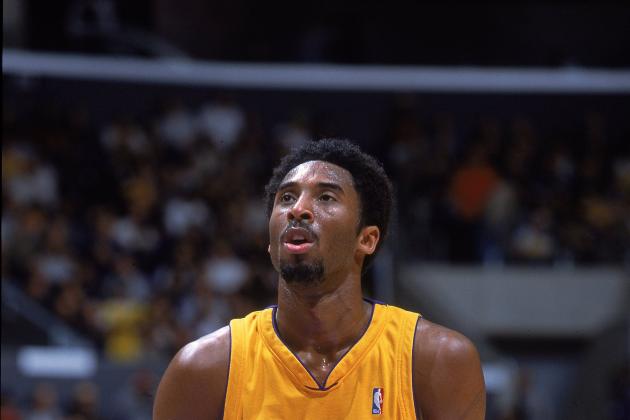 Jeff Gross/Getty Images

For years, Kobe Bryant was shadowed by Shaquille O'Neal, and the feud between the two was very public. The Lakers won three straight NBA titles from 2000-2002 with the duo of Kobe and Shaq, but after suffering a loss in the 2004 NBA Finals to Detroit, the Lakers decided that it was time to move the "Big Fella."
At that point, it was apparent that the Los Angeles Lakers were Kobe Bryant's team. However, several years went by and Kobe still had not won a title without Shaq. Finally, in 2009, the Lakers defeated the Orlando Magic in the NBA Finals to give Kobe Bryant his fourth title, and his first without Shaq. The doubters who had questioned whether or not Kobe could win without Shaq were silenced.
In 2006, Kobe scored 81 points, which was the second highest single-game point total in NBA history. In 2007, Bryant became the youngest player to score 20,000 career points—a record since broken by the next guy up on this list.
2000-2009 Accomplishments
10-time NBA All-Star
Two- time scoring champion (2006, 2007)
Four NBA championships (2000, 2001, 2002, 2009)

2008 NBA MVP
2009 NBA Finals MVP
Five-time All-NBA First Team selection
Six-time All-NBA Defensive First Team selection
Olympic Gold Medalist (2008)
References: "Kobe Bryant youngest to hit 20,000 points". CBC Sports. December 23, 2007. Retrieved February 20, 2012.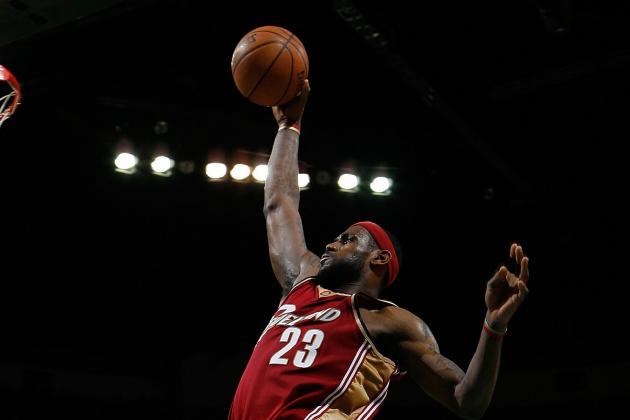 Chris Graythen/Getty Images

King James broke into the NBA with a bang, scoring 25 points in his NBA debut in 2003.
LeBron was drafted straight out of high school and was the No. 1 overall pick by his hometown Cleveland Cavaliers. James led the Cavaliers to playoff appearances during almost every year that he was in Cleveland, but he was plagued with the ugly stigma of being unable to win a championship. The closest he came to winning a championship with the Cavs was in 2007 when the team was swept by San Antonio in the NBA Finals.
Still, along with Shaquille O'Neal, LeBron was one of the most recognizable athletes of the 2000's, appearing in numerous TV commercials and even hosting Saturday Night Live.
Accomplishments (2000-2009)
Five-time NBA All-Star
Two-time NBA All-Star Game MVP (2006, 2008)
Three-time All NBA First Team selection (2006, 2008, 2009)
2004 NBA Rookie of the Year
2006 Sporting News NBA MVP
2008 NBA Scoring Champion
2009 NBA MVP
2009 All NBA Defensive First Team selection
Cleveland Cavaliers all-time leading scorer
Cleveland Cavaliers all-time steals leader
Olympic Gold Medalist (2008)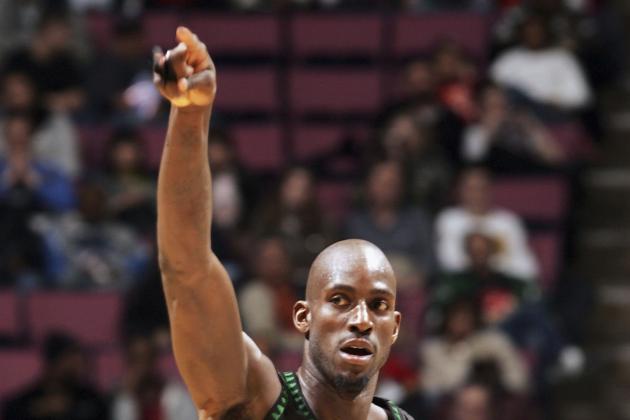 Jim McIsaac/Getty Images

Kevin Garnett was really the one who started the trend of prep-to-pro players when he was drafted by the Minnesota Timberwolves in 1995. He made an immediate impact in the league and has been a force ever since.
Although the Timberwolves had some good teams in the early 2000's, they could never make it past the Western Conference Finals.
Garnett, in his desire to win an NBA championship, asked be traded. Boston acquired Garnett, in the summer of 2007, in a blockbuster deal. Immediately after the trade, Boston acquired Ray Allen and, along with Paul Pierce, Garnett helped form a trio that laid the framework for a 2008 NBA Championship title run in Boston.
Accomplishments (2000-2009)
10-time NBA All-Star
Four-time All-NBA First Team selection
Eight-time All-NBA Defensive First Team selection
2003 NBA All-Star Game MVP
2004 NBA MVP
2006 J. Walter Kennedy Citizenship Award winner
2008 NBA Champion
2008 NBA Defensive Player of the Year
Olympic Gold Medalist (2000)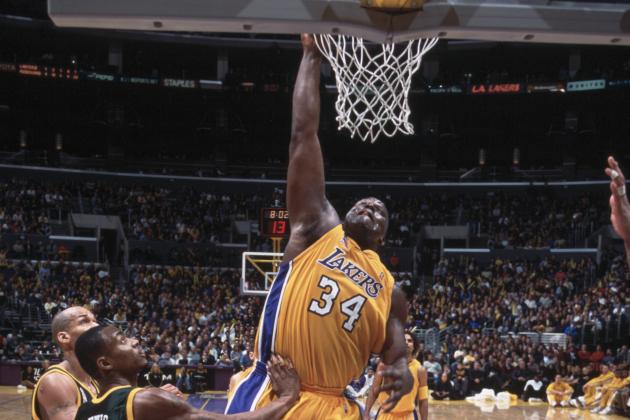 Jeff Gross/Getty Images

Shaquille O'Neal was probably the face of the NBA from 2000-2009. Not only did he win four rings during that time span, but he also appeared in numerous television and magazine advertisements, made guest appearances on TV shows, and even starred in two TV reality shows.
Shaq led the Los Angeles Lakers to three straight NBA titles from 2000-2002, despite a continued conflict with Kobe Bryant, and was named NBA Finals MVP all three times.
O'Neal was known for his on-court fights and for his criticism of other players, coaches, and referees during his press-conferences.
During the final year of his tenure with Los Angeles, in which the Lakers lost in the NBA Finals, Shaq was plagued by injuries and disputes with Bryant.
Soon after the season ended, Shaq was traded to the Miami Heat, who were thrilled when Shaq accepted a pay-cut to play for them. He then led the team to their first ever NBA championship in his second season there. At that point, Shaq had won his fourth title in only seven seasons.
The rest of O'Neal's career in Miami was spent plagued with injuries and he was traded to Phoenix in 2008. Despite winning co-MVP of the 2009 NBA All-Star Game (with Kobe Bryant), Shaq's career was never really the same after his injuries. He retired at the end of the 2010-2011 season.
Accomplishments (2000-2009)
Nine-time NBA All-Star
Three-time NBA All-Star Game MVP
Seven-time All-NBA First Team selection
Four NBA titles
Three-time NBA Finals MVP
2000 NBA MVP
2000 NBA Scoring Champion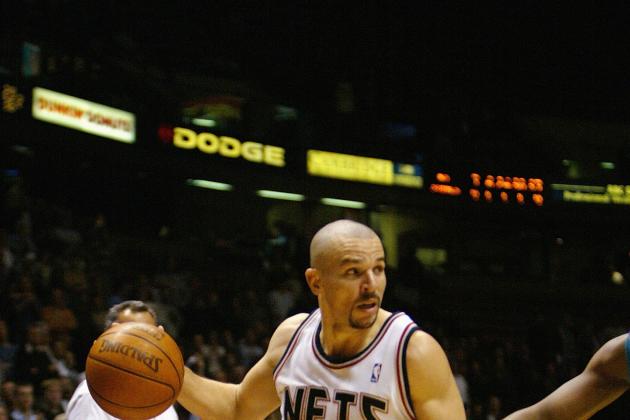 Ezra Shaw/Getty Images
Jason Kidd
Jason Kidd, G, New Jersey Nets
Kidd led the Nets to two straight NBA Finals appearances (2002 and 2003). He was a seven-time All-Star and also helped lead Team USA to two Olympic gold medals (2000 and 2008).
Tim Duncan, C, San Antonio Spurs
Duncan helped lead the Spurs to three NBA Championships (2003, 2005, 2007). He received two straight NBA MVP awards (2002 and 2003), and was named as the NBA Finals MVP twice (2003 and 2005). He was also a 10-time All-Star.
Dwyane Wade, G, Miami Heat
After being drafted in 2003, Wade made an immediate impact on the Heat and was the face of the franchise throughout the decade, even when Shaq joined the team. Wade helped lead the Heat to the 2006 NBA title and was named Finals MVP. He was a five-time All-Star and 2008 Olympic gold medalist.
Pau Gasol, F/C, Los Angeles Lakers
Gasol flourished with the Memphis Grizzlies earlier in the decade, but became a household name with the Lakers after his arrival in 2008. He helped lead the Lakers to the 2009 NBA championship. Gasol was a two-time All-Star and the 2002 NBA Rookie of the Year. He helped lead Spain to a silver medal in the 2008 Olympics.
Dirk Nowitzki, F, Dallas Mavericks
Nowitzki spent the whole decade with a monkey on his back until he finally won an NBA title in 2011. During the decade, Nowitzki was the 2007 NBA MVP and an eight-time All-Star.
Allen Iverson, G, Philadelphia 76ers
Iverson also failed to win a championship, despite winning four scoring titles. He was the 2001 NBA MVP, a 10-time All-Star, and he won the All-Star game MVP twice (2001 and 2005).
Ben Wallace, C, Detroit Pistons
Ben Wallace seems like an unlikely choice on this list, but he was arguably the best player on a team that appeared in two consecutive NBA Finals, winning one. He was a four-time NBA All-Star and four-time NBA Defensive Player of the Year. Wallace twice won the rebounding title and also won the block title once.

Jeff Gross/Getty Images

Phil Jackson, love him or hate him, is a basketball genius. His version of the triangle offense has revolutionized the game of basketball, and his genius has shown in the teams which he has coached.
Immediately after being hired by the Los Angeles Lakers, the team posted the best record in the NBA and won their first of three straight NBA Titles. Jackson retired briefly after the 2003-2004 season, and the media speculated that his retirement was a result of a contract dispute and Kobe Bryant's attitude.
Without Jackson, the Lakers missed the playoffs for the first time since the 1993-1994 season. Jackson was rehired almost a year to the day after he announced his retirement the first time. Jackson again rebuilt the Lakers into a playoff and title contending team. However, he would not win his next NBA title until 2009.
In 2007, Jackson won his 900th game, placing him at ninth on the all-time list. Later, Jackson won his 1,000th game, placing him at sixth all-time.
Accomplishments (2000-2009):
Six NBA Finals appearances, resulting in four NBA titles.
2000 and 2009 NBA All-Star Game head coach
Inducted into the NBA Hall of Fame, 2007