Will Jones Be 1st Black Player Picked No. 1?
Use your ← → (arrow) keys to browse more stories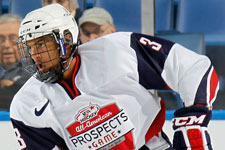 The best teenage hockey player in the U.S. is the son of a Brooklyn Nets assistant coach. He skates for the Portland Winterhawks at the Rose Garden, better known as the home of the Trail Blazers, against whom his father played 18 times during an 11-year NBA career...