James Harden and Kevin Durant's Current NBA MVP Rankings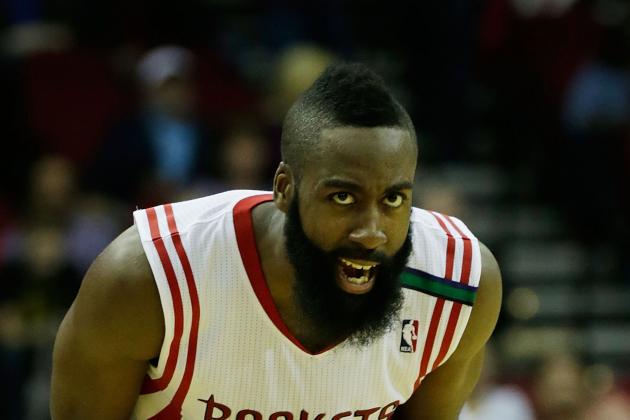 Scott Halleran/Getty Images

James Harden and Kevin Durant won't be guarding each-other tonight in Oklahoma City, but their statistical matchup will be monitored closely throughout the game.
Harden will be Durant's enemy for the first time on an NBA court, but they've already been competing for early Most Valuable Player consideration.
Four weeks into the 2012-13 NBA season, LeBron James looks like he could be on his way to his fourth MVP award.
However, when you consider Michael Jordan was voted regular season MVP "only" five times, you realize that another player enjoying a great season may get the benefit of the doubt. Just ask Charles Barkley or Karl Malone.
So far, there are several players that are pushing LeBron. Durant was expected to as last season's runner-up, but Harden has emerged as a top candidate as well.
Here are the NBA's Top 10 MVP Leaders almost a month into the 2012-13 season.
*statistics accurate as of Tuesday November 27
Begin Slideshow

»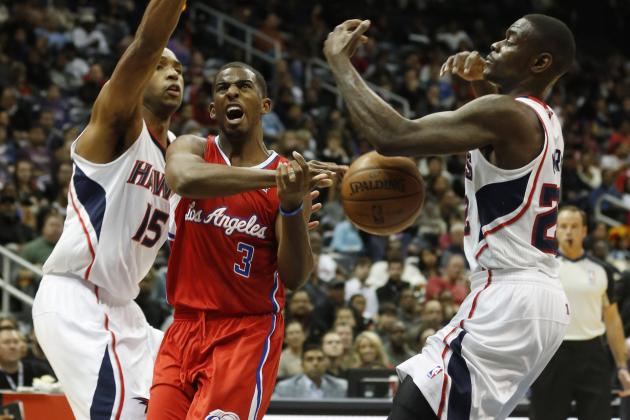 Josh D. Weiss-US PRESSWIRE

Chris Paul is not off to his best start, but his Clippers are tied for the Pacific Division lead. His 9.5 assists and 2.8 steals both rank second in the NBA.
CP3 has been off on his trifectas, often deferring to a hotter shooter like Jamal Crawford. By season's end, you can expect Paul's scoring average to rise and I look for him to finish in the top three for NBA MVP. His highest finish to date was second behind Kobe Bryant five seasons ago in New Orleans.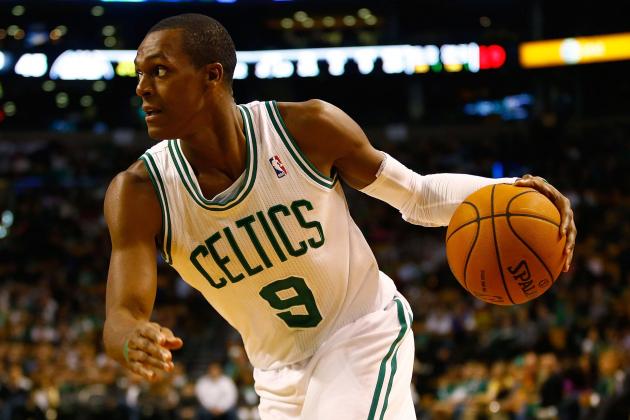 Jared Wickerham/Getty Images

Rajon Rondo has registered 37 consecutive double-figure assist games and his 13.7 average this season is more than four assists better per contest than Chris Paul.
Rondo is also on pace for career highs in points per game and three-point field-goal percentage.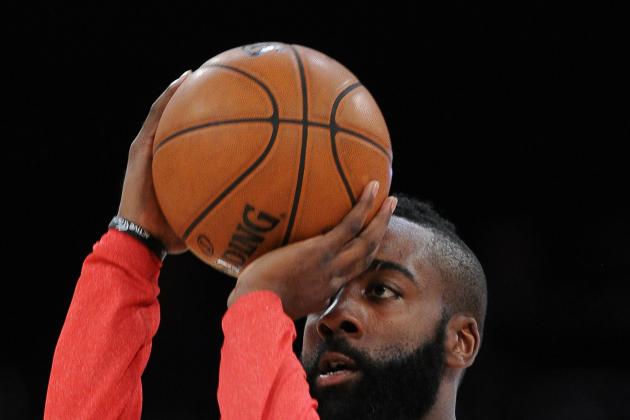 Jayne Kamin-Oncea-US PRESSWIRE

James Harden has lived up to his mega contract since arriving in Houston; his 25.1 points per game ranks fifth in the NBA.
Heading back to Oklahoma City tonight, Harden also sports career high averages with 5.4 assists, 4.4 rebounds and 1.8 steals (ranks 14th in the NBA).
The Rockets would be in bad shape without Harden and he will merit serious MVP consideration should Houston make the playoffs.
Ronald Martinez/Getty Images

Kobe Bryant currently leads the NBA in scoring at 27.7 points per game on 50.2 percent shooting; he also ranks third in the league in Plus/Minus, as Los Angeles is outscoring their opponents by 130 points with Kobe on the floor.
However, the Lakers' record is only 7-8 thus far, so it's hard to rank Kobe higher than seventh in the early MVP chase.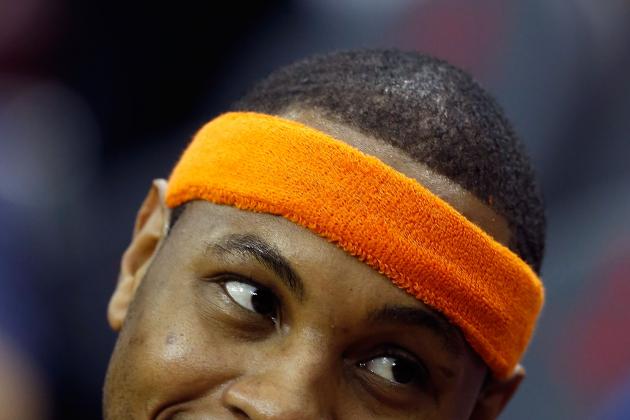 Scott Halleran/Getty Images

Carmelo Anthony and the Knicks enjoyed a 6-0 start to the season, but they are only 3-4 in their last seven games.
Melo's 26.3 points per game ranks third in the NBA, but he's averaging a career-low two assists per contest. Anthony will get a chance to improve on that when Amar'e Stoudemire returns next month, but Knicks fans know that chemistry has rarely worked.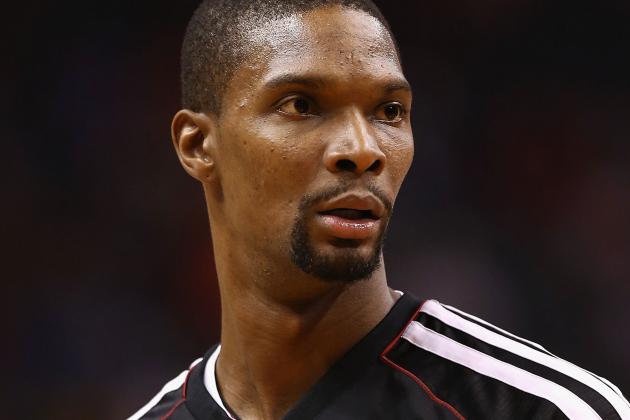 Christian Petersen/Getty Images

Chris Bosh is flourishing now that he has accepted the fact he needs to play center in addition to power forward.
Miami is off to a 10-3 start even with Dwayne Wade dinged up early in the season; Bosh has picked up the slack by averaging over 20 points a game on 56 percent shooting (ranks seventh in the NBA).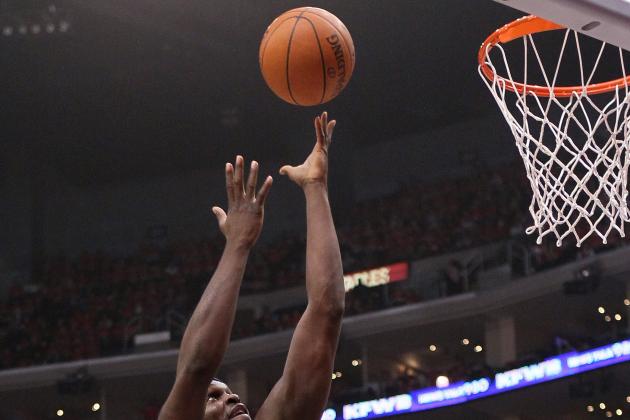 Stephen Dunn/Getty Images

Zach Randolph's game is still ugly, but he's been instrumental in the Memphis Grizzlies' 10-2 start.
Z-Bo ranks second in the NBA with 13.2 rebounds per game, a career-high pace; he's also averaging almost 17 points per game on 48.5 percent shooting, right around his career averages.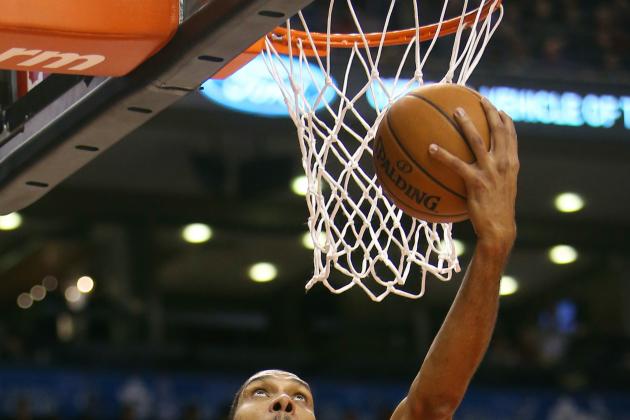 Tom Szczerbowski-US PRESSWIRE

Tim Duncan is not only rejuvenated at age 36, he's almost as good as ever.
The Spurs lead the league in wins because Timmy is averaging 18.7 points and 10.1 rebounds, on pace for his best totals since the 2008-09 season.
Duncan's 2.3 blocks per game and 76 percent free throws are even harder to believe; the last time he averaged that many blocks for a season was in 2006-07, when the Spurs won their last championship. His free-throw percentage ranks only behind his personal best of 79.9 percent in the 2001-02 campaign.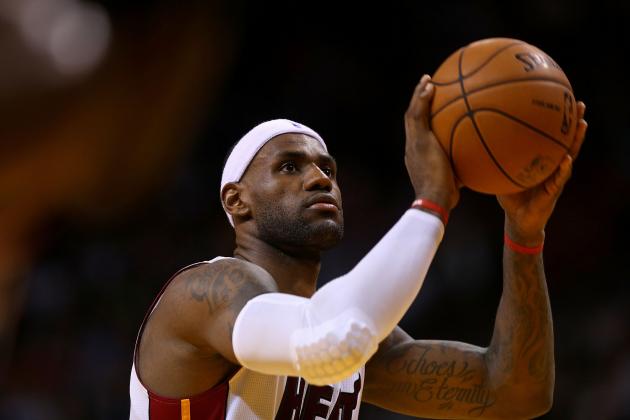 Mike Ehrmann/Getty Images

LeBron James is still the best all-around player in the NBA, but he'll have his work cut out to garner another MVP trophy this season.
LeBron ranks fourth in the NBA with 25.2 ppg; his 53.1 percent field goals matches his career-best from last season. He's also on pace for career highs in three-point shooting (43.9 percent) and rebounds per game (8.9).
However, another superstar out West has the inside track for MVP honors this season. Turn the page.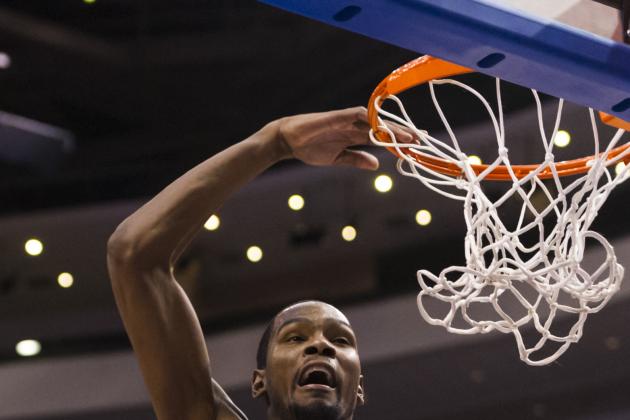 Howard Smith-US PRESSWIRE

With James Harden's departure to Houston, Kevin Durant had to elevate his all-around game for Oklahoma City this season. Heading into tonight's Rockets/Thunder showdown, Durant easily leads the NBA in Plus/Minus; OKC is outscoring their opponents by 156 points with Durant on the floor through 15 games.
Durant's 25.9 ppg is nothing unusual (he ranks only behind Kobe and Carmelo at the moment). However, Durant is averaging career highs in numerous departments thus far: 9.2 rebounds, 4.5 assists, 1.9 steals, 1.5 blocks and a 43.6 three-point field-goal percentage.
Again, the onus is on LeBron to clearly outperform Durant this season. It's true that LeBron is still a much better defender than KD. However, the same could be said about Michael Jordan in 1993 when Charles Barkley bested him for MVP honors during the season (Jordan's Bulls would go on to beat Barkley's Suns in the '93 Finals.)
I look for a similar scenario to play out this season. Durant can eke out the regular season MVP and carry Oklahoma City back to the Finals. However, LeBron and the Heat will again capture the more important hardware in June.