Position-by-Position 2013 NFL Draft Big Board for Pittsburgh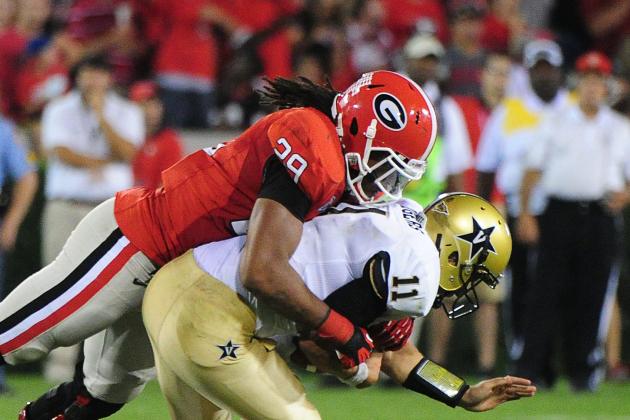 Scott Cunningham/Getty Images

Although we're only heading into Week 12 of the season, it's never too early for teams to start looking ahead to the NFL Draft.
The Steelers have been up and down all season long and since losing Ben Roethlisberger to shoulder and rib injuries, there's been more downs than ups. With two straight losses to the Ravens and Browns, Pittsburgh stands at 6-5 with a Playoff picture looking more and more blurry.
Right now, it's hard to get a handle on where exactly the Steelers will be picking come April, but it's pretty plain to see what positions they'll need to get.
With that said, let's take a look at a position-by-position breakdown of what the Steelers will need and a few guys they could be targeting.
Begin Slideshow

»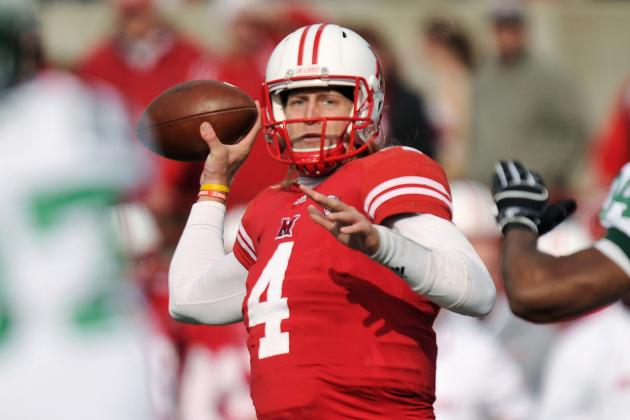 Jamie Sabau/Getty Images

Need Value: 3
With a guy like Ben Roethlisberger heading the team, the Steelers have little need for a starting signal caller or a quarterback for the future. So, one would expect that this value number would be closer to zero.
But I'm not talking about replacing Roethlisberger.
With the way Byron Leftwich and Charlie Batch have performed in the last two games, there's little chance either of them will be brought back following this season. Add in the fact that Brian Hoyer is still unproven in this offense and the Steelers might be thinking about bringing in a late round guy they can use.
The Steelers could look at a few QB's in the later rounds of the 2013 draft to solidify the spot behind Roethlisberger.
Landry Jones: Oklahoma
Jones was once considered the top quarterback prospect in college football, but hasn't quite been able to match that success over the last two years. With some coaching, Jones could become a starter, but would provide a solid backup until then.
Zac Dysert: Miami (OH)
Nothing like drafting the guy who broke all of Big Ben's college records to back him up but Dysert could do just that. Dysert has a quick release and would fit in well with what the Steelers want to do offensively. He also wouldn't cost the team a very high pick.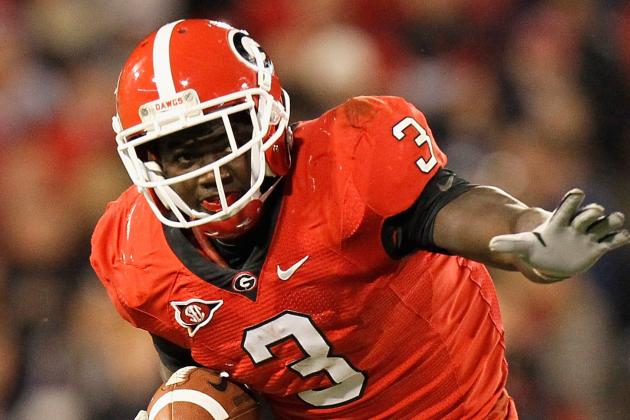 Kevin C. Cox/Getty Images

Need Value: 1
Despite what the Steelers running back corps did on Sunday against the Browns, and minus the fact they've waived Baron Batch and could lose Rashard Mendenhall at the end of the season, I don't see a huge need for Pittsburgh at running back.
The Steelers, at the least, will still have Jonathan Dwyer, Isaac Redman and Chris Rainey to start the 2013 season and that's something they can work with. I've said from the beginning that Dwyer should be the go to guy in Pittsburgh and I still think Redman and Rainey are good compliments, so it would shock me to see the Steelers draft a back in 2013.
If they're going to get a guy, they'd probably look for a more versatile back who can both run the ball and catch out of the backfield.
Washaun Ealey: Jacksonville State
Ealey has no doubt been a productive back over the course of his college career and was once the leading rusher at the University of Georgia. But Ealey has had a ton of disciplinary issues which is why he's landed at Jacksonville State. If he can be tamed, he'd be a nice complimentary back for the Steelers.
Michael Dyer: Arkansas Baptist
Dyer is another player with a troubled past after washing out of both Auburn and Arkansas State. But it seems like he's been trying to turn his life around. He's enrolled in a mentoring program at Arkansas Baptist and has still been a productive guy. Like Ealey, if Dyer can get his act together, he's a great compliment for the Steelers who could only cost the team a sixth or seventh rounder.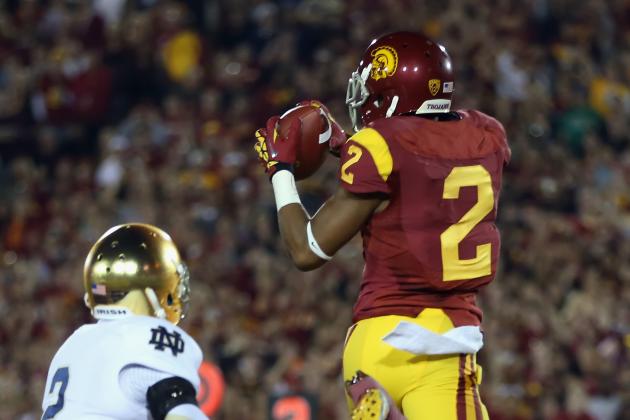 Jeff Gross/Getty Images

Need Value: 5
The value at the wide receiver position could either skyrocket or plummet pending on whether the Steelers can bring back both Mike Wallace and Emmanuel Sanders in the offseason.
They'll most likely be able to keep Sanders on the team, but Wallace could be an issue. He's infamously touted that he wants to be paid amongst the league's elite and, frankly, he hasn't earned it this year.
Even if the Steelers aren't looking for a starter, they could be looking for a solid number four to get some time on the field. The Plaxico Burress experiment may only last until the end of the season and there's no telling whether the team will retain Jerricho Cotchery.
Let's see some early round guys the team would look at and possibly some sleepers deep in the draft.
Robert Woods: USC
Woods was once considered the top wide receiver prospect in the 2013 draft. But with the emergence of Marquis Lee on the Trojan offense, Woods has taken a bit of a fall. He's still got a good release and can make things happen down the field. He'll most likely be off the board in the early to mid second round which means the Steelers would have to jump on him fast.
Justin Hunter: Tennessee
Like Woods, Hunter was, at one point, a top receiver prospect, but fell as the Volunteers offense began to take a dive. Hunter, at 6'4", would give the Steelers a big target they desperately desire on the outside and could add a dimension to the offense that Pittsburgh doesn't currently have.
Marcus Davis: Virginia Tech
If the Steelers can retain both Wallace and Sanders, they still could add some depth to their receiving corps. Marcus Davis is big and strong with a frame that rivals some tight ends. He'd give the Steelers a legitimate red zone target outside of Heath Miller.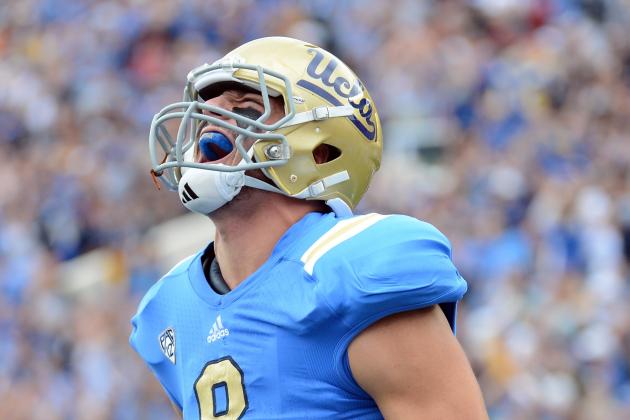 Harry How/Getty Images

Need Value: 0
The Steelers don't need a tight end probably for the next few years, but Heath Miller is no spring chicken anymore, despite being the most reliable receiver the team has had this season.
Pittsburgh has had good backups with rookie David Paulson and Leonard Pope and former tight end Will Johnson has become a starting fullback.
The Steelers look to be pretty well off at the tight end position despite most draft people projecting the team taking a guy like Notre Dame's Tyler Eifert in Round 1 of the draft in the beginning of the season.
I'd be pretty surprised if Pittsburgh went for a tight end at any point in the 2013 draft, minus drastic changes to the current roster.
Joseph Fauria: UCLA
If the Steelers are going to take a tight end it'll most likely be late in the draft and a guy who can catch the ball. Fauria has had a good 2012 and his 11 touchdowns have been quite impressive. He's a big target and will most likely be off the board somewhere in the fourth or fifth rounds.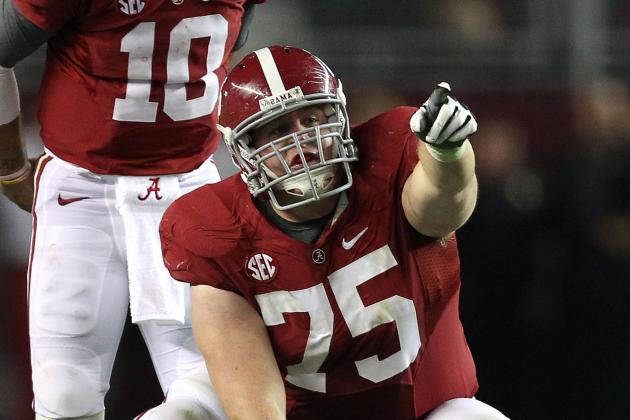 Mike Zarrilli/Getty Images

Need Value: 3
The Steelers offensive line has been pretty bad for a long time, but I actually like the direction the unit is turning.
With last year's additions of David DeCastro and Mike Adams to add to young talents Marcus Gilbert and Maurkice Pouncey, the Steelers have all the makings of what can be a talented front five. The move of Willie Colon to guard has also paid dividends for Pittsburgh this season as he's become the teams best run blocker.
With that said, the Steelers need to be able to find some depth to their starters in the draft. Every season, it seems like Pittsburgh loses a few linemen and the whole line deteriorates from there on out.
Barrett Jones: Alabama (G)
Jones might go a little too high for the Steelers to be able to grab him, but he's the most versatile offensive lineman in the 2013 draft. After becoming an All-American guard with the Crimson Tide, Jones unselfishly volunteered to move to center and has thrived at the position. Jones will most likely be selected in the second round and, like I said, that could be a little too high for the Steelers to make a move. But Jones provides depth at the guard and center positions.
Rick Wagner: Wisconsin (T)
The Wisconsin Badgers just know how to churn out the offensive linemen and Wagner could be another productive one at the NFL level. He's not ready to jump right in and be a starter, but he'll be a good depth guy and he already knows how to run block. Wagner should be a mid-round guy and that could leave the door open for the Steelers to grab him.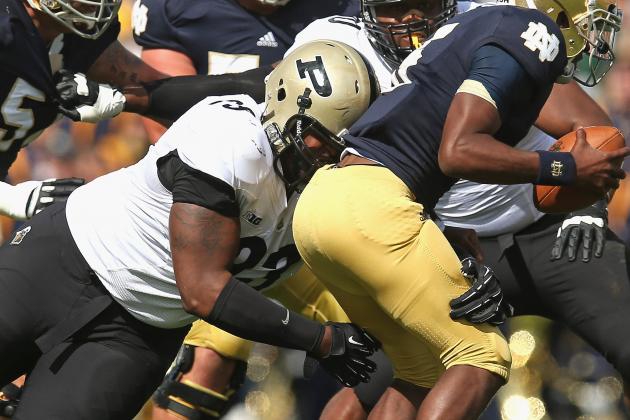 Jonathan Daniel/Getty Images

Need Value: 7
The Steelers have taken defensive ends in the first round in two of the last four drafts and have yet to reap any of the benefits from either Ziggy Hood or Cameron Heyward.
Brett Keisel is still playing at a high level but he's on the wrong side of 30 and the team might still be holding out hope on both Hood and Heyward. But that doesn't mean the Steelers are by any means set at the defensive end position, one that used to be a strength of theirs.
Casey Hampton has also felt the sting of old age and has fallen off a lot. The Steelers thought they had his replacement last season by taking Alameda Ta'amu in Round 4, but have since waived him this season for off the field antics.
Pittsburgh fans would love to see a guy like Utah defensive lineman Star Lotuleilei land in their laps but that's pretty much out of the question with where the team will be picking.
Kawann Short: Purdue (DE)
Short drew some consideration in the 2012 draft but elected to stay in school. He's a great penetrator in the backfield but can get hung up on double teams, making him less effective inside and better as a defensive end. He should be off the board somewhere in the second or third round so the Steelers will need to take a hard look at him.
Kapron Lewis-Moore: Notre Dame (DE)
Lewis-Moore brings a lot of good things to the table. He's got good burst off the ball and plays well in opponents backfields, but he's virtually non-existent as a pass rusher. He'll be a late rounder so the Steelers could add good value here.
Brandon Williams: Missouri Southern State (NT)
Williams has great size and can handle double teams as well as almost anyone in this year's draft class. He's dominated his opponents, mostly because he plays at the Division II level. But don't let that fool you, this guy can become a great player. He'll be a late round pick.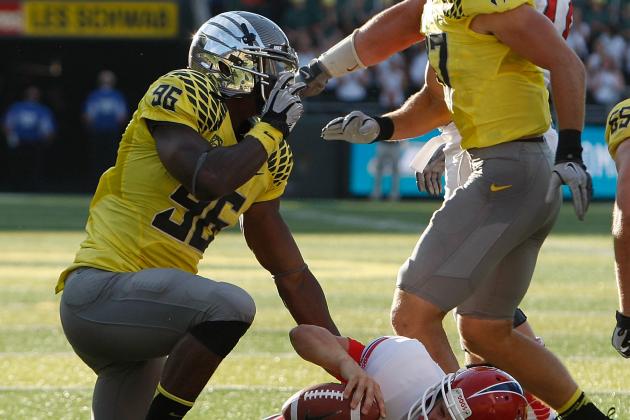 Kevin Casey/Getty Images

Need Value: 9
The Steelers' need at outside linebacker could soar depending on whether the team decides to bring longtime pass rusher James Harrison back or not. Regardless of Harrison's departure, the Steelers still need to look for their next great pass rusher on the outside.
The last two season have not been kind to the Steelers and their pass rushers. After finishing among the bottom of the league in 2011 in sacks, Pittsburgh ranks 24th in sacks this season with only 22 as a team.
LaMarr Woodley has been too injured to be himself over the last two seasons and James Harrison's knee injury has clearly been affecting him and his abilities on the edge. Jason Worilds has been solid in his limited role, but there's no telling if he's ready for a starting job.
I fully expect the Steelers will be looking for an outside linebacker early in the 2013 draft, possibly even with their first pick. Lucky enough for the Steelers, there's a lot of good pass rushers to go around in the coming draft.
Jarvis Jones: Georgia
If the Steelers can get their hands on Jones, it'd be the perfect pick for the team. Jones is a ready-made 3-4 linebacker who is a force coming off the edge and is disruptive in opponents backfields. He's probably the best pure 3-4 outside linebacker in the draft and could be a three-down player. Jones will be a very high pick; most likely inside the top 10 so Pittsburgh will have to go get him or hope he falls.
Dion Jordan: Oregon
Dion Jordan is an interesting prospect and might be better suited as a 4-3 defensive end. But at 6'6", 245 pounds, the Steelers have to give Jordan a look. He's going to be raw as a stand-up rusher and it'll take time before he's on the field every single play, but it took Aldon Smith time in San Francisco. I'd say that turned out pretty well.
Sam Montgomery: LSU
Montgomery started the 2012 season being regarded as the top pass rushing prospect in the country, but he's fallen off a little since then. Montgomery still has great size and athleticism, but disappears at times during the game. Personally, I like Montgomery and with the right teacher he can be a force. He'll be around a lot closer to when the Steelers are picking and could end up being their guy.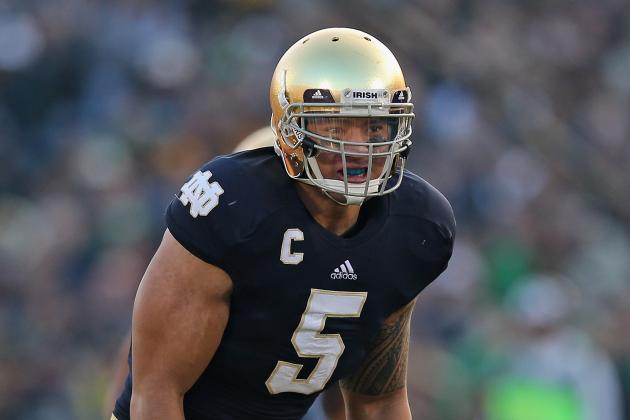 Jonathan Daniel/Getty Images

Need Value: 7
The Steelers inside linebacker corps has actually been relatively strong this season but that doesn't mean they don't need to add someone.
Larry Foote is getting up there in age and is limited in pass defense while Sean Spence doesn't really fit what the Steelers do defensively and may be limited to nickel and passing formations. Pittsburgh could use a stud next to Lawrence Timmons who has really come around last season.
Last year, I pegged the Steelers taking Dont'a Hightower in the first round and had David DeCastro not fallen in the teams lap, he most likely would have been the pick. DeCastro was the correct selection, but Hightower would have looked great in black and gold.
Manti Te'o: Notre Dame
If the Steelers draft Manti Te'o, it'll be by some small miracle or a big trade. But Te'o is a great fit next to Timmons in the Steelers' 3-4 scheme. He's a guy who plays well against the run and could be the playmaker the defense has desperately been missing. I fully expect he'll be gone by the time the Steelers pick in the first round, but if they like him enough, they always have the option of going up and getting him.
Shayne Skov: Stanford
Skov has some great size and is athletic for how big his frame is. The leader of the Stanford defense (who by the way held an Oregon offense to 14 points) has also shown a good ability to rush the passer. Skov might actually be a better fit for Larry Foote's position because he's a downhill player and plays so well against the run. He's graded out as a late second or early third rounder.
Nico Johnson: Alabama
Ready-made 3-4 linebackers always have to catch the eye of the Steelers' scouts and Johnson plays on the best 3-4 defense in college football. Johnson has good size and is already familiar with the style of play they run in Pittsburgh. He'll be available later on in the draft and could be a good value pick for the Steelers.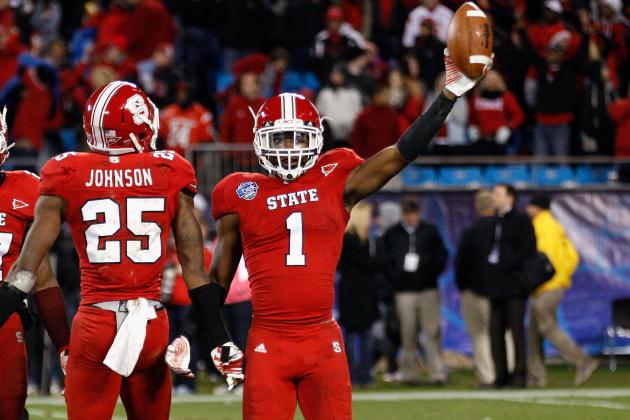 Streeter Lecka/Getty Images

Need Value: 3
Right now, I don't think the Steelers are in any need of a cornerback, but that can all change this offseason. Breakout player Keenan Lewis is scheduled to be a free agent at season's end and the Steelers may make him the teams top priority.
If they're able to bring Lewis back, they have great depth behind him and Ike Taylor with Cortez Allen and Curtis Brown both playing big parts this season. If they can't retain Lewis, they might look for a corner early in the draft.
The only reason the Steelers would look to draft a cornerback is if they are unable to keep Lewis in Pittsburgh. Ike Taylor is getting up there in age, but with Brown and Allen playing well, they're pretty set.
David Amerson: N.C. State
Amerson was projected to be a top five pick early in the season but has slipped some after he's struggled in coverage this season. He's got the size the Steelers look for on the outside and can bring an element Pittsburgh hasn't had in a long time; a cornerback that can catch. Amerson is probably going to rise a little bit and will most likely be a late first or early second rounder.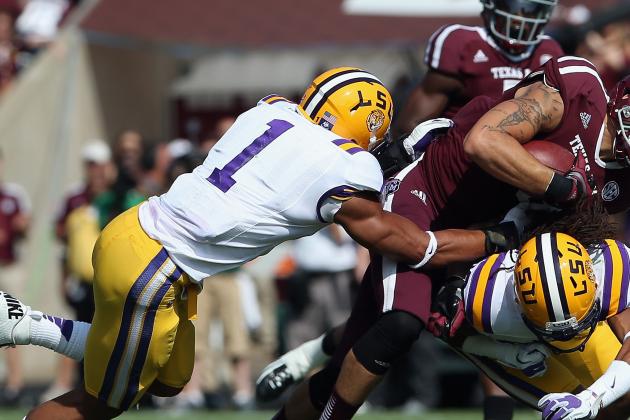 Ronald Martinez/Getty Images

Need Value: 9
Call me crazy if you wish, but I think safety is one of the Steelers' biggest needs heading into the 2013 offseason.
Troy Polamalu has missed very significant time with a calf strain and there's some talk that he may never really be the same player again. Ryan Clark has played at an All-Pro level this season, but he's not exactly a spring chicken anymore.
Pittsburgh struggled early on in the season trying to replace Polamalu with guys like Ryan Mundy and Will Allen and, although they've calmed down now, there's still some trouble in the secondary.
The good thing about adding a safety is he most likely wouldn't have to start right away and could sit back and learn behind two great players. I would fully expect the Steelers to look at some safeties early in the draft.
Eric Reid: LSU
Right now, if I could pick one player (logically) for where the Steelers will most likely be drafting, it would be Eric Reid. Reid has some big-time potential at safety and actually grades out with a very favorable comparison to Polamalu. He plays well in the box, tackles well and has been very good in coverage, especially underneath. Reid is going to be a first round pick and the Steelers should do their homework on this guy.
Bacarri Rambo: Georgia
Rambo has had a great career with the Bulldogs that was slightly marred in the beginning of the season with a suspension due to the ingestion of "pot brownies." But Rambo has been a very good safety on the field. Rambo was ranked ahead of Mark Barron last season by many scouts and he could be a hidden gem for someone in this draft. He grades out as a second rounder right now.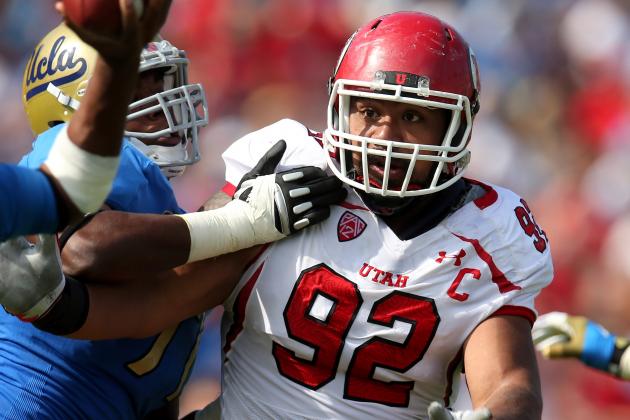 Stephen Dunn/Getty Images

So here's where I have the Steelers big board right now. These will be the top 15 guys they should be looking at based on both value of the player and need of the position. Just because some guys weren't mentioned in individual position slides doesn't mean they won't be on this list.
1. Jarvis Jones / OLB / Georgia
2. Manti Te'o / ILB / Notre Dame
3. Star Lotulelei / DL / Utah
4. Dion Jordan / OLB / Oregon
5. Eric Reid / S / LSU
6. Luke Joeckel / OT / Texas A&M
7. Dee Milliner / CB / Alabama
8. C.J. Mosely / OLB / Alabama
9. Sam Montgomery / OLB / LSU
10. John Jenkins / NT / Georgia
11. Matt Elam / S / Florida
12. Baccari Rambo / S / Georgia
13. Bjoern Werner / OLB / Florida State
14. Jesse Williams / NT / Alabama
15. Robert Woods / WR / USC