Boston Bruins: 4 Contracts That Will Be a Problem Under a Reduced Salary Cap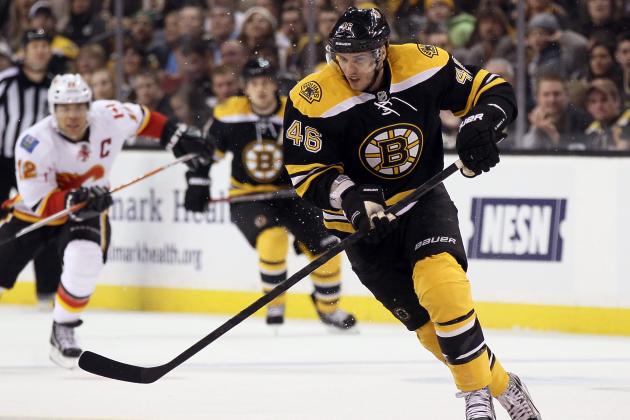 Elsa/Getty Images

The Boston Bruins currently have more money committed for the 2012-13 season than any other team in the NHL. A significant salary cap reduction in the next collective bargaining agreement could leave them in deep water.
Boston's cap total for the year currently sits at $68,867,976, hovering just below last year's $70,200,000 maximum.
Throughout the ongoing CBA negotiations, owners have pushed for a 50/50 revenue split, which would reduce the players' share of Hockey Related Revenue from its current 57 percent. A precipitous drop in the players' share is likely to involve a significant modification to the salary cap moving forward.
Considering that Boston finds itself dangerously close to the old cap, any revision could put it well over the maximum and in need of drastic changes.
Prior to the lockout, Bruins GM Peter Chiarelli acted quickly to protect the corps of the team that won the Stanley Cup in 2011. Young stars Tyler Seguin, Milan Lucic and Brad Marchand each received lucrative extensions that will keep them in black and gold for the foreseeable future.
However, the major financial commitment required to retain some stars could make some fan favorites impossible to keep. Here are a few contracts that could be problematic moving forward:
(All salary cap and salary figures are courtesy of CapGeek.com.)
Begin Slideshow

»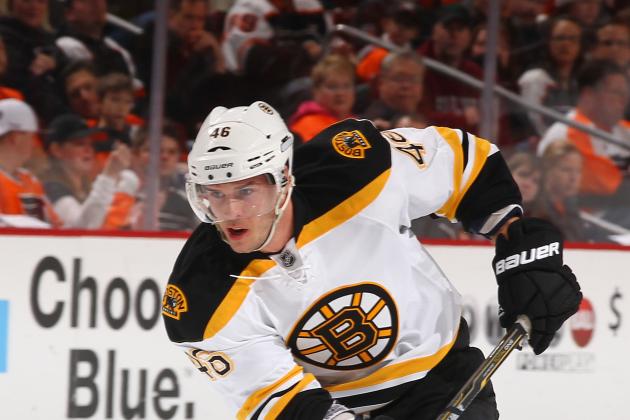 Al Bello/Getty Images

David Krejci's contract does not expire until the summer of 2015, costing the Bruins $5,250,000 against the cap over each of the next three seasons.
As a result of his large salary, the 26-year-old center could be shopped this season if the Bruins have to tighten their collective belt.
Last season, Krejci failed to improve on his 2010-11 total of 62 points, yielding identical offensive production. However, his lack of offensive development is of less concern than his defensive play. While Krejci's teammates filled the top five spots in the NHL's plus-minus column, his rating dropped from plus-23 to minus-five.
In the $5,000,000 range, Krejci's cap hit is comparable to much more productive players such as Corey Perry, John Tavares and Phil Kessel. On a Boston team well-stocked with talent down the middle, Krejci is no longer cost-effective.
Although he began the season as Boston's top center, he has since been surpassed by Patrice Bergeron, who claimed the Frank J. Selke trophy as the league's best defensive forward. The young Tyler Seguin, who earned the team's scoring title in just his second season, could also threaten Krejci's role in Boston if he returns to center.
$5,250,000 is simply too much to commit to a player that is struggling to reach his potential. Though Krejci remains young and talented, Boston can no longer afford to bet on his future success.
If the cap drops, then Krejci will be a very popular name in trade rumors.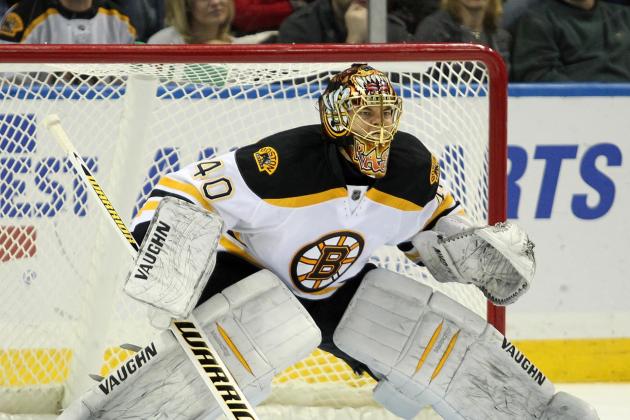 Timothy T. Ludwig-US PRESSWIRE

Due to Tim Thomas' extended vacation, Tuukka Rask has inherited Boston's starting job in net. Rask's expanded role came with a brand-new $3,500,000 one-year contract that will need to be renewed at season's end.
Rask's only experience as a legitimate starter came in his rookie season back in 2009-10. He was spectacular that year, usurping Tim Thomas's role atop the depth chart and leading the league in both goals-against average and save percentage.
Since then, Rask has been the rock-solid second leg of one of the NHL's best goaltending tandems. The one-year deal awarded to the 25-year-old will give him the opportunity to prove that he is worth a big payday next summer.
That payday could be problematic in a reduced cap situation. For instance, if Rask succeeds beyond Boston's wildest dreams, then he may demand an astronomical fee in the offseason.
He will not hit the open market, instead only becoming a restricted free agent, which will entitle the Bruins to compensation if he signs elsewhere. However, compensation in the form of draft picks could not possibly fill the void left behind if he escapes.
Boston currently has the talent to win championships for the next several seasons, and elite goaltending will be crucial to achieving that end.
Rask will get his money in 2013, but it could come at the expense of some of his teammates.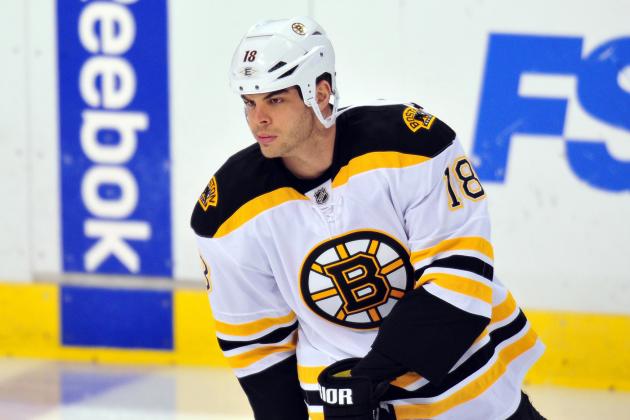 Steve Mitchell-US PRESSWIRE

Nathan Horton will cost the Bruins $4,000,000 against the cap this year before reaching free agency next summer.
Horton has struggled with concussions since the 2011 Stanley Cup Finals and managed to play in just 46 games last season. The gifted winger's production has been positive, but his chronic injury issues have put his future with the Bruins in doubt.
With his current deal expiring at the end of the season, Horton must prove that he is healthy in order to earn a lucrative contract. However, if he manages to attract suitors, the Bruins could be priced out of the market.
A healthy Horton would of course be coveted by GM Peter Chiarelli, but the cash-strapped Bruins will be hard-pressed to retain the winger's services. On the other hand, if Horton struggles, he could stay in Boston by agreeing to a pay cut.
After the Marc Savard saga, it seems unlikely that Boston would commit serious money to a player with a history of concussion issues. Therefore, Horton's days in Boston are likely numbered.
His name could be mentioned around the trade deadline, or Boston could simply let him walk.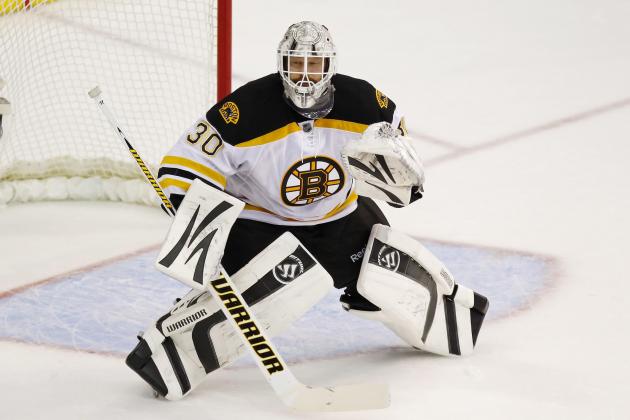 Geoff Burke-US PRESSWIRE

In light of Thomas' decision to sit out the entire 2012-13 season, his $5,000,000 cap hit has become a nightmare for the Bruins front office.
Thomas has just one year remaining on his deal before hitting free agency, and his negative value to the team requires immediate action.
The Bruins' cap situation could instantly be improved by moving the wasted $5,000,000 hit to another team. A trade involving Thomas is surprisingly possible considering several teams currently sit below the cap floor.
The Bruins will hope that the floor is not adjusted in the new CBA, as some small-market teams would love to take on Thomas' contract.
The Thomas contract could allow a team to comply with the salary cap minimum without having to spend any real money.
Thomas may never wear a Bruins jersey again, but he will continue to be a storyline in Boston until his contract is off the books.
Peter Chiarelli will frantically look to deal the two-time Vezina Trophy winner as soon as the CBA is completed.