Panthers vs. Eagles: 5 Matchups That Will Decide Monday Night Clash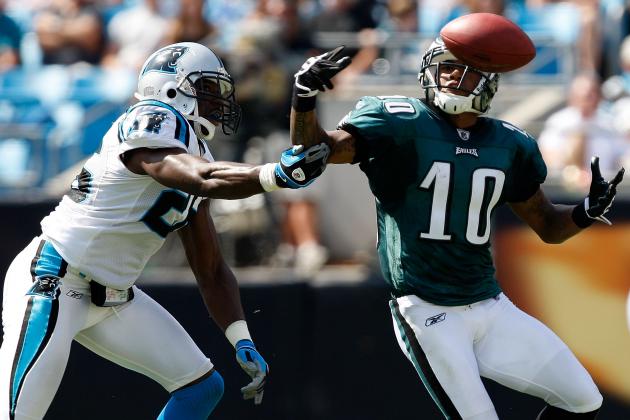 Streeter Lecka/Getty Images

While wholly unexpected at the start of this season, the Philadelphia Eagles (3-7) will host the Carolina Panthers (2-8) Monday night in a matchup between the NFC's two worst teams record-wise.
The Eagles have lost six straight games—the longest losing streak in the Andy Reid era—after a 3-1 start, while the Panthers are just 1-7 over their last eight games.
The records are even more distressing for the two clubs when you considering the expectations for each coming into the season.
Philadelphia has been a huge disappointment since the start of the 2011 season, winning just 11 total games since spending millions of dollars on several big-name free agents. Internally, Carolina had Super Bowl expectations heading into 2012.
Now, Week 12 provides nothing more than a showcase of pride for two teams already out of the postseason picture.
In the following slides, we'll break down the five matchups that will decide Monday night's clash.
Begin Slideshow

»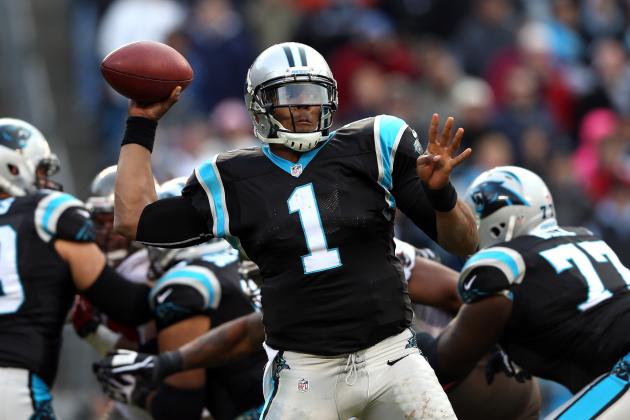 Streeter Lecka/Getty Images

After throwing for 21 touchdowns and running for 14 more during his rookie season, Cam Newton has just just nine and four through 10 games in 2012. His completion percentage (57.0) and passer rating (79.0) are down, while his interception rate (10 in 300 attempts) and total fumbles (five) are both up.
Monday night represents a fantastic opportunity for Newton to get his season turned around, at least statistically.
The Eagles have crumbled on defense, especially against the pass, since firing coordinator Juan Castillo a month ago. Over the last four games, Philadelphia has allowed a combined passer rating of 143.6—a stunning number that includes 11 touchdown passes and zero interceptions.
Overall, the Eagles are averaging over 30 points allowed a game since starting over new on defense. If Newton is up to the task, this is a hurting unit that remains ripe for the picking.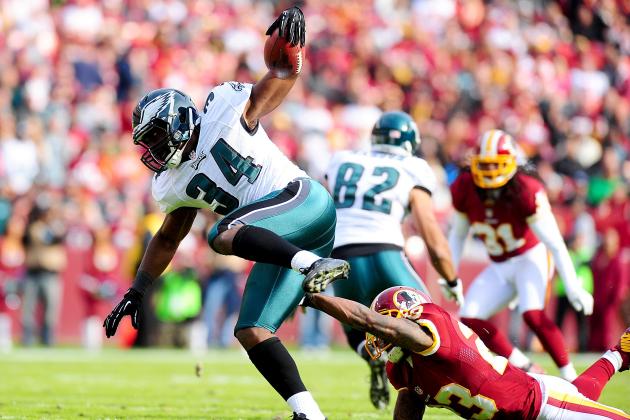 Evan Habeeb-US PRESSWIRE

Not only are the Eagles starting a rookie quarterback (Nick Foles), but they'll also be without Pro Bowl running back LeSean McCoy (concussion). In his place, Philadelphia plans to start rookie Bryce Brown.
While showing flashes in limited playing time this season, Brown is still a raw back who has never carried a full load in an NFL game. But given Andy Reid's tendency to abandon the run, Brown may not even have to worry about seeing 20-25 touches Monday night.
More important could be Brown's ability to pick up inside blitzes, as the Panthers like bringing a number of their linebackers through the A-gap (left or right of the center). Brown needs to be considerably better at sticking the linebackers and free blitzers if Foles is to have a chance Monday night.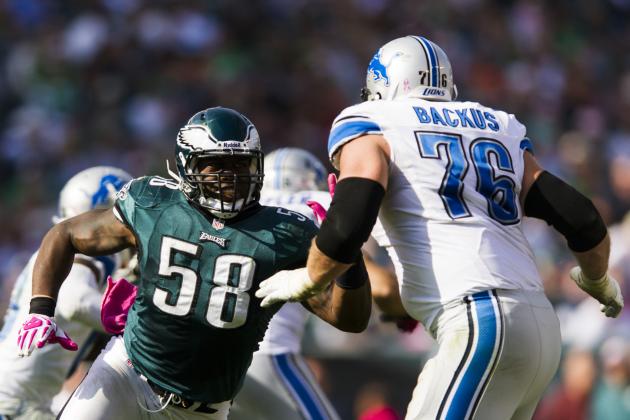 Howard Smith-US PRESSWIRE

The drying up of the Eagles' pass rush has been one of the more surprising breakdowns of the 2012 season. A defense that arguably possessed the best attacking line in football a season ago, Philadelphia now has just 16 sacks and struggles to maintain pressure from game-to-game and snap-to-snap.
A trickle-down effect—most notably in pass coverage at every level—has resulted from Philadelphia's lack of a pass rush.
There should be opportunities to rush Newton Monday night, although left tackle Jordan Gross is one of the best in the conference on Newton's blind side.
According to Pro Football Focus, guard Amini Silatolu has been one of the NFL's worst pass-blocking interior offensive linemen, and each of the other three starters (not including Gross) has graded out negatively in pass protection this season.
If the Eagles can't get home on Newton Monday night, especially with some of the interior matchups, expect another big passing night against Philadelphia's struggling secondary.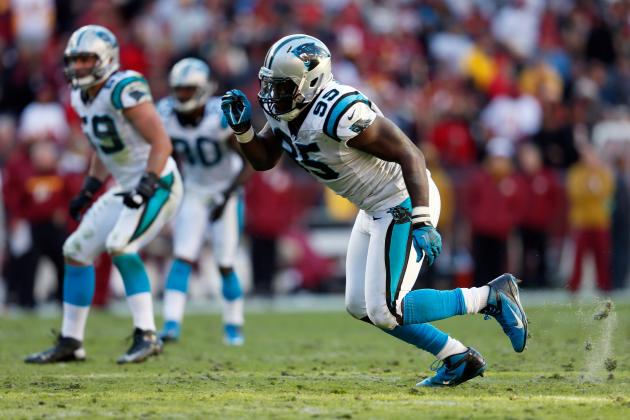 Rob Carr/Getty Images

The Eagles' pass rush (or lack thereof) receives a lot of attention, but the pressure package to watch Monday night might just be the one from Carolina.
Defensive ends Greg Hardy (7.0) and Charles Johnson (8.5) have combined for 15.5 sacks, while penetrating defensive tackle Dwan Edwards has five. Overall, the Panthers have 26 sacks in 2012.
The Eagles are among the worst pass-protecting teams in football, mostly because injuries have ravaged the talent level across the board. Despite the obvious weakness up front, Reid still rarely goes max protect—instead choosing to put his tackles out on an island in space.
If that trend continues Monday night, Hardy and Johnson could add some serious bulk to their pass-rushing stats. The Eagles' 33 allowed sacks is the third-most in football.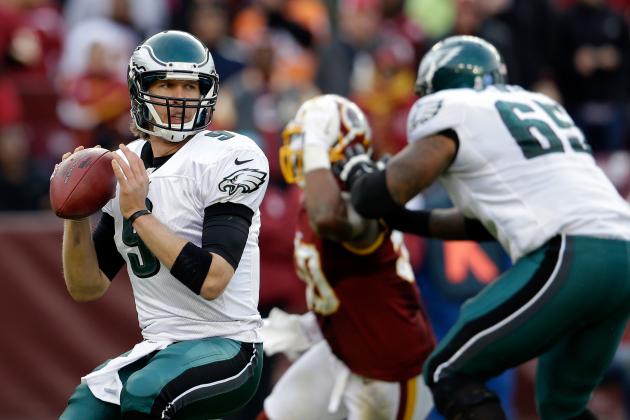 Rob Carr/Getty Images

Like so many NFL games, avoiding turnovers will likely tell the story of Monday night's clash. Both teams have struggled—to different degrees—holding onto the football this season.
The Panthers, thanks in part to a failing run game, are minus-3 in the turnover category in 2012. Newton has been sloppy with the football (nine interceptions, three lost fumbles), but he's rarely received help from a trio of running backs that are all capable of handling a heavy work load.
Meanwhile, the Eagles will have to avoid the game-changing turnovers with a young, inexperienced offense. Philadelphia's starting center and right tackle are rookies, the starting right guard was a street free agent two weeks ago and both the quarterback and running back—the important ball-handlers—are first-year players.
Philadelphia is an NFC-worst minus-14 in turnovers this season, included 24 giveaways. If the Eagles expect to snap their six-game losing streak, a baby-faced offense will have to find a way to protect the football better Monday night.