12 Dream Free-Agent Pickups for Brewers This Offseason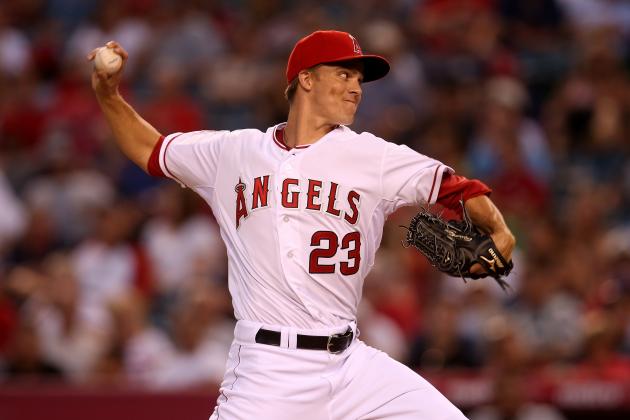 Stephen Dunn/Getty Images

The Milwaukee Brewers have made it clear that they will not chase any high-priced free agents this offseason.
Signing a prolific free agent is nearly impossible for a small-market team like the Brewers. They failed to keep big money stars in CC Sabathia, Prince Fielder and Zack Greinke even though they offered admirable contracts to each of them.
Imagine the Brewers being owned by the likes of Bill Gates, Warren Buffet or Donald Trump. Money would be no issue, and Milwaukee would have no quarrels chasing down the top free agents available.
A veteran starting pitcher tops the list of Milwaukee's needs after the departures of Randy Wolf and Shaun Marcum. A seasoned pitcher is a must with all the young arms they have.
Filling in the bullpen is a must after letting Kameron Loe and Francisco Rodriguez walk, and with proven relievers available, Milwaukee should be in a rush to sign them.
With money as a non-issue, here are 12 free agents the Milwaukee Brewers should covet.
Begin Slideshow

»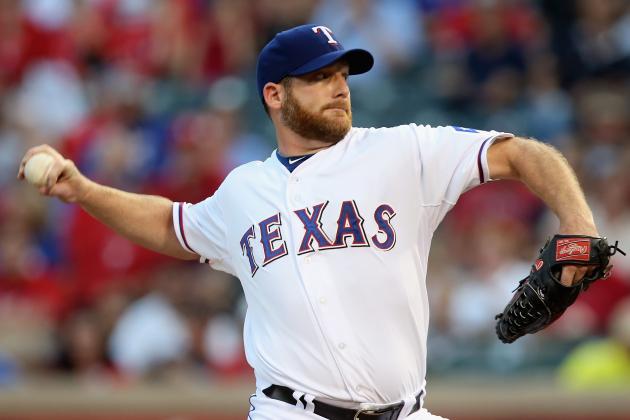 Ronald Martinez/Getty Images

Ryan Dempster is among the vast free-agent pitching market, and he has drawn interest from the Brewers. At 36 years old, Milwaukee would add the veteran presence that they need and a proven top-of-the-rotation starter.
He is a slight upgrade from Shaun Marcum, but if he can stay healthy, Dempster has the ability to post a sub-3.00 ERA.
Dempster may be attracted to Milwaukee because of his familiarity with the National League Central. He spent eight seasons with the Chicago Cubs before being traded to the Texas Rangers. Milwaukee fans dreaded the days he pitched against the Crew, knowing a Cubs victory was a near certainty.
The former Cub won 12 games in 2012 with a 3.38 ERA. His career ERA is 4.33, but his career was rejuvenated after closing down his closer role and becoming a starter.
He would fit in nicely as a No. 2 or No. 3 starter for the Crew. His fastball tops out at 94 MPH while his splitter is devastating. By far his best swing-and-miss pitch, opposing hitters missed on almost 40 percent of his splitters in 2012.
Seeing Dempster pitch for Milwaukee instead of against them would be a welcomed sight.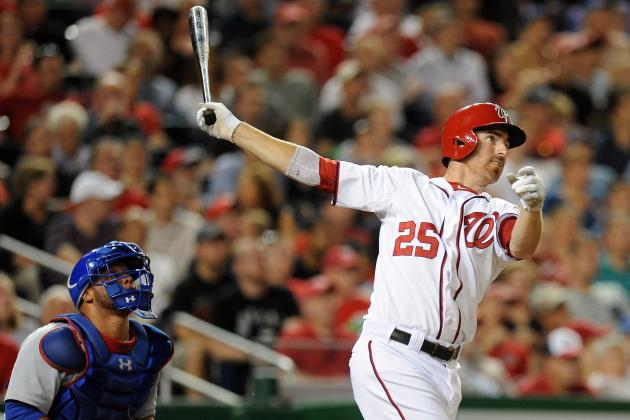 Greg Fiume/Getty Images

After declining the Washington National's qualifying offer, Adam LaRoche became the top free-agent first baseman.
LaRoche had a career year last season. He launched 33 home runs and drove in 100 runs while leading Washington to their first postseason berth since 1933.
With Corey Hart as the new first baseman in Milwaukee, it wouldn't make sense for the Brewers to chase LaRoche. Yet if the Brewers believe Norichika Aoki will be a victim of a sophomore slump, signing LaRoche and moving Hart back to right field would become viable.
LaRoche is the ideal six-hole hitter. His average typically falls around .270, and his power is superb. Adding a forceful left-handed bat would give some protection to the heart of the Brewers lineup. A lineup including Ryan Braun, Aramis Ramirez, Hart and LaRoche would have no trouble wreaking havoc on pitchers.
At 33 years old, it'd be surprising to see teams offer LaRoche more than a three-year deal. Any deal longer than that would be an incredibly risky move.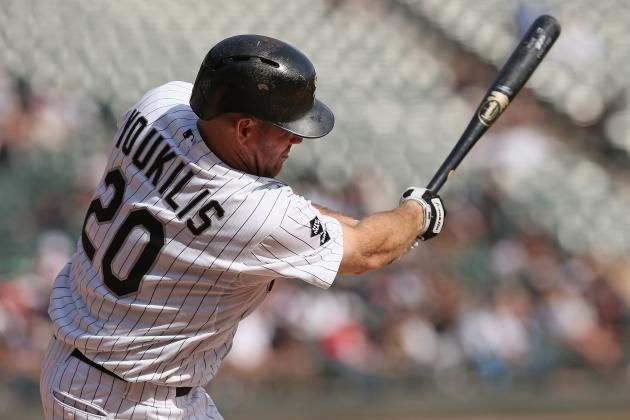 Jonathan Daniel/Getty Images

Kevin Youkilis is another possible replacement if the Hart-Aoki situation falters.
After being shoved to the door in Boston by Bobby Valentine, Youkilis started over in Chicago with the White Sox.
In 80 games with the White Sox, Youkilis only managed a .233 average, which is 50 points lower that his career mark. His power was still evident, however, as he hit 19 home runs in 122 games with both teams.
The 33-year-old can play both corner-infield positions at a high level. The Cleveland Indians are interested in him as a first baseman, while the Philadelphia Phillies envision him at third.
For the Brewers, Youkilis would probably fit better on the bench. An injury to Aramis Ramirez or Hart would be no cause for alarm with Youkilis waiting.
A huge downside of signing Youkilis is his strikeout consistency. In the six seasons he has played 120 or more games, he has struck out at least 100 times.
Adding a big name like Youkilis would solidify Milwaukee's bench and provide depth.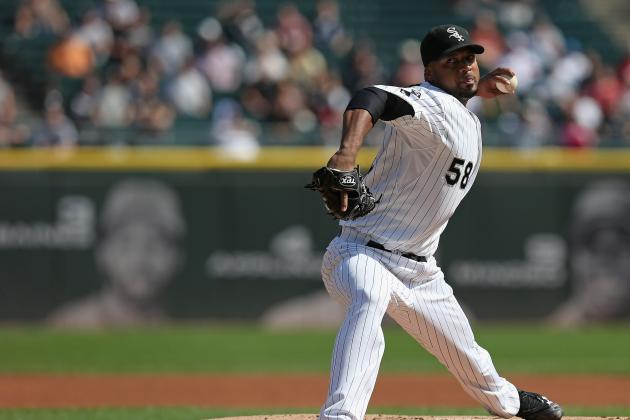 Jonathan Daniel/Getty Images

Francisco Liriano has never recovered the magic he had before having Tommy John surgery in 2006. And once again, his 2012 season was one to forget.
Liriano racked up a 5.34 ERA and only managed four wins for the White Sox. His slider lost its devastating movement, and he has consistent trouble locating his fastball.
So why would the Brewers want him?
Liriano is only 29. If the Brewers can sign him to a one-year deal, and he somehow escapes his struggles, it could turn into one of the best free-agent signings in history. And no, that isn't too bold to say. Liriano was once that good.
Liriano flashed his past brilliance with the Minnesota Twins in 2011 when he no-hit the White Sox. When he has his electric stuff, he is capable of throwing a no-hitter every time out.
In Milwaukee's rotation, Liriano would be the fourth starter just in front of Chris Narveson. If he cuts down his walks and recaptures his suffocating stuff, he would be the best No. 4 pitcher in the majors.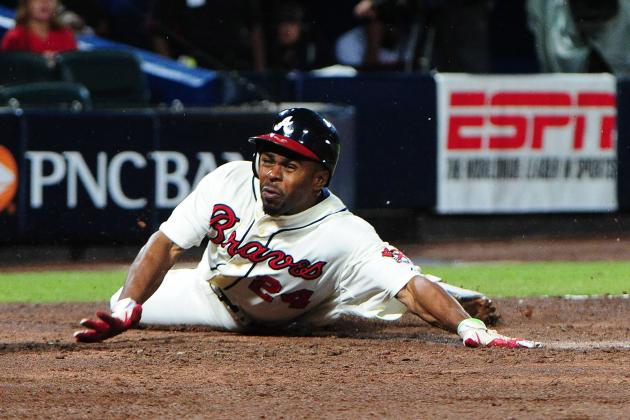 Scott Cunningham/Getty Images

Michael Bourn is a top-tier leadoff hitter and a Gold Glove center fielder. Besides B.J. Upton and Josh Hamilton, Bourn will be the most sought-after free-agent outfielder.
His defensive arsenal was highlighted during his days in Houston when he made spectacular catches while running up that ridiculous hill in center field in Minute Maid Park.
Last season, Bourn hit .274 with 42 stolen bases. His .348 on-base percentage was sixth-best in the majors.
Bourn is not a big upgrade from Milwaukee's incumbent center fielder Carlos Gomez. His average and OBP are higher, but Gomez is right with Bourn on the defensive side and has sufficiently more power. However, Bourn is an everyday player, while Gomez' inconsistency makes him more suited for a bench role.
As you can expect with Scott Boras as his agent, the former Brave is asking for quite a bit of money. He expects a deal superior to five years worth $75 million.
Bourn's speed and athleticism, and with center-field depth weak in free agency this offseason, he will receive whatever amount of money he seeks.
J. Meric/Getty Images

B.J. Upton is very similar to Michael Bourn.
They both steal bases like it's nobody's business, and both play a stellar center field. While Bourn's batting average hovers around .270, Upton has experienced difficulty hitting for average.
Upton is still considered a five-tool player, although his average has proven otherwise. For his career, Upton is a .255 hitter. His strikeout numbers are off the charts. He has whiffed over 1000 times in his seven-year career, including 169 times in 2012.
Upton would be best-served in right field for Milwaukee. Moving Norichika Aoki to the bench for Upton wouldn't even be second-guessed. It's a must-move.
In reality, the Brewers won't consider Upton. If they can't sign Josh Hamilton, they won't spend any money on outfielders.
It remains to be seen whether Upton will ever live up to his full potential, but if he does, the organization that acquires him will be happily paying him for years to come.
Thearon W. Henderson/Getty Images

It's a miracle Brandon McCarthy is still able to play baseball. After being hit in the head with a line drive that fractured his skull, doctors performed emergency surgery on McCarthy.
He has now become a popular free agent this offseason.
Despite dealing with arm issues yet again, McCarthy improved on his tremendous 2011 season with another productive year in 2012.
In 18 starts, the 29-year-old recorded a 3.24 ERA while posting a K/BB ratio of 3.04.
McCarthy is the kind of pitcher Milwaukee loves—a low-key guy who doesn't get the attention he deserves. The Brewers aren't attracted to a boisterous phenom who makes the news everyday. They would rather have an under-the-radar pitcher like McCarthy.
Like a Shaun Marcum or Ted Lilly, McCarthy puts up decent numbers without the publicity. Milwaukee, like Oakland, is a small-market city, so the transition should be easy.
Teams are cautious of McCarthy, not because of his head injury but because his history of arm injuries.
Milwaukee won't offer more than a one-year deal to a player who has been plagued by injuries. They may up it to two years but not a day more.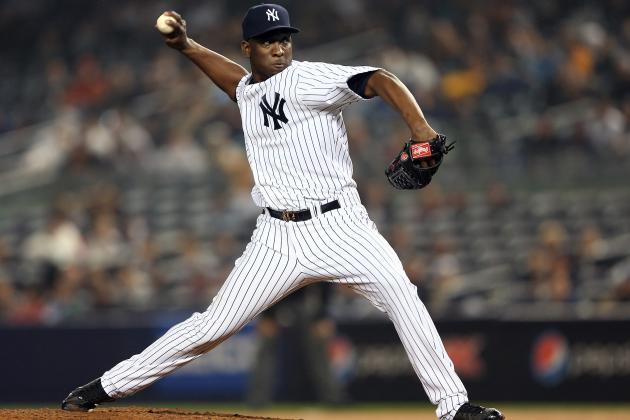 Elsa/Getty Images

Rafael Soriano was tasked with the impossible job of replacing Mariano Rivera as the closer for the New York Yankees. He didn't just fill in—he blew past expectations.
In 69 appearances, Soriano recorded 42 saves with a lights-out 2.26 ERA—not bad statistics before a free-agent year.
As expected, he declined the Yankees qualifying offer. The Yankees remain interested along with many other teams.
Milwaukee's bullpen struggles in 2012 have been well-documented. They were dead last in the MLB in ERA with an abysmal 4.66 mark. Reliable closer John Axford was anything but, and the rest of the bullpen seemed more suited for Single-A.
The Brewers have made it a priority to revamp their bullpen.They need to sign at least four relievers, and Soriano is the perfect place to start.
If Axford's downfall continues, Soriano could step in seamlessly like he did in New York. Otherwise, his value as a setup man would be extremely high.
At age 32, Soriano still has many years of prominence ahead of him. Signing Soriano to a three-year deal would be bold but smart.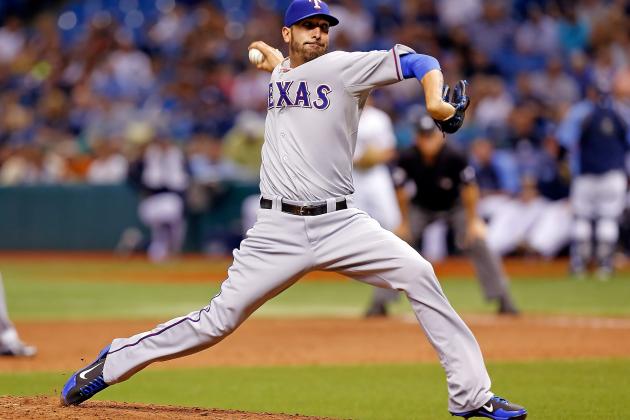 J. Meric/Getty Images

Mike Adams just might be the supreme free-agent reliever this offseason.
A seven-year veteran, Adams has a career ERA of 2.28. He has been a dominant reliever his entire career and should be highly coveted.
The Texans Rangers would love to see Adams return, but they aren't optimistic. He has earned a substantial contract, and the Rangers don't typically give out multi-year deals to relievers.
The Brewers will not hesitate to dish out cash to a pitcher like Adams. The right-hander would replace Kameron Loe or Jose Veras in late-inning situations. With Adams in, you can almost guarantee the lead is safe.
He won't shy away from his fastball when facing big-time hitters. Adams' fastball is usually in the mid-90s, which is what you want from a late-inning reliever. He also ranked fifth in the American League in holds in 2012 with 27.
Milwaukee can realistically sign Adams and should make a decent attempt. A two-year deal would be fair for both sides.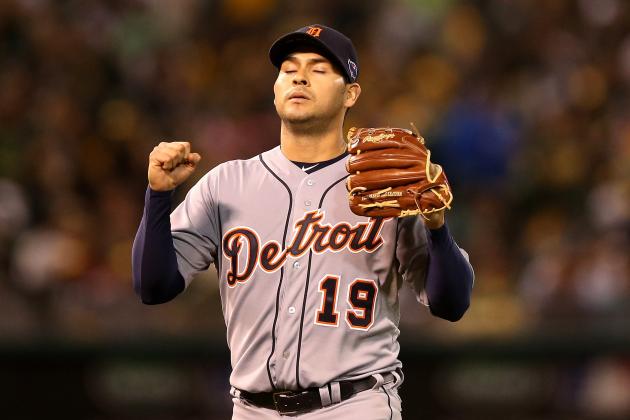 Ezra Shaw/Getty Images

Anibal Sanchez is demanding a six-year deal worth $90 million. He isn't worth that kind of money, but a team who is in desperate need of starter will spend it.
Milwaukee desires a veteran pitcher, and if they were loaded with dough, Sanchez would be an obvious choice.
Sanchez is a consistent starting pitcher if nothing more. His ERA usually floats around 3.70. His wins, however, are abnormally low. In his six seasons, Sanchez has only recorded double-digit wins twice. But that's not necessarily on him. His offenses behind him have been anything but great.
His changeup is his go-to pitch. It ranges around 84 MPH and has a relative amount of sink to it. With a fastball that tops out at 94 MPH and a lethal changeup, Sanchez has put together a sound career.
Sanchez should interest the Brewers more than McCarthy for a couple of reasons. He is younger and has had playoff experience. Since the Brewers are filled with young arms, having a pitcher who has experienced the postseason is instrumental.
The 29-year-old is on a short list of pitchers the Brewers should hunt.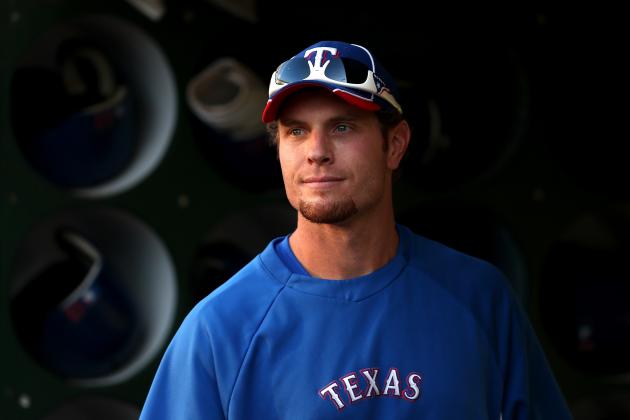 Ezra Shaw/Getty Images

For some reason, the Milwaukee Brewers have been rumored to have interest in Josh Hamilton (via CBS Sports).
People don't seem to realize that Milwaukee doesn't have the money to pay the left-handed slugger. However, if they did, the Brewers would be the perfect suitor for Hamilton.
The Brewers bench coach is Johnny Narron, who was Hamilton's life coach in Texas. Being reunited with Narron would hopefully do wonders for Hamilton's personal life, and the cause for concern would vanish.
Hamilton's drug and alcohol problems have been talked to death. Everyone understands there's a risk associated with him.
If the Brewers could easily—and I mean easily—afford Hamilton, they should absolutely sign him. He is one of the best left-handed hitters in the game and is an MVP candidate every year.
Between him and Carlos Gomez, Hamilton is by far the better player. He hits for average and power and drives in runs on an absurd basis.
How deadly would the Brewers lineup be with Hamilton joining forces with Ryan Braun, Aramis Ramirez, Corey Hart and Rickie Weeks?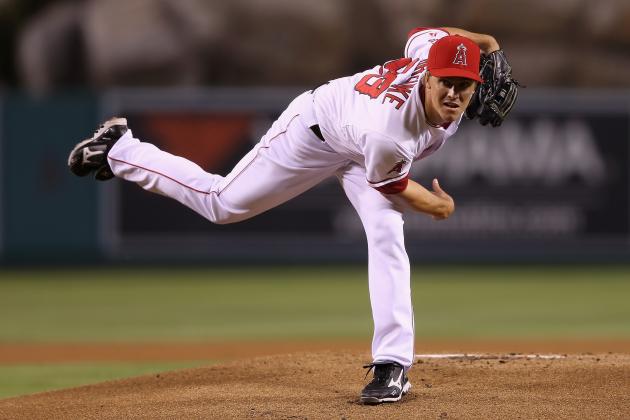 Jeff Gross/Getty Images

Without question, Zack Greinke should be on top of Milwaukee's Christmas list.
Greinke is the best free-agent pitcher available, and big spenders like the Los Angeles Dodgers have already made their interest known.
The Brewers have been communicating with Greinke as well. Greinke has spoken highly of the Brewers organization and owner Mark Attanasio. It just seems like a perfect fit.
Miller Park was extremely friendly to Greinke. In 23 starts, the former Cy Young award-winner went 15-0 with a 2.93 ERA. Why wouldn't he want to come back to the friendly confines of Milwaukee?
Milwaukee should pay Greinke whatever he wants, which is rumored to be six years worth $150 million. There isn't another pitcher like Greinke on the open market. If the Brewers want to contend in 2013, Greinke will be in the rotation.
Milwaukee and Greinke are a match made in Heaven. If Milwaukee lets it be known that Greinke is their No. 1 priority, don't be shocked to see him returning.
.