Whiny Houston Texans Should Shut Up, Just Focus on Super Bowl Run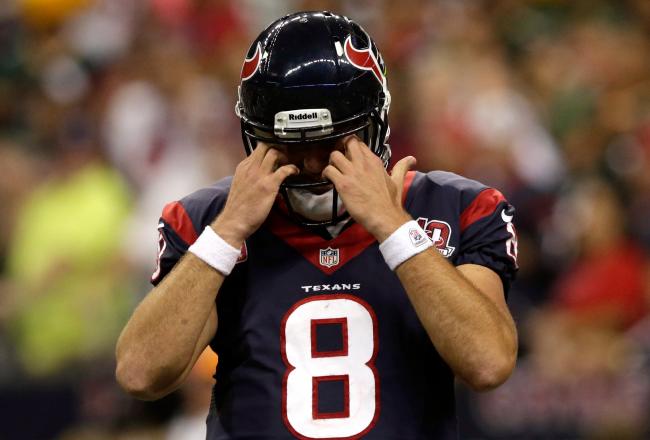 Scott Halleran/Getty Images
The Houston Texans have the best record in football and are primed to earn home-field advantage throughout the playoffs, but again, they're whining about dirty play.
If this were Twitter, now's the time when a "shake my head" hashtag would be appropriate.
According to ProFootballTalk, this is what quarterback Matt Schaub said regarding Ndamukong Suh while on In the Loop with Nick and Lopez out of Houston: "No, you don't want a player like that. The stuff that he stands for and the type of player he is, that's not Houston Texan worthy. That's not what we're about."
Sure, Schaub isn't the only one who thinks Suh is a dirty player—that sentiment is shared by many players across the league. Also, I can't absolutely berate Schaub for answering a question honestly, but any inquiry about Suh should have been brushed off as a non-issue.
After all, the Texans beat the Lions, and Houston is 10-1.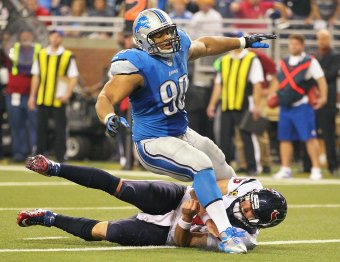 Mike Carter-US PRESSWIRE
Just as importantly, this isn't the first time a member of the Texans has complained about dirty play this season.
Following Week 4's win over the Houston Texans, per ESPN and the Houston Chronicle, "Multiple members of the Texans' defense told the Houston Chronicle that Tennessee Titans offensive tackle Stewart used 'dirty' tactics, claiming that he attempted to pull Brooks Reed's hair and threw punches throughout the contest."
If you can believe it, the whining didn't begin there.
Via the Miami Sun-Sentinel, defensive lineman Antonio Smith said the following about Dolphins offensive lineman Richie Incognito after Houston demolished Miami in Week 1:
"Everything that's illegal that can be done on the football field he does it, but mainly he was hitting people after the play, sliding down on your leg grabbing your ankle and trying to twist to break your ankle and he was doing it right in front of the referees and he was still in the game."
Noticing a trend here?
The Texans have become—stunningly—the whiniest team in the NFL, and they've done so as legitimate Super Bowl contenders after wins.
Last year, the Jacksonville Jaguars called the Texans dirty, and Jaguars defensive tackle Terrance Knighton said the following to the Houston Chronicle: "I still don't like them, and I have no respect for them at all. It was just the dirty stuff they were doing. I don't want to get into specifics; I just don't like them."
You see, it's all a moot point anyway.
I bet, if you asked enough NFL players, every team would be dirty.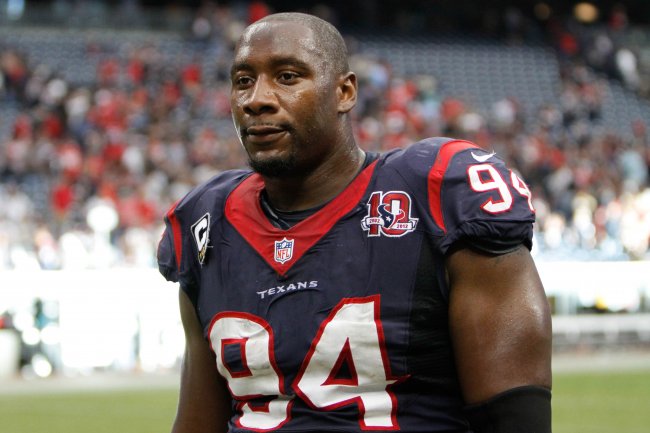 Brett Davis-US PRESSWIRE
Rub one guy the wrong way, block another a few seconds after the whistle or use an old-school tactic to get the football in a pile after a fumble, and the word "dirty" can easily get squeezed out of an angry player.
Should the Texans be complaining about dirty play?
We usually hear those gripes from bad, frustrated teams with sub-.500 records and no playoff hopes.
That's the problem with the Texans' grumbles.
They can't be worrying about Suh, Incognito or any other player who may be considered dirty.
No, the sniveling mindset won't necessarily derail their Super Bowl aspirations, but the whining certainly won't help them advance deep into the postseason.
Remember, they have one playoff win franchise history.
Focus down the regular-season stretch and in January will be paramount.
This has to stop for a Houston Texans team that has championship-caliber talent.
Leave the whining to the bottom-feeders.
This article is
What is the duplicate article?
Why is this article offensive?
Where is this article plagiarized from?
Why is this article poorly edited?