NFL Rookie Report: Grading Every Rookie Class Heading into Week 13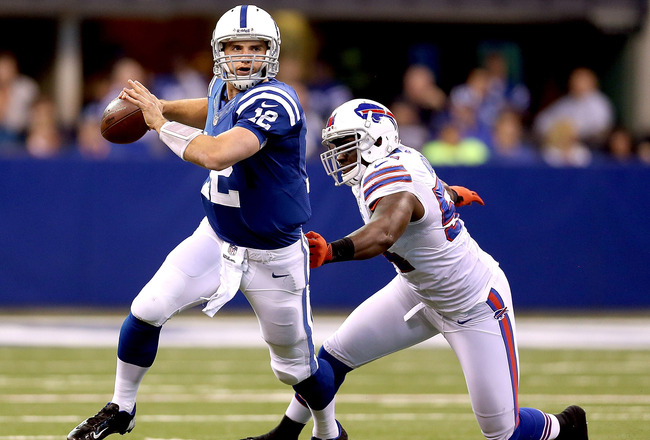 Matthew Stockman/Getty Images
The 2012 draft class continues to show that it's one of the better groups in recent memory. This is shown by the fact that I have a total of nine teams with a grade of A- or higher. Those grade were determined by overall impact and depth.
Meaning, a team might only have two impact players but those players are playing at an extremely high level. That team would get an equal grade as a team that features four or five middle of the road performers with upside.
Please keep in mind that each slide doesn't discuss every rookie. It talks about the most recent developments and high points of the season.
Dallas Cowboys: C+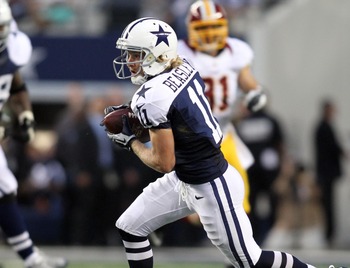 Tim Heitman-US PRESSWIRE
Impact Rookies: Morris Claiborne and Cole Beasley
The Dallas Cowboys have been searching for an answer at the No. 3 wide receiver spot all season long. Cole Beasley made a claim to the job with his seven catches and 68 yards against the Washington Redskins. In this game, he made several spectacular catches and was targeted a total of 13 times by Tony Romo.
This is just one game, but Beasley has set himself up for more playing time.
Morris Claiborne is extremely talented, but has had some ups and downs this season. However, it's important to note that Rob Ryan's defense forces the cornerbacks into a lot of one-on-one situations. Most rookie cornerbacks will make mistakes in this type of system.
Despite the mistakes, Claiborne still has a very bright future.
New York Giants: C+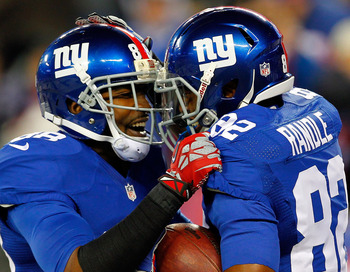 Rich Schultz/Getty Images
Impact Rookies: Rueben Randle, David Wilson and Jayron Hosley
Things are starting to look up for the New York Giants rookie class. Rueben Randle is slowly starting to earn more snaps on offense, especially after his excellent touchdown catch against the Green Bay Packers. With the iffy health of Hakeem Nicks, Randle could be in line for more snaps in the near future.
David Wilson is now the primary backup to Ahmad Bradshaw because of the injury to Andre Brown. He'll definitely get more touches, but he needs to show Tom Coughlin that he's over his fumble problems from early in the season.
Wilson will also continue to be a major part of the kick return team.
Hosely's playing time is on the decline because the Giants secondary is starting to get healthier. However, if Corey Webster continues to struggle, New York might consider making some adjustments.
Philadelphia Eagles: A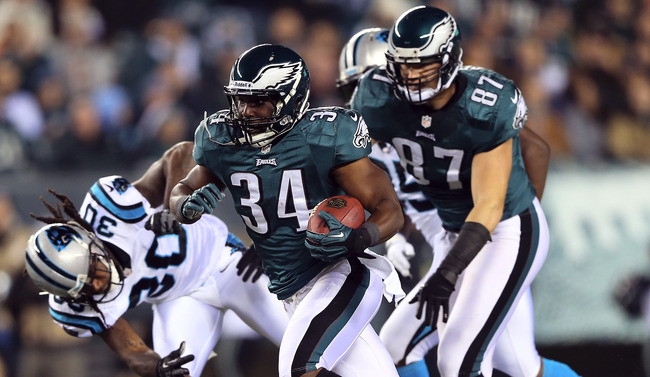 Elsa/Getty Images
Impact Rookies: Bryce Brown, Damaris Johnson, Nick Foles, Fletcher Cox, Mychal Kendricks, Brandon Boykin and Dennis Kelly
A lot of things have gone wrong for the Philadelphia Eagles this season. However, the rookie class has made some nice contributions. This group features several potential long-term starters in Bryce Brown, Nick Foles, Fletcher Cox, Mychal Kendricks and Brandon Boykin.
Brown's breakout performance against the Carolina Panthers gives the Eagles a great backup option behind LeSean McCoy. It also gives them some flexibility when developing an offensive game plan. Brown and McCoy are both versatile enough to be on the field at the same time.
With the expected coaching changes, there's no telling the true future of Nick Foles. The next group of coaches will need to determine if he's someone to build around. However, he has shown enough promise to earn more chances to win a long-term job.
The Eagles defense has several nice pieces with Cox, Kendricks and Boykin in place. All three should be starters heading into next season. Each has a chance to develop into above average players in this league.
Washington Redskins: A-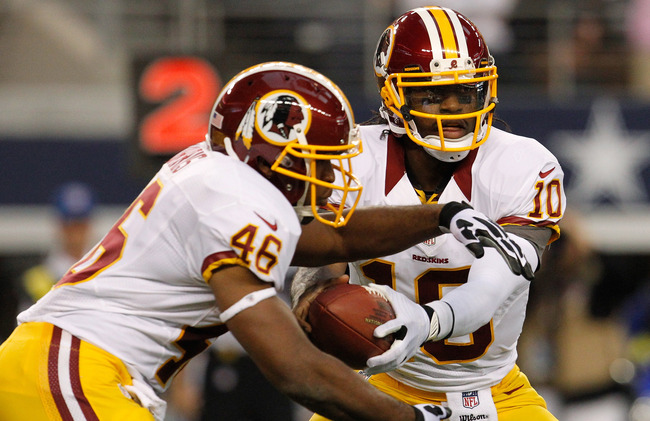 Tom Pennington/Getty Images
Impact Rookies: Robert Griffin III and Alfred Morris
The Washington Redskins found two building blocks in the 2012 draft. Both Robert Griffin III and Alfred Morris are in the running to win the Offensive Rookie of the Year Award. These two have helped the Redskins offense take a huge step forward this season.
Griffin is playing beyond his years, as he's not only producing big plays but also protecting the football. His accuracy down the field makes this offense one of the more dangerous in the entire NFL.
Morris' hard-nosed running style really complements Griffin's explosiveness. Mike Shanahan requires a running back who's a one-cut back. Morris fits this mold, as he quickly identifies the hole and heads up field.
As it stands, Morris has rushed for 982 yards which ranks him fifth in the NFL.
This Redskins' class doesn't have a ton of depth, but it has two players that are making a major impact.
Buffalo Bills: B-
Brett Davis-US PRESSWIRE
Impact Rookies: Cordy Glenn, T.J. Graham, Stephon Gilmore and Nigel Bradham
Stephon Gilmore has had his share of mistakes this season, but he's starting to come into his own. This past weekend against the Indianapolis Colts, Gilmore did a good job containing Reggie Wayne. Because of Wayne's veteran experience, he's usually a tough matchup for younger cornerbacks.
Gilmore possesses a ton of potential and should have a very successful career.
While not a major part of the offensive game plan, T.J. Graham is seeing several targets a game. The Bills are looking to get him the ball in space to allow him to use his explosiveness. Graham is a bit raw and needs more time to develop as a route runner. However, he has a chance to develop into a real playmaker.
Nigel Bradham's ability to work his way into the starting lineup has been a nice surprise. His quickness and tenacity allows him to make plays sideline to sideline.
Miami Dolphins: B-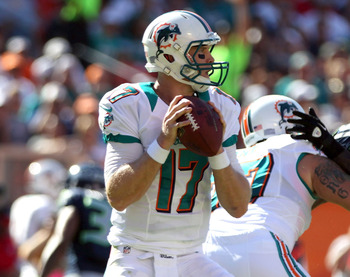 Marc Serota/Getty Images
Impact Rookies: Ryan Tannehill, Jonathan Martin, Olivier Vernon and Kheeston Randall
Ryan Tannehill has been one of the better surprises to come out of the 2012 draft class. His ability to quickly adjust to the speed of the NFL game has been impressive. There was never any doubting Tannehill's raw talent, but he showed problems making good decisions while in college.
The Dolphins have to feel really good about the future, as they seem to have finally found a long-term answer at the quarterback position.
Jonathan Martin's season has been filled with peaks and valleys. Overall, he just needs to work on his consistency. Martin possesses the athletic ability and work ethic to improve, but he needs time to gain experience.
The Dolphins are working both Olivier Vernon and Kheeston Randall in as part of the defensive line rotation. Vernon has showed the ability to generate pressure on the quarterback. He's someone that should remain in the mix heading into next season.
New England Patriots: A-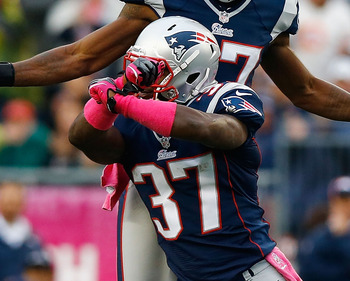 Jared Wickerham/Getty Images
Impact Rookies: Chandler Jones, Dont'a Hightower, Alfonzo Dennard and Tavon Wilson
Chandler Jones has been slowed by an ankle injury of late, but when on the field he's still generating pressure on the quarterback. Jones' ability to employ a wide-range of pass-rush moves makes him a real difference maker. He might not have a large sack total, but he's constantly wreaking havoc in the backfield.
The New England Patriots' linebacker crops is one of the better young groups in the league. Adding Dont'a Hightower only added to the versatility of the unit. Hightower is the type of linebacker that can drop in coverage, support the run and rush the passer.
This is the type of versatility that Bill Belichick loves, which is why he made a point to select Hightower.
New England took a small risk when they selected Alfonzo Dennard in the seventh round. However, they saw that the risk was much smaller than the potential reward. Dennard has quickly shown that he can be a physical and savvy defender.
The Patriots also had a good find in safety Tavon Wilson. He has had his share of mistakes, but he plays hard and is improving each week.
New York Jets: D+
Alex Trautwig/Getty Images
Impact Rookies: Quinton Coples, Demario Davis and Stephen Hill
For the most part, the New York Jets' rookie class has failed to make a major impact on the roster. They've been able to get spot contributions from players like Quinton Coples, Demario Davis and Stephen Hill.
Hill has had plenty of opportunities to make plays in the passing game. However, his lack of experience and inconsistent route-running has made it tough for him to make an impact. It also doesn't help that Mark Sanchez is having such a poor season.
Because of his raw talent, Hill still has a very bright future. He just needs time to develop.
Demario Davis quickly earned a role in the Jets' defense. He brings quickness and the ability to drop in to coverage. This are things the Jets' linebacking corps lacks with veteran players like Bart Scott and David Harris.
The biggest disappointment of the group is first-round pick Quinton Coples. He hasn't been able to earn consistent playing time, and when on the field he's being misused. Coples isn't a great fit as a five-technique. He's a better fit as a 4-3 defense end where he can use his speed and strength combination to rush the passer
Arizona Cardinals: C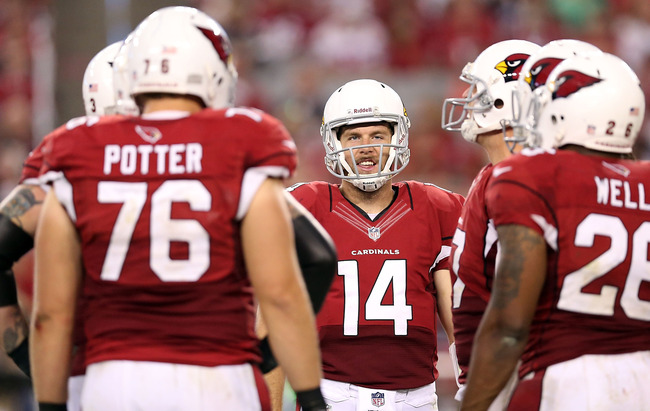 Christian Petersen/Getty Images
Impact Rookies: Michael Floyd, Bobby Massie, Nate Potter, Ryan Lindley and Jamell Fleming
Ryan Lindley is the current Arizona Cardinals' rookie making headlines, but not for the right reasons. The Cardinals have inserted Lindley into the starting quarterback job. However, he's nowhere near ready to handle those duties.
Ken Whisenhunt is risking Lindley's confidence and future by putting him on the field before he's ready. His four-interception game against the St. Louis Rams is the type of performance that takes a while to get over.
The inconsistent play at the quarterback position has directly impacted the production of Michael Floyd. Arizona has made a point to get him more targets, but it's tough to make plays when the quarterback is unable to throw a catchable football.
Bobby Massie and Nate Potter have slowly started to show signs of progress. Both have a long way to go, but their upside is visible. Massie has the most potential of the two, as he's a better athlete and possesses more ideal measurables.
San Francisco 49ers: F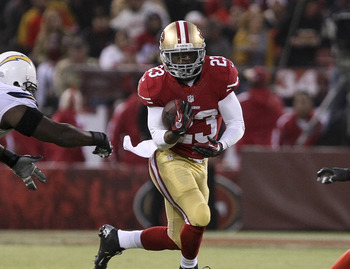 Kelley L Cox-US PRESSWIRE
Impact Rookies: LaMichael James and A.J. Jenkins
The recent injuries to Kyle Williams and Kendall Hunter could open up an opportunity for some of the San Francisco 49ers' rookies. Neither LaMichael James or A.J. Jenkins have been active for a game this year, but that could change.
San Francisco is going to need some depth at the wide receiver and running back position. This could potentially be filled by James and Jenkins. Of the two, James has the best chance to not only be active but also see playing time.
James is the type of versatile athlete who can make explosive plays anywhere on the field.
It's still unknown if either of these two will actually be active. This is why the 49ers' grade is so low. They've gotten zero production from this rookie class.
Seattle Seahawks: A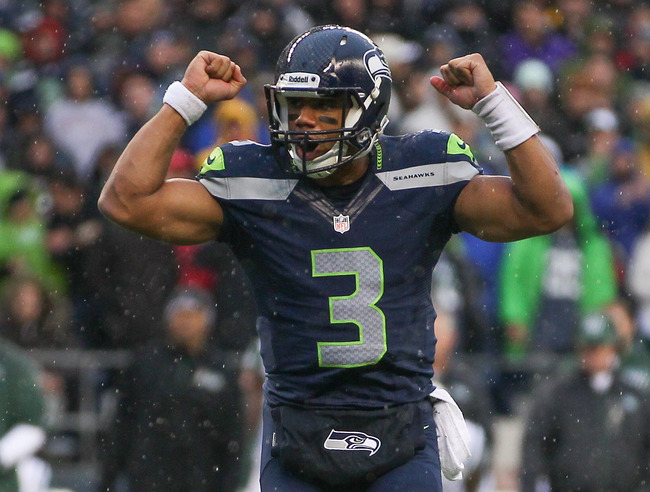 Otto Greule Jr/Getty Images
Impact Rookies: Russell Wilson, Bobby Wagner, Bruce Irvin and Robert Turbin
The Seattle Seahawks really hit the jackpot with Russell Wilson. They landed a strong armed, poised and smart quarterback in the third round. It's not often a quarterback selected that late wins a starting job and has this much success.
So much of Wilson's success has to do with his high football IQ. He does a excellent job reading the defense and learning from previous mistakes. The best example of that is that he hasn't thrown a single interception in the past three games.
Bobby Wagner has had a similar impact on the defensive side of the ball. He currently leads the team in tackles with a total of 90. The next closest player is Kam Chancellor with a total of 72 tackles. Wagner not only racks up tackles, he also does a good job making the defensive calls.
Bruce Irvin is another rookie making a major impact. His ability to generate pressure off the edge makes Seattle's defense even more dangerous.
St. Louis Rams: A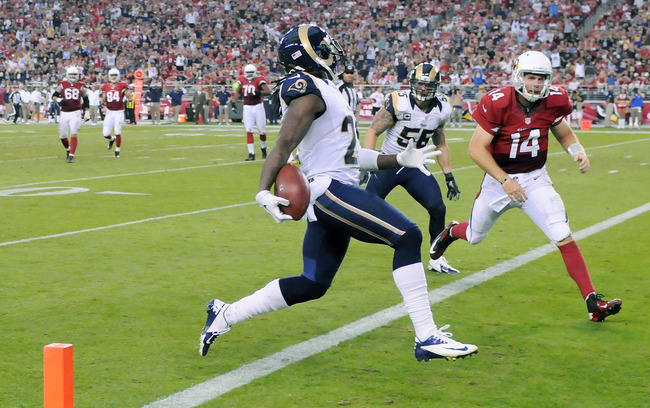 Norm Hall/Getty Images
Impact Rookies: Janoris Jenkins, Michael Brockers, Daryl Richardson, Chris Givens, Brian Quick and Isaiah Pead
The NFL is buzzing after Janoris Jenkins returned two interceptions for touchdowns against the Arizona Cardinals. Outside of being suspended for one game for violating team rules, Jenkins' rookie season has been a major success.
He isn't only someone who generates turnovers, as he also does a good job in coverage. His quick short-area burst allows him to click and close on the ball.
The St. Louis Rams defense is also getting a boost from Michael Brockers. He excels at holding at the line of scrimmage and stuffing the run. Brockers also does a good job occupying blockers so the linebackers can cleanly flow to the football.
In a bit of a surprise, his ability to penetrate the pocket has developed quicker than expected.
Offensively, the Rams have seen some of its rookie playmakers improve through the course of the season. Darryl Richardson has been the most steady contributor as Steven Jackson's backup. However, Chris Givens' ability to emerge as a deep threat is more important.
On the season, Givens has five receptions over 50 yards.
This class also possesses good depth with players like Isaiah Pead, Brian Quick and Trumaine Johnson.
Denver Broncos: C-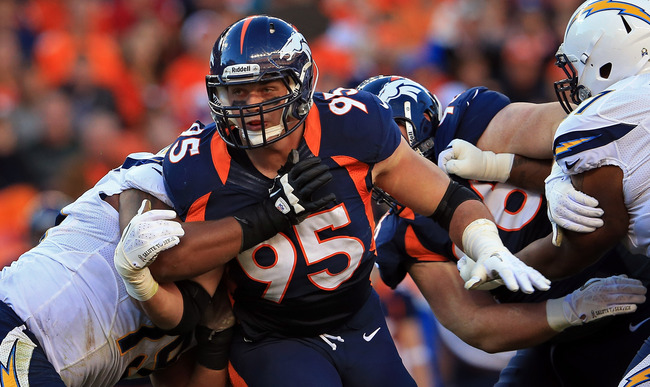 Doug Pensinger/Getty Images
Impact Rookies: Derek Wolfe, Danny Trevathan, Ronnie Hillman and Malik Jackson
The Denver Broncos' rookie class is providing spot contributions at several spots. Derek Wolfe is receiving the most consistent playing time, and has done a good job supporting the run. Denver is using him kind of like a five-technique defensive end.
This is because they rely on Von Miller to provide pressure from his linebacker position. Wolfe doesn't possess the quickness to generate an edge rush, so he's really playing out of position at defensive end in a 4-3.
Danny Trevathan's quickness and athleticism has allowed him to make an impact on special teams and in passing situations. He earned enough trust to see time in nickel and dime situations.
The Broncos use of Ronnie Hillman is really confusing. With the injury to Willis McGahee, it was expected that Hillman would get the bulk of the carries. Instead, Knowshon Moreno carried the load for the Broncos against the Kansas City Chiefs.
This could've had something to due with an ankle injury Hillman is dealing with.
Kansas City Chiefs: C+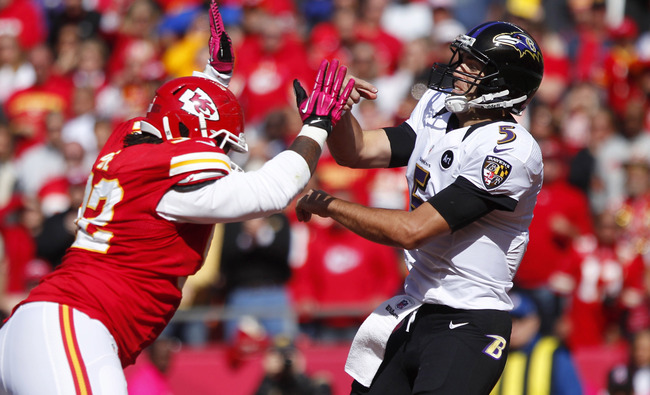 Kyle Rivas/Getty Images
Impact Rookies: Dontari Poe, Jeff Allen and Donald Stephenson
The Kansas City Chiefs' rookie class has performed much like the rest of the roster. This group has been unable to make a consistent impact. However, it's tough to expect too much out of such a raw prospect like Dontari Poe.
His development has been slow, but he is showing signs of improvement. The biggest sticking point is that he struggles keeping his pad level low. Once he improves this area of his game, Poe could be a dominant nose tackle in this league.
Jeff Allen and Donald Stephenson have been forced into the starting offensive line rotation because of injuries. Neither has played particularly well, but both also need time to develop.
On a positive note, these two are getting good experience.
Oakland Raiders: C-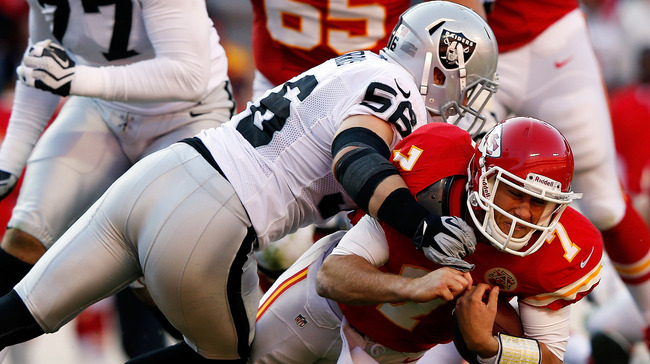 Jamie Squire/Getty Images
Impact Rookies: Miles Burris, Rod Streater and Juron Criner
The only real difference-maker the Oakland Raiders added during the 2012 draft is linebacker Miles Burris. He currently ranks third on the team with a total of 64 tackles. Burris uses his quickness and aggressive style to make plays all over the field.
He quickly developed the ability to plug the hole, quickly disengage and make plays away from his frame. Burris is definitely a player the Raiders can build around.
Wide receivers Rod Streater and Juron Criner remain in the mix, but have seen their playing time decrease over the past few weeks. This has to do with Darrius Heyward-Bey and Denarius Moore finally becoming fully healthy.
The emergence of tight end Brandon Myers has also taken targets away from Streater and Criner.
San Diego Chargers: D+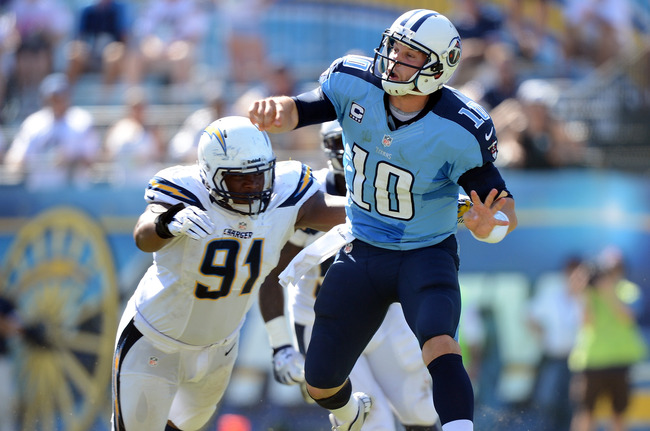 Harry How/Getty Images
Impact Rookies: Michael Harris, Kendall Reyes and Melvin Ingram
Michael Harris has been put in a tough situation being asked to step in at the left tackle position. At this point, he doesn't possess the physical skills or technique to play that position in the NFL. This was a major oversight by general manager A.J. Smith.
Resigning Jared Gaither wasn't a mistake, but not finding a reliable backup is an issue. Gaither's career has been plagued by injuries. As for Harris, he has shown some improvement throughout the year. However, this doesn't mean he should be in the starting lineup.
Kendall Reyes has played the best of any Chargers rookie. He continues to be a part of the defensive line rotation. Reyes finds a way to make an impact play each and every week. He has more than earned the right to more playing time.
San Diego has to be disappointed in the play of Melvin Ingram. On the season, he has only registered a half of a sack. The Chargers selected him in the first round because of his ability to generate pressure on the quarterback.
Chicago Bears: D+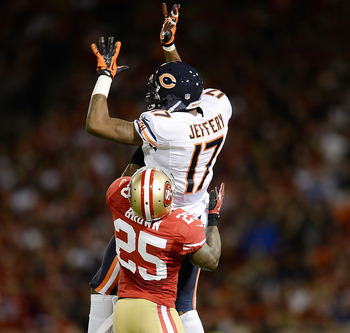 Thearon W. Henderson/Getty Images
Impact Rookies: Alshon Jeffery, Shea McClellin and Evan Rodriguez
The Chicago Bears rookie class started the season with a bang, but has fallen off over the past several weeks. Alshon Jeffery's hand and knee injury have played a major role in that decline. Until his injuries, he was a major part of the offensive game plan.
Shea McClellin is dealing with decreased playing time because he's being out-played by Corey Wootton. His future remains bright, but McClellan needs to get stronger and develop a wider range of pass rush moves.
At this point, Evan Rodriguez is the only rookie who remains in the starting lineup. His ability to open running lanes has been a pleasant surprise. Rodriguez was more of a pass-catcher in college, but has adjusted well to his new role.
Detroit Lions: B-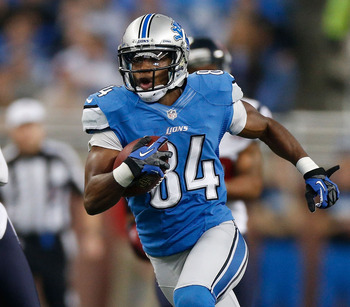 Gregory Shamus/Getty Images
Impact Rookies: Riley Reiff, Ryan Broyles and Bill Bentley
Ryan Broyles has emerged as a real important part of the Detroit Lions' offense. His role has expanded over the past few weeks with the injury to Nate Burleson and off-the-field issues of Titus Young. Detroit needs someone to step up and help take pressure off of Calvin Johnson.
Look for Broyles to make a larger impact each and every week. He's still recovering from a knee injury he suffered late last season. Not to mention, he is also learning a new system and adjusting to the NFL game.
Riley Reiff got the first start of his career against the Houston Texans. He was forced into action because Jeff Backus was out with an injury. Reiff held his own against a tough Texans' defense, but he needs to work on his technique.
He struggled most with keeping balanced in his kick slide. His feet were too close together which made him susceptible to the bull rush.
Bill Bentley saw a lot of action at cornerback early in the season, but will be out the rest of the year with an injury.
Green Bay Packers: B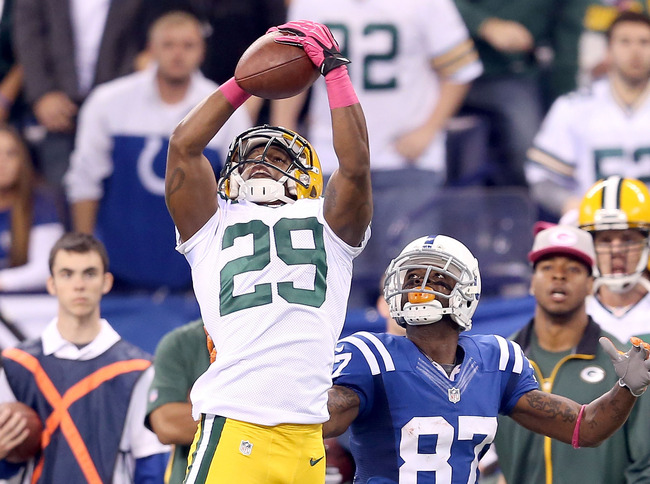 Andy Lyons/Getty Images
Impact Rookies: Jerel Worthy, Casey Hayward, Nick Perry, Dezman Moses and Jerron McMillian
The Green Bay Packers' defense has received a nice boost from the 2012 rookie class. At this stage, Casey Hayward and Dezman Moses are the two making the most impact. Moses, an undrafted free agent out of Tulane, has stepped into a starting outside linebacker job.
Moses has been able to provide the Packers with athleticism and a high motor. Green Bay is lucky that Moses adjusted to the NFL so well, because they are very thin at the linebacker position. However, his playing time will diminish once Clay Matthews returns from injury.
Because of the season-ending injury to fellow rookie, Nick Perry, Moses can expect to remain in the rotation. Perry's season wasn't nearly as successful as the Packers imagined. Actually, Moses already has one more sack than Perry.
Hayward's contribution in the secondary can't be overstated. His ball-hawking skills have helped the Packers' defense give the ball back to the offense. He's currently tied for second in the NFL with five interceptions.
Jerel Worthy remains in the defensive line rotation, but his production is hit or miss. He needs to work on becoming a more consistent player.
Minnesota Vikings: B+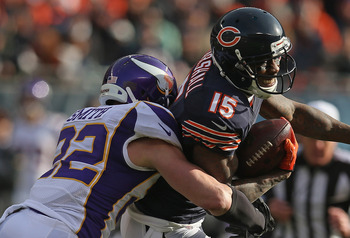 Jonathan Daniel/Getty Images
Impact Rookies: Matt Kalil, Harrison Smith, Jarius Wright and Josh Robinson
The Minnesota Vikings have found their franchise left tackle in Matt Kalil. He has done a great job helping to protect quarterback Christian Ponder. Kalil's combination of athleticism and strength allow him to contribute in both the run and passing game.
Finding a franchise left tackle isn't an easy task, so Minnesota should feel great about the way Kalil has developed.
Minnesota's defense has received a major boost from the play of Harrison Smith. He's an instinctive and feisty defender who makes plays all over the field. Smith loves to come up in run support, but he also has the range to play deep coverage.
The past few weeks Jarius Wright has emerged as a playmaker at the wide receiver position. He was forced into the lineup when Percy Harvin went down with an injury. Wright's quickness and speed give him the ability to attack deep down the field.
Minnesota desperately needs someone to help make more explosive plays, and Wright can help in that department.
Baltimore Ravens: B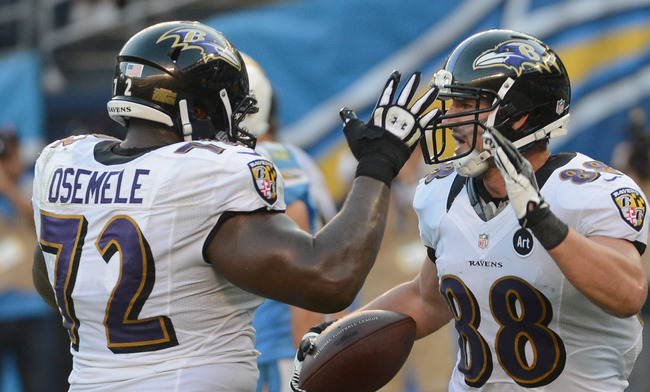 Harry How/Getty Images
Impact Rookies: Kelechi Osemele, Courtney Upshaw and Bernard Pierce
Kelechi Osemele has quickly developed into a solid NFL player. He has done a good job improving his technique, which in turn improved his play. His ability to keep his pads low with a natural bend has helped his all-around game. Osemele does a great job keeping pass-rushers in front of him, while also generating a good push in the running game.
The same can be said for Courtney Upshaw, as the Baltimore Ravens found someone they could immediately plug into the lineup. Upshaw is a versatile defender capable of rushing the passer, dropping into coverage and setting the edge against the run.
Upshaw's only issue right now is finding consistent playing time. The return of Terrell Suggs and emergence of Paul Kruger has made finding snaps tough.
Cincinnati Bengals: B+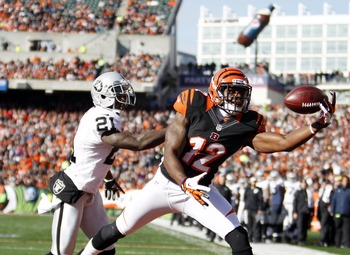 Frank Victores-US PRESSWIRE
Impact Rookies: Vontaze Burfict, Kevin Zeitler, Mohamed Sanu, Dre Kirkpatrick, Devon Still
Mohamed Sanu has registered four touchdowns in the past three weeks. His versatility has allowed the Cincinnati Bengals to use him at several positions; even lining him up in the backfield. Sanu is very talented, but needed time to learn the ins and outs of an NFL offense.
His development is extremely important for the Bengals offense, as they need someone to help draw coverage away from A.J. Green.
Cincinnati possesses a middle-of-the-road ground attack. The only reason they are that effective is because of the play of the offensive line. Kevin Zeitler's ability to generate a push off the line is a major key to the offensive line's success.
Dre Kirkpatrick and Devon Still haven't been able to climb the depth chart this season. They see spot playing time, but are mainly seen as reserves. Of the two, Kirkpatrick has the best chance to earn more playing time as the season progresses.
One of the bigger steals of the draft is undrafted free agent Vontaze Burfict. Teams saw him as a major risk because of some character concerns and his tendency to make poor decisions on the field. However, the Bengals were willing to take a risk. Burfict is currently the team's second leading tackler with 76 total tackles.
Cleveland Browns: A-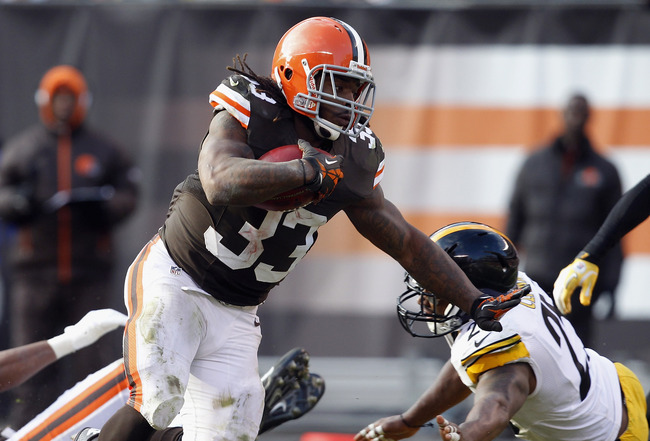 Matt Sullivan/Getty Images
Impact Rookies: Brandon Weeden, Trent Richardson, Josh Gordon, Travis Benjamin, Mitchell Schwartz, John Hughes, Billy Winn and James-Michael Johnson
Even giving the uncertain future of Brandon Weeden, the Cleveland Browns added a ton of top-notch talent through the 2012 draft. Players like Trent Richardson, Josh Gordon, Mitchell Schwartz and James-Michael Johnson appear to be long-term starters.
Weeden's future with the team is a little more cloudy. The new ownership group is sure to make some major changes. This means a new group of decision makers that might not see Weeden as the quarterback of the future.
His rookie year hasn't been terrible, but it hasn't been spectacular either. The issue is that he's showing a slow learning curve, which just doesn't work for a 29-year-old rookie.
This draft class really features a ton of talent. Richardson looks like a player that can be a top-notch back in the NFL for several years. Gordon has that deep threat ability that is tough to find. Even throw in Travis Benjamin who possesses elite speed.
Defensively, Billy Winn and John Hughes are players that will remain in the defensive line rotation for several years.
Pittsburgh Steelers: D+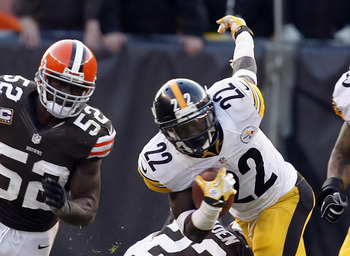 Matt Sullivan/Getty Images
Impact Rookies: Chris Rainey, Mike Adams and David DeCastro
Chris Rainey started the season as someone the Pittsburgh Steelers wanted to get the ball to in space. However, his lack of production has resulted in a drop in his touches. Rainey's strength is his quickness and home-run potential. If he isn't producing explosive plays he doesn't offer much value.
Pittsburgh could be getting some good news soon, as David DeCastro appears close to returning from a knee injury. DeCastro's return would help bring some depth to an offensive line that's dealing with a ton of injuries.
However, he's not only a depth player. DeCastro possesses a ton of ability and could be a major boost to the unit.
On the other hand, looks like Mike Adams could miss some time with an injury of his own. His rookie season hasn't been too smooth, so an injury would only lower his stock.
Atlanta Falcons: D+
Kevin C. Cox/Getty Images
Impact Rookies: Peter Konz
Peter Konz is the only player from the Atlanta Falcons' 2012 draft class making an impact. Atlanta has recently moved him into the starting lineup at right guard. Konz has responded well, especially in the running game.
His use of leverage, strong leg drive and sound technique allows him to generate a strong push off the line. The Falcons will need the running game to succeed in order to make a long playoff run.
This draft class is so thin because the Falcons traded away a lot of assets in order to move up and land Julio Jones in last year's draft.
Carolina Panthers: A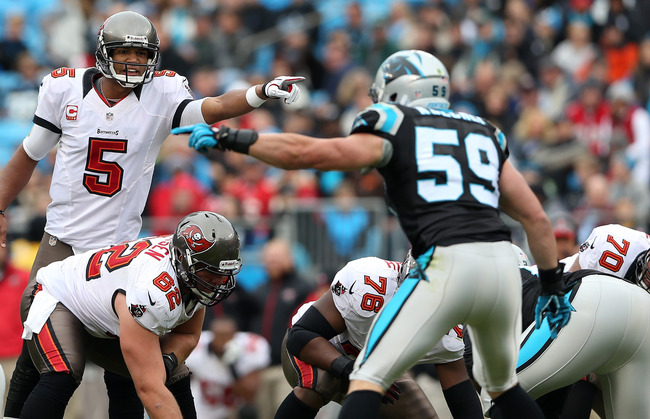 Streeter Lecka/Getty Images
Impact Rookies: Luke Kuechly, Amini Silatolu, Josh Norman, Frank Alexander and Brad Nortman
Luke Kuechly is currently the fourth leading tackler in the NFL with a total of 105 tackles. This isn't much of a surprise, as Kuechly showed during his college career he had a ton of talent. However, he also possesses a great feel for the game.
The combination of his instincts and quick burst are what allows him to make plays all over the field. He's going to be the leader of the Carolina Panthers' defense for years to come.
Carolina should also have Josh Norman as a staple of the defense in upcoming years. He's an aggressive and physical cornerback who has quickly transitioned to the league. It's his fearlessness that really makes him effective, as he isn't afraid to match up one-on-one with the opponent's top playmaker.
Amini Silatolu took some time to adjust his technique and come to grips with the speed of the game. However, he's now starting to come into his own. Silatolu possesses the natural ability to develop into one of the game's better interior linemen.
New Orleans Saints: C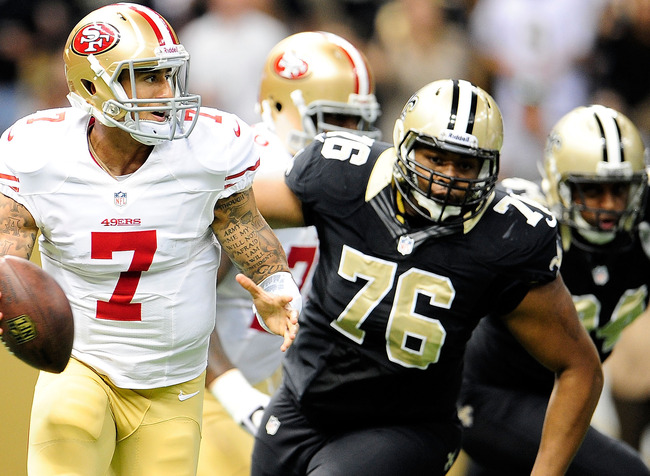 Stacy Revere/Getty Images
Impact Rookies: Akiem Hicks, Corey White and Travaris Cadet
The New Orleans Saints didn't have many draft choices in the 2012 draft, but they were still able to find some talent. Akiem Hicks is someone that still needs time to develop. However, he's already starting to show how much talent he possesses.
New Orleans has worked him into the defensive line rotation, and he's doing a good job working his way into the backfield. Hicks will continue to improve each week, and could eventually develop into a dominant interior player.
Corey White remains a part of the defensive backfield rotation. He's an aggressive defender who loves to come up and support the run. White has had some issues in coverage because of that aggressiveness, however, this is something he can improve over time.
The injury to Darren Sproles opened some opportunities for Travaris Cadet. He has done a decent job as a return man.
Tampa Bay Buccaneers: A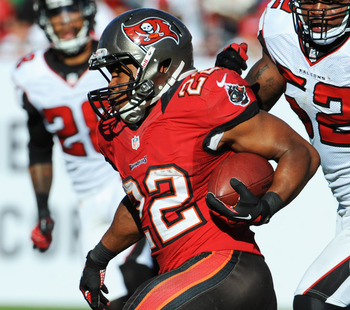 Al Messerschmidt/Getty Images
Impact Rookies: Doug Martin, Lavonte David and Mark Barron
At this point in the season, Doug Martin is the only rookie running back to surpass the 1,000-yard mark. He sits at No. 4 in the NFL with 1,050 rushing yards. Martin's production played a major role in the Tampa Bay Buccaneers' success this season.
The Buccaneers are squarely in the playoff hunt because of how Martin also opens things for the passing game.
Defensively, Tampa Bay has landed two long-term starters in this draft class. Mark Barron and Lavonte David are playing at an extremely high level. David currently leads the team with 98 tackles on the season.
This class receives such a high grade because of the high impact of these three players.
Houston Texans: C-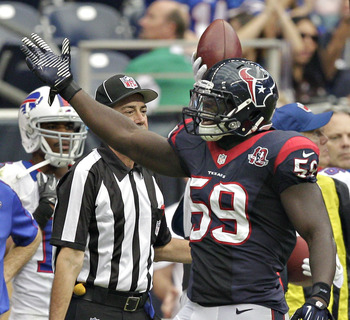 Bob Levey/Getty Images
Impact Rookies: Ben Jones, Whitney Mercilus and Keshawn Martin
A recent groin injury to Brooks Reed is going to open an opportunity for Whitney Mercilus to finally get some snap on defense. Until this point, he has been relegated to spot snaps and a special teams role. Mercilus possesses a ton of pass-rushing ability, and shouldn't be much of a drop off from Reed.
This is a case where this opportunity for Mercilus could mean the end of Reed's time in the starting lineup.
Ben Jones battled his way into the starting lineup at guard. He has done a good job fighting for inside hand placement and sealing defenders from the play. Jones must work on getting stronger, but he has shown enough that he should keep that job moving forward.
Indianapolis Colts: A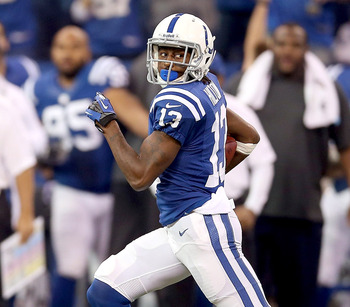 Matthew Stockman/Getty Images
Impact Rookies: Andrew Luck, T.Y. Hilton, Coby Fleener, Dwayne Allen and Vick Ballard
Andrew Luck has already established himself as one of the better quarterbacks in the NFL. As a rookie, he has the Indianapolis Colts in strong position to earn a playoff berth. He has done this with a cast of younger players and a less than stellar defense.
It shows that Luck is a great leader, and the type of player that makes those around him better. The Colts will be among the best teams in the NFL for years to come.
Joining Luck is a good cast of young offensive playmakers. T.Y. Hilton continues to make quick progress, and provides the Colts with a strong down-the-field threat. His speed allows him to really take the top off the defense.
This is a great complement to the playmaking tight ends the Colts added in the draft. Coby Fleener and Dwayne Allen haven't had the season most projected. However, they've shown a ton of promise and are building blocks for the future.
Jacksonville Jaguars: C-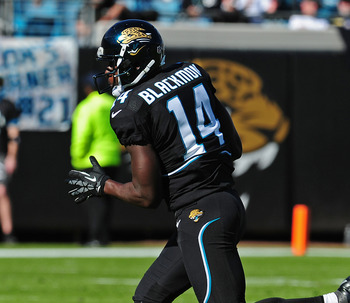 Scott Cunningham/Getty Images
Impact Rookies: Justin Blackmon, Bryan Anger, Andre Branch and Julian Stanford
Justin Blackmon has finally started to produce; thanks to the strong play of Chad Henne. The injury to Blaine Gabbert forced the stronger-armed Henne into the lineup. This has allowed the Jacksonville Jaguars to take better advantage of Blackmon's playmaking ability.
Blackmon has a very bright future, but only if Jacksonville can figure out its quarterback situation.
Julian Stanford recently beat out Kyle Bosworth for a starting outside linebacker job. Stanford has some upside, but this is more about the lack of talent at the position. Look for the Jaguars to target this position in the upcoming draft or free agency.
Tennessee Titans: C+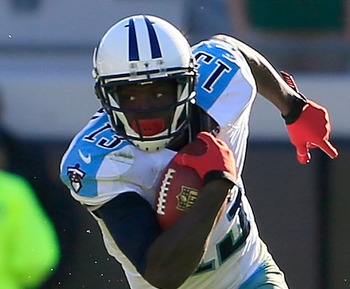 Sam Greenwood/Getty Images
Impact Rookies: Kendall Wright, Zach Brown and Mike Martin
Kendall Wright has been one of the more steady, rookie wide receivers. He has done a good job working the underneath routes and picking up yards after the catch. However, the Tennessee Titans were expecting him to provide more of a deep threat.
His inability to fill that role has to do with the inconsistent play of the Titans' quarterbacks. Wright's numbers will improve when the quarterbacks start playing better.
Both Zach Brown and Mike Martin are doing a good job on the defensive side of the ball. Brown is making plays because of his raw talent and quickness. However, his game still has plenty of holes, such as misreads.
Keep Reading