Earlier today, the Tampa Bay Rays extended franchise cornerstone Evan Longoria through 2022, with a club-option for 2023, for an additional $100 million.
This comes as somewhat of a surprise, as Longoria was already under contract through 2016.
The third baseman has been one of the best bargains in baseball and has yet to make $10 million annually despite his impressive resume, including Rookie of the Year honors, three All-Star selections, two Gold Glove awards and a Silver Slugger award.
So what does this move mean for the Rays going forward?
Well, Longoria is slated to make $100 million from 2017 to 2022—an average of a little less than $17 million annually.
For a team like Tampa Bay, this is a significant cost.
The Rays payroll has fluctuated over the last five years from as low as $42.2 million in 2011 to as high as $72.8 million in 2010.
Clearly after this transaction, the Rays will be on the high-end of this price range. Regardless, the Rays will still be one of the least expensive teams in baseball.
Given the fact that Tampa Bay is on a budget but is now officially locked in for the long-haul at third base, other decisions are definitely looming.
Unless the Rays decide to up their payroll significantly, which is rather unlikely given their low attendance rates and small market, they will have to decide between other aspects of their team in the next few years.
This extension directly affects reigning Cy Young award winner David Price.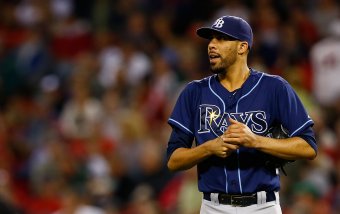 Jared Wickerham/Getty Images
The ace has yet to sign a long-term deal, as he is still arbitration eligible. Based on some of the other contracts being signed within the last year, such as Cole Hamels, Matt Cain and eventually Zack Greinke, it is clear that teams are willing to shell out big money for starting pitching.
Hamels, also a lefty, received $144 million from the Philadelphia Phillies, and Matt Cain received $127 million from the San Francisco Giants.
Both pitchers are a year older than Price, yet neither was as good statistically.
On the open market, Price could command one of the biggest contracts for a pitcher of all time. A young lefty with a proven track record, Price would certainly have plenty of suitors.
Last season, the Rays had a payroll of $65 million, good for sixth-lowest in MLB. Nobody on the team earned eight figures, as James Shields made the most with $8 million.
Longoria's new contract would pay him about a quarter of their current payroll starting in 2017.
Can the team afford both Longoria and Price, who will easily command over $20 million annually?
That combination would account for two-thirds of their current payroll. Given the fact that the Rays still have other needs to fill, such as an underwhelming offense including weaknesses at first base, middle infield, catcher and potentially a spot in the outfield, it will be difficult to imagine financially.
Even if the Rays do somehow manage to retain both Longoria and Price, that could mean the end for someone else, such as James Shields, whose contract will expire after 2014, or Jeremy Hellickson, a Scott Boras client who will not settle for a discount to stay in St. Petersburg.
I think signing Longoria long term was a good move for the Rays.
Despite his injuries in the past, the third baseman likely could have gotten a bigger deal on the open market.
However, the move does come with a caveat, as it is unlikely Tampa Bay can keep their core intact as several key players seek new deals.