6 Pieces Titans Still Need in Order to Become a True Contender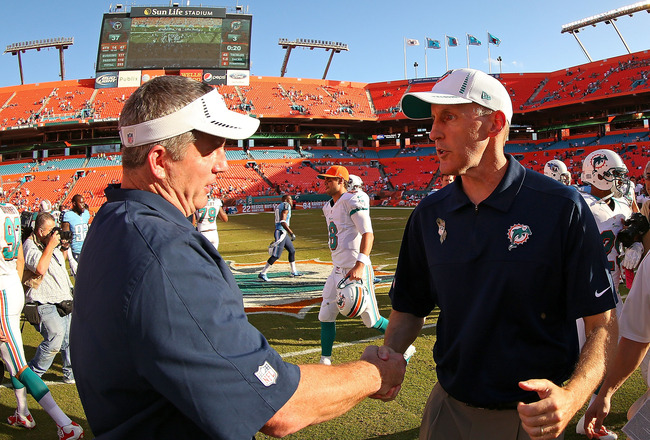 Mike Ehrmann/Getty Images
The Titans are 4-7, so when I say that they aren't a legitimate playoff contender, no one should be shocked, even though, with a lot of help, they could still technically make the playoffs.
That's all right though. No one expected the Titans to go to the Super Bowl this year. They have a new quarterback, a lot of young defensive starters and quite a few holes left to fill.
What holes would those be? Well, here are six places the Titans need to improve in before they're playoff material.
1. A Consistent Pass-Rusher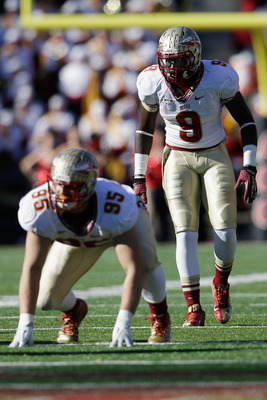 Rob Carr/Getty Images
After Sunday's six-sack performance against the Jaguars, I'm starting to wonder if the reason that the Titans have such a poor pass rush is simply because Jerry Gray so rarely blitzes.
Even so, the Titans have needed a pass-rushing threat at defensive end for several years, and it's something they haven't had since Kyle Vanden Bosch left for Detroit.
Even with Derrick Morgan improving, he only has 2.5 sacks this season. If the defense is going to take the next step, it will need to acquire a defensive end who can get to the quarterback way more often than that.
Luckily, there are quite a few promising pass-rushers in the draft this year.
2. A Power Running Game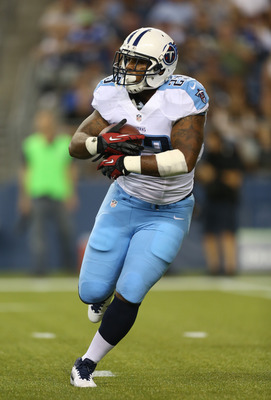 Otto Greule Jr/Getty Images
I've been one of Chris Johnson's biggest critics this season, but he's putting together, finally, a solid season, so long as he keeps up the good work.
However, he's still not the kind of back you can rely on that much to get 3rd-and-short yardage. LenDale White served this role in 2008, and the combo of White and Johnson turned the Titans into a 13-3 team.
Tennessee needs a power back to complement Johnson again. I thought Jamie Harper was going to turn into hat back, but he keeps struggling.
Hopefully, Harper will learn to run with more power, but if he doesn't, the Titans are going to have to find a way to succeed on the ground in those situations before their running game can be called complete.
3. An Offensive and Defensive Identity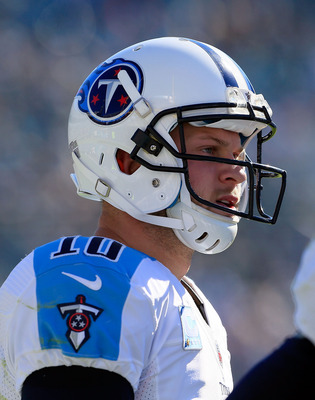 Sam Greenwood/Getty Images
For years, the Titans were a team with a stout defense in the trenches that liked to run the ball. Now, they're in a transition period, and they don't really have an identity.
On offense, they've moved towards a pass-first approach in theory, but they still run the ball on first downs more often than not, and even though the passing game has been dynamic at times, inconsistency has been the name of the game.
On the other side of the ball, the Titans have surrendered more points than any other team in the league and, until recently, were averaging barely more than a sack per game.
The Titans need an identity on both sides of the ball. Something that people think of when they hear about the Titans. It's something every legitimate playoff contender has, and it's something they really need.
4. A Shutdown Corner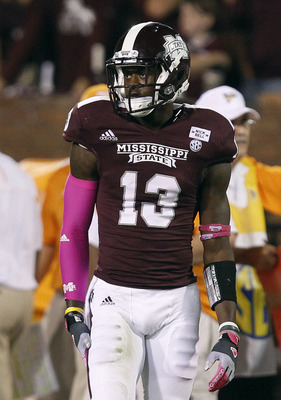 Butch Dill/Getty Images
The biggest need on defense is a pass-rusher, but not far behind that is a true shutdown corner. I thought Alterraun Verner was going to be the defensive backfield's weak link before the season started, but he's been better than Jason McCourty.
A lot of the problem seems to come from the zone coverage scheme that the Titans run. That scheme can, and has, left a lot of receivers wide open and given opposing quarterbacks an easy target.
Were the Titans to run more man coverage, that problem would be minimized, but it's not clear whether McCourty and Verner can successfully play man coverage.
What the Titans need is a shutdown corner who can take away dynamic receiving threats in man coverage. It would greatly improve their pass defense and would probably increase the number of coverage sacks that the defensive line picked up.
There is a surplus of tall, physical corner prospects in this year's class. If they get a chance, the Titans need to take one.
5. A Better, Deeper Offensive Line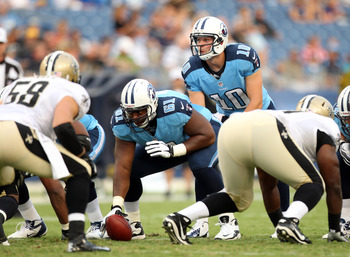 Joe Murphy/Getty Images
The Titans interior offensive line is much maligned, but it's been better in the last few weeks. Even so, Steve Hutchinson doesn't have much time left on his career, Fernando Velasco could definitely be upgraded and Leroy Harris is a penalty machine who's a free agent next year anyway.
One guard will need a replacement next year, the other will need a replacement very soon and the center could be upgraded. That isn't a good mix.
Furthermore, both tackles, Michael Roos and David Stewart, are on the wrong side of 30 and could start declining at any point, even though they've been good this season.
In a bad situation, the Titans line could fall off a cliff, and if they aren't prepared, that can sink a season. Backups and replacements need to be obtained sooner rather than later.
6. Time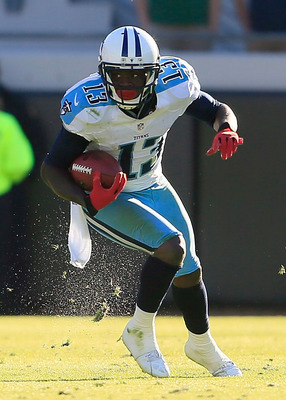 Sam Greenwood/Getty Images
One thing to remember about all of this is that the Titans are still a very young team. The quarterback is in his second year, his favorite receiver is in his first year and there are a total of five starters on defense (and three other regular contributors) who are in either their first or second year.
Just sitting back and allowing young players to mature could sort a lot of problems out. Maybe the combination of Zach Brown and Akeem Ayers makes pass-rushing defensive ends unnecessary.
Maybe Tommie Campbell or Coty Sensabaugh will become that shutdown corner that the team needs.
Maybe Kendall Wright becomes one of the league's dynamic deep threats.
Maybe Jake Locker becomes a top five quarterback the way Jon Gruden seemed to think he would. Any of these things could happen, but the Titans won't know for now.
With such a young team, it'll take time for the staff and fans to see just what they have in one player or another. Until then, even the best guess is just that.
Keep Reading

Tennessee Titans: Like this team?