10 of the Most Devastating Injuries in Soccer History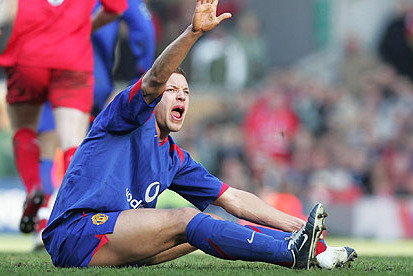 Image courtesy of guardian.co.uk
Although players are protected far more in present-day football (or soccer), we still see some horrific injuries from time-to-time.
It's not uncommon for the player involved to suffer from the after-effects of his injury for the rest of his career.
I'm confident that no player in recent times has gone out to deliberately injure his opponent. With the amount of cameras at each game, they'd be caught almost on the spot.
However I'm not naive enough to believe that it hasn't happened before.
I'm going to take a look at 10 of the most devastating injuries that have happened in football history.
Begin Slideshow

»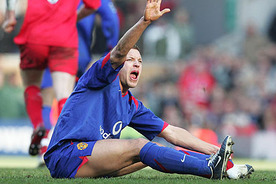 Image courtesy of guardian.co.uk
After Leeds United were relegated from the Premier League in 2004, Alan Smith, one of a raft of Leeds starlets, signed for Manchester United.
He was injured for a fair whack of his first season at United and added to the capture of Wayne Rooney, as well as the form of Ruud van Nistelrooy, chances for Smith up front were limited at best.
The following season (2005-06), Smith played in a more withdrawn role as a midfield anchor.
It took him a while to get accustomed to the role and just as he seemed to be hitting his stride, Smith and his Manchester United colleagues went to Anfield.
In an FA Cup tie on February 18th 2006, Liverpool faced their old rivals Manchester United.
There looked to be nothing in it as Smith tried to innocuously block a free-kick.
As he landed, it became clear for fans, players, managers and officials in the ground that something was seriously wrong.
It was later revealed that as he landed, Smith broke his leg and dislocated his ankle with no one near him.
At the time, Smith told The Sun newspaper (via bbc.co.uk): "When I looked, the leg was lying one way and my ankle was pointing towards Hong Kong so I knew I was in serious trouble."
The same newspaper also quoted Sir Alex Ferguson telling MUTV that Smith's injury was, "It's one of the worst I've seen. It's a very long-term injury."
Almost miraculously, Smith returned just over six months later as a substitute against Benfica in the Champions League.
In just over six-and-a-half years since his injury, Smith has made just over 100 league appearances for Manchester United, Newcastle United and his current side, MK Dons.
Smith himself has even acknowledged that the injury effectively ended his career.
In an interview with Colin Young of the Daily Mail newspaper a couple of years ago, Smith said, "I've not been the same player since my injury."
He could have been a lynchpin in the Manchester United midfield after Roy Keane's departure had he been fit and able to.
Smith was the kind of player you'd love to hate and hate to love—you'd hate him if he was playing against you, but you'd love him in your team.
The sad truth is that because of his horrific injury, no one will ever know just how good Alan Smith could have been.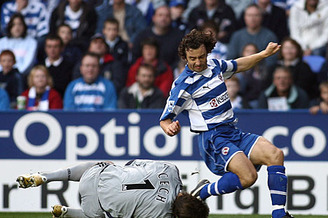 Image courtesy of dailymail.co.uk
In October 2006, Petr Cech was part of the Chelsea side that travelled to the Madejski stadium to take on Reading in a Premier League clash.
Within a minute of kick-off, Cech collided with Reading forward Stephen Hunt in what seemed like a pretty harmless fashion.
Cech was down for several minutes before being replaced by Carlo Cudicini.
Initially, no one knew just how serious the injury was before it was revealed that Cech had fractured his skull.
At the time, Jose Mourinho was in charge at Chelsea.
Anyone who's followed football for the last decade or so knows that Jose is a very opinionated guy.
In a post-match interview after the Reading game, Mourinho spoke to the official Chelsea website and was quoted by bbc.co.uk at the time as saying that:
a knee coming at Petr like that, at such speed - the boy was even laughing afterwards… it was unbelievable and players should respect each other more than that
Cech made a comeback just over three months later and since then he's continued to be an impressive performer for club and country, but Petr will never truly forget that injury.
He still bears emotional and physical scars from the experience and has to wear protective headgear to this day, but it could have been even worse.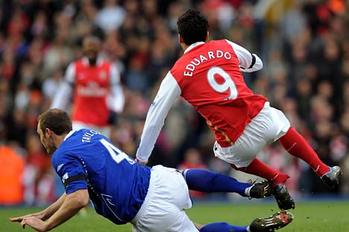 Image courtesy of www.dailymail.co.uk
Croatian striker Eduardo da Silva was less than a season into his Arsenal career, and was just starting to find his feet, when he travelled to the Midlands with his team-mates for a match against Birmingham City.
After a horror tackle by City defender Martin Taylor, Eduardo suffered a broken left fibula and an open dislocation of his left ankle on 23rd February 2008.
It's one of the most disturbing injuries I've seen, especially when there's footage readily available through Google and YouTube.
Whenever something like that happens, emotions run high and it's understandable that Arsenal manager Arsene Wenger was upset.
After the match, he spoke with Sky Sports' James Pearson and fumed:
"I think this guy should never play football again. What's he doing on the pitch? The injury is the result of a very bad tackle that is not forgivable. The first diagnosis is that the injury is very bad. He appears to have broken his shin and his fibula. I've gone along with the idea for a long time that to stop Arsenal, you have to kick Arsenal. I knew that was coming for a long time now. The season is over for him and it's very, very bad. More than the season is over."
Eduardo was out of football for almost exactly a year before returning on 16th February 2009.
He stayed at Arsenal for another 18 months, but he failed to recapture the form he showed in the early part of his career and was subsequently sold to Shakhtar Donetsk in 2010.
Since then, the Croatian has appeared intermittently for both club and country, but like so many other players, he's never been the same player since that horrendous injury in 2008.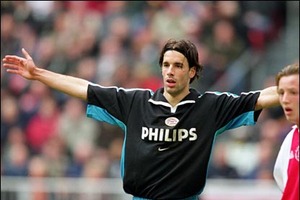 Image courtesy of bbc.co.uk
Ruud van Nistelrooy's overall goalscoring record is incredible, but when you look at his individual record for the clubs he played for, it's almost frightening.
Van Nistelrooy signed for PSV in 1998 and scored 62 goals in 67 games in his first couple of seasons. That form was enough to attract the attention of Sir Alex Ferguson and Manchester United.
Just when it seemed certain that the deal would be completed, van Nistelrooy suffered a devastating injury.
During a training session, van Nistelrooy ruptured his cruciate knee ligaments and was sidelined for the best part of a year.
Normally, that kind of injury would finish a player's career and shatter their confidence, but not this guy. After overcoming the injury, he signed for Manchester United a year later.
Ruud went on to become one of their all-time leading goalscorers, scoring 150 goals in 219 games and becoming their record European goalscorer.
It's to his credit that he was able to overcome a potentially career-threatening injury to become one of the most feared European strikers of his generation.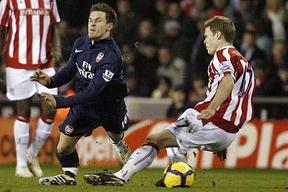 Image courtesy of www.telegraph.co.uk
Aaron Ramsey is widely regarded as one of the most talented Welsh midfielders in years.
His form for Cardiff City as a raw teenager earned him a move to Arsenal in 2008, where he's continued to develop under the guidance of Arsene Wenger.
The wily French tactician must have been cursing his luck when, for the second time in three seasons, one of his most talented players suffered a horrific injury in an away match against a physical side.
On 23rd February 2010, Arsenal travelled to Stoke and after a tackle by Stoke centre-half Ryan Shawcross, Ramsey suffered a double fracture to his lower right leg.
I remember watching the game live on TV at the time and I didn't think it was serious.
I was wrong.
It would be over a year before Ramsey played for Arsenal again.
He made his Arsenal return during a 2-0 FA Cup defeat to Manchester United in March 2011.
Since then, Ramsey's form has been up and down, but he seems to have recovered well from the injury and he was made captain of Wales in March 2011 by the late Gary Speed.
Even though he's since been replaced as captain by Ashley Williams, Ramsey's still only 22 so it's more than likely that Ramsey will captain his country again.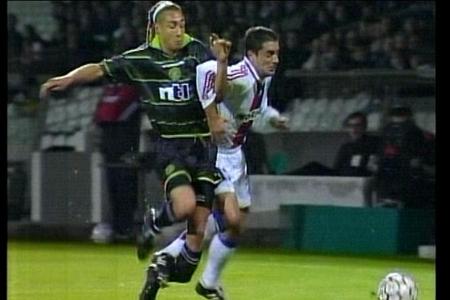 Image courtesy of thesun.co.uk
I can genuinely say that former Celtic striker Henrik Larsson is one of the few world-class players that I've ever seen play against my team, Dundee FC.
Larsson's achievements over his career, both individually as well as collectively for his teams, are fantastic.
To my knowledge, he's the only player to win the Scottish, Spanish and English league titles in recent memory.
It could all have been so different in 1999.
During a UEFA Cup tie against Lyon in October 1999, Larsson broke his leg in two places.
I remember seeing the still photos of the injury in the newspapers at the time and you could actually see the bone piercing through his shinpad and socks.
It was sickening.
If the break had been a couple of inches lower, Larsson's career would've been over.
He didn't play again until May 2000, but in subsequent years, Larsson went on to become the SPL's record goalscorer before leaving Celtic in 2004 to sign for Barcelona.
At the time, Larsson's abilities weren't taken seriously because he had only been an SPL player. During his days at the Nou Camp, Larsson showed that regardless of what league or country he was playing in, he was a genuine world-class player.
He even played a part in Manchester United's title-winning side of 2007, winning praise from the likes of Wayne Rooney, Cristiano Ronaldo, Ryan Giggs and Sir Alex Ferguson.
Form might be temporary, but class is permanent and Larsson overcame a devastating injury to cement his legacy as one of the best, and most under-rated, players to grace European football.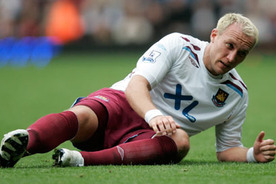 Image courtesy of guardian.co.uk
It's sad when a young player has to retire after a long-standing injury, regardless of whether you're a supporter of the club they play for.
In 2009, I remember hearing the news that West Ham United and England striker Dean Ashton had to retire and it struck a nerve with me.
He was only 26.
Ashton hadn't even really hit his stride yet as a top-flight footballer.
In August 2006, he was injured after a tackle by Shaun Wright-Phillips during an England training session and broke his ankle.
That's an injury you hear about almost all the time and you never think of it as being potentially career-ending.
He missed the entire 2006-07 season as West Ham struggled to survive, only escaping relegation on the last day of the season thanks to a Carlos Tevez winner at Old Trafford against Manchester United.
Ashton recovered in time for the following season, 2007-08, and made 35 appearances. Notably, he scored a stunning overhead kick against Manchester United.
He made his last appearance as a professional footballer against West Bromwich Albion in September 2008.
Dean Ashton was a player loaded with strength, power, ability and he had an eye for goal. It's just a shame that what was probably an innocuous tackle in a training session put paid to the career of one of the most talented strikers England have had in recent memory.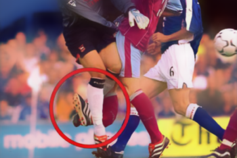 Image courtesy of sgforums.com
After a successful club career in Belgium and Holland, Luc Nilis signed for Aston Villa in the summer of 2000.
I'll bet that he didn't think his spell at Aston Villa, as well as his career, would be over after just three short games.
He collided with Ipswich Town goalkeeper Richard Wright after they challenged for a high ball and broke his leg.
The picture above shows the angle that his leg was at before he reached the ground.
It makes me shudder just looking at it.
For purely selfish reasons, I'm sad that Nilis never got the chance to show what he could do in the Premier League. I'd watched him play for PSV whenever the Champions League or European football were on the TV in Scotland and I always thought he was a good player, so I was excited when he signed for Villa.
His goalscoring record for Belgium was pretty poor, but at club level, he was prolific, scoring a goal every couple of games.
It's a shame that we never got to see much of Luc Nilis in the Premier League.
I bet he'd have preferred to have given us something nice to remember him by, instead of the horrific injury that ended his career.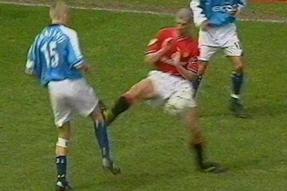 Image courtesy of telegraph.co.uk
This is the only slightly dodgy choice on the list.
I say that because although Roy Keane's challenge on Alf-Inge Haaland didn't injure the Norwegian, it certainly played a part in ending his career.
Even the most ardent Manchester United or Roy Keane fan would have trouble justifying this tackle.
You can see from the image that Keane has made no attempt to play the ball and he's just blatantly taken his opponent out of the game, knee-high.
It's a sickening tackle perpetrated by a petty, immature thug.
If any of us walked down the street and did that to someone, we'd be jailed. Fact.
The most sickening thing about it is that, at the time, Keane was only fined £5,000 and banned for three games.
It wasn't until Keane revealed in his autobiography that the "tackle" was pre-meditated that he got a more severe punishment.
It's a miracle that Haaland wasn't injured after the assault.
A few inches lower and he'd probably have had a severely broken leg.
It should come as no surprise that after that "tackle", Haaland failed to play another full 90 minutes for his club and he was eventually forced to retire a couple of years later.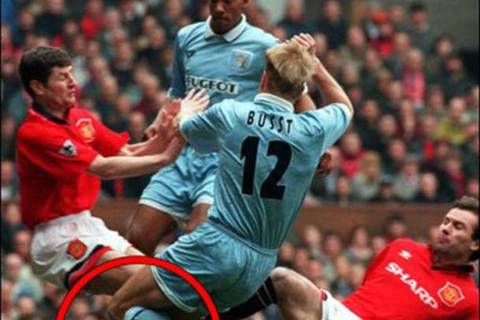 Image courtesy of allvoices.com
I couldn't compile this list without mentioning the sickening injury that ended the career of Coventry City defender David Busst.
He's one of a few football players who are infamous.
The injury happened during a Premier League game when Busst was the meat in a Denis Irwin and Brian McClair sandwich. He suffered compound fractures to the tibia and fibula of his right leg as a result of the challenge.
The funny thing about his injury is that it wasn't the reason he had to retire.
Busst contracted MRSA after having several operations in hospital to repair the damage, and the infection weakened his muscles, ending his career.
Busst's injury has had a long-lasting impact on the game.
Whenever someone asks you what the worst football injury you've heard of is, Busst's name is normally the first one mentioned.
When the injury happened, the match was delayed for 12 minutes while medical staff tended to the stricken defender and had to clear blood from the Old Trafford pitch.
I was amazed to learn that Busst had 26 operations on his leg to try to repair the damage, but ultimately, he couldn't play professional football again. Keep in mind that this was a man who had only been playing professionally for four years before his career was ended.
I'll bet that David Busst would've loved the chance to have played more games in the Premier League than he did and he'd want to be remembered for something other than the match where his career was taken from him.